This week: Ozark, 9-1-1, Nailed It!, The Iliza Shlesinger Sketch Show, Motherland: Fort Salem, Siren, Harley Quinn, Future Man,
Tales From the Loop, Westworld
Ozark
Season 3
Now streaming
On Netflix
The women have always been the best part about Ozark. Don't get us wrong, we love Jason Bateman and his character Marty Byrde who walks the line between being a cunning villain and a desperate man trying to keep his family safe. But it's his wife Wendy (played by Laura Linney with finesse) who rules Ozark, coming into her own as a ruthless and calculating boss. In season 3 we get to see her take more steps toward becoming the crime leader we suspect she always wanted to be. We also see Ruth (Julia Garner) take lead at the casino, free from her father and her uncles, with Marty's full trust. But Ruth has yet to truly reckon with Wendy who seems set on taking over Ozark. And the cartel's lawyer Helen Pierce (Janet McTeer) is not done investigating the family, becoming more determined than ever to outmanoeuvre them. The season is another slow burner, which can get quite tedious at times, but watching the leading ladies do battle with each other is simply thrilling.
From Netflix:
It's six months later, the casino is up and running, but Marty and Wendy are fighting for control of the family's destiny. Marty preaches keeping the status quo. Aided by an alliance with Helen and drug cartel leader Omar Navarro, Wendy plots for expansion. But when Wendy's brother Ben comes into town, everyone's lives are thrown into chaos.
—
9-1-1
"Pinned" – Season 3, Episode 14
Mon Mar 30 – 8PM
On FOX
From TV Guide:
The 118 responds to accidents at a bowling alley and a home renovation, as Athena pursues a car thief. Bobby and Michael take Harry camping and Chimney and Maddie rush into action when their romantic dinner date takes a wild-turn.
—
Nailed It!
Season 4
Wed Apr 1
On Netflix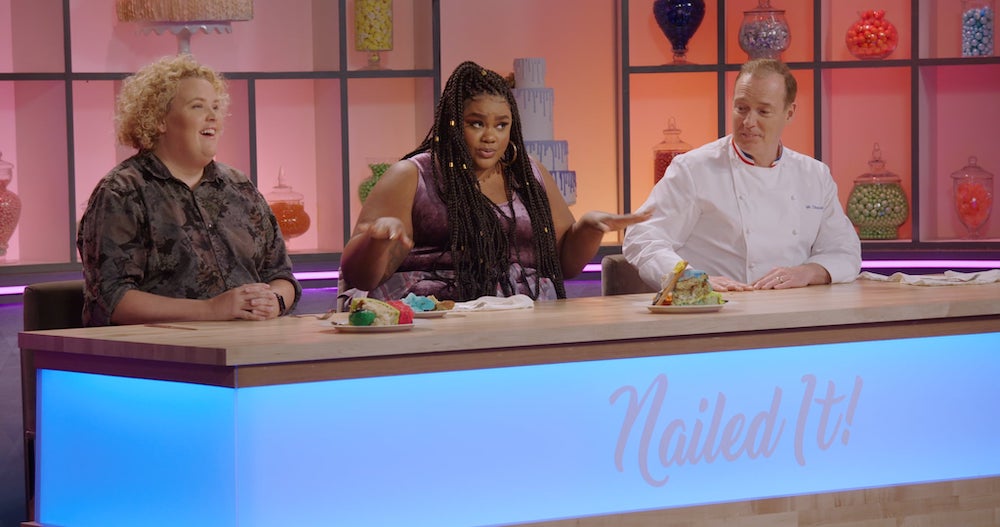 Nailed It! is back for season 4 to provide the escapism you need. The only tears you'll shed watching this show will be from laughing too hard at the world's best/worst baking. Host Nicole Byer's reactions are as charming and hilarious as ever, while her corresponding outfits are somehow even more ridiculous than last season (not to mention producer/official prize deliverer Wes' corresponding outfits. We heart Wes). Guest hosts include Adam Scott, Fortune Feimster, and other familiar faces who bring the laughs and the expertise (either because they're professional chefs or they're just game to eat these fabulous disaster cakes). Whether you're trying your hand at baking during the shutdown or you just need something to make you smile, we can all agree that we need Nailed It! more than ever.
Nailed It! is back on Netflix on Wednesday.
From Netflix:
A new season of substandard baking serves up several "Nailed It!" firsts, from kids in the kitchen to fun with liquid nitrogen. What could go wrong? Guest judges this season include Adam Scott, Fortune Feimster, Gabby Douglas and more!
—
THE ILIZA SHLESINGER SKETCH SHOW
Season 1
Wed Apr 1
On Netflix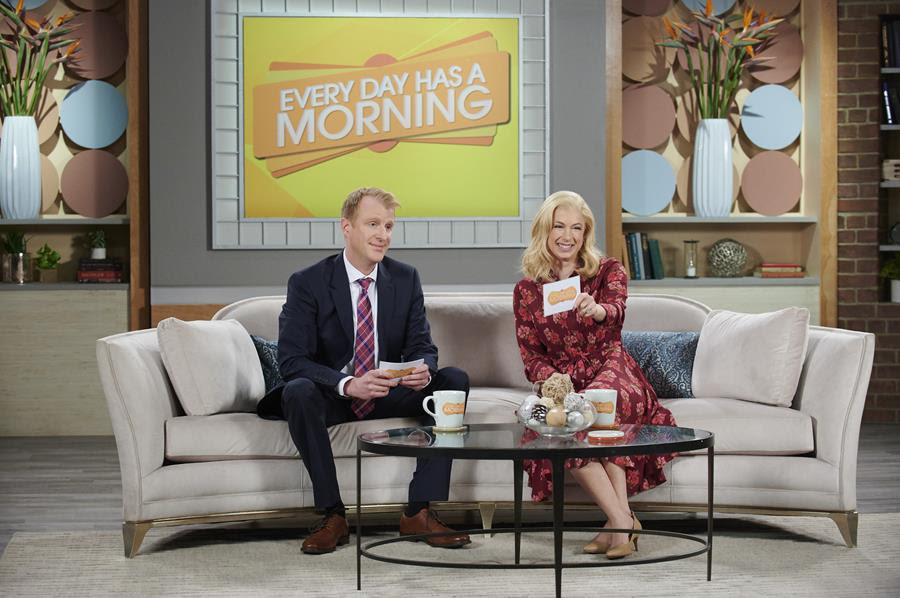 If you need a break from the headlines, turn on The Iliza Shlesinger Sketch Show. Iliza Schlesinger makes fun of some of the things we all secretly love—like mystery documentaries and prank shows. She also makes fun of all the things we all complain about—like budget airlines or untrained self-help gurus. The sketches cycle through different scenarios, framed in a setup that's similar to switching shows on Netflix, to keep you wholly entertained and ready for whatever comes next.
The Iliza Shlesinger Sketch Show
comes to Netflix on Wednesday.
From Netflix:
Hold on to your top knot and grab your remote for the upcoming six-part sketch series, The Iliza Shlesinger Sketch Show. Executive produced and starring comedian Iliza Shlesinger who leads her ensemble cast in this hilarious satire filled series packed with insane original characters who inhabit the landscape of all the content we love to consume and make fun of. From bizarre exercise plans to the over-simplified DIY shows to "reality" TV at its best/worst, The Iliza Shlesinger Sketch Show celebrates/skewers the TV stereotypes that fill our screens big, small, and tiny.
—
Motherland: Fort Salem
"A Biddy's Life" – Season 1, Episode 3
Wed Apr 1 – 9PM
On Freeform
Catch Motherland: Fort Salem on Freeform every Wednesday.
From Freeform:
Fort Salem excitedly greets male visitors on the eve of Beltane, but Raelle and Scylla's budding romance is interrupted by the arrival of a mysterious man from Scylla's past. One of the male witches catches Tally's eye, but she is unsure of how to proceed. Meanwhile, Alder attempts to convince the Hague, an international military council of witches, to follow her strategy against the Spree and is startled by news of an escalating humanitarian crisis in the Tarim Basin.
—
Siren
"Borders" – Season 3 premiere
Thurs Apr 2 – 9PM
On Freeform
Siren returns to Freeform on Thursday.
From Freeform:
As an old friend visits Helen, a new mermaid arrives leaving Ryn questioning their motives. Maddie learns the truth behind Ian's death, as Ben fights for his mother's treatments. While Xander is inspired to take on more responsibility.
—
Harley Quinn
Season 2
Fri Apr 3
On DC Universe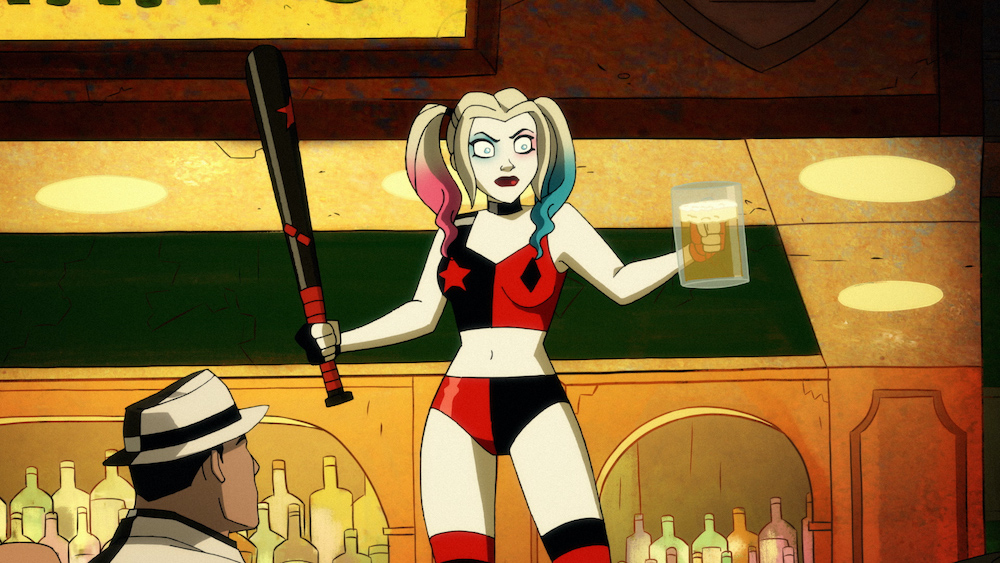 Harley Quinn season 2 takes place three weeks after Harley (Kaley Cuoco) defeated the Joker. Gotham is hers for the taking and she is living for the chaos. Harley encourages all of Gotham's henchmen and goons to rise up against their shady bosses and take things for themselves. Ooh, this state of anarchy is about to get all kinds of weird…but it won't be long before The Penguin (Wayne Knight) & his newly-formed Injustice League (geddit?) have their revenge. With Batman (Diedrich Bader) missing, who's going to save the day? Harley Quinn is back with a bang and the snark is cranked up to 11. This show is packed full of fun punches and even bigger action. You'll also get to see the politics of Gotham's seedy underworld come into play which will give you some thrills (and some giggle-worthy satire). Buckle up for Harley Quinn to smack you in the face with some comics-style pizzazz (and a baseball bat…obviously).
Harley Quinn returns to DC Universe on Friday.
From DC Universe:
Harley Quinn has taken down the Joker and Gotham City is finally hers for the taking…whatever's left of it that is. Gotham has become a desolate wasteland, left in ruins, following the huge earthquake caused by the collapse of Joker's tower. Harley's celebration in this newly created chaos is cut short when Penguin, Bane, Mr. Freeze, The Riddler and Two Face join forces to restore order in the criminal underworld. Calling themselves the Injustice League, this group now stands in the way of Harley and her crew from taking sole control of Gotham as the top villains of the city.
—
Future Man
Season 3
Fri Apr 3
On Hulu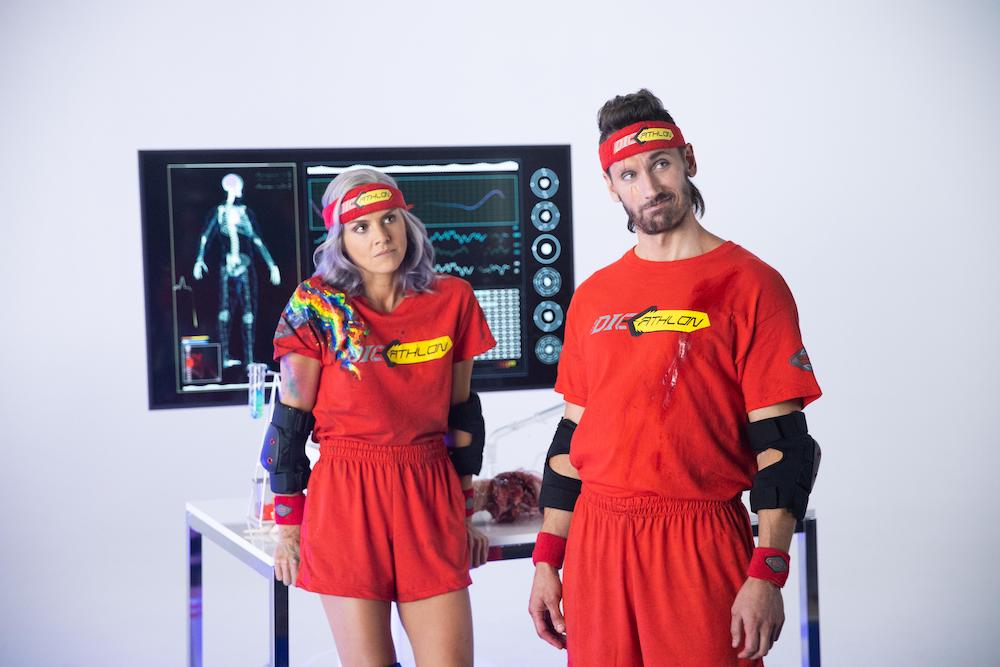 Josh (Josh Hutcherson), Tiger (Eliza Coupe), and Wolf (Derek Wilson) royally effed up. Last time we saw them they accidentally caused the deaths of billions of people. Now they've been sentenced to death by Diecathalon AKA an entertainment show of the bloodiest kind. It's like Gladiator meets Double Dare…on steroids…mixed with a shit-ton of sci-fi goo. Future Man somehow manages to up its level of insanity every season and this new chapter launches you right into the madness. You won't have time to adjust—all you can do is sit back and let this show do its thing—and, if you're still into it, S3 is more of the same. While Josh & co. plan their escape through time, they provide an escape from daily life that will suck you in so quickly you won't even realize it's happening.
Future Man is back on Hulu on Friday.
From Hulu:
Convicted of time crimes and sentenced to death by entertainment, Josh, Tiger, and Wolf become fugitives, on the run through time, trying desperately to evade capture while clearing their names and fixing the big mess of history they've made along
the way.
—
Tales From the Loop
Season 1
Fri Apr 3
On Amazon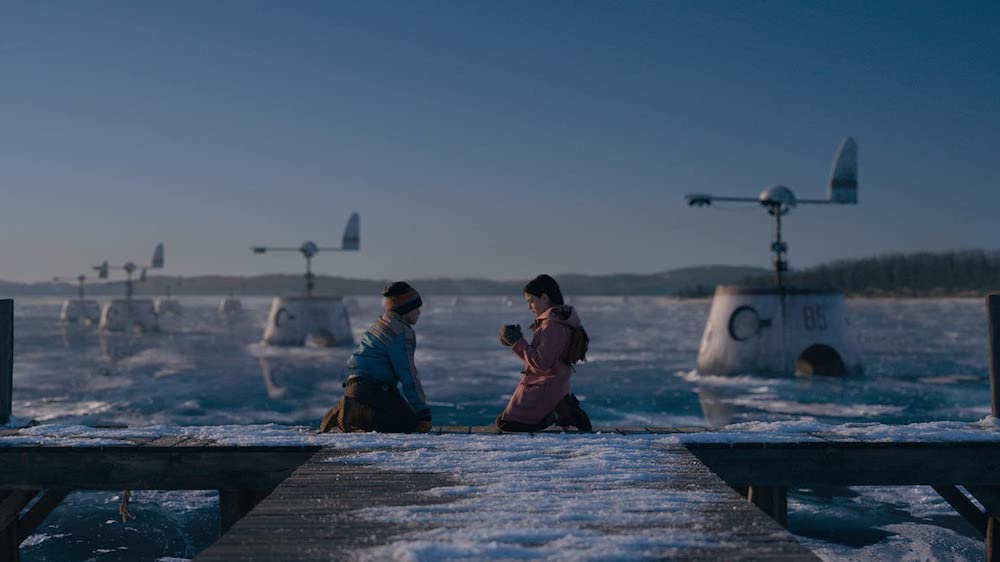 Tales From the Loop is a slow but mysterious burn. The series is set in a small wintry town that is home to an experimental research center. Sci-fi and reality collide when this research starts to seep into the town and things get strange…okay, if you're thinking this sounds strangely like a Netflix show, you're not far off. But the tones are completely different. Tales From the Loop is quiet and stark, pulsing with a darkness underneath. The score leads the way in place of dialogue and action to leave you on edge as if something is about to leap out and take your breath away. But instead of demogorgons and jump-scares it's twisted timelines and emotional trauma that will pull you in. However it may be a little too slow to truly capture you. It's inspired by a collection of sci-fi tinged paintings by Swedish artist Simon Stålenhag, which makes Tales From the Loop beautiful to look at but almost too still.
Watch Tales From the Loop on Amazon on Friday.
From Amazon:
From executive producer Matt Reeves and based on the acclaimed art of Swedish artist Simon Stålenhag, Tales from the Loop explores the town and people who live above "The Loop," a machine built to unlock and explore the mysteries of the universe – making things possible that were previously relegated only to science fiction. In this fantastical mysterious town poignant human tales are told that bare universal emotional experiences while drawing on the intrigue of genre storytelling.
—
Westworld
"The Mother of Exiles" – Season 3, Episode 4
Sun Apr 5
On HBO
Westworld airs on HBO on Sunday.
From HBO:
The truth doesn't always set you free.