This week: 9-1-1, Debris, New Amsterdam, Murder Among the Mormons, grown-ish, Raya and the Last Dragon, Boogie
9-1-1
"There Goes the Neighborhood" – Season 4, Episode 7
Mon Mar 1 – 8PM
On FOX
9-1-1 airs on FOX every Monday.
From Rotten Tomatoes:
The 118 rush to save a man pinned under a Humvee, and a garage band that rocks out too hard. Enlisting Bobby and Athena's help, Michael installs a new "rear window," and turns into an amateur detective after noticing strange behavior at a nearby apartment. Meanwhile, Hen's mother unexpectedly arrives and announces she is moving to LA, and Buck's re-entry into the dating pool ends in disaster.
—
Debris
Series premiere
Mon Mar 1 – 10PM
On NBC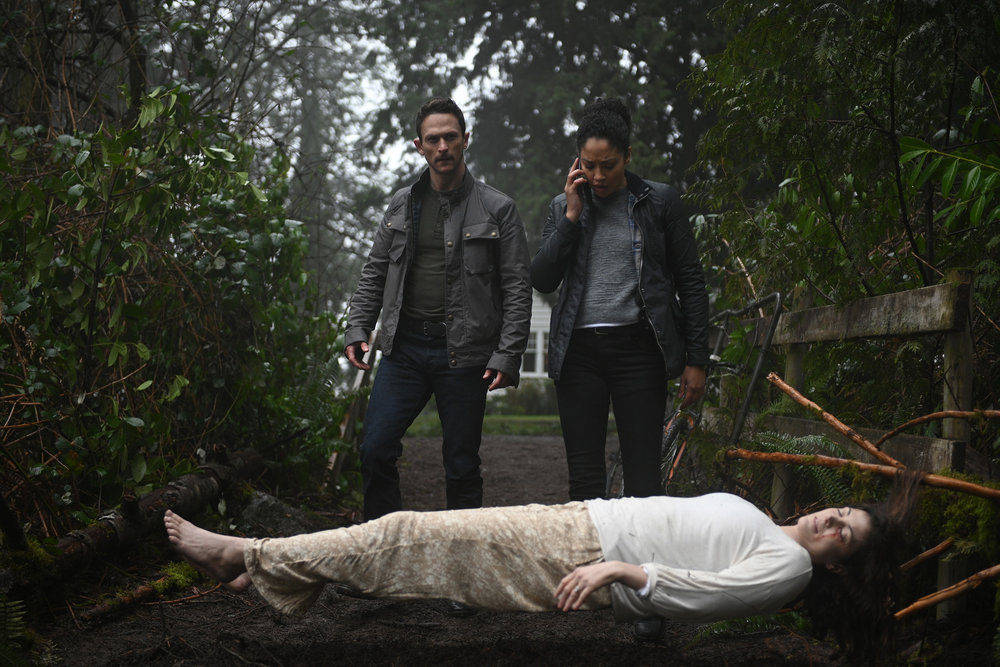 Photo by: Sergei Bachlakov/NBC
NBC's new sci-fi drama Debris has an immediate sense of mystery but it takes a while to explain why. The core question comes from a destroyed alien spacecraft, parts of which are now scattered across the globe, leaving terror and strange events in its wake. This debris doesn't conform to the Earth's laws of physics, instead reaching out to nature and humanity to cause sinister and unfathomable tragedies. We first see evidence of this when a family seemingly goes missing…before the mother is discovered in a field, floating inches above the ground, unresponsive and being drawn to a mysterious location.
British agent Finola Jones (Riann Steele) and American agent Bryan Beneventi (Jonathan Tucker) are called in to figure out what's happening. Their individual investigative styles cause them to clash over different theories and approaches but—with something threatening mankind—this danger transcends jurisdiction. Debris' procedural drama meets sci-fi thriller format works pretty well and, although it's slow to settle into its rhythm, by the end of the first episode you'll be ready for more with plenty of tantalizing questions on your mind.
From NBC:
When wreckage from a destroyed alien spacecraft scatters across the Western Hemisphere, it soon becomes apparent the pieces are messing with the laws of physics, changing lives in ways we can't comprehend. Two agents from different continents, and different mindsets, are tasked to work together to recover the debris, whose mysteries humankind is not quite ready for.
—
New Amsterdam
"New Normal" – Season 3 premiere
Tues Mar 2 – 10PM
On NBC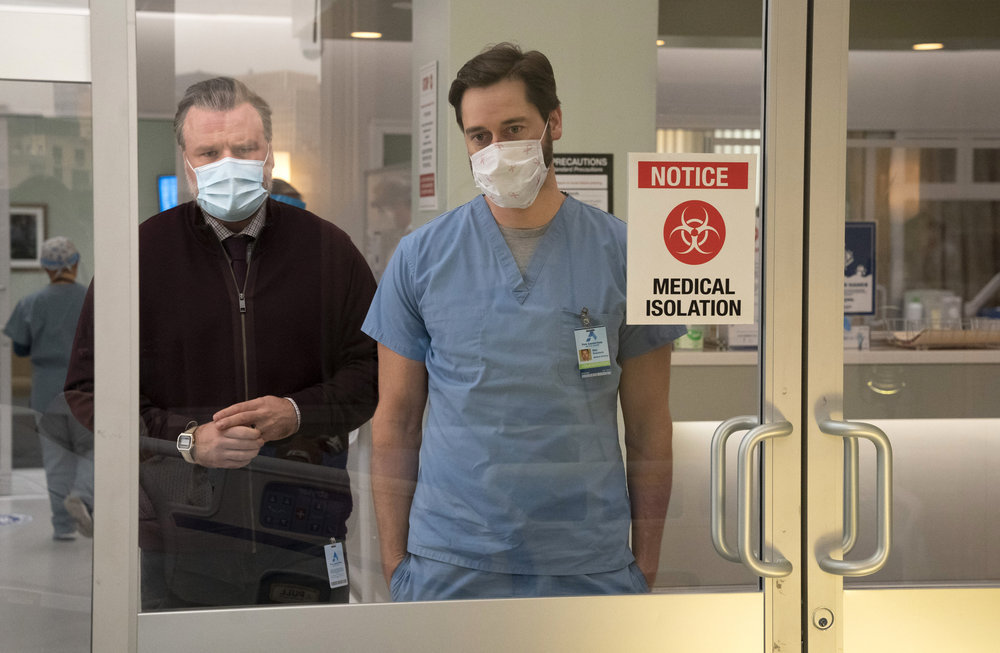 Photo by: Virginia Sherwood/NBC
Just like any medical show airing lately, New Amsterdam S3 takes place during the pandemic and showcases all the difficulties COVID-19 adds to everyday hospital care. In the opening montage alone, we see patients struggling, hospital workers worn out with their faces bloody from wearing PPE, and everyone around experiencing quiet moments of despair. But we also see these same people pulling together to do their best in the worst situation. There's a ray of light as the hospital stabilizes its process and begins vaccinations of its workers. If it doesn't bring you to tears, you need to watch it again.
But the episode soon brings in another type of disaster: The hospital watches in horror as a plane crashes into the nearby East River. The team prepares for an overwhelming amount of casualties—and for the ensuing investigation into why and how the plane crashed. Everyone needs answers but priorities need to be towards saving lives…but what happens when those lives were unnecessarily put at risk? New Amsterdam shows no sign of slowing down, kicking off S3 with a fast-paced, highly emotional rollercoaster.
New Amsterdam returns to NBC tomorrow.
From NBC:
A plane crash lands into the East River and the team scrambles to save patients' lives. When investigators come to interrogate the flight crew, Iggy races against the clock to help the pilot uncover the truth. Max is trying to track down vital medicine for one of his own that's now scarce due to the pandemic.
—
Murder Among the Mormons
Season 1
Wed Mar 3
On Netflix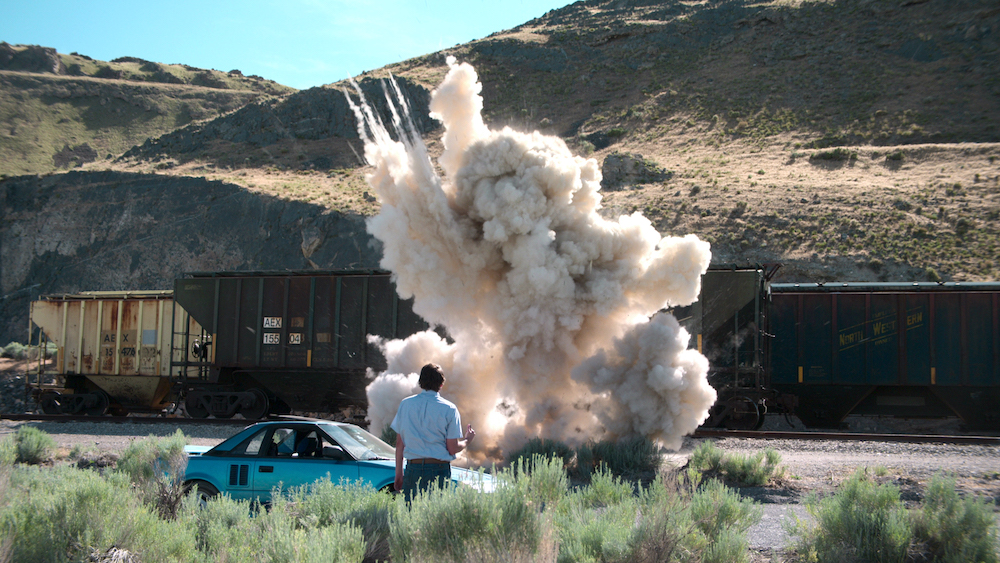 Photo: Netflix
In 1985 in Salt Lake City, two pipe bombs detonated at separate locations, killing two people and severely injuring another. The connection between them pointed to the Latter Day Saints Church—whether from inside or outside, it was unclear. As more details emerged, there was talk of the White Salamander Letter—an early Mormon relic that suggested the founding of Mormonism was different to current scripture. Was it something to kill over? Murder Among the Mormons takes you through all the possible theories floating around at the time and the seemingly tenuous but actually deep-rooted connections made between religious document-dealing, members of the LDS Church, and the person responsible. Pairing archived news reports and interviews with those affected, you get an eerie picture of a world you may not know much about—and how this shocking crime still resonates today.
Stream Murder Among the Mormons on Wednesday on Netflix.
From Netflix:
Salt Lake City, 1985. A series of pipe bombs kills two people and severely injures another, jolting the epicenter of the LDS Church. The murders send further shockwaves through the community when a trove of early Mormon letters and diaries are found destroyed in the vehicle of the third victim, Mark Hofmann, a renowned collector of rare documents, including the infamous White Salamander Letter — an artifact whose contents threatened to shake the very foundations of Mormonism. As Hofmann fights for his life, investigators race to uncover the truth. Directed by Jared Hess (Napoleon Dynamite) and Tyler Measom (An Honest Liar), MURDER AMONG THE MORMONS is the first comprehensive look at one of the most shocking crimes to have ever taken place among the Mormon community and the criminal mastermind behind it all. Murder Among the Mormons is a BBC Studios Production. The series is directed by Jared Hess and Tyler Measom. Executive producers are Joe Berlinger, Ryan O'Dowd, Jared Hess and Tyler Measom. Produced by Jannat Gargi.
—
grown-ish
"Over My Head" Season 3, Episode 15
Thurs Mar 4 – 8PM
On Freeform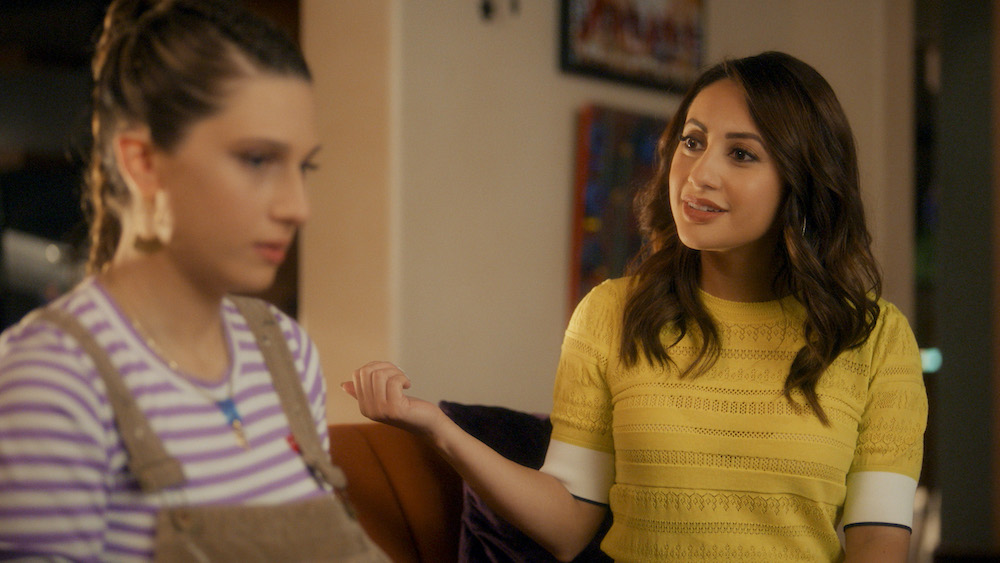 Photo: Freeform
Nomi's (Emily Arlook) "baby daddy" is back in town and she's struggling to let him know he has a daughter. So Ana (Francia Raisa), being Ana, steps in to help…and it gets awkward. Nomi's scared but she knows she has some hard decisions to make. So does Zoey (Yara Shahidi), after rumors threaten to ruin her reputation (which is incredibly sexist). And her decisions lead to some new pathways—for better or for worse. Meanwhile, it's the big day for Jazz (Chloe Bailey) and Sky (Halle Bailey)—they're competing to qualify for the Olympics! We can't say how the race goes but we do know you'll be rooting for them both. "Over My Head" forces our grown-ish crew to look at what they really want for their futures, which means plenty of heart and heartbreak—yup, this show always keeps it real.
grown-ish airs on Freeform every Thursday.
From Freeform:
Zoey wonders if she's cut out for the real world after becoming the subject of a nasty rumor at work. Nomi sees Phil for the first time in a year and debates whether to tell him about Luna. Doug plans a house party to cheer on Jazz and Sky in their Olympic-qualifying race.
—
Raya and the Last Dragon
Fri Mar 5
On Disney+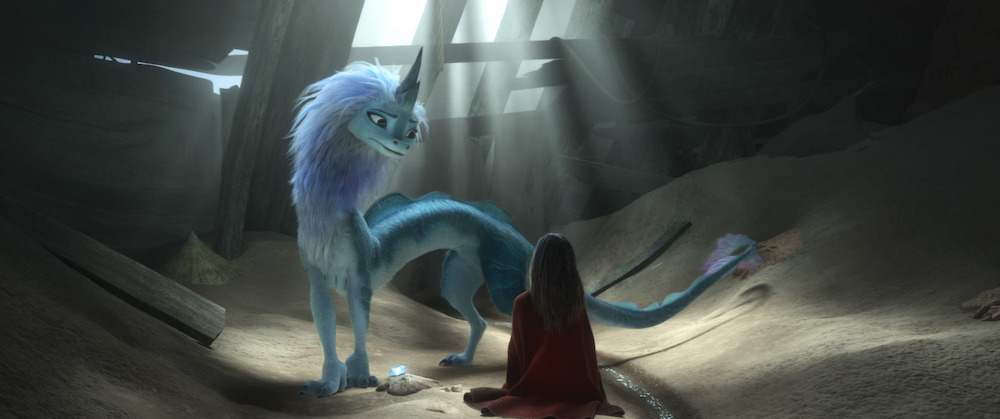 Photo © 2020 Disney 
Raya and the Last Dragon is a very good, exciting, funny, joyous animation about the power of coming together, truth beyond the legends, and learning to trust when that's the most dangerous thing you can do. I've watched it a few times—no shame—I'm about to watch it again.
More than anything else, this animation speaks to themes of unity we are in dire need of learning right now, and it does it in the most powerful way, by wrapping the truth up in action and sweetness. (read our review)
Watch Raya and the Last Dragon on Friday, only on Disney+.
From Disney+:
"Raya and the Last Dragon" takes us on an exciting, epic journey to the fantasy world of Kumandra, where humans and dragons lived together long ago in harmony. But when an evil force threatened the land, the dragons sacrificed themselves to save humanity. Now, 500 years later, that same evil has returned and it's up to a lone warrior, Raya, to track down the legendary last dragon to restore the fractured land and its divided people. However, along her journey, she'll learn that it'll take more than a dragon to save the world—it's going to take trust and teamwork as well.
—
Boogie
Fri Mar 5
In theaters via Focus Features
Stay tuned for our review!
Boogie comes to theaters on Friday.
From Focus Features:
From acclaimed writer, producer and restaurateur Eddie Huang comes his directorial debut Boogie, the coming-of-age story of Alfred "Boogie" Chin, a basketball phenom living in Queens, New York, who dreams of one day playing in the NBA. While his parents pressure him to focus on earning a scholarship to an elite college, Boogie must find a way to navigate a new girlfriend, high school, on-court rivals and the burden of expectation.