This week: Ms. Pat: Y'all Wanna Hear Something Crazy?, Disenchantment, Dollface, Inventing Anna, Love is Blind, The Sky is Everywhere, Bel-Air
Ms. Pat: Y'all Wanna Hear Something Crazy?
Tues Feb 8
On Netflix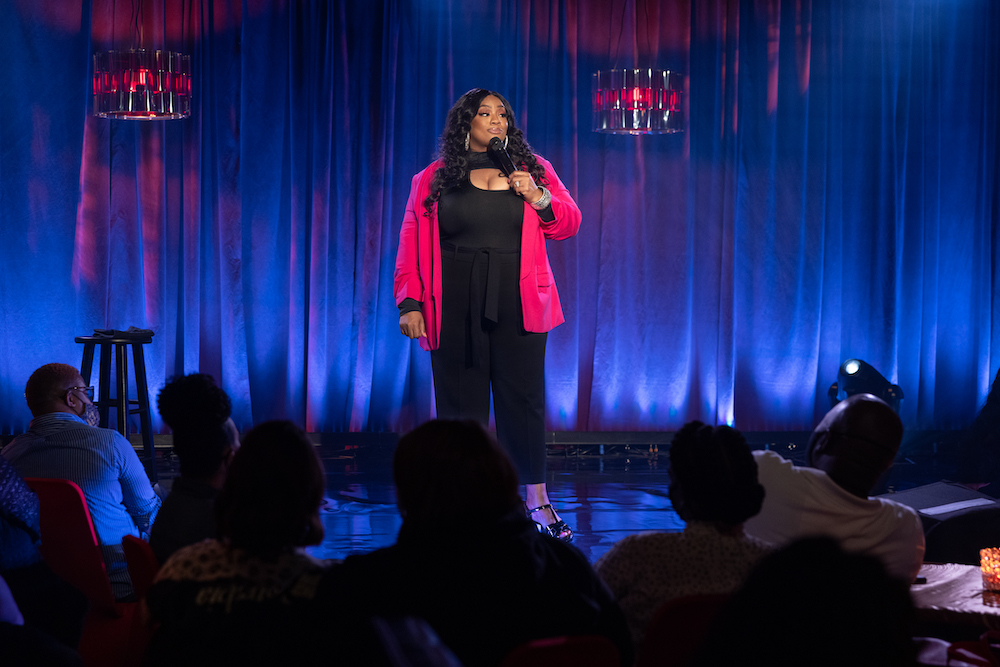 Ms. Pat isn't wasting a single second of her first Netflix stand-up special by sugarcoating things. She's telling it like it is and her wild words of wisdom will have you howling with laughter. Ms. Pat has lived an epic life so far which makes for some raunchy stories flavored by straight-up truth. Y'all Wanna Hear Something Crazy? lives up to its name—you won't have heard anything quite like this and Ms. Pat tells it so well.
Stream Ms. Pat: Y'all Wanna Hear Something Crazy?
on Netflix tomorrow.
From Netflix:
Y'all wanna hear something crazy? Then tune into Comedian Ms. Pat's first hour-long Netflix special, directed by the legendary Robert Townsend. Ms. Pat recalls growing up poor in Atlanta during the Reagan era, what she learned spending five days in juvenile detention, how her mom made her get baptized at local churches to get money, and much much more.
–
Disenchantment
Part IV
Wed Feb 9
On Netflix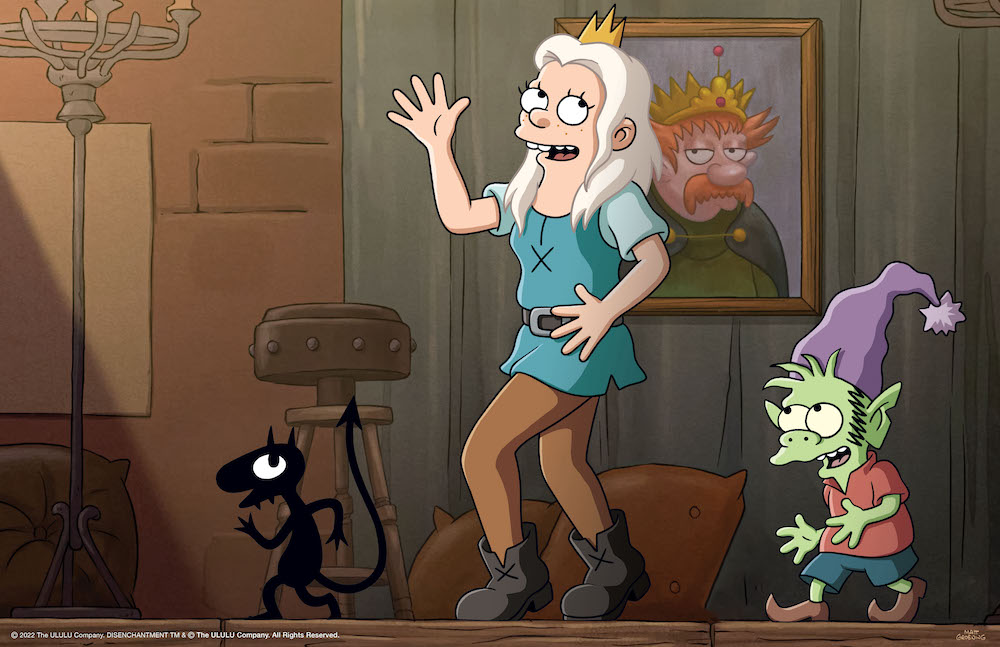 There's going to be a wedding! Bean (Abbi Jacobson) is the blushing bride…and by "blushing" we mean angry…and by "bride" we mean prisoner in Hell. How will she ever get herself out of this one? Well, you might not figure out the whys but you may have an inkling that her mother has something to do with it. Back on the surface, Elfo (Nat Faxon) tries to find his way back to Bean and Luci (Eric André) but finds himself wrapped up in a war that brings up questions of his own history. Disenchantment part IV sends our sorta-heroes far and wide in search of adventure that could upend the fate of the kingdom and everything they know. The season seeks to add even more depth and understanding to the characters by bringing them closer to their past in order to catapult them into the future with some pretty fun journeys along the way.
Disenchantment is back on Netflix on Wednesday.
From Netflix:
The misadventures of hard-hitting, hard-drinking Queen Bean, her feisty elf companion Elfo and her personal demon Luci return and deepen in Part IV of Matt Groening's comedy fantasy series Disenchantment. The mystery of Dreamland's origins – and the stakes for its future – become ever clearer as our trio – and King Zøg – find themselves on personal journeys that will ultimately tie in to the kingdom's fate. Separated at the end of Part III, our heroes race to reunite in this sweeping series of ten episodes. They'll find themselves everywhere from the depths of Hell to the clouds of Heaven and everywhere in between, including Ogreland, Steamland, underwater, monasteries, insane asylums, the Enchanted Forest, the Dreamscape and more. All the while, puzzle pieces both canonical and personal will reveal themselves to eager fans.
–
grown-ish
"Mr. Right Now" – Season 4, Episode 12
Thurs Feb 10 – 10PM
On Freeform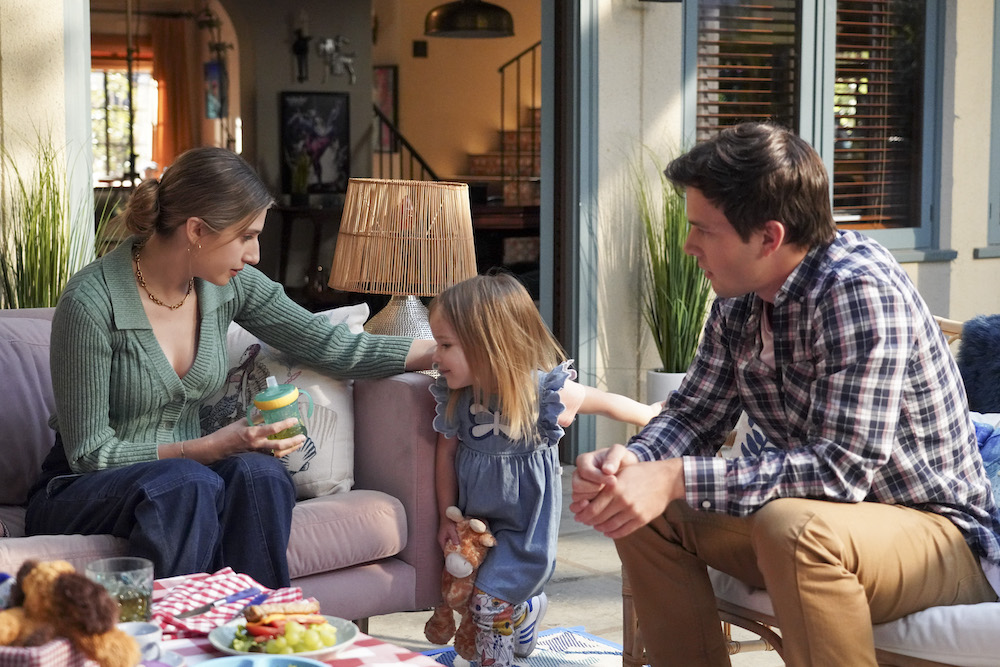 Nomi (Emily Arlook) is finding it hard to let her baby daddy Phil (Tommy O'Brien) in. As she slowly introduces him to Luna, Nomi looks for any excuse to run for the hills. Meanwhile, Zoey (Yara Shahidi) tries to be her best self at her new internship—y'know, the one she broke up with Aaron (Trevor Jackson) over—but she gets herself and Luca (Luka Sabbat) into a sticky situation. Vivek (Jordan Buhat) decides to withhold his misdemeanor to get a job…which soon bites him in the ass. And Jazz (Chloe Bailey) has trouble adjusting to her new boo's self-expression. grown-ish loves to hold the crew accountable and make them question their choices—even when it's hard—and we applaud the show for that every time.
Grown-ish airs on Thursday on Freeform.
From Freeform:
With her baby daddy Phil back on the scene, Nomi debates how involved she wants him to be in Luna's life. Zoey tries to mend the friendship between Luca and Doug as an attempt to improve her internship experience. Vivek feels guilty after lying on his resume. Jazz struggles to accept how Des presents himself.
–
Dollface
Season 2
Fri Feb 11
On Hulu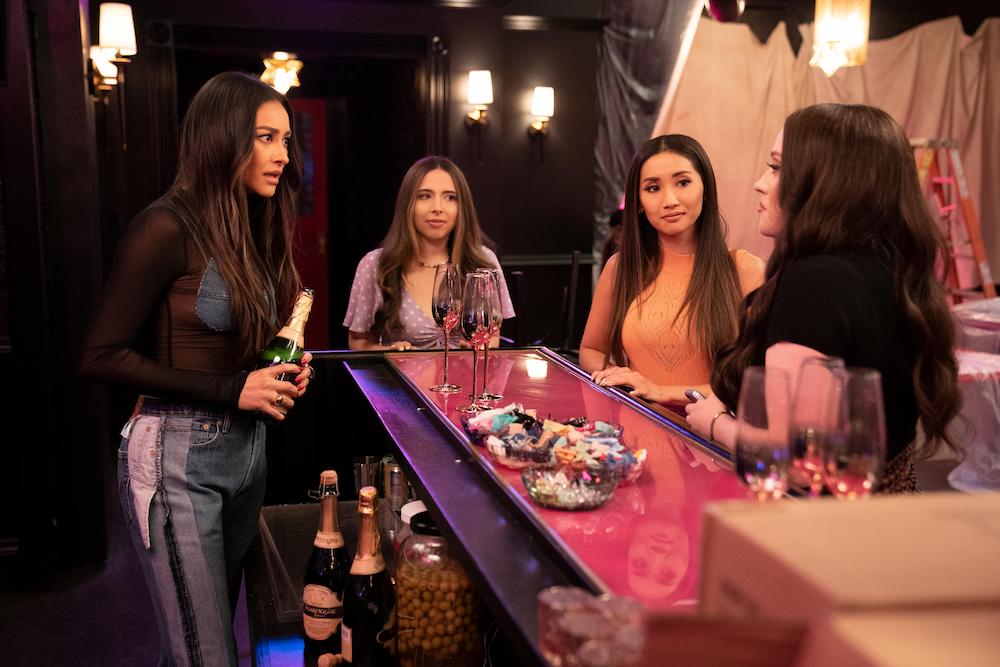 Jules (Kat Dennings) & her crew are back and getting ready to hit the big 30. With changes in careers and romance, the growing pains are definitely real. Jules is moving up in the world of work but is unsure of whether she really belongs there. Izzy (Esther Povitsky) also has some mixed feelings about Jules' new position and is working on standing up for herself. Stella (Shay Mitchell) is looking for a new business venture while looking for love (or at least, a really hot hookup). Madison (Brenda Song) feels like she's hit rock bottom but her girls rally around her—because this group is tight and they've been through a lot of messiness together. Turning 30 is a weird time in your life—some friends are married with kids, others are out partying every night, most are still figuring things out—and Dollface captures the highs and lows of it all with a surprising amount of nuance for a dramedy (plus a whole lotta laughs).
Dollface returns to Hulu on Friday.
From Hulu:
Season Two follows Jules (Kat Dennings) and her best friends– post pandemic, post heartbreak, heading toward turning thirty. Having successfully reunited with her friends (Brenda Song, Shay Mitchell, and Esther Povitsky), Jules must now balance keeping their group together as the women navigate work, love, and a deeper relationship with each of themselves.
–
Inventing Anna
Season 1
Fri Feb 11
On Netflix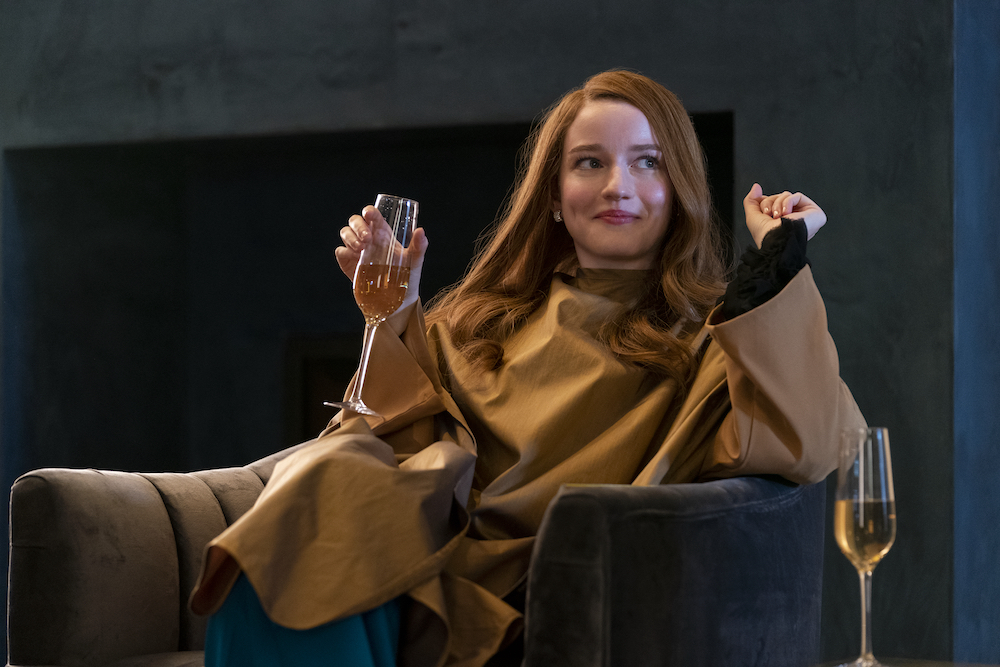 It was the scandal that kept the internet enthralled for weeks: In 2018, Jessica Pressler published her infamous New York Magazine article "How Anna Delvey Tricked New York's Party People". Anna Delvey stole her way into NY's social scene, living an heiress-level life and pulling in the rich and famous with expensive gifts before ghosting them when the bills piled up. She finessed money from anywhere she could and took advantage of her social circle to live well beyond her means. The month-long hotel stays, the business deals made at lavish parties, and the insane shopping sprees meant it was only a matter of time until Anna got caught but she sure made the most of it. Inventing Anna seeks to paint the scandal in even more delicious detail, told through the lens of journalist Vivian (Anna Chlumsky). Vivian is fiercely determined, using whatever means necessary to gain near-exclusive access to Anna (Julia Garner) and uncover the whole story. Through visits with Anna at Rikers Island and conversations with her so-called friends and acquaintances, you'll experience Anna's high-flying lifestyle that unravels as quickly as it appears. 
The always phenomenal Julia Garner is fantastic as Anna, pulling you into her world until you're riveted and watching her face for every micro-expression as she calculates her next move. At some point you won't even know if you're rooting for her or for her downfall (perhaps both). Inventing Anna gives you a glimpse into how the other half live, where money flows like wine and is less about numbers and more about access. And, even if you don't want to admit it, the series will give you a sense of schadenfreude as you watch the elite get taken for a ride. So pour yourself a glass of something red and burn your way through Inventing Anna—it's a juicy Shondaland drama you simply cannot miss.
Watch Inventing Anna on Netflix on Friday.
From Netflix:
In Inventing Anna, a journalist with a lot to prove investigates the case of Anna Delvey, the Instagram-legendary German heiress who stole the hearts of New York's social scene – and stole their money as well. But is Anna New York's biggest con woman or is she simply the new portrait of the American dream? Anna and the reporter form a dark, funny love-hate bond as Anna awaits trial and our reporter fights the clock to answer the biggest question in NYC: who is Anna Delvey? The series is inspired by the New York Magazine article "How Anna Delvey Tricked New York's Party People" by Jessica Pressler.
–
Love is Blind
Season 2
Fri Feb 11
On Netflix
Romance is in the air on Netflix once again with Love is Blind. S2 brings couples together who have never met, only able to communicate with each other through a wall. From the get-go, of course there's plenty of flirting but there's also a heap of drama—setting the stage for some fiery showdowns later down the line. Whether the couples are sure they've found the one or think the grass is greener on the other side, S2 really tests the boundaries of what it takes to love someone. And you'll be eating up every swoon and every bit of shade.
Love is Blind returns to Netflix on Friday.
From Netflix:
Netflix fan-favorite series LOVE IS BLIND is back! Singles who want to be loved for who they are, rather than what they look like, have signed up for a less conventional approach to modern dating in Chicago where they hope to meet the person they want to spend the rest of their lives with…without ever having seen them. With no distractions from the outside world, the singles talk to a stream of potential love interests and when a meaningful connection is made, they propose and then lay their eyes on their fiancé for the first time. Engaged and back in the real world, as the couples plan their wedding day, they will quickly discover whether they can turn their emotional connection into a physical one before the fast-approaching ceremony. Hosted by Nick and Vanessa Lachey, this addictive 10-part series will uncover whether looks, race or age do matter, or if love really is blind.
–
The Sky is Everywhere
Fri Feb 11
On Apple TV+
Stream The Sky is Everywhere on Apple TV+ on Friday.
From Apple TV:
Tucked among the magical redwood trees of Northern California and surrounded by her grandmother's gargantuan roses, 17-year-old Lennie Walker, a radiant musical prodigy, struggles with overwhelming grief following the sudden loss of her older sister, Bailey. When Joe Fontaine, the charismatic new guy at school, enters Lennie's life, she's drawn to him. But Lennie's complicated relationship with her sister's devastated boyfriend, Toby, starts to affect Lennie and Joe's budding love. Through her vivid imagination and honest, conflicted heart, Lennie navigates first love and first loss to create a song of her own. Acclaimed filmmaker Josephine Decker directs this moving adaptation of the beloved novel of the same name.
–
Bel-Air
Season 1
Sun Feb 13
On Peacock
Watch Bel-Air on Peacock on Sunday.
From Peacock:
Set in modern-day America, Peacock's new one-hour drama series Bel-Air imagines the beloved sitcom The Fresh Prince of Bel-Air through a new, dramatic take on Will's complicated journey from the streets of West Philadelphia to the gated mansions of Bel-Air. As these two worlds collide, Will reckons with the power of second chances while navigating the conflicts, emotions, and biases of a world far different from the only one he's ever known.