This week: The Crew, Animals on the Loose: A You vs. Wild Interactive Movie, Young Rock, Kenan, Behind Her Eyes, Amend: The Fight for America, Good Trouble, grown-ish, Nomadland, Tell Me Your Secrets
The Crew
Season 1
Now streaming
On Netflix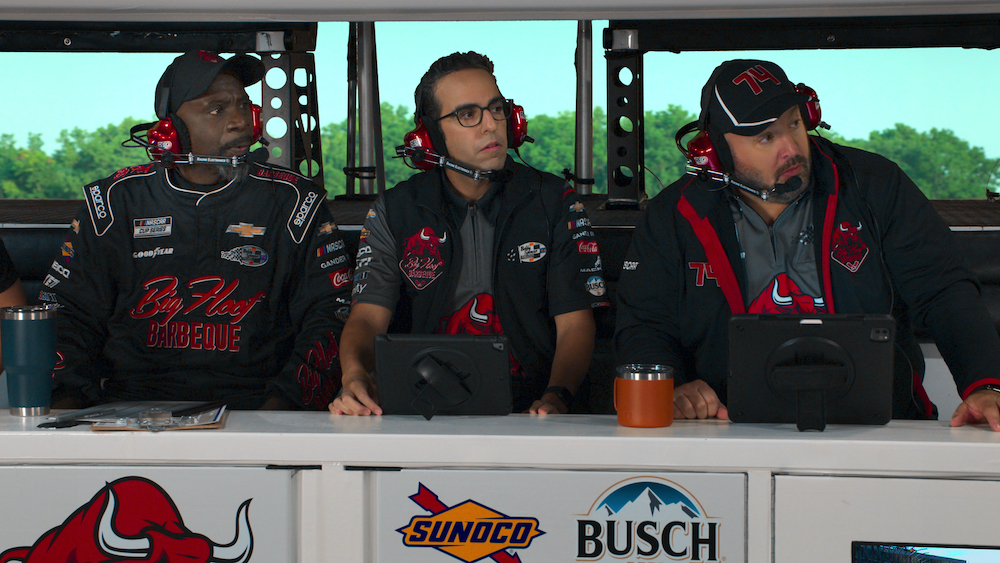 Photo courtesy of Netflix © 2020
Kevin James is headed to NASCAR. Yup, The Crew is the new sitcom that sees him running the Bobby Spencer Racing team, full of big personalities and old friends. But when the team is suddenly taken over by Silicon Valley hotshot Catherine (Jillian Mueller), things get tense. She's ready to shake things up but Kevin wants things to stay the same—meaning they clash…a LOT. Sometimes that means trouble, sometimes it means progress for the team—depends on who you ask—and it makes for snappy one liners and laughs. We're not entirely sure a comedy about NASCAR is the way to go after the recent political turmoil (remember when it took until last year for NASCAR to remove confederate flags from their tracks?) but The Crew is mostly a workplace sitcom that just happens to revolve around cars. Kevin James brings his usual comedic zeal to the role and with him leading the way it settles in as a pretty easy watch.
The Crew is out now on Netflix.
From Netflix:
The Crew stars Kevin James as a NASCAR crew chief for the fictional Bobby Spencer Racing team. When the owner steps down and passes the team off to his daughter Catherine (Jillian Mueller), James has to protect himself and his crew from her attempts to modernize the team. Freddie Stroma, Sarah Stiles, Gary Anthony Williams and Dan Ahdoot also star, Paris Berelc and Bruce McGill guest star.
—
Animals on the Loose:
A You vs. Wild Interactive Movie
Tues Feb 16
On Netflix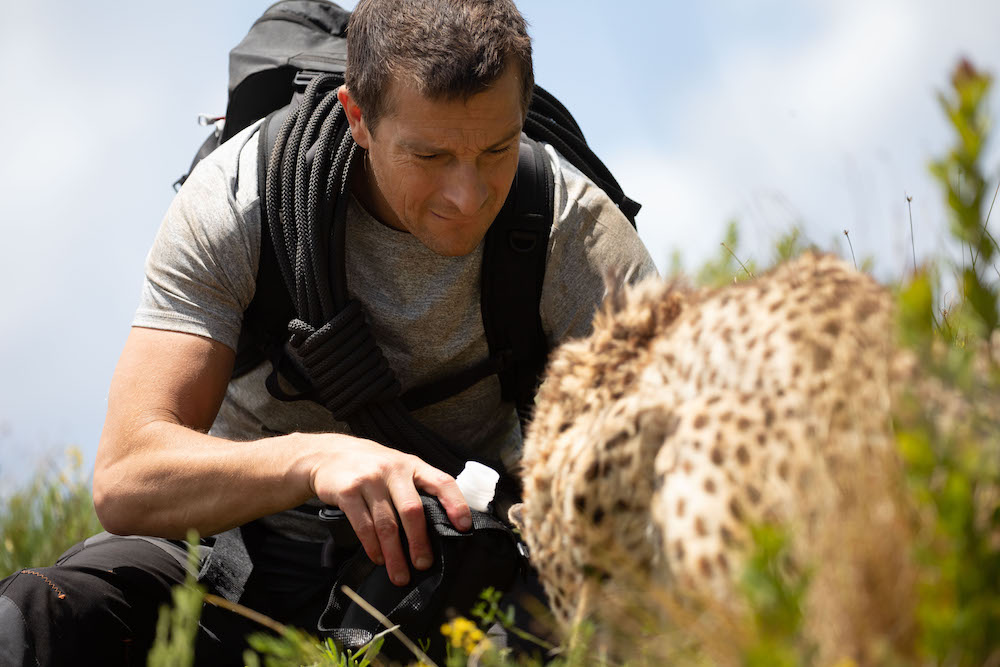 Photo: Duane Howard
Pro tip: Do not watch this if you are prone to anxiety. Netflix is dropping another interactive special but this time it's more realistic: You get to control what Bear Grylls does when an animal sanctuary in South Africa loses power and some animals escape. Yup, he's out in the wild and you get to decide his fate. And woah, it's intense. One wrong decision could cost him everything—even if it is staged with ultra-trained professionals, it feels all too real. Grylls takes us on an adventure across the savannah, with some mystery thrown in and plenty of adrenaline. Will he escape? Will the animals make it back to the sanctuary safely? It's up to you to decide in Netflix's most high-stakes interactive special yet.
Stream Animals on the Loose: A You vs. Wild Interactive Movie
on Netflix.
From Netflix:
Bear Grylls returns with Animals on the Loose: A You vs. Wild movie, an exciting 90 minute interactive movie for the whole family. The protective fence surrounding a wildlife sanctuary has mysteriously suffered a breach, and now animals are on the loose. Bear is called in to help rescue a mischievous baboon, track down a hungry lion, and fix the fence before any more animals get out. Three urgent missions await you with only so much time and Bear needs your help. With the possibility of completing a secret mission, each decision impacts this interactive adventure, so make your choices count!
—
Young Rock
"Working the Gimmick" – Series premiere
Tues Feb 16 – 8PM
On NBC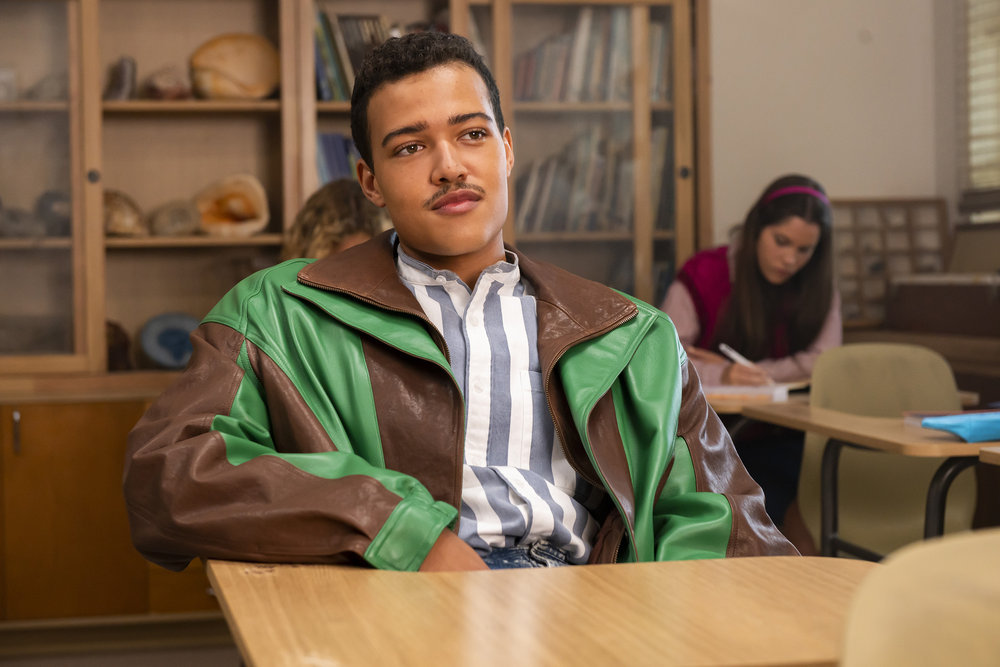 Photo by: Mark Taylor
Fast-forward to 2032, the year our dreams will come true: The Rock is running for President. When examined by Randall Park in an in-depth interview, Dwayne Johnson takes us back into his childhood to tell the story of how he came to be the legend he is. In this dramatized look back at his life, The Rock gets real—about his wrestling family, the hustle of his teenage years, his football career—and how it all set him on a path to greatness. Johnson and Park are a dynamic duo, setting the stage with plenty of charm, while Johnson's teenage self (played by Bradley Constant) is eager and earnest, giving off a chaotic energy that pulls you right in. Young Rock is a fun show to get sucked into and will teach you a thing or two about Johnson as well as about family and acceptance.
From NBC:
"Young Rock" focuses on different chapters of Dwayne Johnson's life. From growing up in a strong and resilient family, to being surrounded by the wild characters of his professional wrestling family, to playing football at the University of Miami, the show will explore the crazy rollercoaster that has shaped Dwayne into the man he is today and the larger-than-life characters he's met along the way.
—
Kenan
Series premiere
Tues Feb 16 – 8:30PM
On NBC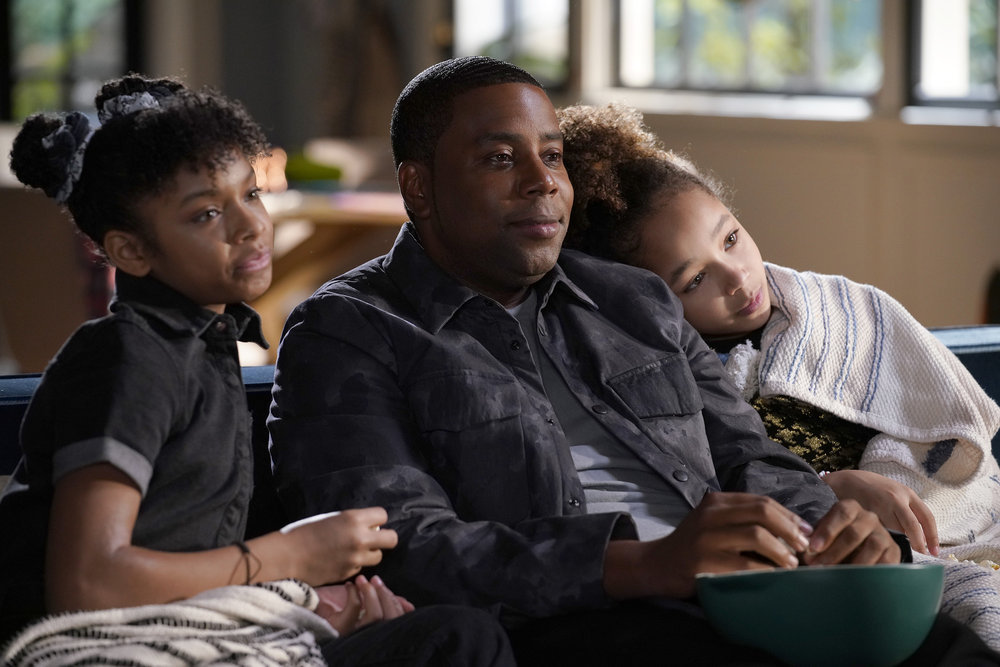 Photo by: Casey Durkin/NBC
From The Rock to Kenan Thompson, your Tuesday nights are about to get supersized. Kenan follows the man himself as he tries to keep his life together following the loss of his wife. His daughters are strong-willed and precocious and don't give him a free pass just because he's, y'know, a legend. Parenting them is a challenge but he's not completely alone—his father-in-law Rick (Don Johnson) and his brother Gary (Chris Redd) have a whole lotta opinions on how to live his life. His colleagues also have a lot to say about Kenan's life on his talk show, Wake Up with Kenan. And um, he needs all the help he can get—whenever Kenan starts to get into his feelings chaos ensues. Which means laughs for all and a few tears too. Kenan is another fun addition to NBC's sitcom roster with a good dose of heart mixed in with some wry observations about family, pop culture, and living life in the public eye.
From NBC:
This single-camera comedy follows a widowed dad, Kenan (Kenan Thompson), who's juggling a high-profile job as the host of an Atlanta morning show and raising his two girls. As Kenan tries to move on, his father-in-law (Don Johnson), brother (Chris Redd) and co-workers all have strong opinions on the best way to live his life.

—
Behind Her Eyes
Season 1
Wed Feb 17
On Netflix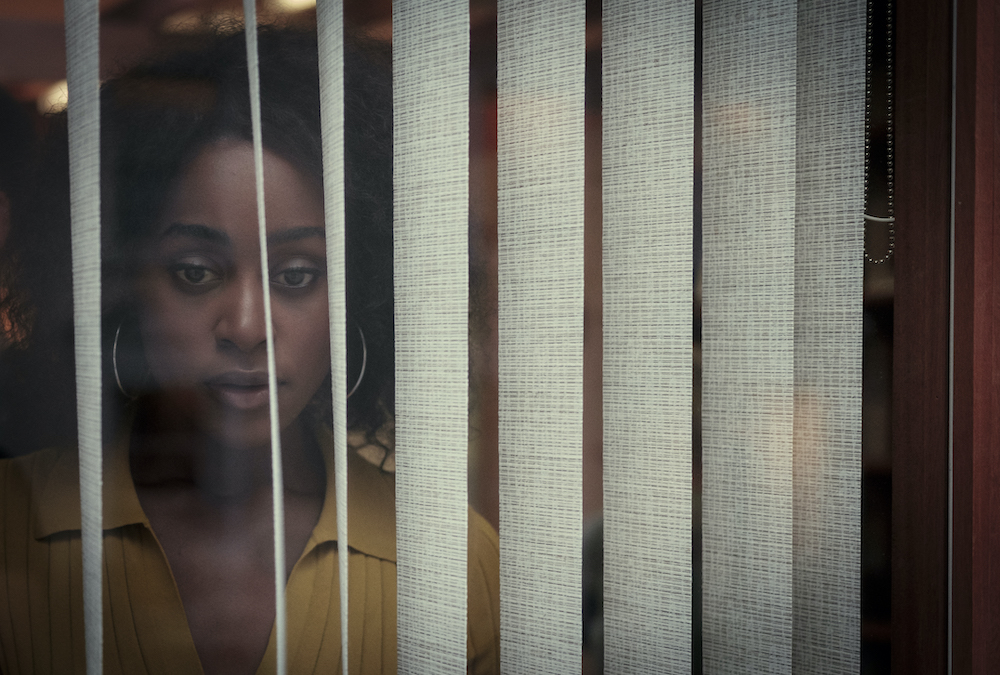 Photo: Nick Wall/Netflix © 2020
Single mother Louise (Simona Brown) meets a man named David (Tom Bateman) in a bar and sparks fly. A few days later, he starts work as the new psychiatrist in town…at the practice Louise just happens to work at. Coincidence or something more? A secret romance blooms but their lives become even more entwined when Louise befriends David's wife Adele (Eve Hewson). They all have secrets; including mental breakdowns and issues that go deeper than just sleepwalking and loneliness. You'll immediately feel that something is off and things spiral from there as this show gets more and more twisted. It's melodramatic and at times horrifying, with underlying themes and a couple of problematic twists that feel oblivious in our times. Behind Her Eyes is a thriller with revelations that just keep on coming—for better or for worse.
Watch Behind Her Eyes on Netflix tomorrow.
From Netflix:
Simona Brown plays Louise, a single mother who has an affair with her psychiatrist boss David (Tom Bateman). Her life takes a strange turn when she later befriends his wife Adele (Eve Hewson), and she finds herself caught in a web of secrets and lies where nothing is what it seems. Also starring Robert Aramayo, Behind Her Eyes is produced by Left Bank Pictures (The Crown) and written by Steve Lightfoot and Angela LaManna, based on the best-selling novel by Sarah Pinborough.
—
Amend: The Fight for America
Season 1
Wed Feb 17
On Netflix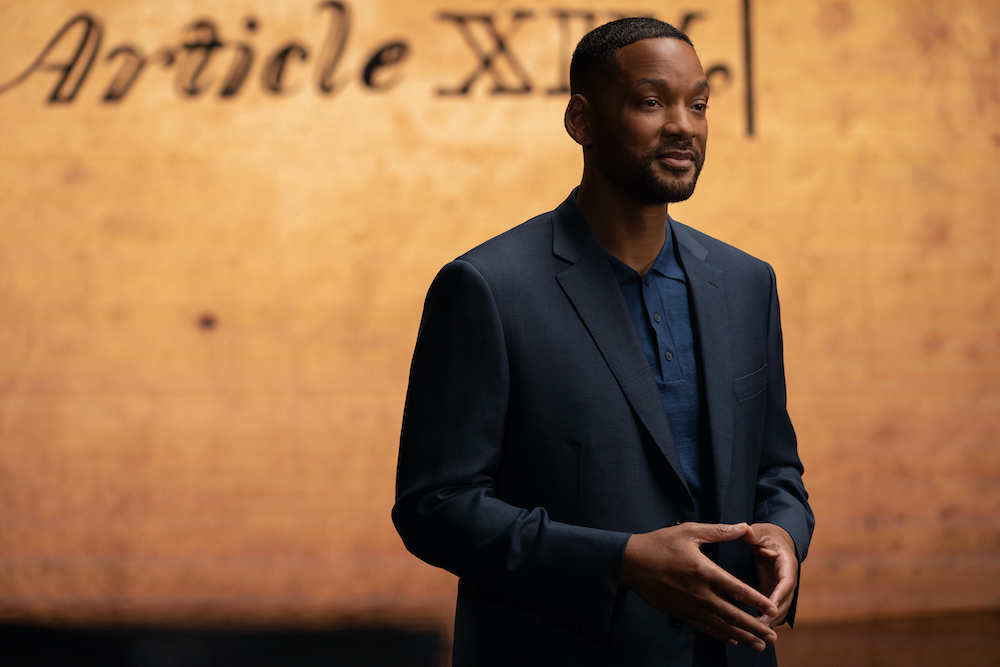 Photo: Saeed Adyani/Netflix © 2021
America is a nation founded on the backs of slaves and genocide of native people. It's a truth that we all must face, no matter how whitewashed and covered up it tries to be. Healing as a nation comes from rebuilding the systems designed to oppress and acknowledging the historic and continued racism. Will Smith takes to Netflix to explore the 14th Amendment of the US Constitution—promising liberty and equal protection for all persons—and look at how much change needs to be made in order to achieve that right. From past to present, Smith takes us on a journey through the country's most egregious acts of racism, bringing in historians, political experts, activists, and celebrity guests to break down a convoluted and complex system into simple and effective steps. Amend: The Fight for America is an absolute must-watch for Black History Month and always—and will get you re-energized in the fight for democracy.
Amend: The Fight for America comes to Netflix tomorrow.
From Netflix:
Amend: The Fight for America is a six-part docuseries that explores the Fourteenth Amendment of the U.S. Constitution – which, in 1868, promised liberty and equal protection for all persons – as America's most enduring hallmark of democracy. Amend deploys a groundbreaking narrative format featuring a number of luminaries (Mahershala Ali, Diane Lane, Samuel L. Jackson, Pedro Pascal, Yara Shahidi, and more) breathing life into speeches and writings by the Fourteenth Amendment's most ardent advocates and foes (including Frederick Douglass, Dr. Martin Luther King Jr. Ruth Bader Ginsburg, and Andrew Johnson) with insights from an inclusive array of contemporary thought leaders and experts. Executive produced and hosted by Oscar-nominated actor Will Smith and Emmy-winning writer Larry Wilmore, Amend is a powerful, multimedia journey through American history that encourages viewers to question what a "United States" really means.
—
Good Trouble
"Capoeira" – Season 3 premiere
Wed Feb 17 – 10PM
On Freeform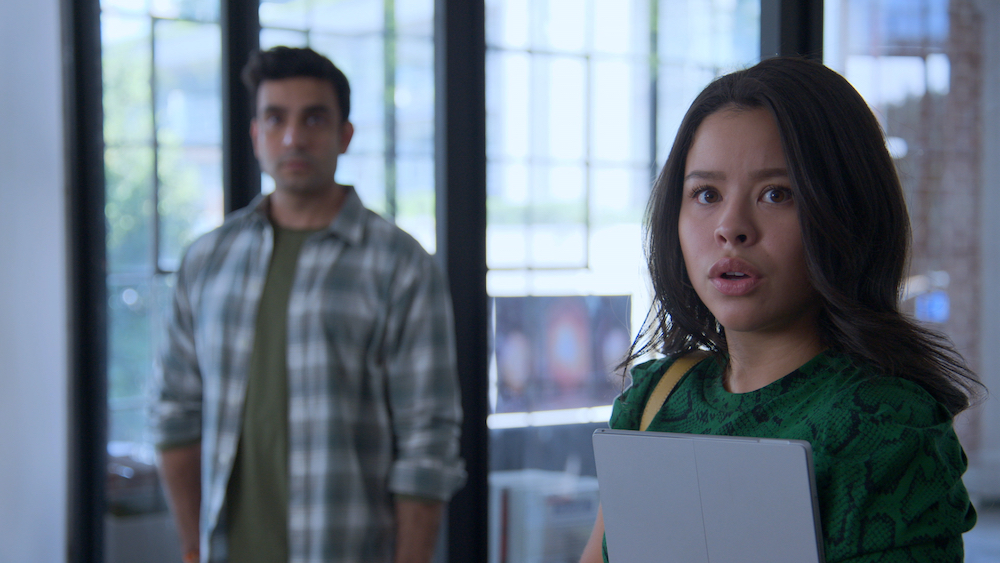 Photo: Freeform/Erin Simkin
Whew, we're still reeling from that explosive season 2 finale but the season 3 premiere ain't about to let us recover. There's love triangles brewing—Mariana (Cierra Ramirez) has to decide the future of her relationship with Raj (Dhruv Uday Singh), while Callie (Maia Mitchell) and Jamie (Beau Mirchoff) are officially done (or are they? Never say never with this show). Meanwhile, the impending trial means Malika (Zuri Adele) might be in bad trouble for taking part in the Black Lives Matter protests—and she's freaking out. Who can she trust? Her storyline will make your heart hurt with a painful reminder that the current justice system is so very broken. The drama is sky-high and the emotions will hit you hard—"Capoeira" shows the fallout from S2 which lays the groundwork for a fiery S3.

Good Trouble returns to Freeform tomorrow.
From Freeform:
With Jerod's case on the line, Callie takes a job with a high profile defense lawyer. After sleeping with Evan, Mariana has to make a decision regarding her relationship with Raj. Meanwhile, Malika's future is on the line with her impending trial.
—
grown-ish
"No Halo" Season 3, Episode 13
Thurs Feb 18 – 8PM
On Freeform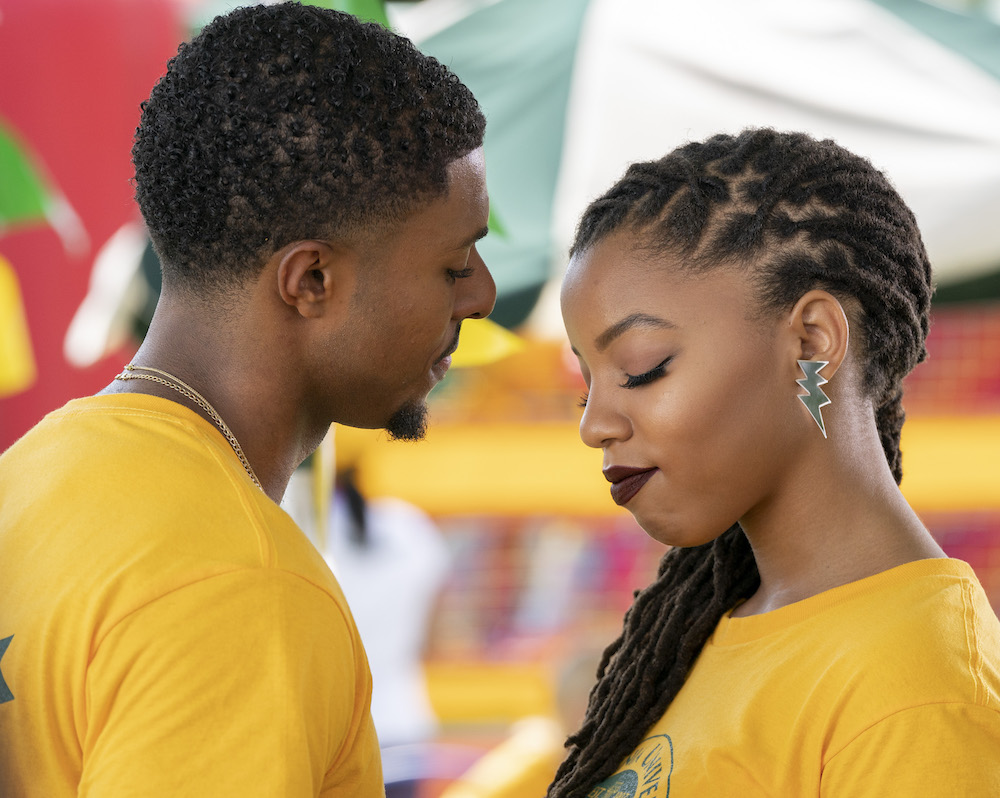 Photo: Freeform/Mitchell Haaseth
Zoey (Yara Shahidi) takes a break from jet setting to check in with her girls…and things have changed a lot since she's been gone. Cue some serious FOMO for simpler times. The twins are killing their track game, which puts Jazz (Chloe Bailey) closer to finishing her break from Doug (Diggy Simmons)—but more hurdles crop up for them both. Ana (Francia Raisa) and Zoey catch up on some much-needed bonding time, which leaves Zoey feeling a little lost. Speaking of feeling lost, Aaron (Trevor Jackson) gets an offer from Cal U that is tantalizing…but how much are his morals worth? When he turns to Zoey for help, he may get himself in more trouble than he realizes. Ooh, Cal U is so sneaky (and you'll be outraged on his behalf). And Vivek (Jordan Buhat) is trying his best to please his girlfriend while keeping up his side hustle—before both take him on a whole trip. "No Halo" asks the grown-ish crew to look deep into their hearts to realize what they truly want—but will they listen? We think they might still have a few lessons to learn…
grown-ish returns to Freeform on Thursday.
From Freeform:
Zoey returns home for a long weekend but is surprised to find things around the house and Cal U has seemed to move on without her. Meanwhile, Jazz and Doug's relationship continues to get more complicated when Jazz returns from the NCAA track finals with some very surprising news.
—
Nomadland
Fri Feb 19
On Hulu & in theaters
Stream Nomadland on Hulu on Friday.
From Rotten Tomatoes:
A woman embarks on a journey through the American West after losing everything during the recession.
—
Tell Me Your Secrets
Season 1
Fri Feb 19
On Amazon Prime Video
Tell Me Your Secrets comes to Amazon Prime Video on Friday.
From Amazon:
Tell Me Your Secrets is an intense, morally complex thriller starring Lily Rabe (American Horror Story), Amy Brenneman (The Leftovers), Hamish Linklater (Legion) and Enrique Murciano (The Blacklist). The series revolves around a trio of characters, each with a mysterious and troubling past: Emma (Rabe) is a young woman who once looked into the eyes of a dangerous killer, John (Linklater) is a former serial predator desperate to find redemption, and Mary (Brenneman) is a grieving mother obsessed with finding her missing daughter. As each of them is pushed to the edge, the truth about their pasts and motives grows ever murkier, blurring the lines between victim and perpetrator. Also starring is Murciano as Peter Guillory, a therapist with seemingly good intentions.