This week: 9-1-1, Tiffany Haddish Presents: They Ready, Zoey's Extraordinary Playlist, Firefly Lane, grown-ish, Malcolm & Marie, Devil May Care
9-1-1
"Future Tense" – Season 4, Episode 3
Mon Feb 1 – 8PM
On FOX
9-1-1 airs on FOX every Monday.
From Rotten Tomatoes:
The 118 race to save a man under siege by his high-tech smart home, and a yoga teacher who has lost her vision. Athena hunts down a bank robber disguised by Covid protocols. Meanwhile, Buck confides in Maddie, Hen clashes with her antagonizing medical school lab partner and members of the 118's crew prep for an out-of-state mission.
—
Tiffany Haddish Presents: They Ready
Season 2
Tues Feb 2
On Netflix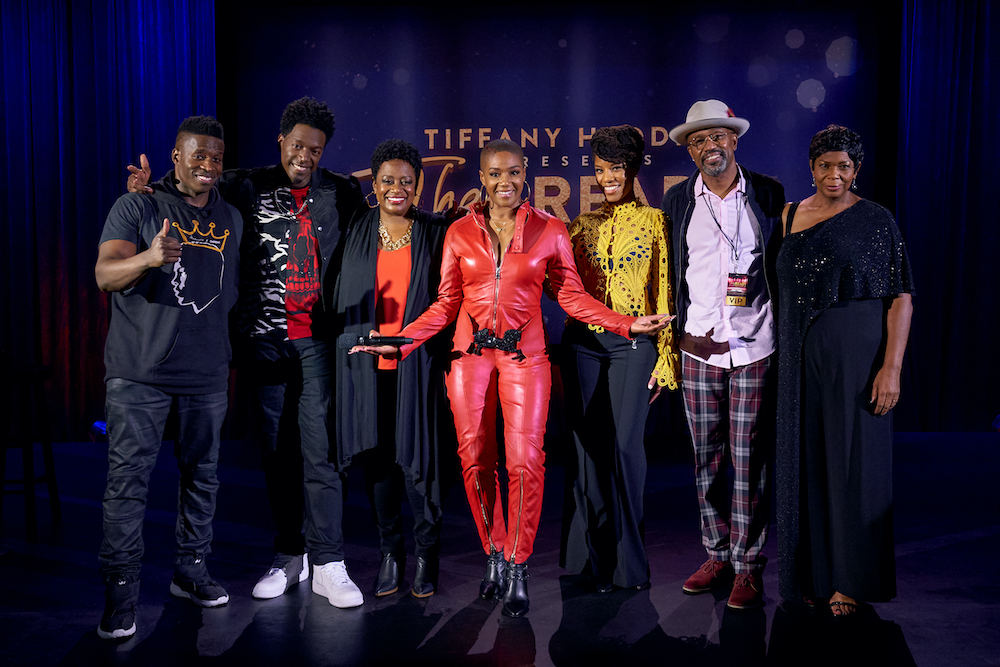 Photo: Greg Gayne © Netflix
One of the many things we truly missed out on in 2020 was stand up—for comedians to pick apart the dumpster fire of the year and make us laugh so we don't cry any more. Well, Tiffany Haddish is here to deliver in 2021 with a new season of They Ready. These up-and-comers on the comedy circuit include: Dean Edwards (SNL), Kimberly Clark (Last Comic Standing), Tony Woods (Comedy Central Presents), Barbara Carlyle (Def Comedy Jam 25), Godfrey (Our Cartoon President), and Erin Jackson (Late Night with Seth Meyers). From navigating life and love in the pandemic, to the ex-president, to how some forms of social distancing might just be an improvement, there's plenty to make fun of this past year or so and these comedians are going to get you giggling because: They Ready!
Tiffany Haddish Presents: They Ready returns to Netflix tomorrow.
From Netflix:
Once again, Tiffany Haddish will introduce six of her favorite comedians to Netflix members around the world with a second season of the Emmy-nominated stand-up comedy series They Ready. Each comedian, all of whom were again personally chosen by Haddish, will perform a 15-20 minute set.
—
Zoey's Extraordinary Playlist
"Zoey's Extraordinary Trip" – Season 2, Episode 5
Tues Feb 2 – 8PM
On NBC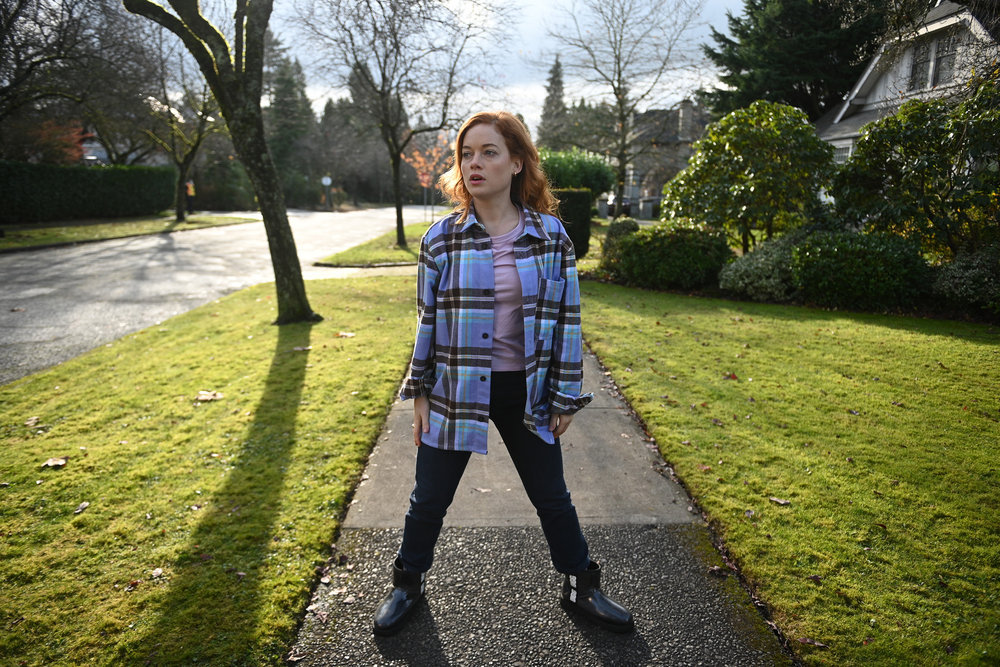 Photo by: Sergei Bachlakov/NBC/Lionsgate
Zoey's (Jane Levy) old neighbor Aiden (Felix Mallard) comes to visit and puts her life into a harsh perspective. Aiden is free-spirited, traveling and doing whatever he wants with no commitments. How would Zoey handle that freedom from responsibility? We're about to find out…well, sorta. Because a potential PR disaster is looming over the company and Zoey needs to bring her A-game—but it takes her on a whole trip to figure out what to do. In spite of the serious work issues Zoey and her colleagues are facing, this is a mostly lighthearted episode that will make you giggle and cheer for Zoey who's finally feeling freed up to work through all the emotions she's been bottling up.
Speaking of bottling up emotions, enjoy a musical version of Linkin Park's "Numb" which will take you back to your angsty teen years, just like Max (Skylar Astin) who has more issues with his dad (Chip Zien) than he cares to admit. Meanwhile Maggie (Mary Steenburgen) and Jenna (Jee Young Han) get into an argument that brings out their insecurities. Each character is forced to get out of their comfort zones which makes for deep and honest conversations. And that's exactly what makes Zoey's Extraordinary Playlist speak to your heart every time.
Watch Zoey's Extraordinary Playlist on NBC on Tuesday.
From NBC:
Zoey decides to explore her rebellious side with her neighbor from growing up, Aiden (guest star Felix Mallard). Max's dad (guest star Chip Zien) comes to visit.
—
Firefly Lane
Season 1
Wed Feb 3
On Netflix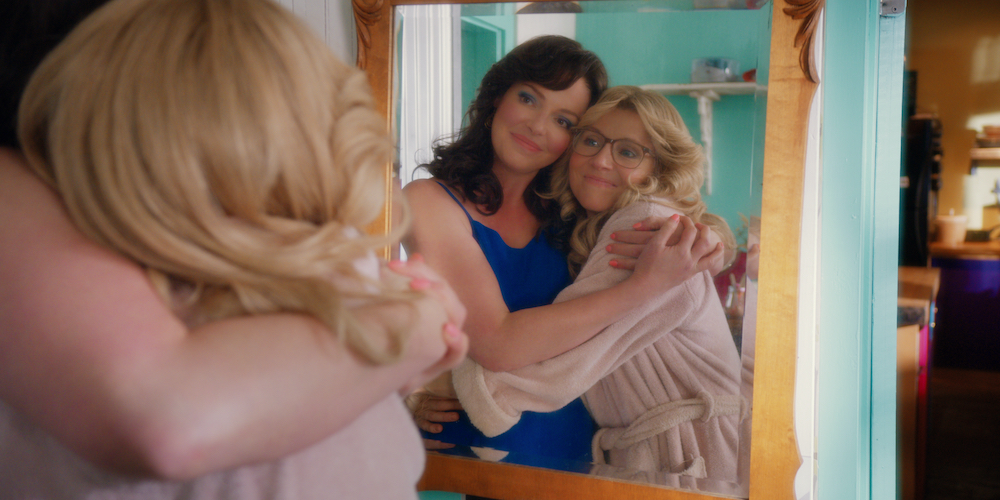 Photo courtesy of Netflix © 2020
This one's for your ride-or-die BFFs. Firefly Lane is a tale of friendship over the years, from high school besties to the deep love of grown women with decades of complicated history between them. Okay, let's rewind to the 80s: Kate (Roan Curtis) is a typical nerdy shy girl who never gets attention from guys. But she's also sweet and strong and incredibly kind. Tully (Ali Skovbye) is the popular new girl in town who gets all the attention and lives for it. But she's struggling with a barely present mother and takes risks no teenager should. They bond over tragic secrets and sisterhood. Fast-forward to adulthood, Tully (Katherine Heigl) is a talk show star living the glamorous life but is still missing the family she craves most. And Kate (Sarah Chalke) is a newly single mom getting ready to go back to work for the first time in years.
The two friends are heavily intertwined for better or for worse, navigating new relationships and old heartbreaks—the series flips between past & present to show us all the facets of their bond. It's sad and funny and heartwarming and painful to watch. Both Katherine Heigl and Sarah Chalke shine here—as do their teenage counterparts Ali Skovbye and Roan Curtis—you feel the depth and complexity of their relationship just as strongly as you feel the pain they try so hard to hide. It's melodramatic, sure, but you'll want to know the secrets of their past and the promise of their future, which becomes more and more blurred as the series progresses.
Stream Firefly Lane on Wednesday, only on Netflix.
From Netflix:
Based on the New York Times Bestselling book, Firefly Lane is the sweeping story of two inseparable best friends and their enduring, complicated bond, spanning four tumultuous decades.
—
grown-ish
"Alright" Season 3, Episode 11
Thurs Feb 4 – 8PM
On Freeform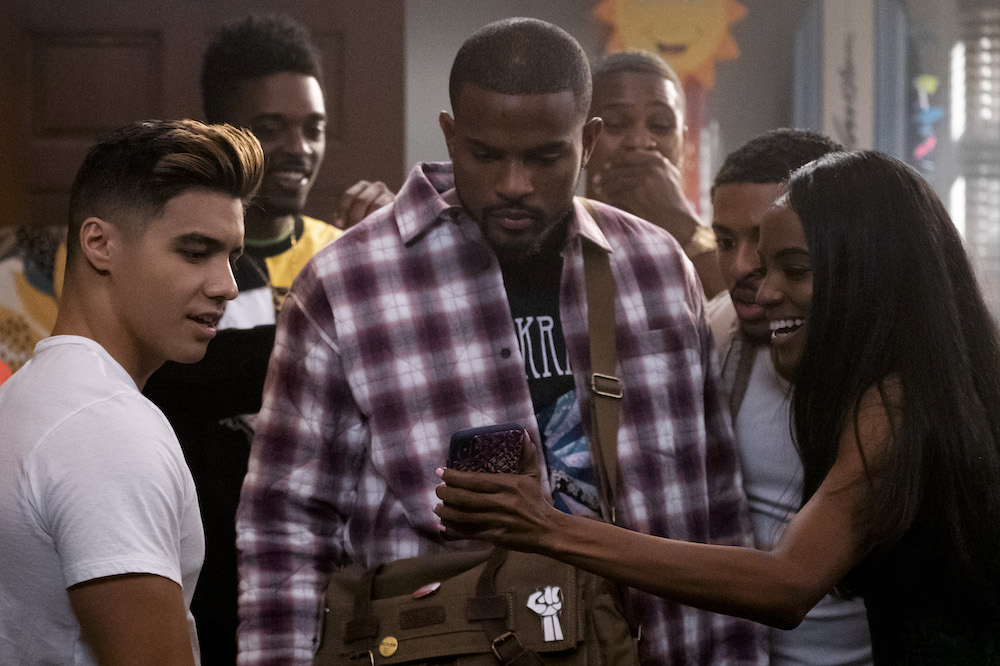 Photo: Freeform/Kelsey McNeal
Following Aaron's (Trevor Jackson) arrest for protesting Cal U's investments in private prisons, he's interviewed on national TV to talk all about it. Unfortunately, his time on air doesn't go as well as the grown-ish group had all hoped—the points he raises are all valid but he loses sight of what he wants. When he organizes a larger protest, his friends show up to support him in their own ways. Can Zoey (Yara Shahidi) decide how to balance her work and her beliefs? How about the twins and their public image? "Alright" takes our crew on a journey to realizing that choosing what's most important doesn't always mean you don't care about other things, it just helps you achieve your goals. We have to give props to grown-ish for the messages it sends each week.
grown-ish returns to Freeform on Thursday.
From Freeform:
Aaron is offered an opportunity to be featured in a nationally televised interview but struggles to keep his message targeted. Zoey navigates her feelings for Aaron while helping him devise a new strategy. Meanwhile, Ana struggles with whether to tell Javi about her past with Aaron, and Jillian interviews Sky and Jazz for a documentary about their journey as athletes.
—
Malcolm & Marie
Fri Feb 5
On Netflix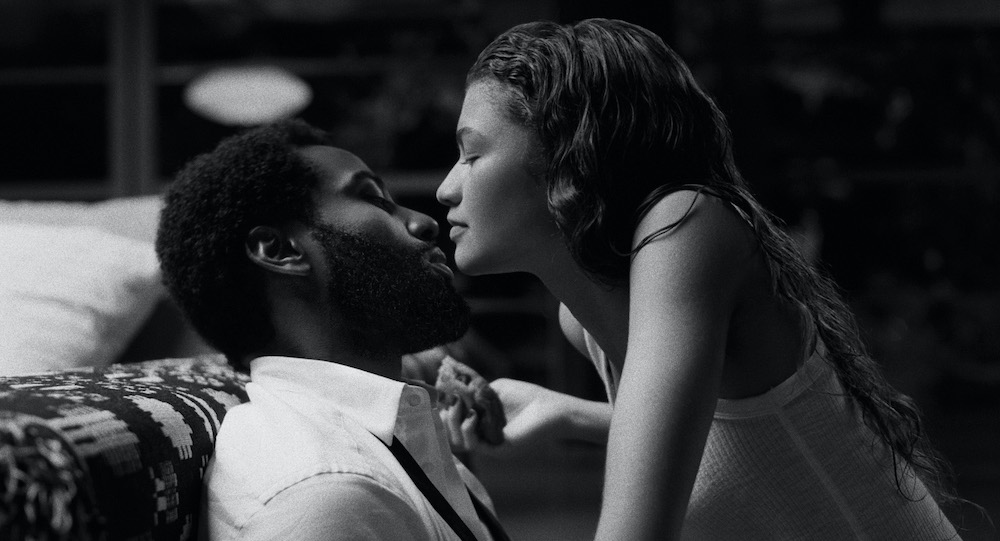 Photo: Dominic Miller/Netflix © 2021
Malcolm & Marie is an entire relationship playing out over one night. Not in timeframe but in this one night we see the whole spectrum of emotions you feel throughout a relationship—particularly a turbulent one. On the night in question, Malcolm (John David Washington) and Marie (Zendaya) have returned home after Malcolm's directorial debut film premiere. They should be elated and celebratory but tension is simmering beneath the surface. The statements of "it's nothing" and "let's talk about it in the morning" are soon worn away into full blown rage—an argument that twists and turns and boils over and cools. In between we see reconciliation and happier intimate moments between the couple that show their deep love for one another, before the quiet pauses reveal just how many layers of hurt have led up to this night.
Zendaya and John David Washington are riveting—you feel every element of their relationship, every small hurt and every tiny win they feel justified in cutting their partner with. They've been through a lot together and they bring those trials out as weapons to hurt each other and themselves. It's just them and the camera. Even the music is used sparingly to underscore the breaths in between the night, saying the words they're not ready to say, pushing them closer together again. Malcolm & Marie is beautifully shot, directed, and acted, every choice is carefully made to show their love for each other in all its forms—and to keep you enthralled every step of
the way.
Malcolm & Marie comes to Netflix on Friday.
From Netflix:
Sam Levinson teams up with Zendaya and John David Washington for an achingly romantic drama in which a filmmaker (Washington) and his girlfriend (Zendaya) return home following a celebratory movie premiere as he awaits what's sure to be imminent critical and financial success. The evening suddenly takes a turn as revelations about their relationships begin to surface, testing the strength of their love. Working with cinematographer Marcell Rev, Levinson creates a film of rare originality; an ode to the great Hollywood romances as well as a heartfelt expression of faith in the medium's future.
—
Devil May Care
Series premiere
Sat Feb 6 – 12AM
On SYFY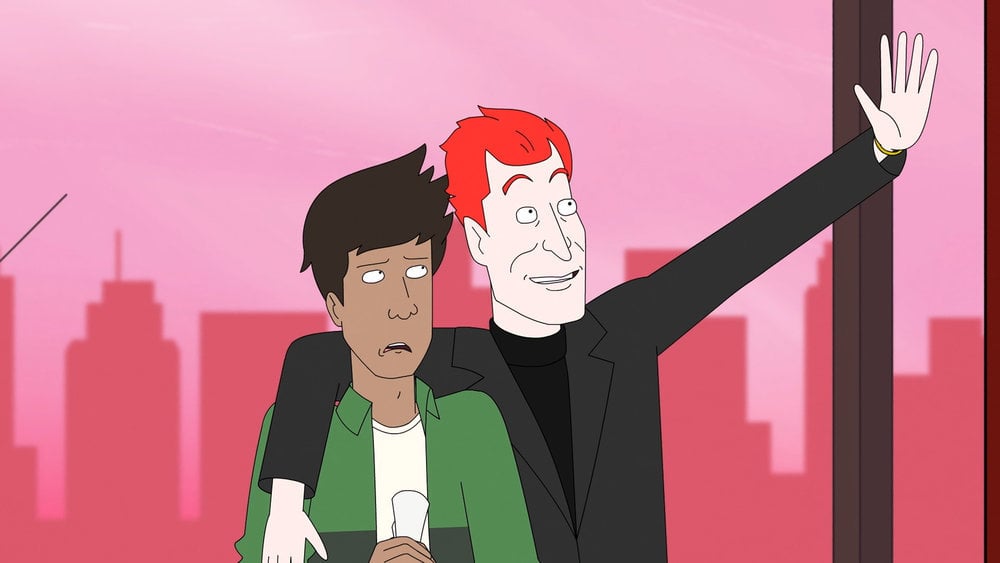 Photo by: SYFY
Hell has gone through some rebranding over the past few years. Yup, it's been…gentrified (isn't that totally a word that belongs in Hell?). Well, the Devil (Alan Tudyk)—that's Just Devil to you—needs a social media presence because that's how you build your brand, right? So he hires Beans (Asif Ali), a millennial recruit who's just landed in Hell and is a social media manager wizz. He's tasked with upping Hell's image, which is basically Vegas (or the cities in Grand Theft Auto: San Andreas) with some extra hellfire thrown in. Chaos is the order of the day, led by Devil who is…surprisingly, just like us—aside from the ability to transform into a terrible being at will—y'know, he's got family issues & responsibilities & stuff. Beans shows Devil how to go viral and grow his online reputation, with pretty hilarious results. Devil May Care is the latest addition to SYFY'S late night DZGZ adult comedy roster and fits right in—it's weird and offbeat, full of pop culture references and blazed-up comedy.
Devil May Care comes to SYFY on Saturday.
From Syfy:
A millennial named Beans (Asif Ali) finds himself in Hell with NO idea why. While meeting with the Devil (Alan Tudyk) upon his arrival, they quickly figure out that Beans' job from his earthly days translate perfectly into the Hell-esphere. Just like that, Beans becomes the Devil's newest Social Media Manager, since online buzz is exactly what Hell's been missing. The two form the most unlikely friendship, and together, while juggling Devil's staff and family, they will surely get Hell trending!