Coming soon: Jim Gaffigan: Comedy Monster, Emily in Paris, Yearly Departed, Death to 2021, The Book of Boba Fett, Cobra Kai, Queer Eye, This Is Us, 27th Annual Critics Choice Awards, Euphoria
Jim Gaffigan: Comedy Monster
Tues Dec 21
On Netflix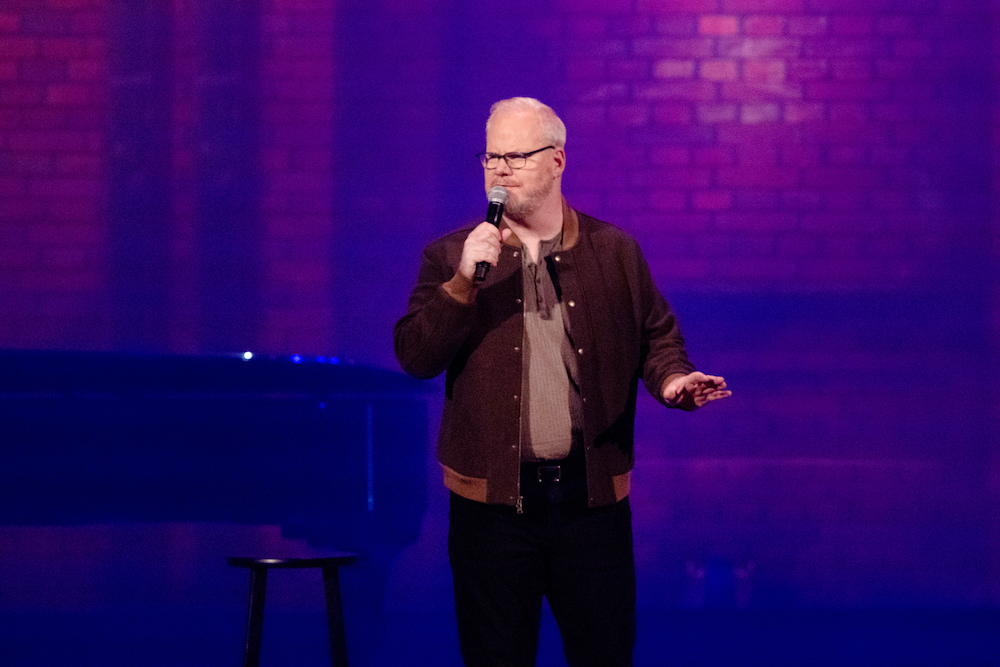 Photo: Jenn Ackerman/ Netflix
Jim Gaffigan has had enough. The past couple years have been tough on all of us and Gaffigan is saying all the thoughts we collectively had out loud—with an extra side of hilarious. He takes us through his experience of the pandemic ringer with the everyman type of observations that will keep you chuckling. He turns everyday situations into great stories with touches of dark humor that'll catch you by surprise. Comedy Monster serves up some delightful comedy to remind you that, even though 2021 has been hell, we always have humor to get us through it.
Jim Gaffigan: Comedy Monster hits Netflix tomorrow.
From Netflix:
The 6-time Grammy nominee (Best Comedy Album) returns to Netflix with COMEDY MONSTER. America's most prolific comedy everyman hilariously jokes about everything from Billionaires to bikers.
—
Emily in Paris
Season 2
Wed Dec 22
On Netflix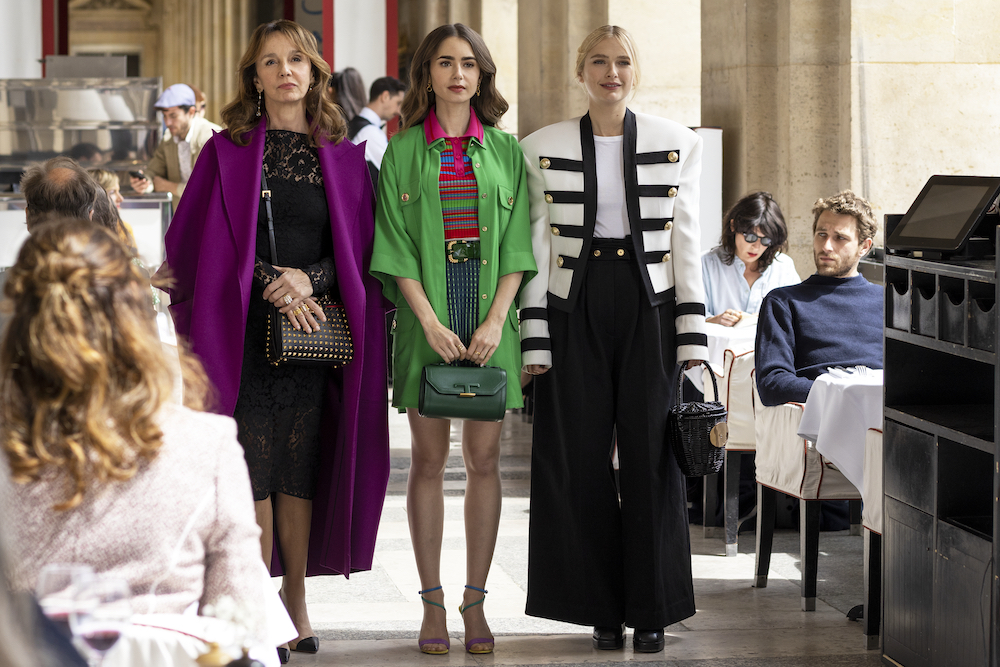 Are you ready for a rendez-vous à Paris with the most ringarde person in it? We don't know if we are. Emily in Paris returns to make even more of a mess—Emily (Lily Collins) has to deal with the emotional fallout from sleeping with Gabriel (Lucas Bravo) and going into business with his girlfriend Camille (Camille Razat). Oh, and she's got more fires to put out at work (if she doesn't add fuel to it) and a getaway to St. Tropez planned. It's hectic but she's making it work in her own way…well, sorta…but more curveballs and some surprise sparks are ready to sweep her off her feet. Emily's grasp on French life is still loose at best so there are plenty of mocking jokes and tackiness which you may end up laughing at rather than with. But the series does try to hold Emily a bit more accountable this season. Is there any growth, you ask? We're not sure if that's an option. Still, it's an easy watch if you want to turn your brain off for a bit. Or you might just be here to enjoy Mindy (Ashley Park), Julien (Samuel Arnold), and Luc (Bruno Gouery). Allons-y!
Emily in Paris returns to Netflix on Wednesday.
From Netflix:
Now more entrenched in her life in Paris, Emily's getting better at navigating the city but still struggling with the idiosyncrasies of French life. After stumbling into a love triangle with her neighbor and her first real French friend, Emily is determined to focus on her work — which is getting more complicated by the day. In French class, she meets a fellow expat who both infuriates and intrigues her.
—
Yearly Departed
Season 1
Thurs Dec 23
On Amazon Prime Video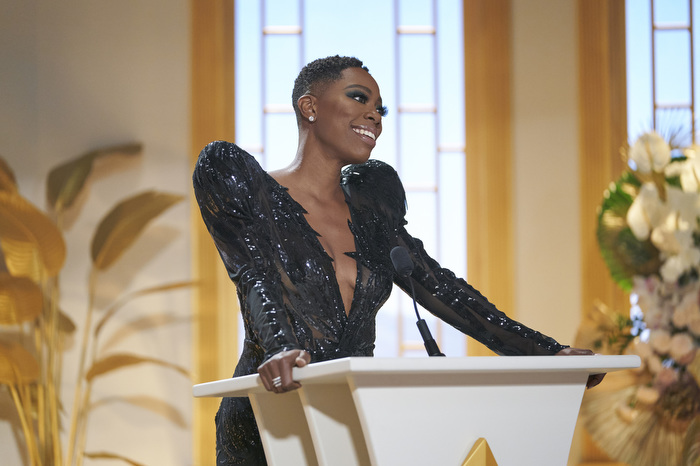 What a century this year has been. The only good thing we can say about 2021 is that it's over, so we'll leave it up to the boss babes of Yearly Departed to give the year the sendoff it deserves. And it deserves all the roasting these fabulous comedians and stars serve up, 'til '21 looks more burned than your grandma's turkey. Hosted by Insecure's Yvonne Orji with a stacked lineup including Jane Fonda, Megan Stalter, Aparna Nancherla, and more, Yearly Departed not only mocks the dumpster fire that was this year but it also takes time to re-energize you to make a change for 2022. It's a good time filled with truth, jokes, and even more straight up searing takes. In a year that has been disastrous for pretty much anyone but straight white men, these women are not taking the roll-back on rights lightly—in fact they're about to send you straight to the polls (and the streets) to fight for better.
Say goodbye to 2021 with Amazon's Yearly Departed on Thursday.
From Amazon:
You are cordially invited to the most hilarious party of the year. The groundbreaking comedy special returns with more of the world's funniest women roasting and toasting all we're leaving behind in 2021. Hosted by Yvonne Orji (Insecure) and featuring a lineup of emerging and all-star talent including Jane Fonda, Megan Stalter, Aparna Nancherla, Dulcé Sloan, X Mayo, and Chelsea Peretti, Yearly Departed bids a raucous, celebratory farewell to everything from Hot Vaxx Summer to Zoom to Ignoring the Climate Crisis. After another tumultuous year, the women ofYearly Departed invite you to reflect, rejoice, and raise a glass (or several) to everything we're leaving in the past, capped off by a special performance by Grammy-winning pop star Alessia Cara. So kick off your heels and let Yvonne and friends ring in the new year as only they know how: By having a good f*cking time.
—
Death to 2021
Mon Dec 27
On Netflix
Watch Death to 2021 on Netflix on Dec 27.
From Netflix:
​​A year unlike any other in history, (excluding the last one)…so to celebrate Netflix brings you Death to 2021, a comedy event that tells the story of another dreadful year. This landmark documentary-style special mixes archival footage harvested from across the year with commentary from fictitious characters played by some of the world's most beloved actors.
—
The Book of Boba Fett
Season 1
Wed Dec 29
On Disney+
The Book of Boba Fett comes to Disney+ on Dec 29.
From Disney:
"The Book of Boba Fett," a thrilling Star Wars adventure teased in a surprise end-credit sequence following the Season 2 finale of "The Mandalorian," finds legendary bounty hunter Boba Fett and mercenary Fennec Shand navigating the galaxy's underworld when they return to the sands of Tatooine to stake their claim on the territory once ruled by Jabba the Hutt and his crime syndicate.
—
Cobra Kai
Season 4
Fri Dec 31
On Netflix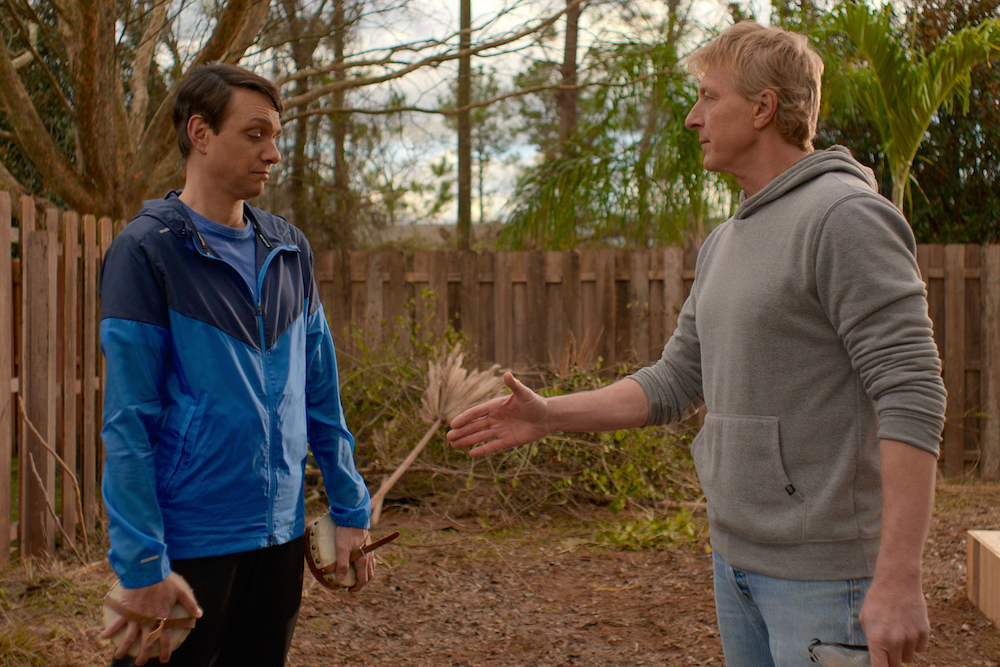 ​​Will Daniel (Ralph Macchio) and Johnny (William Zabka) ever bury the hatchet? Probably not entirely but they can learn to co-exist…especially when it means taking down a common enemy. Season 4 sees them attempting to learn each other's styles of fighting—and each other's approach to life. That might just help them both. Daniel learns what it means to fight for himself, while Johnny learns what it means to have patience. When their dojos make an alliance, they challenge Cobra Kai at the All Valley Under 18 Karate Tournament. Whoever loses must hang up their gi so the stakes are higher than ever. And when their kids get caught up in the fight with their own problems, things get messy real fast. Cobra Kai returns for another solid season that twists the old rivalries into something new. And it reinforces the importance of family and how it's what you make of it. 
Cobra Kai returns to Netflix on Dec 31.
From Netflix:
Season 4 finds the Miyagi-Do and Eagle Fang dojos joining forces to take down Cobra Kai at the All Valley Under 18 Karate Tournament… and whoever loses must hang up their gi. As Samantha and Miguel try to maintain the dojo alliance and Robby goes all in at Cobra Kai, the fate of the Valley has never been more precarious. What tricks does Kreese have up his sleeve? Can Daniel and Johnny bury their decades-long hatchet to defeat Kreese? Or will Cobra Kai become the face of karate in the valley?
—
Queer Eye
Season 6
Fri Dec 31
On Netflix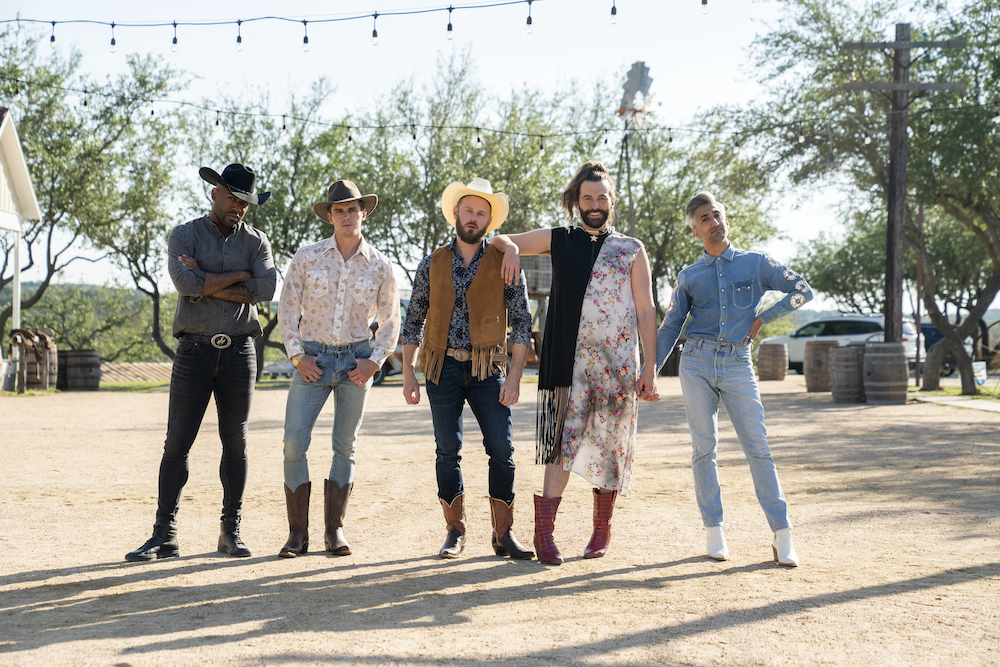 Queer Eye is back to kick off 2022 in the most beautiful way. Our Fab 5 heads to Texas to give some of the state's shining stars a lil extra boost. From grandmas with big personalities to weightlifters who want to show off outside the weight room, S5 celebrates beauty inside and out in every form. This show has such a magic talent for pulling out the best in people, you won't be able to resist getting swept up in their stories. You also won't be able to stop yourself from tearing up with every episode as they encourage their clients to truly be themselves. Get ready to smile and laugh and cry and cheer on some new transformations because your fave comfort show is back, baby!
Queer Eye is back on Netflix on Dec 31.
From Netflix:
The Emmy® Award-winning Queer Eye returns in a search for a whole new roster of heroes in need of a little TLC. Get ready, y'all! This season, Queer Eye's fearless ambassadors head to the Lone Star state with a homebase in Austin, TX. Watch as they work their life-changing magic yet again and transform the lives of deserving Texans.
—
This Is Us
Season 6 premiere
Tues Jan 4 – 9PM
On NBC
This Is Us comes back to NBC on Jan 4.
From NBC:
The Pearsons' emotional story of love, life and family unfolds with unexpected revelations.
—
27th Annual Critics Choice Awards
Sun Jan 9 – 7PM
On The CW and TBS
Watch the 27th Annual Critics Choice Awards
on Jan 9 on The CW and TBS.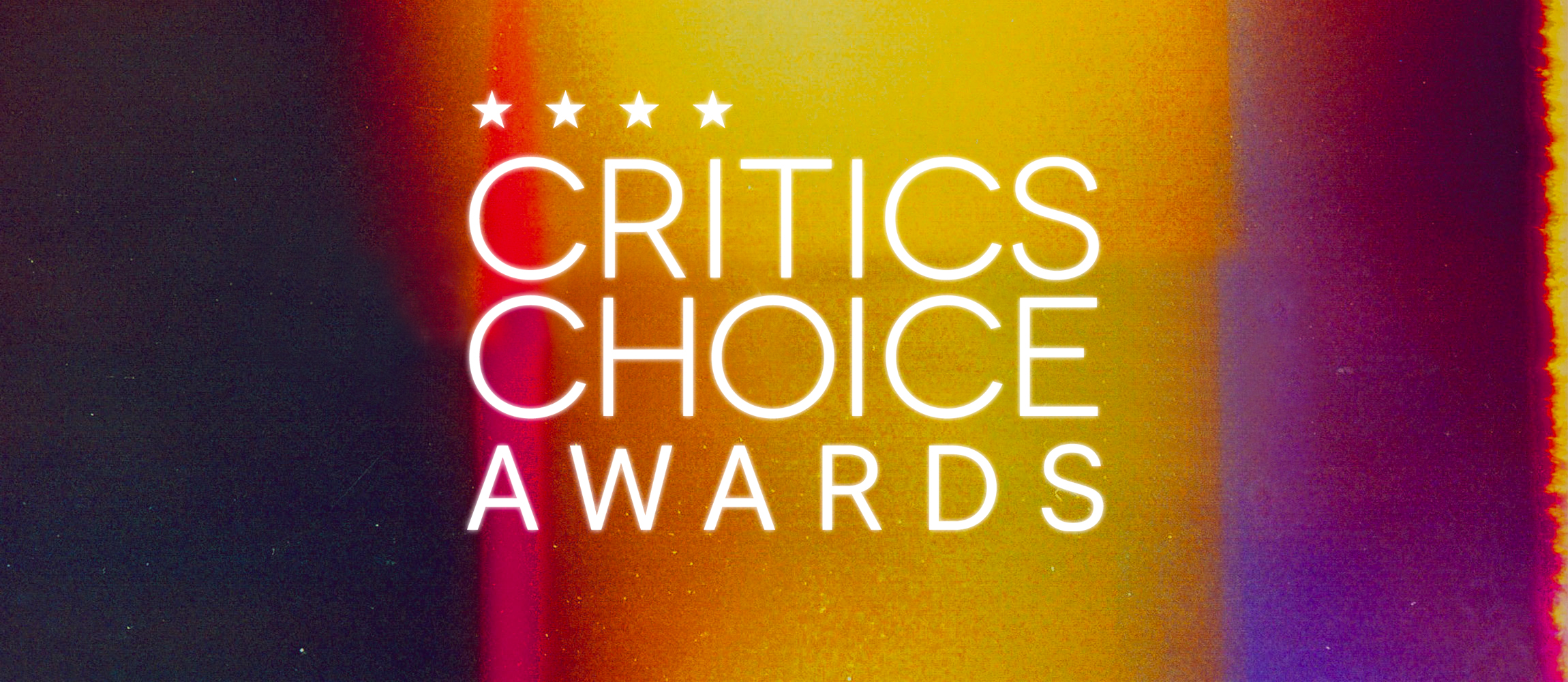 From Critics Choice:
For the first time in its history, The Critics Choice Awards (CCA) will be made available to an expanded audience across broadcast and cable, as TBS joins forces with The CW Network to simulcast the upcoming 27th annual CRITICS CHOICE AWARDS scheduled to air LIVE on Sunday, January 9, 2022 (7:00-10:00pm ET) (delayed PT – Check local listings). The show will continue its combined Film and Television awards format, honoring the finest in both cinematic and televised/streaming achievement. The awards ceremony will be held at the Fairmont Century Plaza in Century City, Calif.
—
Euphoria
Season 2 premiere
Sun Jan 9 – 9OM
On HBO
Euphoria returns to HBO on Jan 9.
From HBO:
Amidst the intertwining lives in the town of East Highland, 17 year old Rue (Zendaya) must find hope while balancing the pressures of love, loss, and addiction.