This week: 9-1-1, Marvel's Hit-Monkey, Tiger King: Murder, Mayhem and Madness, The Curse of Von Dutch, Star Trek: Discovery, The Princess Switch 3: Romancing the Star, Cowboy Bebop, The Great, The Wheel of Time, Blown Away: Christmas, The Mind, Explained
9-1-1
"Defend in Place" – Season 5, Episode 8
Mon Nov 15 – 8PM
On FOX
From FOX:
Bobby and the 118 race to save lives after an explosion rocks the hospital where Dr. David Hale is performing surgery; Michael makes a life-changing decision.
—
Marvel's Hit-Monkey
Season 1
Wed Nov 17
On Hulu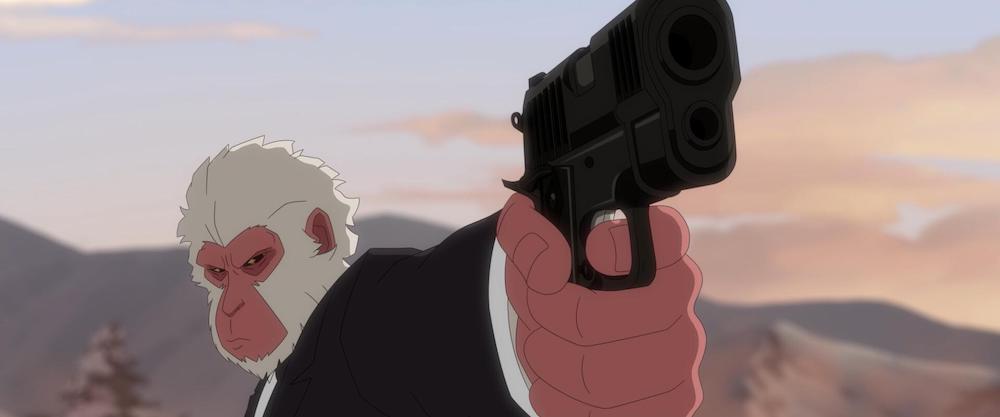 Photo courtesy of Marvel
Hulu's back at it again with the Marvel animated series—y'know, the ones that push beyond the Mouse-patrolled boundaries of the MCU. This time around they're taking on Hit-Monkey, the comic book character who lives up to his name: He's an assassin who also happens to be a Japanese snow monkey. But let's rewind. When an American (human) assassin named Bryce (Jason Sudeikis) is injured on a mission gone wrong, he passes out in the snowy wilderness…until he's found by a tribe of macaques. As they try to save him, one particularly distrusting Monkey (Fred Tatasciore) observes his skills.
Until one day, the men hunting Bryce return and slaughter everyone…with the exception of that same Monkey. Now Monkey must team up with the ghost of Bryce on a bloody quest for revenge, John Wick style (black suit & everything). Jason Sudeikis is having a ball as a cheeky and generally annoying presence in Monkey's mission. And Fred Tatasciore is a legend in voice acting, able to convey every emotion an angry and hurt monkey assassin goes through in his average day of vengeance. Marvel's Hit-Monkey is gloriously gory and a lot of fun, with some buddy-comedy thrown in. And just like any good comic book property, it has some philosophical questions splashed across the blood-soaked pages to pull you all the way in.
Marvel's Hit-Monkey hits Hulu on Wednesday.
From Hulu:
After a Japanese snow monkey's tribe is slaughtered, he joins forces with the ghost of an American assassin and together, they begin killing their way through the Yakuza underworld.
—
Tiger King: Murder, Mayhem and Madness
Season 2
Wed Nov 17
On Netflix
Tiger King: Murder, Mayhem and Madness
returns to Netflix on Wednesday.
From Netflix:
With Joe Exotic behind bars and Carole Baskin closing in on ownership of his disreputable zoo, the Emmy-nominated saga continues its twisted course with Tiger King 2 as newfound revelations emerge on the motivations, backstories, and secrets of America's most notorious big cat owners. Old enemies and frenemies, including Jeff Lowe, Tim Stark, Allen Glover, and James Garretson return for another season of murder, mayhem, and madness. Thought you knew the whole story? Just you wait.
—
The Curse of Von Dutch
Season 1
Thurs Nov 18
On Hulu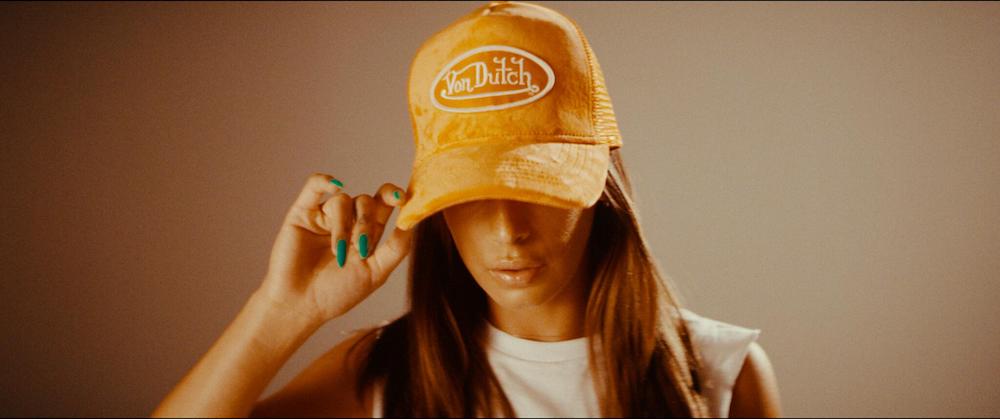 Photo courtesy of Hulu
When you think of the early 2000s, chances are your memories are dressed in Von Dutch. You couldn't escape the fashion brand at one point and everyone who was anyone had to be seen in it. Von Dutch burned brightly and fast—and behind the scenes was a tale Hollywood couldn't even write. The Curse of Von Dutch is a no-holds-barred look at the iconic brand's rise and fall, talking to the creators and those closest to it. And it goes to places you never expected. The story of Von Dutch is a wild ride full of secrets, drugs, betrayal, even murder. And it'll take you right back to those days with so many compelling stories that are too outrageous not to be true.
Stream The Curse of Von Dutch on Hulu on Thursday.
From Hulu:
"The Curse of Von Dutch: A Brand to Die For" chronicles the unbelievable true story behind the rise and fall of the 2000's most iconic fashion trend. In this epic character-driven saga, Venice Beach surfers, gangsters, European garmentos and Hollywood movers and shakers all vie for control of the infamous brand — pushing it from obscurity to one of the most recognizable labels on Earth. After a decade of backstabbing, greed, and bloodshed, their lives – and pop culture – will never be the same.
—
Star Trek: Discovery
Season 4
Thurs Nov 18
On Paramount+
Star Trek: Discovery is back on Paramount+ on Thursday.
From Paramount:
While patrolling Federation space, the U.S.S. Shenzhou encounters an object of unknown origin, putting First Officer Michael Burnham to her greatest test yet.
—
The Princess Switch 3: Romancing the Star
Thurs Nov 18
On Netflix
Watch The Princess Switch 3: Romancing the Star
on Netflix on Thursday.
From Netflix:
When a priceless relic is stolen, Queen Margaret and Princess Stacy enlist the help of Margaret's audacious look-alike cousin Fiona who teams with a dashing, mysterious man from her past to retrieve it… rekindling the sparks of a tantalizing Christmas romance and resulting in a very unexpected switch.
—
Cowboy Bebop
Season 1
Fri Nov 19
On Netflix
Stay tuned for our review…
Cowboy Bebop hits Netflix on Friday.
From Netflix:
COWBOY BEBOP is an action-packed space Western about three bounty hunters, aka "cowboys," all trying to outrun the past. As different as they are deadly, Spike Spiegel (John Cho), Jet Black (Mustafa Shakir), and Faye Valentine (Daniella Pineda) form a scrappy, snarky crew ready to hunt down the solar system's most dangerous criminals — for the right price. But they can only kick and quip their way out of so many scuffles before their pasts finally catch up with them.
—
The Great
Season 2
Fri Nov 18
On Hulu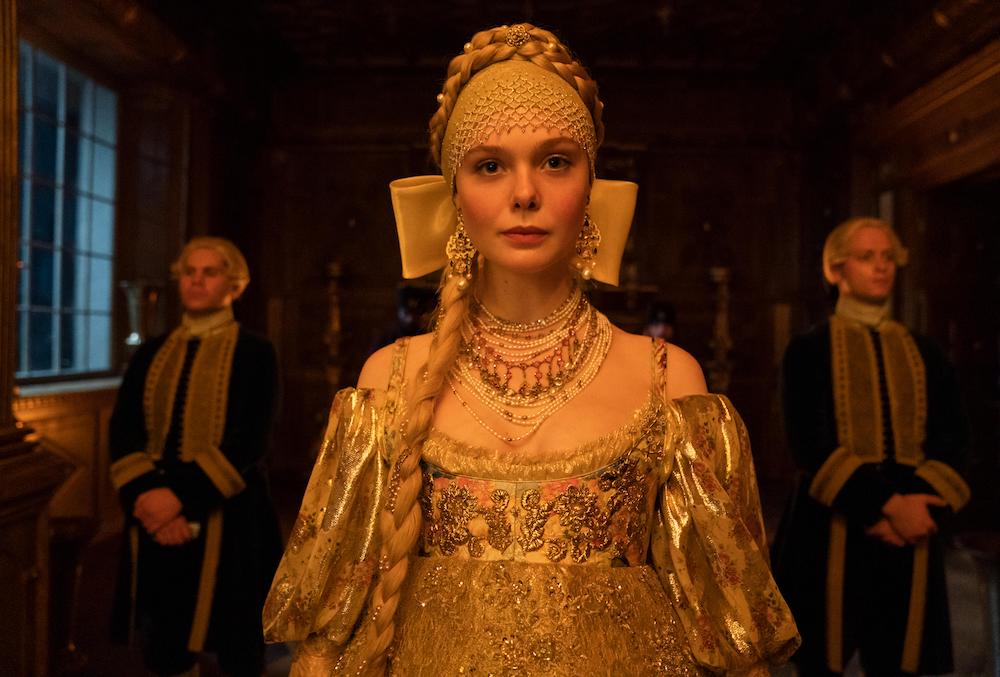 Photo by: Gareth Gatrell/Hulu
The Great returns for more historically semi-accurate and utterly violent ridiculousness. Catherine (Elle Fanning) is pregnant and ready to take the throne ("take" being the word she is sticking with). Peter (Nicholas Hoult) is trying to win her back while still insisting he "gave" her the throne (those two will never agree, will they?). S2 shows off a more overt (and public) power struggle between them filled with heated arguments and political shenanigans dressed up as ballroom events (the drah-mah of it all, darling). And then there's the vulgarity and shock value that may delight some but once again it grows as old as Rasputin's beard. Still, the gems of observations about being a woman and the constraints of society are timeless. If you liked S1 you'll likely be invested enough to see how Russia fares under the rule of utter mania…but be careful what you wish for.
The Great returns to Hulu on Friday.
From Hulu:
In season two of "The Great," Catherine finally takes the Russian throne for her own — but if she thought coup-ing her husband was difficult, it's nothing compared to the realities of 'liberating' a country that doesn't want to be. She'll battle her court, her team, even her own mother in a bid to bring the enlightenment to Russia. Meanwhile she'll also battle her heart as Peter slowly transitions from much-hated husband, to prisoner? Ally? Lover? Ultimately Catherine will learn that to change a country, you must let it change you, that there is a fine line between idealism and delusion, and that becoming 'Great', will ask more of her than she could have imagined.
—
The Wheel of Time
Fri Nov 19
On Amazon Prime Video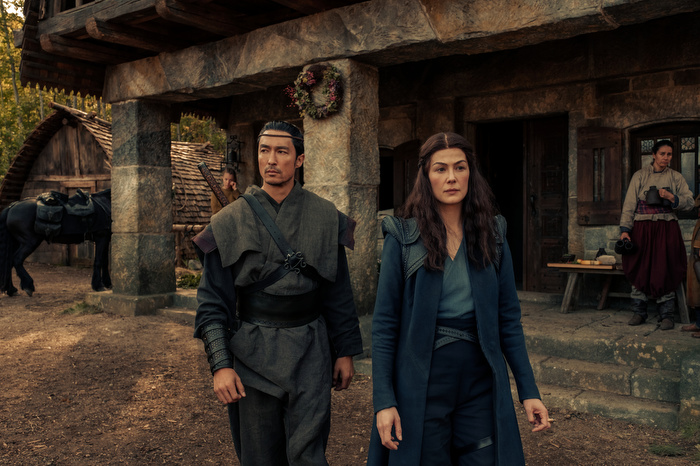 Photo courtesy of Amazon Studios
Prepare to be swept away into the epic fantasy of The Wheel of Time. In a world where magic is woven into the tapestry of life and women are the ones who wield it, there is a great prophecy on the cusp of being fulfilled. One that proclaims the appearance of the Dragon Reborn, destined to hold the fate of the world in their hands for better or for worse. But when the power points to a group of five young men and women, they must scatter and embark on a perilous  journey to find their own destinies. 
The Wheel of Time is as sprawling and complex as you'd expect from such a revered and long-spanning series but it takes its time to fully immerse you in its story and gives each character the chance to grab you by the heart (or by the throat). Soon enough you begin to feel for each player, even as you wonder what side they're on…or which side is even worth standing on. It's also beautifully crafted with gorgeous costume and set design as well as clear divisions and marks between factions. The series is laced with adventurous spirit and conversations about good vs bad and life vs. what's beyond with bursts of violence and gore that really hammer home the stunning yet brutal nature of the land. The Wheel of Time is Amazon's serious first step into fantasy that will lay the path of bigger and more expansive series to come—and it's a strong step forward.
Stream The Wheel of Time on Amazon on Friday.
From Amazon:
The Wheel of Time is one of the most popular and enduring fantasy series of all time, with more than 90 million books sold. Set in a sprawling, epic world where magic exists and only certain women are allowed to access it, the story follows Moiraine (Rosamund Pike), a member of the incredibly powerful all-female organization called the Aes Sedai, as she arrives in the small town of Two Rivers. There, she embarks on a dangerous, world-spanning journey with five young men and women, one of whom is prophesied to be the Dragon Reborn, who will either save or destroy humanity.
—
Blown Away: Christmas
Season 1
Fri Nov 19
On Netflix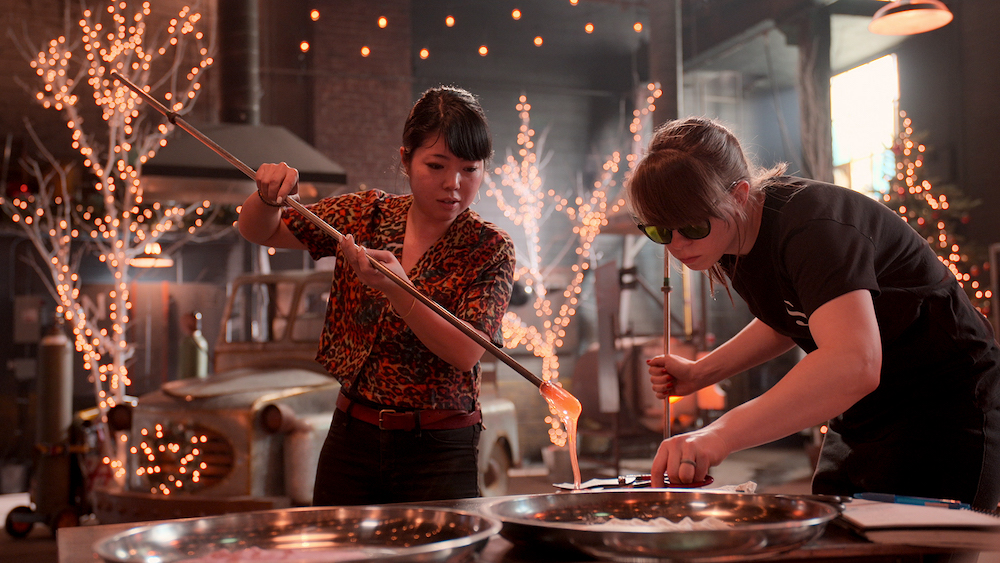 Photo courtesy of Netflix © 2021
Need some holiday decoration ideas? Look no further than Blown Away: Christmas. The glass-blowing competition brings back contestants from previous seasons, all seeking to make the most spirited creations and win $10k for their charities of choice (and $10k for themselves, too!). The final products are incredible, bringing imagination to life with festive sparkle. From nutcrackers to potluck treats, gear up for some seasonal creativity that'll get you decking the halls with some (probably store bought) glass baubles of your own!
Blown Away: Christmas comes to Netflix on Friday.
From Netflix:
Blown Away is cranking up the heat for a spectacular holiday showdown! 'Tis the season for redemption as five fan favorites return to the hot shop to compete in a series of Christmas-themed challenges in the quest to become The Best in Holiday Blow. In the spirit of giving, the winner will not only receive a $10,000 cash prize, but an additional $10,000 will also be donated to their charity of choice.
—
The Mind, Explained
Season 2
Fri Nov 19
On Netflix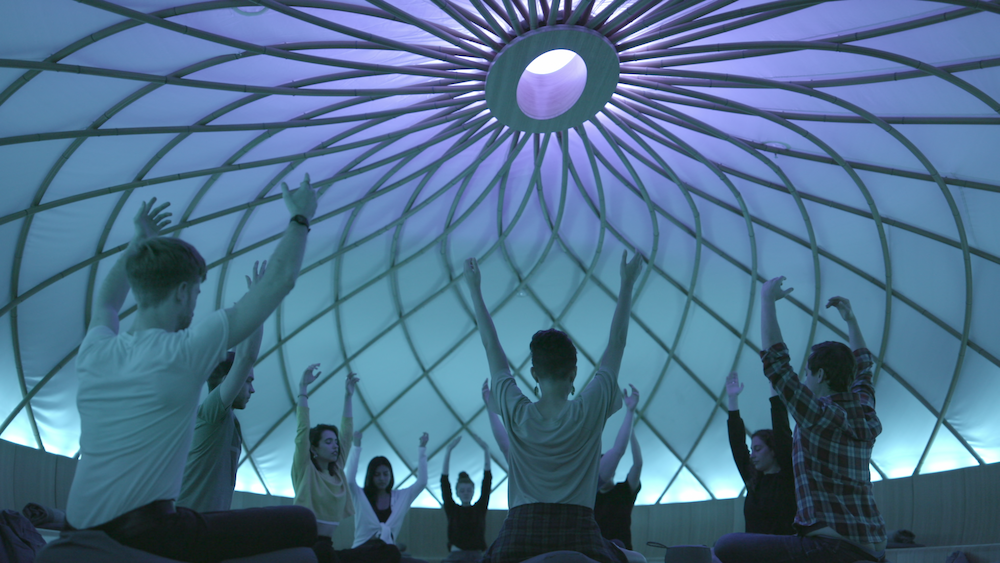 Photo courtesy of Netflix
Your brain is a beautiful thing. In fact, the human brain is something that keeps on surprising even the top scientists with new revelations. The Mind, Explained explores some of the stranger things our minds are capable of. From brainwashing to hyper-focusing, brain development to creativity, S2 digs into some of the biggest brain-related phenomena and how they've influenced us over the years. Leading experts provide their take, while each episode lays out different topics layer by layer, story by historical context. The Mind, Explained is back for a short but thoroughly interesting season, touching on some of history's worst psychological experiments alongside some of the biggest discoveries about something we're still learning so much about.
Watch The Mind, Explained on Netflix on Friday.
From Netflix:
Our minds are capable of great things, but they can also undermine our best intentions. Delve into the science behind creativity, brainwashing and more.