This week: Interview with the Vampire, The Santa Clauses, Mind Your Manners, Alaska Daily, The Sex Lives of College Girls, Dead to Me, Gangs of London, Inside Job, Central Park
Interview With the Vampire
"The Thing Lay Still" – Season 1 finale
Now streaming
On AMC/AMC+
Watch Interview With the Vampire on AMC.
From AMC:
Lestat (Sam Reid) wants to be the King of Mardi gras and will do anything for that title. 
–
The Santa Clauses
Season 1 premiere
Wed Nov 16
On Disney+
Stream The Santa Clauses on Disney+ on Wednesday.
From Disney:
Scott Calvin is back! After being Santa Claus for nearly thirty years, he's as jolly as ever. But as Christmas declines in popularity, so does his Santa magic. Scott struggles to keep up with the demands of the job, as well as being there for his family. Upon discovering there is a way to retire from his post, Scott considers stepping down as Santa Claus and finding a worthy successor so that he can become a better father and husband.
–
Mind Your Manners
Season 1
Wed Nov 16
On Netflix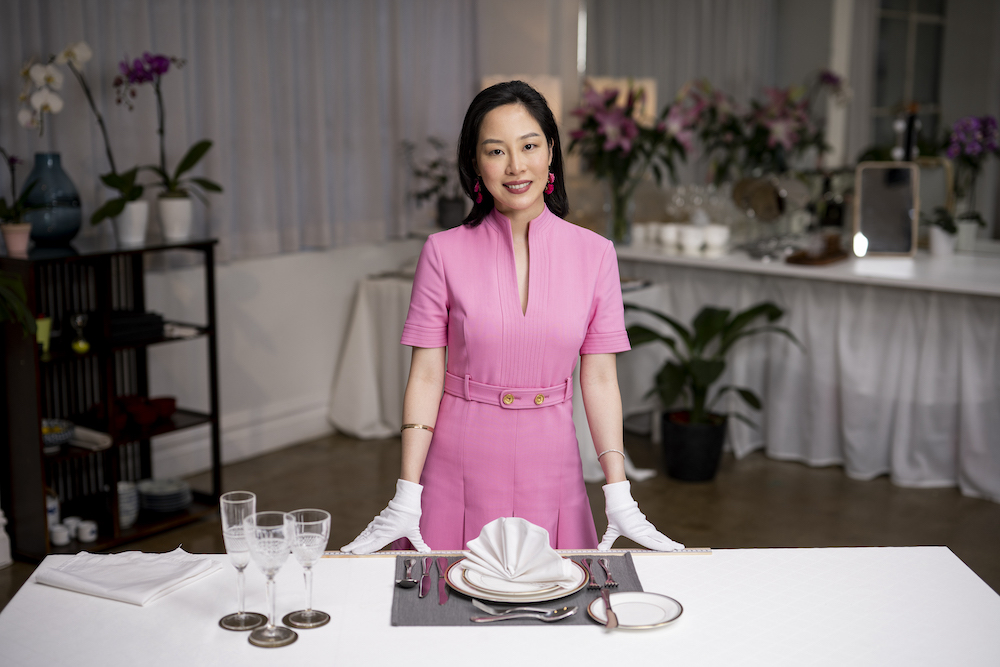 Mind Your Manners is about to give you another thousand reasons to feel bad about yourself—prepping you for dealing with your family this holiday season. If you think you know how to impress, think again because there are so many teeny tiny rules that could make the cast of Bridgerton blush if you get them wrong. But that's part of the fun! Etiquette teacher Sara Jane Ho takes her clients through the ins and outs of high society, including how to fold your napkin and enunciate when talking about sensible dinner table topics. It's twee and lighthearted, even if it's a little old-fashioned—but perhaps that's part of the intended appeal. Move over Princess Diaries, there's a new queen of etiquette in town and she's going to instill some genteel confidence in you yet!
Watch Mind Your Manners on Netflix on Wednesday.
From Netflix:
Have you ever wondered how to elegantly cut… a banana? Mind Your Manners follows world-renowned etiquette teacher Sara Jane Ho as she helps her students become their best selves and put others at ease, using the language of manners and etiquette. Get ready to laugh, cry, and learn a thing or two as Sara transforms her students' lives and helps them acquire the confidence to shine in any situation – starting with a sensible spot of afternoon tea. Pinkies in or out?
–
Alaska Daily
"You Can't Put a Price on a Life" – Season 1, Episode 6
Thurs Nov 17 – 10PM
On ABC
Alaska Daily airs on ABC every Thursday.
From ABC:
When two local women go missing, Roz grows frustrated over the lack of equal attention both cases are receiving; and Stanley agrees to have the team write a comparison piece on the two missing girls. Meanwhile, Bob gives Roz and Eileen a lead on Gloria's case, and after they appear on local radio show "Concerned Citizens," threats escalate to perilous new heights.
–
The Sex Lives of College Girls
Season 2 premiere
Thurs Nov 17
On HBO Max
The Sex Lives of College Girls returns to HBO Max on Thursday.
From HBO:
It's a new trimester for the suitemates – Kimberly, Bela, Whitney, and Leighton – which means the girls have to navigate new experiences and challenges. From creators Mindy Kaling and Justin Noble, season 2 returns November 17 with more college chaos, wild parties, messy relationships, and of course the new hot guys on campus.
–
Dead to Me
Season 3
Thurs Nov 17
On Netflix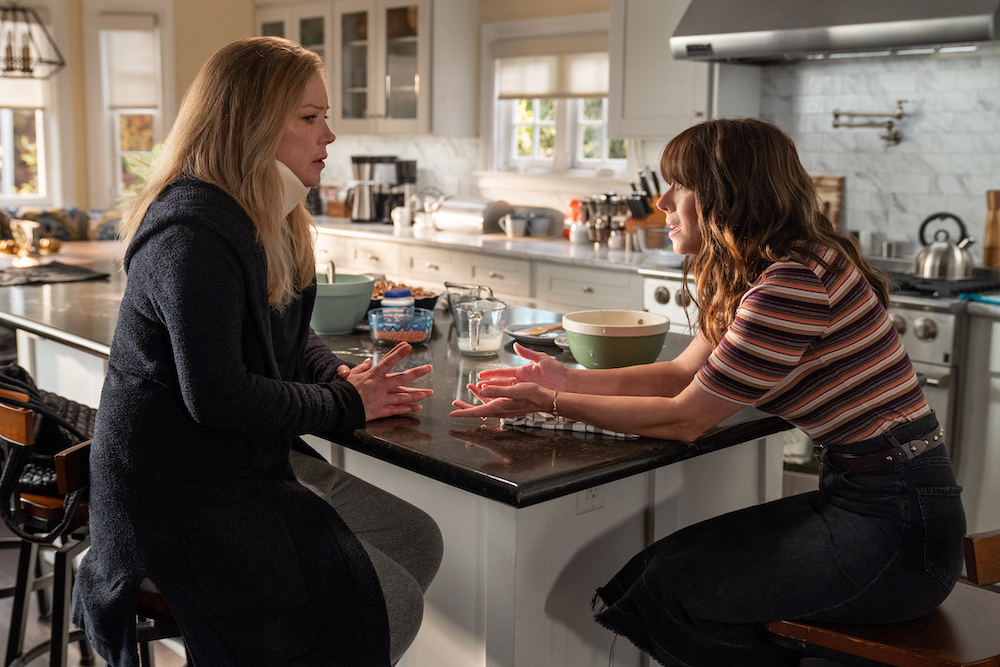 Our fave ladies Jen (Christina Applegate) and Judy (Linda Cardellini) are back and they might be in the worst shape yet. After S2's fateful car-wrecking finale, they find themselves in the hospital, forced to confront their own mortality (and morality). Especially when they're questioned by the cops (which we all know is when Jen & Judy do their best work). When new secrets threaten every lie they've built, you'll once again be swept up in their messiness and rooting for them every step of the way—for better or for worse… 
Dead to Me is back on Netflix on Thursday.
From Netflix:
Jen (Christina Applegate) and Judy (Linda Cardellini) return, ready to risk their lives one last time for a friendship that's above the law. In the aftermath of yet another hit and run, both women receive shocking news. When the FBI takes over Steve's murder case, Jen is confronted with the dire consequences of taking a life, and Detective Perez (Diana Maria Riva) struggles to cover up her own complicity. Meanwhile, Judy faces her own existential crisis when her life is threatened by an unexpected force from her past and Ben (James Marsden) wrestles with his darkest demons. This season, no one's future is guaranteed. Will Jen and Judy get away with their lives? And can they save each other? From Emmy Award-winning creator Liz Feldman, the final season of DEAD TO ME delivers shocking twists, unexpected turns, and the kind of laughter you can only share with your best friend.
–
Gangs of London
Season 2 premiere
Thurs Nov 17
On AMC/AMC+
Gangs of London returns to AMC on Thursday.
From AMC:
In the second season, a new, darker era of chaos and turbulent power struggles comes to London. One year after the death of Sean Wallace and the violent reckonings of season one, the map and soul of the city has been redrawn – the surviving Wallaces are scattered, the Dumanis broken and estranged, and ex-undercover cop Elliot Finch (Ṣọpẹ́ Dìrísù, Humans, Mr. Malcolm's List) is now being forced to work for the Investors. As the Investors look down on a city sliding into chaos, they decide enough is enough and bring in reinforcements to restore control. Old favorites and new players fight back against the new order, forcing sworn enemies to work together and family members to betray each other.
–
Inside Job
Part 2
Fri Nov 18
On Netflix
Check back for our thoughts on Inside Job Part 2…
Stream Inside Job on Netflix on Friday.
From Netflix:
Inside Job is an adult animated comedy about the shadow government– and the dysfunctional team whose daily grind is committing the world's conspiracies. From convoluted coverups to secret societies to masked orgy etiquette, navigating office culture at Cognito Inc. can be tricky, especially for anti-social tech genius Reagan Ridley. Even in a workplace filled with reptilian shapeshifters and psychic mushrooms, she's seen as the odd one out for believing the world could be a better place. Reagan thinks she can make a difference, if only she could manage her unhinged, manifesto-writing father, her irresponsible coworkers, and finally snag the promotion she's been dreaming about.
–
Central Park
"The Brandenpire Strikes Back" – Season 3 finale
Fri Nov 18
On Apple TV+
Stay tuned for our thoughts on the season finale!
Stream Central Park on Apple TV+ on Friday.
From Apple:
Season finale. Owen's "I Heart the Park" campaign is in full swing with all hands on deck. Bitsy schemes to cement her political influence.