This week: The Harder They Fall, Chicago Med, Taste the Nation with Padma Lakshmi: Holiday Edition, Narcos: Mexico, Big Mouth, Animaniacs, Finch
The Harder They Fall
Wed Nov 3
On Netflix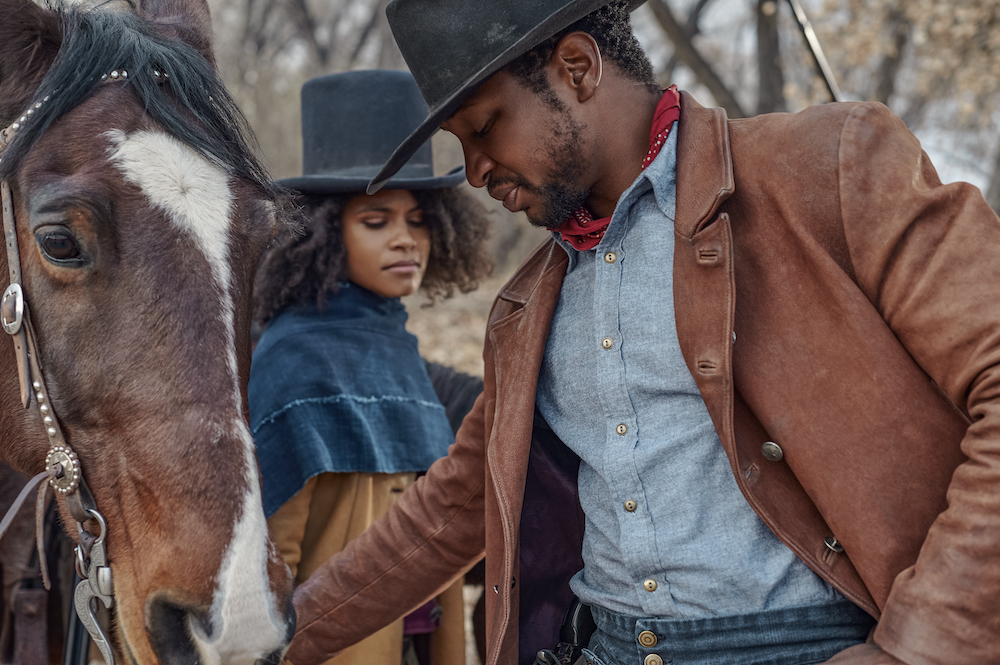 Photo: David Lee/Netflix © 2021
The Harder They Fall is co-writer Jeymes Samuel's directorial debut and it's a film he's been dreaming about for a very long time. Don't you love it when a plan comes together? I definitely do and this film is clearly a dream fulfilled. From the magnificent cast to the action to the production design to that previously mentioned soundtrack, The Harder They Fall plays out like a sumptuous, stylistically violent, hardknock western visual album (in the best possible way).
(read sherin nicole's review)
The Harder They Fall hits Netflix on Wednesday.
From Netflix:
When outlaw Nat Love (Jonathan Majors) discovers that his enemy Rufus Buck (Idris Elba) is being released from prison he rounds up his gang to track Rufus down and seek revenge. Those riding with him in this assured, righteously new school Western include his former love Stagecoach Mary (Zazie Beetz), his right and left hand men — hot-tempered Bill Pickett (Edi Gathegi) and fast drawing Jim Beckwourth (R.J. Cyler)—and a surprising adversary-turned-ally. Rufus Buck has his own fearsome crew, including "Treacherous" Trudy Smith (Regina King) and Cherokee Bill (LaKeith Stanfield), and they are not a group that knows how to lose.
—
Chicago Med
"A Square Peg in a Round Hole" – Season 7, Episode 7
Wed Nov 3 – 8PM
On NBC
Chicago Med airs on Wednesday.
From NBC:
Marcel helps Blake replace a patient's liver; Taylor tries to prove herself; Halstead continues to pursue the truth about Cooper; Choi gets closer to returning to life in the ED.
—
Taste the Nation: Holiday Edition
Season 1
Thurs Nov 4
On Hulu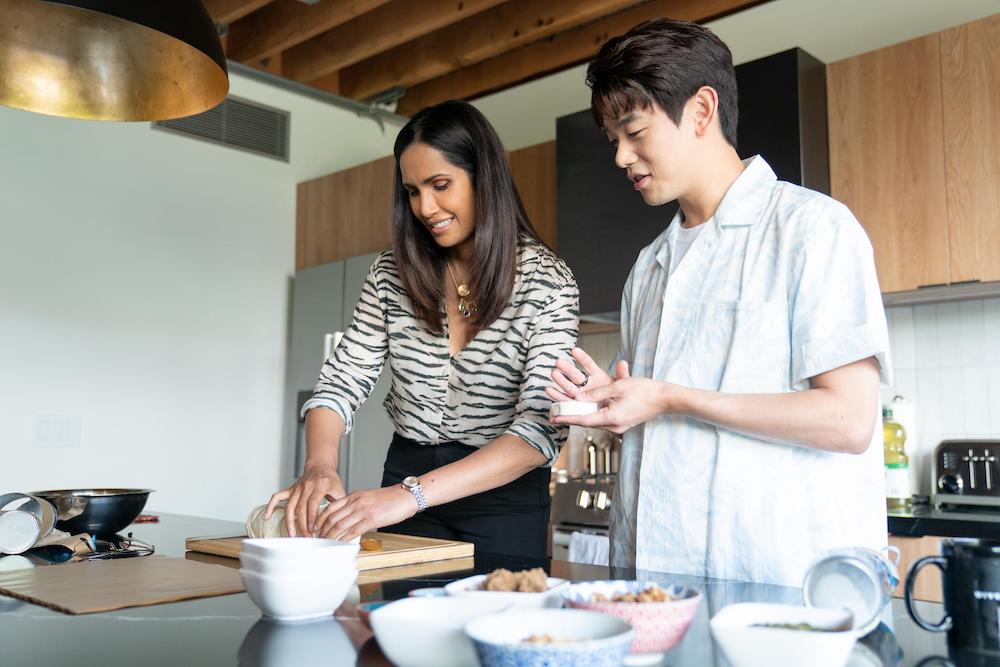 Photo by: Michael Desmond/Hulu
As we enter the holiday season, Padma Lakshmi is looking at how the world celebrates. From Hannukah to Nochebuena, Lunar New Year to Thanksgiving, Lakshmi takes us on a cultural cuisine-fueled journey that shows our connections to the world through food, traditions, and recipes. Through this we hear countless stories of immigration, finding new homes, and bringing culture to bond with others. And the ways that food is at the heart of every story will make you smile. You'll get to celebrate each holiday with those celebrating and hear their versions of what it's like to live the American Dream. Taste the Nation: Holiday Edition is a beautiful series of vignettes that reminds us that at its core, food is more than what you need to live; it's something that feeds your soul.
Watch Taste the Nation: Holiday Edition on Hulu on Thursday.
From Hulu:
"Taste the Nation" returns this Fall for a special 4-part "Holiday Edition" where each episode will highlight unique traditions through the lens of a different immigrant culture and city, like Korean New Year in Los Angeles and Cuban Christmas in Miami.
—
Narcos: Mexico
Season 3
Fri Nov 5
On Netflix
Narcos: Mexico returns to Netflix on Friday.
From Netflix:
Set in the 90s, when the globalization of the drug business ignites, Season 3 examines the war that breaks out after Felix's arrest. As newly independent cartels struggle to survive political upheaval and escalating violence, a new generation of Mexican kingpins emerge. But in this war, truth is the first casualty – and every arrest, murder and take-done only pushes real victory further away…
—
Big Mouth
Season 5
Fri Nov 5
On Netflix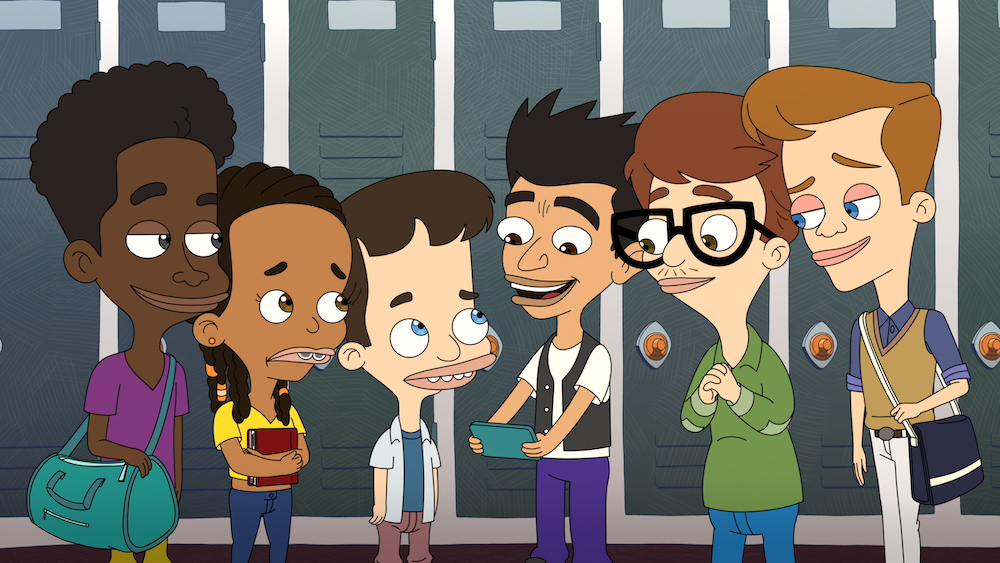 Photo courtesy of Netflix
Big Mouth is back for more raunchy explorations of growing up. It's no-nut November, which is…hard…for teenage boys. Especially when it brings out shame over SIZE (you know, the ONE thing you're not supposed to talk about). And as for the girls? Whew, they've got their own issues—bacne, shaving, and jealousy gets the best of them. S5 is as unashamed and brash as ever. When puberty is involved, there's no end of embarrassing moments for Big Mouth to portray in monstrous animated form. But it covers so many things many of us are too afraid to talk about, and turns them into surprisingly insightful conversations worth having. 
Big Mouth is back on Netflix on Friday.
From Netflix:
Starting with "No Nut November" and continuing through New Years Eve, Big Mouth Season 5 takes on the theme of LOVE & HATE with the introduction of lovebugs and hate worms, amorphous creatures that can shift between the two forms (like caterpillars and butterflies). Nick's lovebug, WALTER (Brandon Kyle Goodman), pushes Nick to pursue his feelings for Jessi until she publicly rejects him, turning Walter into a hate worm who leads Nick down a dark, rancorous path. Meanwhile, Jessi's lovebug, SONYA (Pamela Adlon), appears as Jessi gets closer with Ali and eventually wonders if she loves her as more than a friend. Jessi and Ali's new close bond, and joint co-opting of Missy's affinity group, sends Missy into her own hate spiral, fueled by hate worm ROCHELLE (Keke Palmer). Jealousy, unrequited love, and newfound crushes abound in this new form-breaking season as the Big Mouth teens navigate 8th grade.
—
Animaniacs
Season 2
Fri Nov 5
On Hulu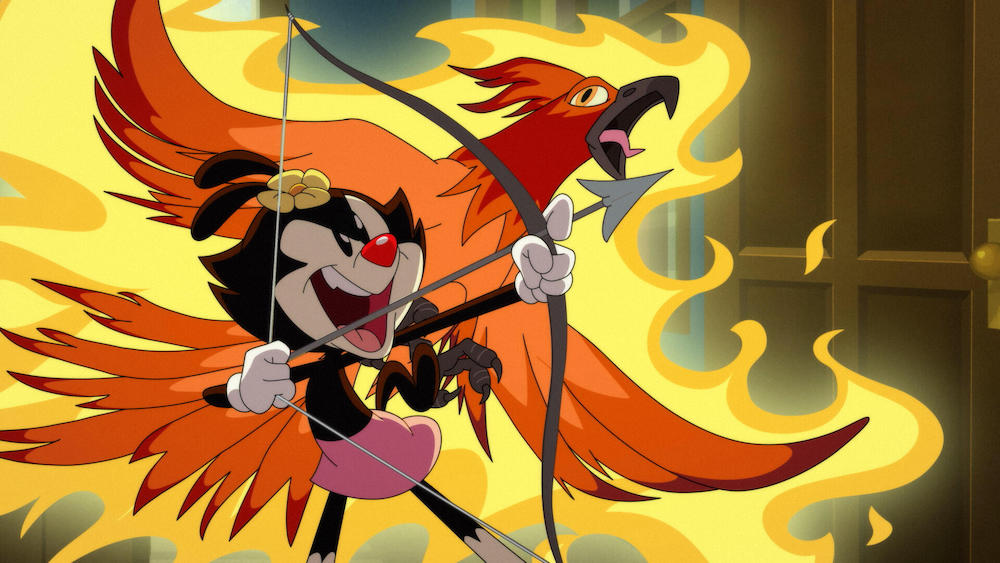 Photo courtesy of Amblin Television/Warner Bros. Animation
It's time for Animaniacs! Your fave chaotic crew is back for some more animated shenanigans. Whether they're breaking the fourth wall or trying to take over the world, there's no end to the delight the Animaniacs bring. S2 brings even more nostalgia with enough pop culture snap to make you cackle at the truth. It's cheeky as hell and you'll wonder how they come up with new skits every time. From impersonating boy bands to dealing with spam (no one is safe), the Warners & co. combine ridiculousness with all-too-real issues to keep the momentum at breakneck speed. Sit back and enjoy the ride—and keep an eye out for some returning beloved Animaniacs too!
Stream Animaniacs on Hulu on Friday.
From Hulu:
They're back again-y! Hulu, Amblin Television and Warner Bros. Animation join forces again to continue the legacy of the iconic, family friendly animated series. Following a successful first season and practically blowing up the internet as one of Hulu's all-time most talked about series across social media, "Animaniacs" returns for a second zany season with all 13 episodes launching on Friday, November 5. Yakko, Wakko and Dot return for an all-new season of big laughs and the occasional epic takedown of authority figures in serious need of an ego check. Season two of the Emmy® award-winning series is packed with enough comedy sketches, pop culture parodies, musical comedy, and self-referential antics to fill a water tower. Meanwhile, join season 1 favorites Starbox & Cindy for their latest play date while Pinky and the Brain's ideas for world domination lead them to a dictator dinner party, a beauty pageant and even the International Space Station.
—
Finch
Fri Nov 5
On Apple TV+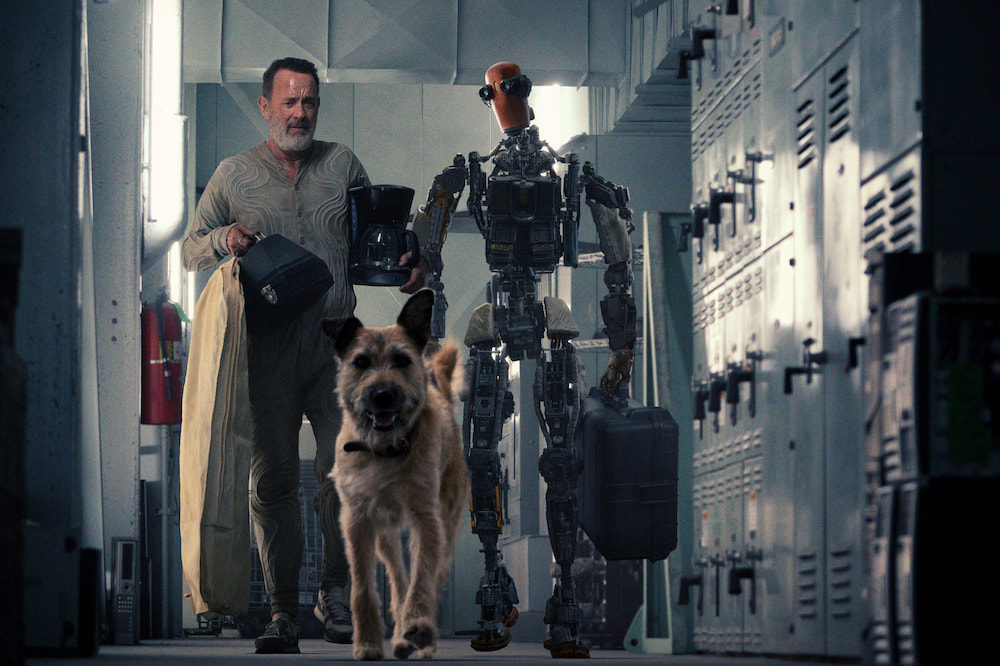 Photo courtesy of Apple Studios
Finch is totally built on Hanks' performance. It's just him interacting with a CG character and a dog most of the time. And he carries it through. At this point you know it's going to at least have a good Hanks performance. For me, the story of an old man with a newly "born" robot reminds me of all the good anime I grew up with from the 80s. The design of the tech also gives me strong Fallout vibes—Finch's suit keeps him alive in this dangerous world and he has a wrist monitor to keep track of his vitals as well as the outside environment. (read julian lytle's review)
Finch debuts on Apple TV+ on Friday.
From Apple:
In "Finch," a man, a robot and a dog form an unlikely family as Tom Hanks stars in a powerful and moving adventure of one man's quest to ensure that his beloved canine companion will be cared for after he's gone. Hanks stars as Finch, a robotics engineer and one of the few survivors of a cataclysmic solar event that has left the world a wasteland. But Finch, who has been living in an underground bunker for decade, has built a world of his own that he shares with his dog, Goodyear. He creates a robot, played by Caleb Landry Jones ("Get Out," "Three Billboards Outside Ebbing, Missouri"), to watch over Goodyear when he no longer can. As the trio embarks on a perilous journey into a desolate American West, Finch strives to show his creation, who names himself Jeff, the joy and wonder of what it means to be alive.