This week: 9-1-1, On My Block, Chicago Med, Baking Impossible, Baker's Dozen, One of Us is Lying, Sexy Beasts, Pretty Smart
9-1-1
"Desperate Measures" – Season 5, Episode 3
Mon Oct 4 – 8PM
On FOX
From FOX:
As the citywide blackout continues to cause mayhem in Los Angeles, Athena races to save her family from a tragedy; Eddie must make a difficult choice about his future; Maddie makes a life-changing decision.
—
On My Block
Season 4
Mon Oct 4
On Netflix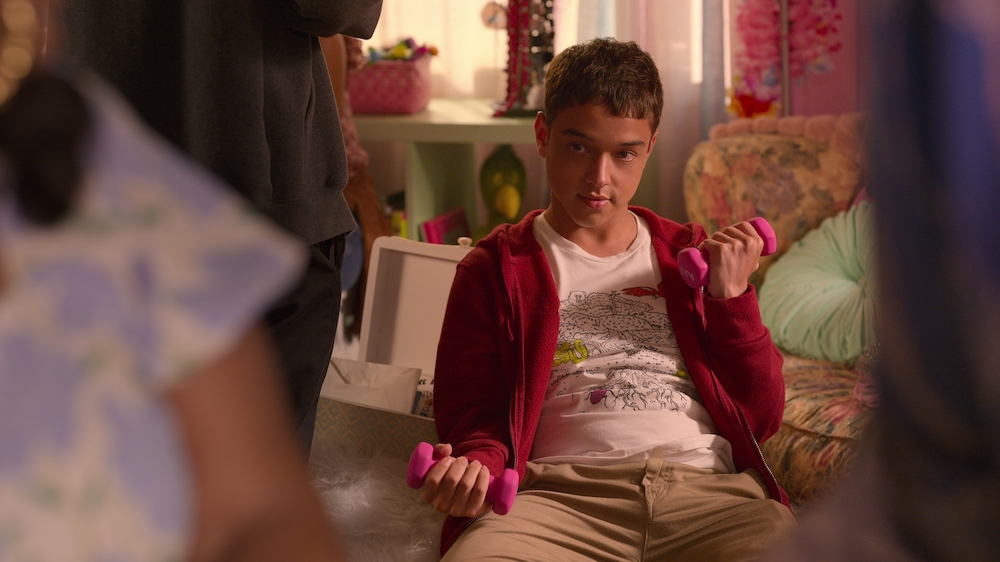 Photo courtesy of Netflix © 2021
It's senior year and that means our crew have a lot of growing up to do and some hard decisions to make. Ruby (Jason Genao) is running for senior class president…and Jasmine (Jessica Marie Garcia) is the mastermind behind the whole thing. Is it his dream or hers? Ruby's up against Jamal (Brett Gray) who is finding it hard to concentrate on what's important. Any hope there was of rekindling their friendship is thrown up in the air when a gruesome discovery comes to light. The news also causes Cesar (Diego Tinoco) and Oscar (Julio Macias) to butt heads, except this time more than just the brothers could get hurt. On My Block S4 seeks to mend some fences but only by drawing a few more lines in the sand first. Two years of hurt and drama have come between them all and the only way they can move forward is by talking things out (and we know how stubborn our crew can be). Still, it makes for a season that is equal parts dramatic and equal parts funny—because the truth can go both ways sometimes.
On My Block is back on Netflix now.
From Netflix:
On My Block is a coming of age comedy about a group of bright and street-savvy friends navigating their way through high-school in the rough inner city. Season 4 finds our friends two years later, having gone their separate ways. When a secret is unburied, they quickly learn you can't run from the past and they will need to stick together to survive.
—
Chicago Med
"Be the Change You Want to See" – Season 7, Episode 3
Wed Oct 6 – 8PM
On NBC
Chicago Med airs on Wednesday.
From NBC:
Scott and Halstead deal with a dishonest patient whose lupus is in remission; a wealthy donor makes inappropriate advances toward Hammer; Vanessa, Marcel and Charles try to convince a young woman to have life-saving surgery.
—
Baking Impossible
Season 1
Wed Oct 6
On Netflix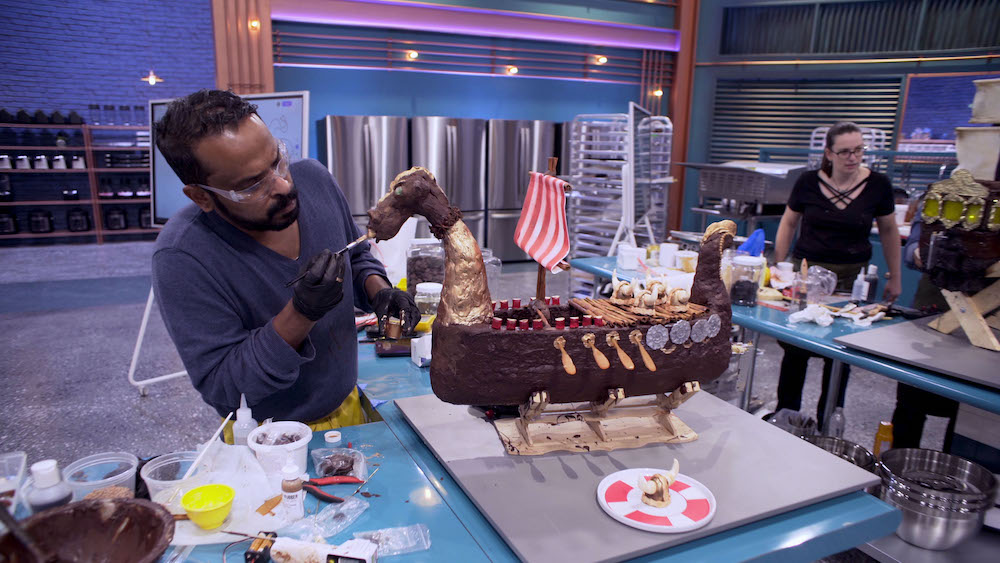 Photo courtesy of Netflix © 2021
Baking Impossible is where baking and engineering collide to create a tasty explosion of ideas. The competition series pairs a baker with an engineer and challenges them to design a sweet treat that also functions as some kind of machine or device—a boat, a robot, a mini golf course, the possibilities are endless! You'll be served up some cakes you've definitely never seen before and it's a whole lot of fun seeing how these desserts turn into real world applications. It'll get your creative juices flowing and make you want to challenge yourself next time you bake (just, maybe with less engineering elements that could burn your kitchen down).
Watch Baking Impossible on Netflix on Wednesday.
From Netflix:
Baking Impossible is a new competition series that pairs the most creative and innovative bakers with the best and brightest engineers to make creations that are beyond our wildest imaginations – the kicker is, it's their first time working together! Every episode, teams of Bakineers (1 baker + 1 engineer) will compete in designing and baking creations that are required to not only taste delicious, but also survive intense engineering stress tests. Imagine an edible boat that floats, edible mini golf courses or an edible skyscraper that must withstand a simulated quake.
—
Baker's Dozen
Season 1
Thurs Oct 7
On Hulu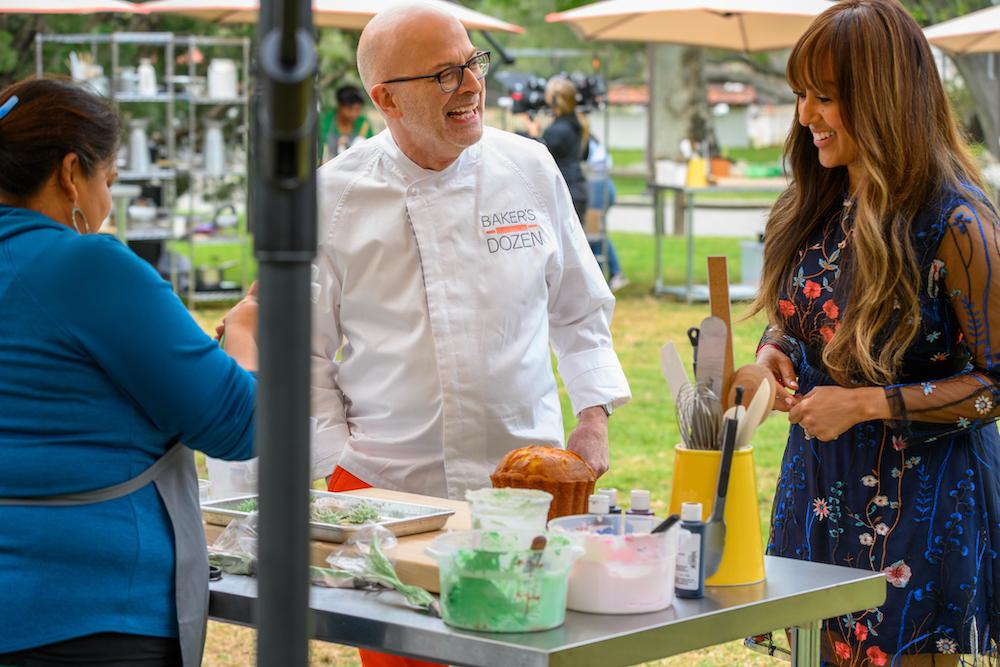 Photo by: Cory Osborne/Hulu
If you're looking to fill the Great British Baking Show-sized hole in your heart instead, treat yourself to Hulu's Baker's Dozen. The competition mixes professional and self-taught bakers and challenges them to create the perfect desserts, which means the competition is high but the drama is all light-hearted. It's soothing to watch and will make you crave all things sugar (and there's nothing wrong with that). You'll just be jealous of the hosts Tamera Mowry-Housley and Bill Yosses—and the rotating guest judges—because they get to taste all the sweet snacks!
Baker's Dozen hits Hulu on Thursday.
From Hulu:
Passionate amateur bakers will go head-to-head with seasoned professionals in each episode of "Baker's Dozen". Join hosts Tamera Mowry-Housley (Emmy-award winning host of "The Real," FOX's "The Masked Singer" and Hallmark's "Christmas Comes Twice") and Bill Yosses (Author and former White House Pastry Chef) for this fast-paced competition series that will determine the best baker of all! Which of the 13 bakers has what it takes to create the next viral baking sensation, win the golden rolling pin and take home the cash prize?
—
One of Us is Lying
Season 1
Thurs Oct 7
On Peacock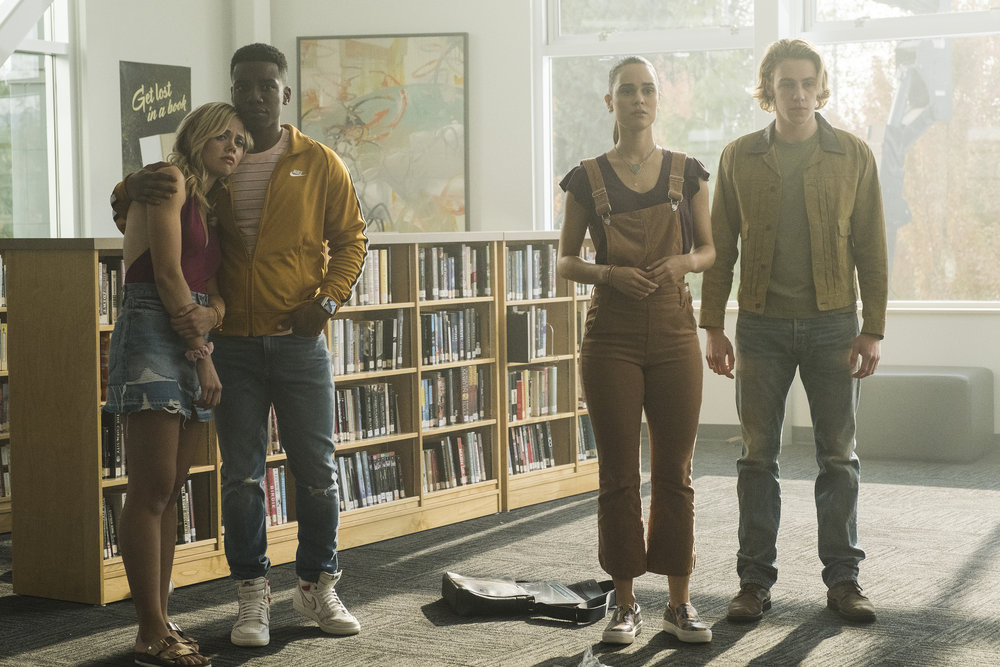 Photo by: James Dittiger/Peacock
Based on Karen M. McManus' bestselling novel of the same name, One of Us is Lying tells the story of five high school kids who walk into detention…but only four make it out alive. It's set up like Gossip Girl meets The Breakfast Club but quickly takes a dark and miserable turn when one of the students—a particularly disliked gossip blogger—dies from anaphylactic shock after drinking from the detention room's water cooler. Fingers are quickly pointed at the four remaining students. They each have secrets they don't want to come out, which means they each have a motive. One of Us is Lying is a toxic cocktail of high school drama mixed with murder mystery tropes with some extra blackmail and scandals thrown in. Still, if you like this kind of thing, you'll soon find yourself drawn in as the central mystery deepens to pull in more and more lives.
Stream One of Us is Lying on Peacock on Thursday.
From Peacock:
Based on Karen M. McManus's #1 New York Times best-selling novel, ONE OF US IS LYING is the story of what happens when five high schoolers walk into detention and only four make it out alive. Everyone is a suspect, and everyone has something to hide.
—
Sexy Beasts
Season 2
Thurs Oct 7
On Netflix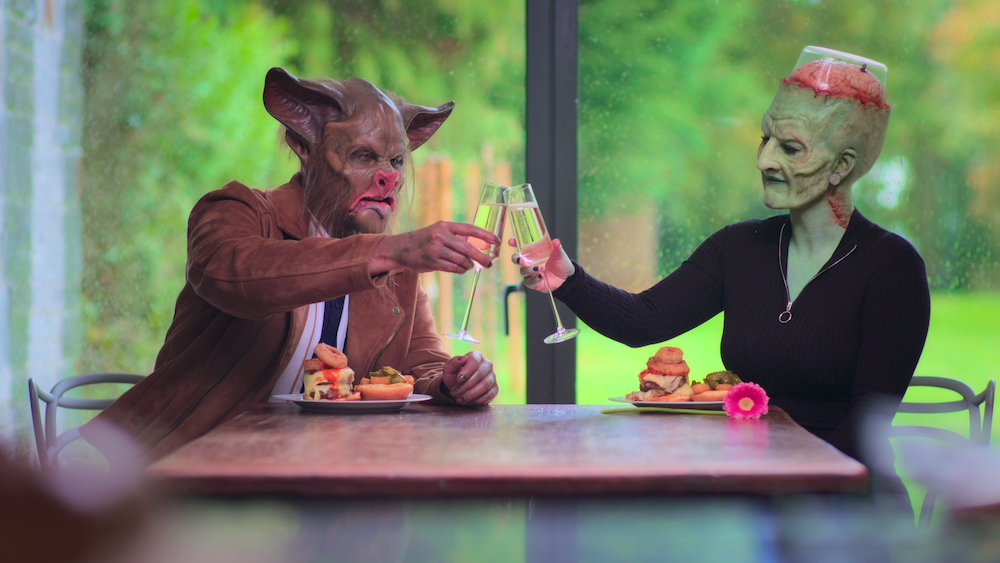 Photo courtesy of Netflix
Sexy Beasts is back for more dating shenanigans. With each prospective date dressed in the wildest beastly costumes, it's up to their personalities to shine through…and sometimes they shine through in ways that leave you covering your eyes from the burn of embarrassment. Whew! But it's fun to watch the couples test their chemistry and charm their way to being top pick. The animal prosthetics are amazingly done and they make the big reveals even sweeter, making Sexy Beasts a dating show you can giggle over AND be strangely charmed by.
Sexy Beasts returns to Netflix on Thursday.
From Netflix:
It's back…and beastier than ever. Follow six new singles as they strip away superficiality for a string of cheeky and charming costumed speed dates.
—
Pretty Smart
Season 1
Fri Oct 8
On Netflix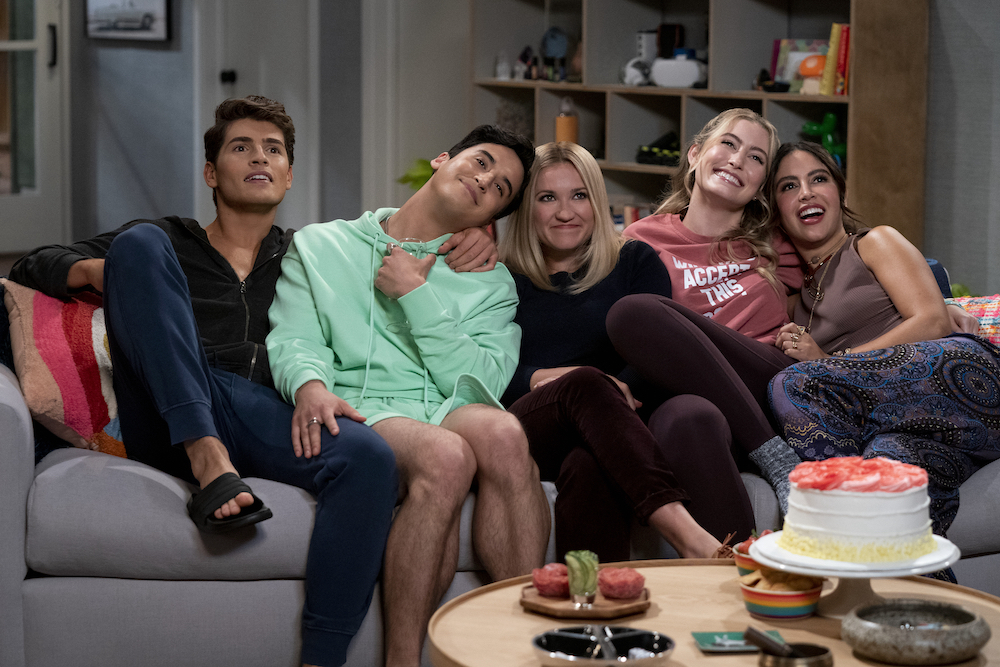 Photo: Patrick Mcelhenney/Netflix © 2021
Chelsea (Emily Osment) and Claire (Olivia Macklin) may be sisters but they could not be more different. Chelsea is a high-flying career-oriented woman who is obsessed with maintaining her image. Claire is down-to-earth and sugar-sweet, working as a ditzy but beloved waitress in LA. When Chelsea gets dumped she ends up staying with Claire, which gives her time to re-evaluate her life and values. Especially when Claire's loving and silly but well-meaning friends/roommates bring Chelsea out of her shell with pearls of wisdom…in their own way. Pretty Smart is a classic sitcom style that's all roses (The Bachelor kind) and quirky friendship with a big heart. It's nothing amazing but it'll make you smile—and sometimes that's all you need from the sitcom genre.
Watch Pretty Smart on Netflix on Friday.
From Netflix:
After getting unexpectedly dumped by her boyfriend, Chelsea (Emily Osment) — a high-brow, Harvard-educated intellectual and aspiring novelist — is forced to move in with her bubbly, carefree, not-so-intellectual West Coast sister, Claire (Olivia Macklin), and her three lovably eccentric, not-so-intellectual roommates: Grant (Gregg Sulkin), a distractingly handsome personal trainer, Solana (Cinthya Carmon), a former lawyer turned healer, and Jayden (Michael Hsu Rosen), a social media influencer. But Chelsea's tough, sometimes judgemental exterior starts to soften as she gets to know her new friends, and they begin to form an unlikely found family.