This week: Sex: Unzipped, Chicago Med, Star Trek: Prodigy, Fairfax, Colin in Black & White, Army of Thieves, Doctor Who
Sex: Unzipped
Season 1
Tues Oct 26
On Netflix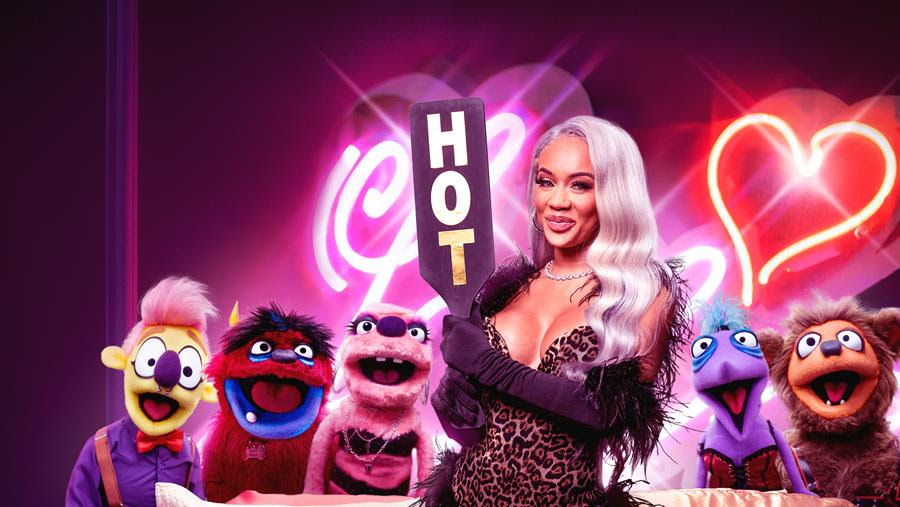 Photos courtesy of Netflix
Netflix is leaning into their Netflix & chill catchphrase with Sex: Unzipped, a new series talking all about all the different kinds of smashing. Hosted by Saweetie and some sex-positive puppets (yup, it's a thing), she's on a mission to get us all talking about sex, baby! From libidos to consent, fetishes to exploring the sexuality spectrum, no topic is off limits—communication is key! Netflix also pulls in some guests to share their experiences in the bedroom (and elsewhere), including: Dominique Jackson, Michelle Buteau, Trixie Mattel, Romesh Ranganathan, Mae Martin, and more. They also bring in some experts, including special puppet guest Dr. Ruth Westheimer (and you're gonna want to hear ALL her advice). Sex: Unzipped takes a fun and wild approach to the conversation but it doesn't shy away from topics that might normally make you blush. So settle in for some sex positivity turned up to 11—it might just get you talking, too.
Sex: Unzipped hits Netflix tomorrow.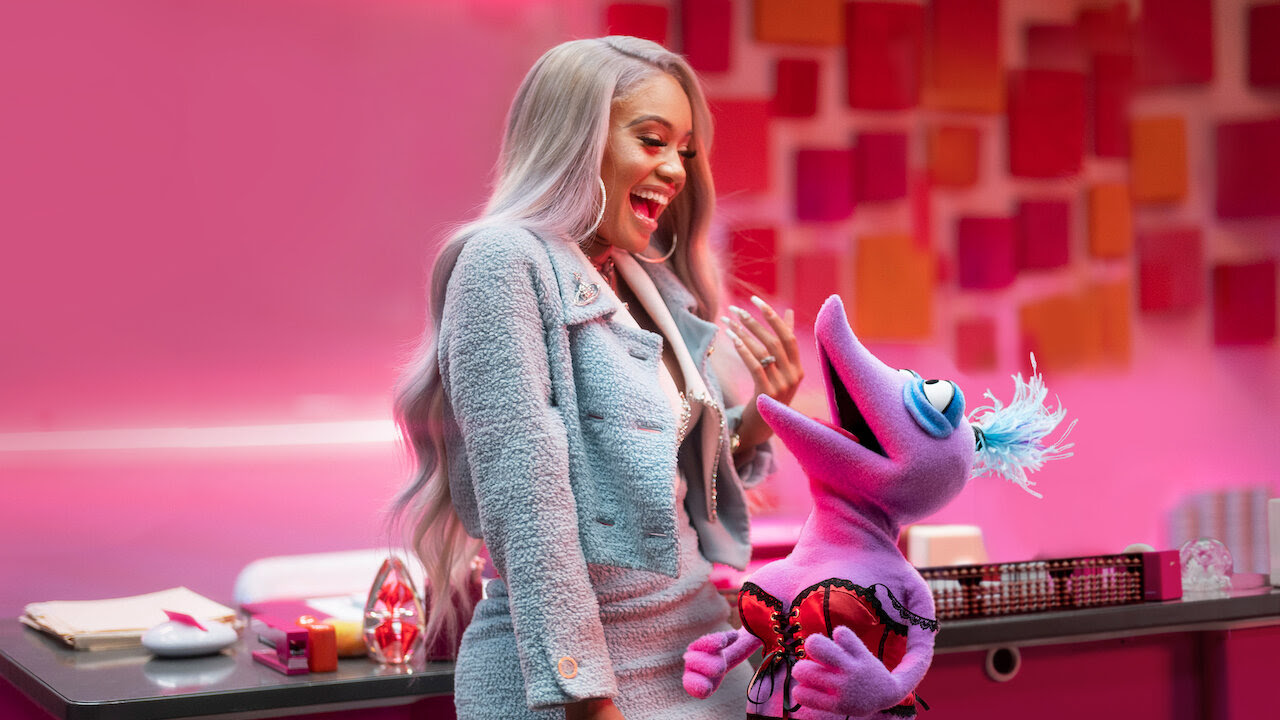 From Netflix:
Saweetie and a cast of sex positive puppets teach you the A-B-Cs of S-E-X in Netflix's funniest, filthiest, and furriest new comedy special, Sex: Unzipped. Talking heads include: Dominique Jackson (she/her), Ian Karmel (he/him), Joel Kim Booster (he/him), Katherine Ryan (she/her), London Hughes (she/her), Mae Martin (they/them), Michelle Buteau (she/her), Nikki Glaser (she/her), Romesh Ranganathan (he/him), Sam Jay (she/her), Trixie Mattel (she/her). Sex Experts include: Alexander Cheves (he/him/his), Emily Morse (she/her), Oloni (she/her), Stella Anna Sonnenbaum (she/her), and special guest Dr. Ruth Westheimer.
—
Chicago Med
"When You're a Hammer Everything's a Nail" – Season 7, Episode 6
Wed Oct 27 – 8PM
On NBC
Chicago Med airs on Wednesday.
From NBC:
Hammer's worlds collide when her mother becomes her patient; Scott's history with the father of a patient interferes with his perception of a case; Crockett's allegiances are challenged when his patient's liver is a potential transplant match.
—
Star Trek: Prodigy
Season 1
Thurs Oct 28
On Paramount+
Watch Star Trek: Prodigy on Paramount+ on Thursday.
From Paramount:
Developed by Emmy® Award-winners Kevin and Dan Hageman (Trollhunters and Ninjago) the CG-animated series Star Trek: Prodigy is the first Star Trek series aimed at younger audiences and will follow a motley crew of young aliens who must figure out how to work together while navigating a greater galaxy, in search for a better future. These six young outcasts know nothing about the ship they have commandeered – a first in the history of the Star Trek Franchise – but over the course of their adventures together, they will each be introduced to Starfleet and the ideals it represents.
—
Fairfax
Season 1
Fri Oct 29
On Amazon Prime Video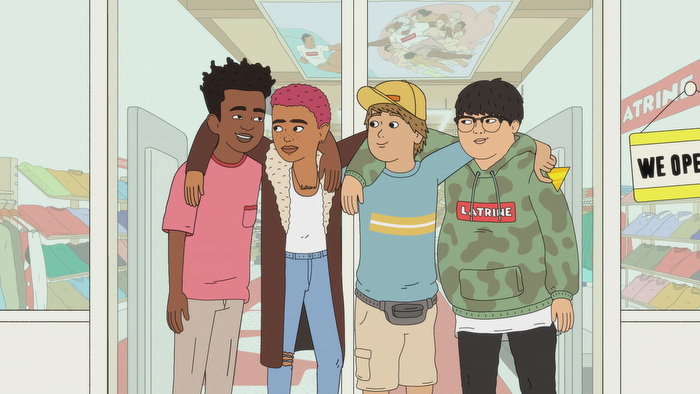 Photo courtesy of Amazon Studios
LA is a different kind of beast—your clout & your fit can make or break you. So what's it like growing up there? Fairfax follows a group of four middle schoolers who are just trying to figure out who they are—and keep up their SM drip. It's a late night animated comedy that's all about fitting in while standing out—you know how hard that line is to walk, right? And with the added niche of the Fairfax scene, there's plenty of pop culture commentary and observations of both the area and of Gen Z, blended in a trippy cocktail that at times makes you blink from the nonsense…only to laugh at the next scene. 
Stream Fairfax on Amazon Prime Video on Friday.
From Amazon:
Fairfax is an irreverent animated comedy following the misadventures of thirteen year-olds Dale, Derica, Benny and Truman, four best friends on a never-ending quest for clout. It's a modern look at the timeless struggle to be cooler than you are, to fit in while standing out, and what it feels like to wait in line for a pair of sneakers you're never going to cop.
—
Colin in Black & White
Season 1
Fri Oct 29
On Netflix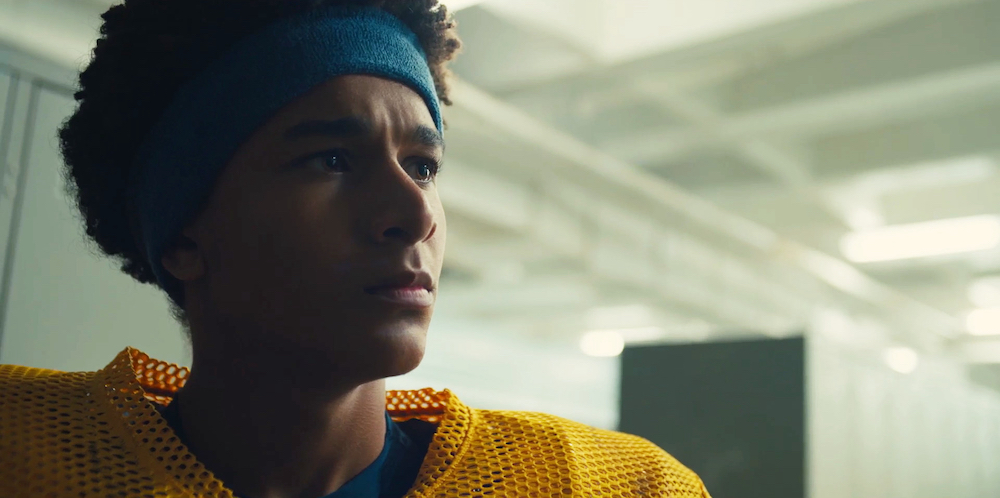 Photo courtesy of Netflix © 2021
"Some say the system is broken. I'm here to tell you it was intentionally built this way." Colin Kaepernick is a football legend—but his career has become synonymous with his activism for racial equality. Netflix is taking us back to when his rise began, telling a dramatized story of his teenage years. You'll see a young Colin (played wonderfully by Jaden Michael) learning how to exist outside of the predominantly white space of his hometown, to connect with leaders who help show him the way, and find his voice to become the man we know he is today. Kaepernick himself narrates the series, at times appearing in person to add some 20/20 vision to his younger self and flesh out things he didn't yet understand.
Colin in Black & White is a well balanced series that manages to keep teenage-Colin's youthful innocence and passion that's slowly being picked at by suburban racism full of ever-growing microaggressions. You just want Colin to be a kid and to reach his dreams of being the world's greatest quarterback. But you know he'll have to work so much harder than his white teammates just to be allowed to play, to stay at the tournament hotels, to exist. Colin Black & White is a letter to Colin's younger self as someone who'll go on to make history—for pushing back against the institutions he worked so hard to be a part of.
Watch Colin in Black & White on Netflix on Friday.
From Netflix:
From co-creators Ava DuVernay and Colin Kaepernick comes Colin in Black & White, a bold new dramatic limited series that chronicles Kaepernick's coming of age story, tackling the obstacles of race, class and culture as the Black adopted child of a white family. Colin in Black & White stars Jaden Michael as Young Colin before reaching the highest levels of American football as an NFL quarterback and becoming a cultural icon and activist; Nick Offerman and Mary-Louise Parker as his well-meaning parents Rick and Teresa; and Colin Kaepernick himself, who appears as the present-day narrator of his own story, guiding viewers through a robust and colorfully presented array of historical and contemporary contextual moments. You don't know Kaepernick until you know Colin.
—
Army of Thieves
Fri Oct 29
On Netflix
Army of Thieves debuts on Netflix on Friday.
From Netflix:
In this prequel to Zack Snyder's Army of the Dead, small-town bank teller Dieter gets drawn into the adventure of a lifetime when a mysterious woman recruits him to join a crew of Interpol's most wanted criminals, attempting to heist a sequence of legendary, impossible-to-crack safes across Europe.
—
Doctor Who
Season 13 premiere
Sun Oct 31
On BBC America
Doctor Who returns to BBC America on Sunday.
From BBC America:
One epic story. Six thrilling chapters. 'Doctor Who: Flux' premieres this Halloween.