This week: The Neighborhood, Happy Together, 9-1-1, HBO First Look: First Man, This Is Us, Mayans M.C., Chicago Med, SEAL Team, Superstore, The Good Place, Will & Grace, Station 19, I Feel Bad,
How to Get Away with Murder, Fresh Off the Boat, Speechless,
Flight of the Conchords: Live in London, Doctor Who,
The Walking Dead, Star Wars Resistance
The Neighborhood
"Pilot" – Series premiere
Mon Oct 1 – 8PM
On CBS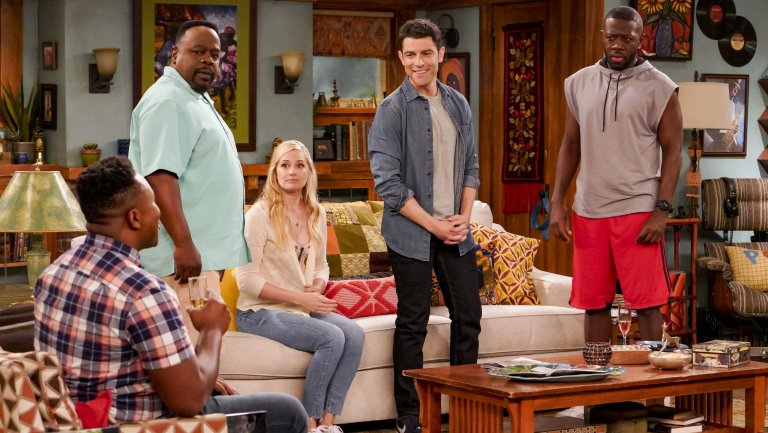 Photo: Bill Inoshita/CBS ©2018 CBS Broadcasting, Inc. All Rights Reserved.
CBS is diving into pilot season with a focus on sitcoms. Cedric the Entertainer and Max Greenfield lead The Neighborhood through a clash of cultures and race in a distinctly suburban setting. When Dave Johnson (Greenfield) and his family—aka the whitest overly polite neighborinos that memes are made of—move into a typically black neighborhood in Los Angeles there are questions over whether they'll fit in. Calvin Butler (Cedric) and his family waste no time in sussing out their new neighbors (and taking plenty of pictures of the experience). The Sunday street cookouts just got a whole lot more entertaining (cue the "meat" jokes…oh yeah, the show material writes itself in this setting). Some of the jokes are a little too obvious but you'll be cackling nonetheless at the truth of it all. This is a fun one.
Catch the premiere of The Neighborhood tonight on CBS.
From CBS:
Cedric the Entertainer, Max Greenfield, Beth Behrs and Tichina Arnold star in a comedy about what happens when Dave Johnson (Greenfield), a friendly guy from the Midwest, moves his family to a Los Angeles neighborhood next door to Calvin Butler (Cedric), who's concerned the Johnsons will disrupt the culture on the block and doesn't appreciate Dave's extreme neighborliness
—
Happy Together
"Pilot" – Series premiere
Mon Oct 1 – 8:30PM
On CBS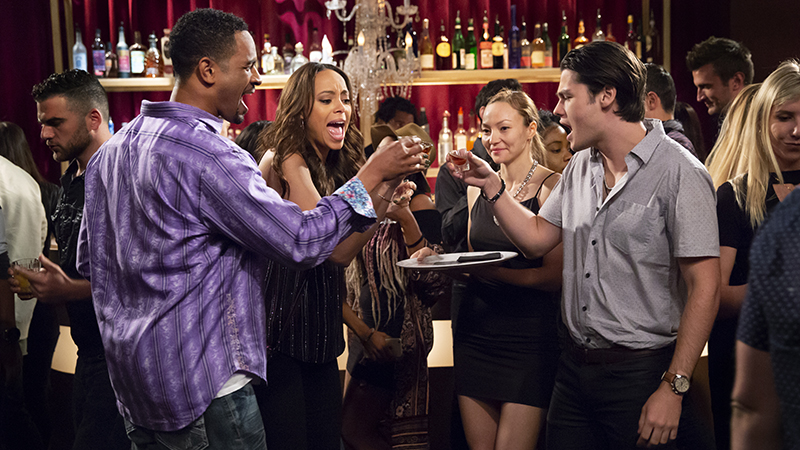 Photo: Cliff Lipson/CBS © 2018 CBS Broadcasting, Inc. All Rights Reserved
Happy Together tells us you shouldn't try too hard to be cool. The series should probably take its own advice…but there's still plenty of laughs amongst the awkwardness (Alexa, play "You, Me and He"). This series is lead by Damon Wayans Jr. and Amber Stevens West, after all, who bring their comedic chops to the table and they try their best to make the script work. Jake (Wayans) is an accountant who's stuck in a rut with his wife Claire (Stevens West)—which is a well-worn premise—but when Jake's rockstar client Cooper (Felix Mallard) comes to live with them to get out of the spotlight things start to get more exciting. The show plays it safe and doesn't bring anything new to the sitcom genre but, if you're looking for something easy to watch on your Monday night, give this a try.
Happy Together debuts on CBS tonight.
From CBS:
Damon Wayans Jr., Amber Stevens West and Felix Mallard star in a new comedy about a 30-something, happily married couple who begin to reconnect with their younger, cooler selves when a young pop star drawn to their super-ordinary suburban life unexpectedly moves in with them, on the series premiere of HAPPY
—
9-1-1
"Help is Not Coming" – Season 2, Episode 3
Mon Oct 1 – 9PM
On FOX
9-1-1 airs every Monday, only on FOX.
From TV Guide:
The first responders continue to deal with the fallout of a massive earthquake and its deadly aftershocks. Athena tries to keep the peace as Bobby and team continue to rescue victims from a collapsing high-rise hotel, both under the rubble and high above the ground. Maddie's first day on the job involves helping a pregnant couple deliver their baby safely.
—
HBO First Look: First Man
Mon Oct 1 – 9:05PM
On HBO
Get your first look at First Man on HBO tonight.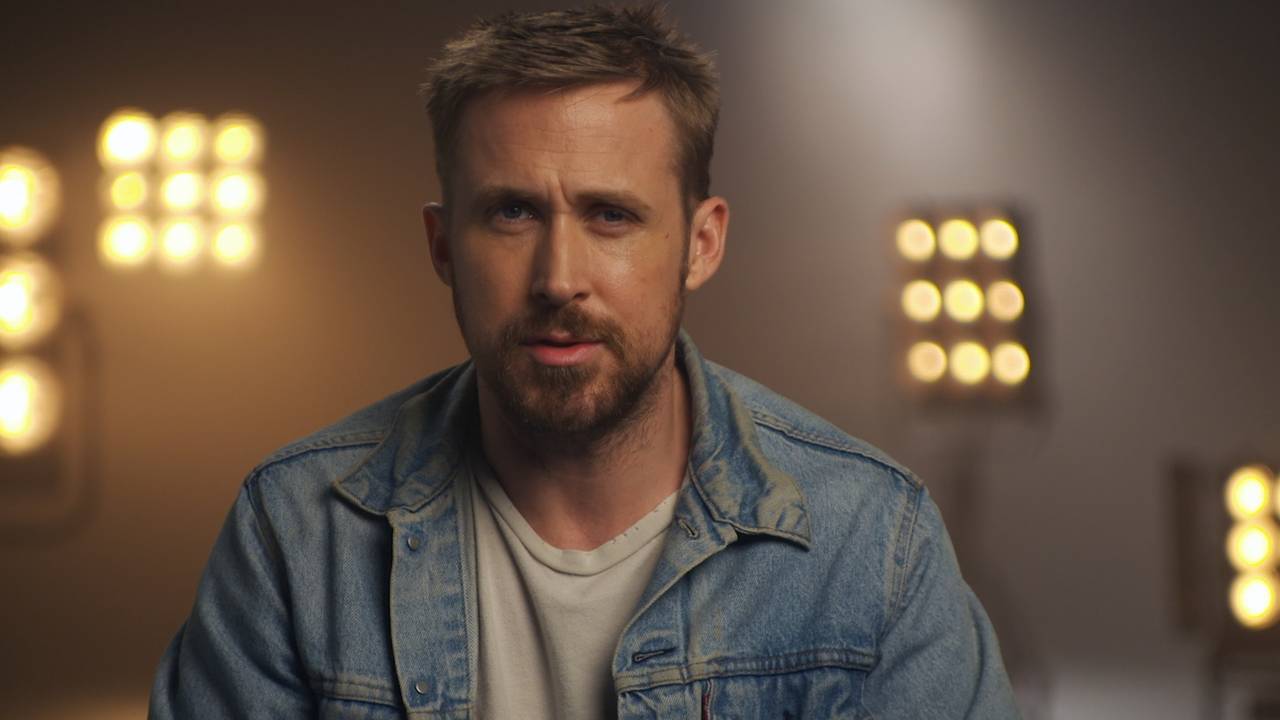 Photo: HBO
From HBO:
A behind-the-scenes look at the film 'First Man' starring Ryan Gosling.
—
THIS IS US
"A Philadelphia Story" – Season 3, Episode 2
Tues Oct 2 – 9PM
On NBC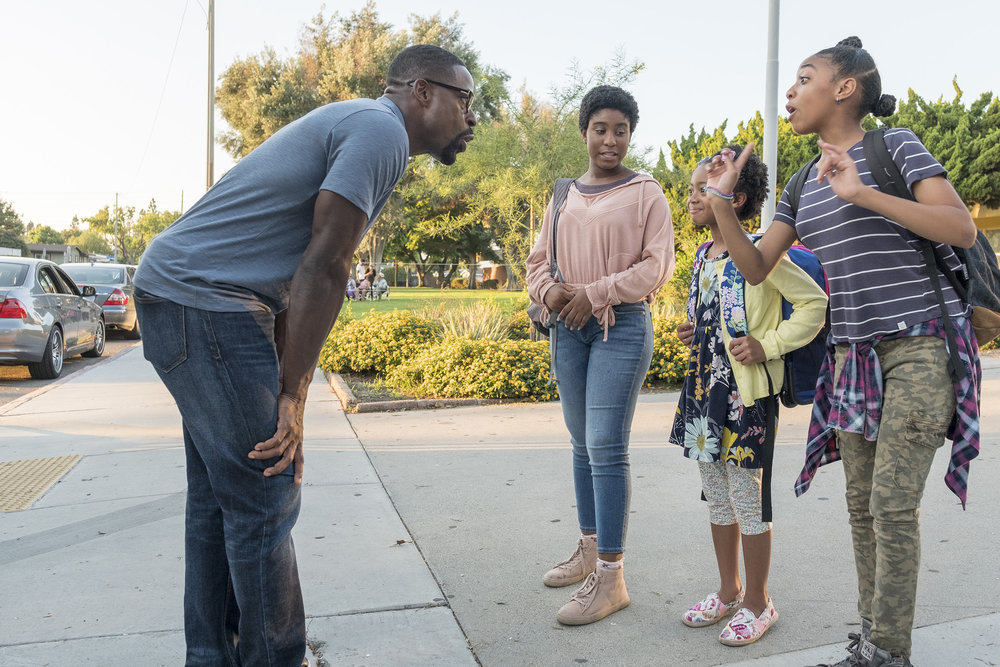 Photo by: Ron Batzdorff/NBC
**idobi rated: ❤️❤️**
This week we're going back to the Big Three's teenage years to deepen your connection with them. You'll see the root of what has made them who they are as adults, and how their decisions about college set them on different paths, while Jack (Milo Ventimiglia) and Rebecca (Mandy Moore) struggle to come to terms with everything happening to their kids, past and present. In the present timeline, however, it's time for the Pearson family to come together in support of Kevin's (Justin Hartley) movie premiere—in spite of all the tensions… But putting on a smile and pretending everything's okay (when is anything ever with this show?) is proving too much for Toby (Chris Sullivan). His decision to go cold turkey with his antidepressants might've been an act of noble idiocy and we've already gotten a preview of the road this leads him down… Damn, This Is Us is so clever at laying the groundwork for future heartbreak and we're powerless to resist the oncoming storm.
Tune in to the return of This Is Us tomorrow on NBC.
From NBC:
The Pearsons gather to support Kevin at his movie premiere. The teenage Big Three make college decisions.
—
MAYANS M.C.
"Uch/Opossum" – Season 1, Episode 5
Tues Oct 2 – 10PM
On FX
Get into Mayans M.C. every Tuesday on FX.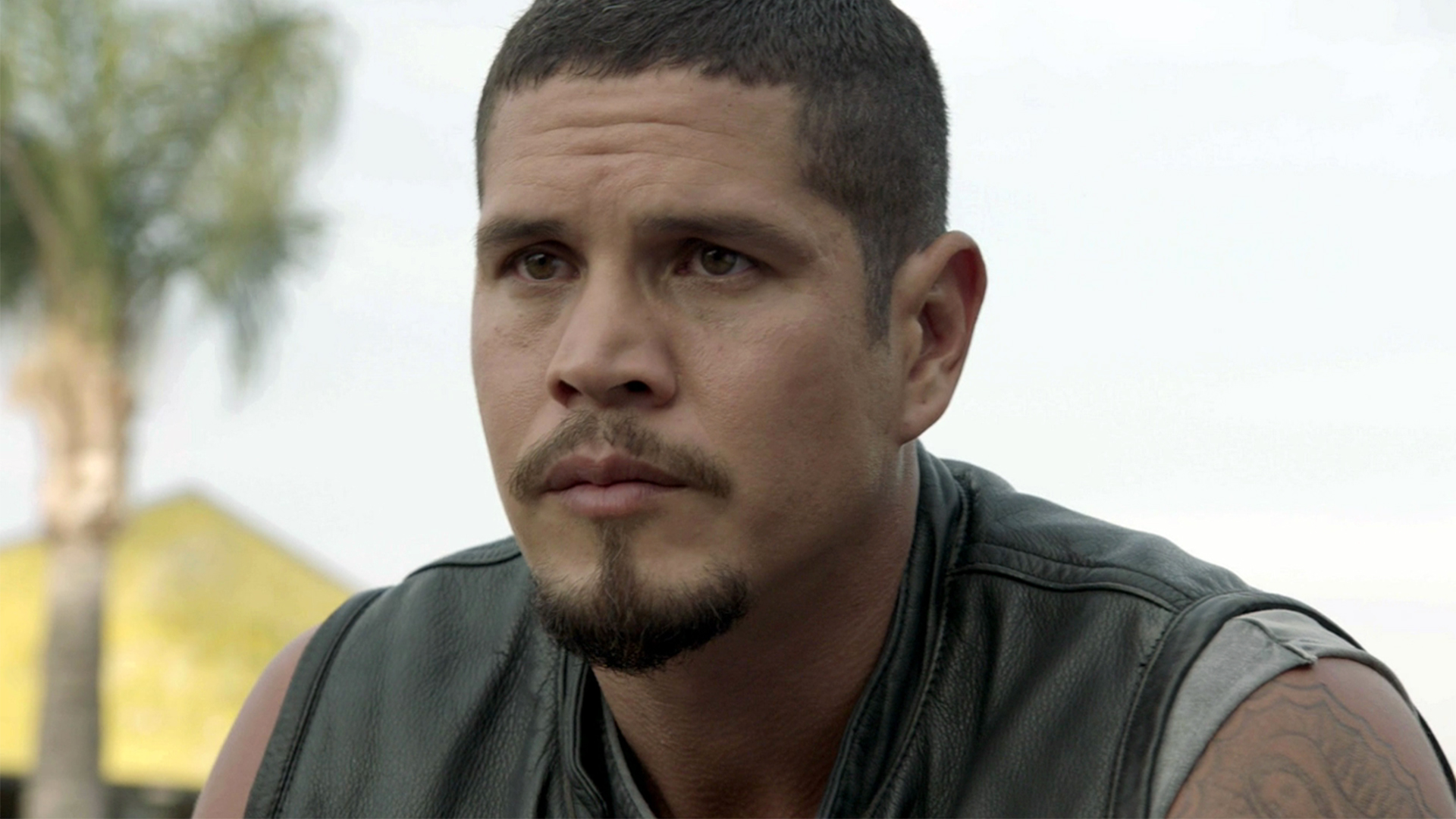 Photo: FX
From FX:
A new deal requires a dangerous favor in Santa Madre.
—
CHICAGO MED
"When to Let Go" – Season 4, Episode 2
Wed Oct 3 – 9PM
On NBC
New episodes of Chicago Med air every Wednesday on NBC.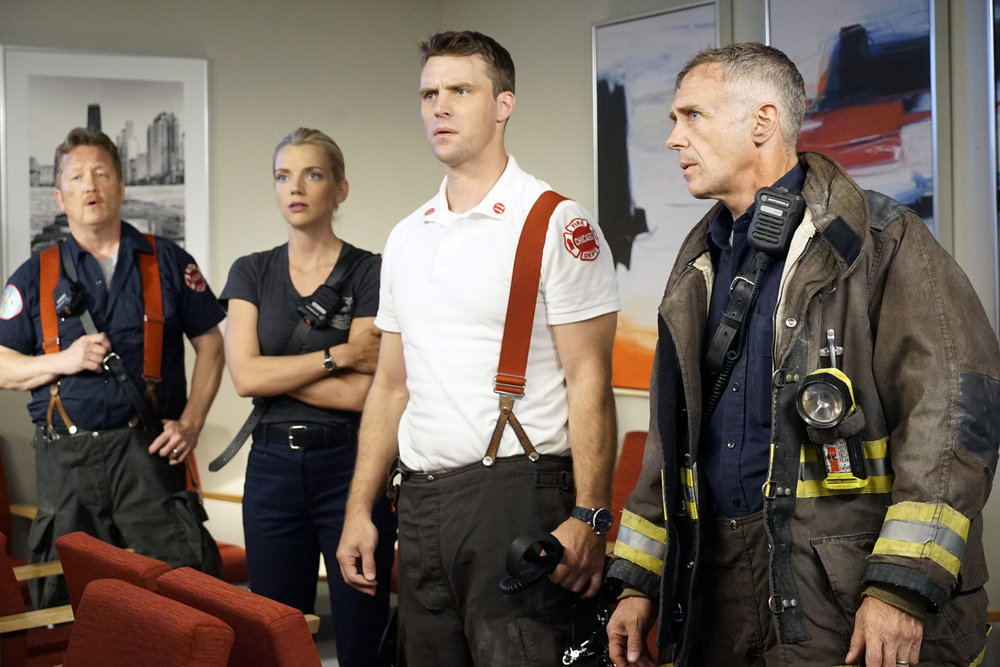 Photo by: Elizabeth Sisson/NBC
From NBC:
In the second part of the three-show, one-night crossover event, the doctors and nurses of Chicago Med find themselves on high alert when an overflow of patients are rushed into the doors following a terrifying apartment complex blaze. Dr. Rhodes fights to save the life of one of "Chicago Fire's" own, while Dr. Halstead and his brother Jay struggle with their own personal battle.
—
SEAL Team
"Fracture" – Season 2 premiere
Wed Oct 3 – 9PM
On CBS
Season 2 of SEAL Team premieres this Wednesday, only on CBS.
From CBS:
Jason and Bravo Team head to the Gulf of Guinea to rescue American hostages after an oil platform is overtaken by armed militants, on the second season premiere of SEAL TEAM
—
Superstore
"Back to School" – Season 4 premiere
Thurs Oct 4 – 8PM
On NBC
Superstore returns for season 4 this Thursday on NBC.
From NBC:
On their first day back from suspension, Amy (America Ferrera) and Jonah (Ben Feldman) steel themselves for a barrage of jokes and snide comments about their sex video, while Jeff (guest star Michael Bunin) goes to extreme lengths to win back Mateo (Nico Santos).
—
THE GOOD PLACE
"The Brainy Bunch" – Season 3, Episode 2
Thurs Oct 4 – 8:30PM
On NBC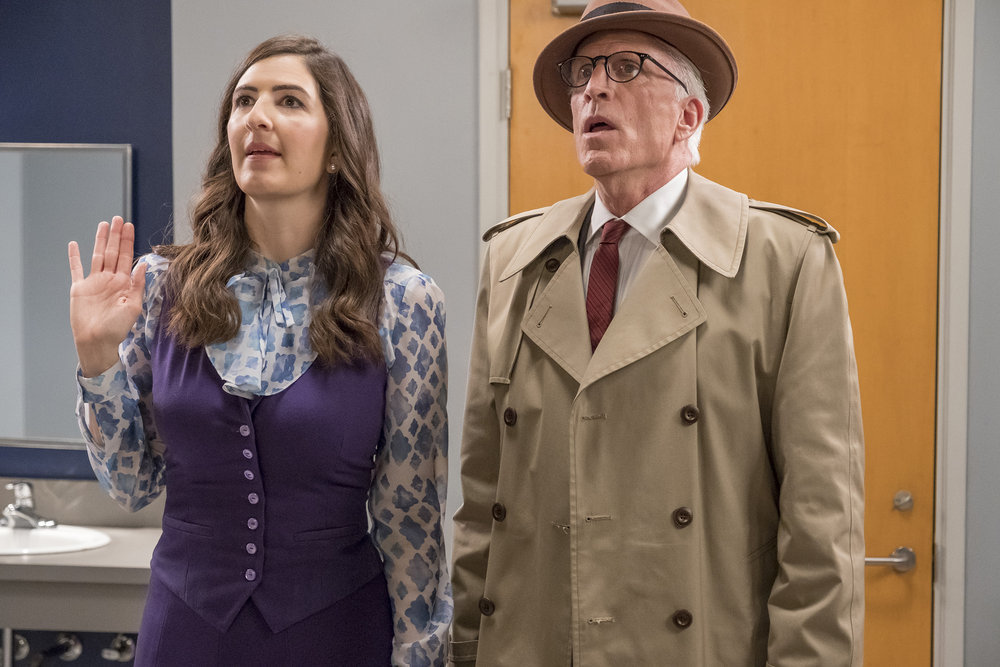 Photo by: Ron Batzdorff/NBC
**idobi rated: ❤️❤️**
Just when you thought Michael (Ted Danson) was done with meddling (okay, none of us ever thought he'd stop) he's got a new problem to deal with…in the form of Trevor (Adam Scott). Yes, Trevor!!! We've missed him and his complete son of a bench ways. With the demon posing as the helpful "nice guy" the gang is going to need Janet (D'Arcy Carden) to come to the rescue. Watching Michael and Janet try to navigate Earth without their powers is both adorable and hilarious—they're like toddlers with the ability to speak coherent sentences, amazed at the tiniest things (frogs! Pouring beer! Sideway seats on buses!). It's only a matter of time before their antics get found out but it's a cackle-worthy switch-a-roo (wouldn't Michael love that word?) of disguises, waitressing, and fake hangups until then. The Good Place somehow manages to up the madness with every episode and you're left wondering just how they're going to wiggle their way out of each new (totally their fault) situation…whatever happens, you know it'll be a "holy shirtballs!" moment.
Head back to The Good Place this Thursday on NBC.
From NBC:
Michael's grand scheme hits an unexpected snag and forces him to take drastic measures.
—
Will & Grace
"The West Side Curmudgeon" – Season 2 premiere
Thurs Oct 4 – 9PM
On NBC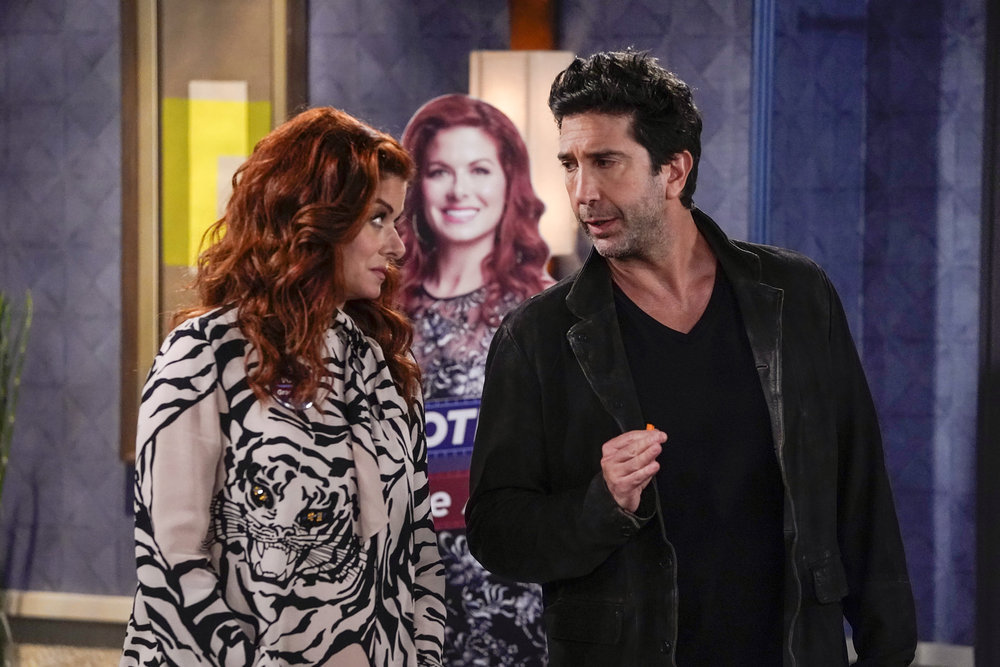 Photo by: Chris Haston/NBC
Honey, Will & Grace doesn't get old, it just gets better. In the new season Grace (Debra Messing) is running for President of the NY Society of City Designers and is about as clueless as most leaders seem to be these days (although far less horrendous). Enter David Schwimmer aka Noah aka The West Side Curmudgeon (aka basically Ross). He hates TV, taxis and chatty redheads and his tweets will take you down. When Grace and Noah meet the chemistry sparks but Grace is the only one getting burned…until she thinks of a good comeback, that is. Noah forces her to face the fact that she delights in other people's misery because her life didn't turn out the way she wanted—which is something they have in common. Nudge nudge wink wink. We are here for this addition to the cast, Messing and Schwimmer bounce off each other so well you forget they haven't been working together all this time. Meanwhile Karen (Megan Mullally) is seeing double…pairs of her boobs walking down the street (it's Karen, just roll with it). Will (Eric McCormack) tries his best not to get sucked into her crazy and of course fails miserably. Together they face the realities of getting older, each deciding to look at the glass as half full and half empty at the same time (so long as there's alcohol in it). Jack (Sean Hayes) wants plastic surgery to impress his latest squeeze except standing in his way is some numbing cream and a banana…no, it's not as dirty as it sounds but it provides some excellent physical comedy. Will & Grace always delivers sharp truths in over-the-top honey-coated ways that don't hit you 'til you're giddy from the sugar rush. Name another sitcom that's run (and re-run) this long and can still deliver this well, we'll wait.
Will & Grace returns for season 2 this Thursday on NBC.
From NBC:
Grace's (Debra Messing) accidental run-in with Noah (guest star David Schwimmer), a curmudgeonly man she follows on Twitter, hints at a possible new love interest. Jack (Sean Hayes) wants to look younger before meeting Estefan's (guest star Brian Jordan Alvarez) family on Skype but makes a terrible first impression after overdoing the numbing cream before his facial procedure. Meanwhile, Will (Eric McCormack) helps Karen (Megan Mullally) protect the intellectual property rights of her most prized possession.
—
Station 19
"No Recovery" – Season 2 premiere
Thurs Oct 4 – 9PM
On ABC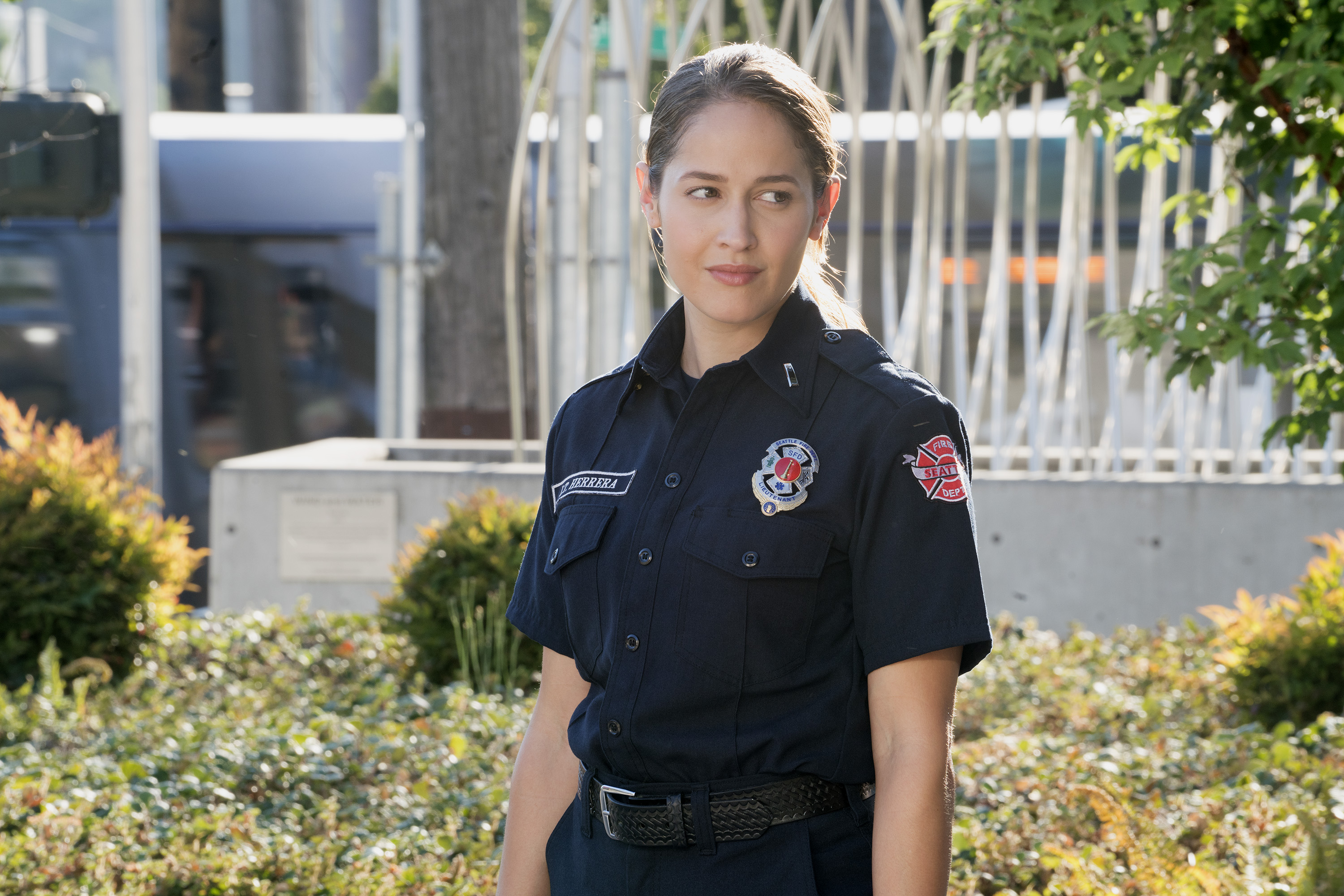 Photo: 

ABC/Derek Johnson
Station 19 couldn't come back soon enough. The skyscraper fire that left us hanging in the season 1 finale is blazing hotter than ever and our crew are still inside. You'll be launched right back into the heat of the emotions, as if the show never left, desperate to see who makes it out. There'll be plenty of crossover for Grey's Anatomy fans but not in the way you'd hoped for as Meredith (Ellen Pompeo), Bailey (Chandra Wilson) and Maggie (Kelly McCreary) await the arrival of Montgomery (Jay Hayden) and the other injured firefighters at Grey Sloan Memorial. Things aren't looking good for our crew and there'll be more than one gut-wrenching moment for you to tear up over. Station 19 is avoiding the sophomore slump by picking up the pace of season 1 and playing to its strengths. Passionate emotions are Shondaland's roots along with the intense pressure of risking lives to save others.
Head back to Station 19 this Thursday on ABC.
From ABC:
Lives hang in the balance as the members of Station 19 continue to fight a raging inferno inside a skyscraper. Meanwhile, Pruitt's health is in grave danger at Grey Sloan; and a seasoned firefighter with a mysterious past arrives at Station 19, leaving everyone to wonder what the future holds.
—
I Feel Bad
"I Lie to My Kids" – Season 1, Episode 3
Thurs Oct 4 – 9:30PM
On NBC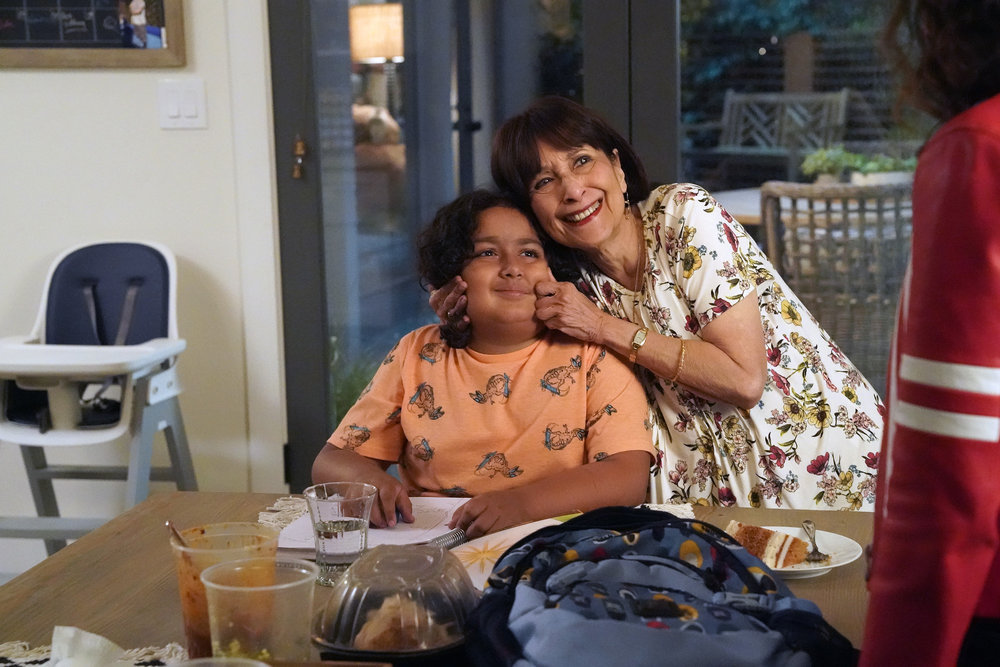 Photo by: Evans Vestal Ward/NBC
There's never enough time in the mornings, right? I Feel Bad is taking on the school run in this episode and Emet (Sarayu Blue) is killing...err…it. Grandma Maya (Madhur Jaffrey) wishes her family could make her feel #blessed just once instead of a #morningfail. Parents will say anything they can to get their kids to class on time and Emet's taking it one step further to prove she's not an average mom. Well, at least she's better at Photoshop than the other moms. Her methods are gangsta but her logic is sound, pointing out the silly playground politics of education to have you giggling and cringing all at once. Ever wanted a sitcom with a huge dose of #realness? I Feel Bad is for you. Don't even try to pretend you're not just like this family—you'll be too busy wishing you'd thought of their genius lies before they did.
I Feel Bad airs every Thursday, only on NBC.
From NBC:
When Emet tells a lie about her son Louie's accomplishments to make her life run more smoothly, it ends up working a little too well… setting up a chain of events that dig her in too deep to come clean.
—
HOW TO GET AWAY WITH MURDER
"Whose Blood is That?" – Season 5, Episode 2
Thurs Oct 4 – 10PM
On ABC
Watch How to Get Away With Murder this Thursday on ABC.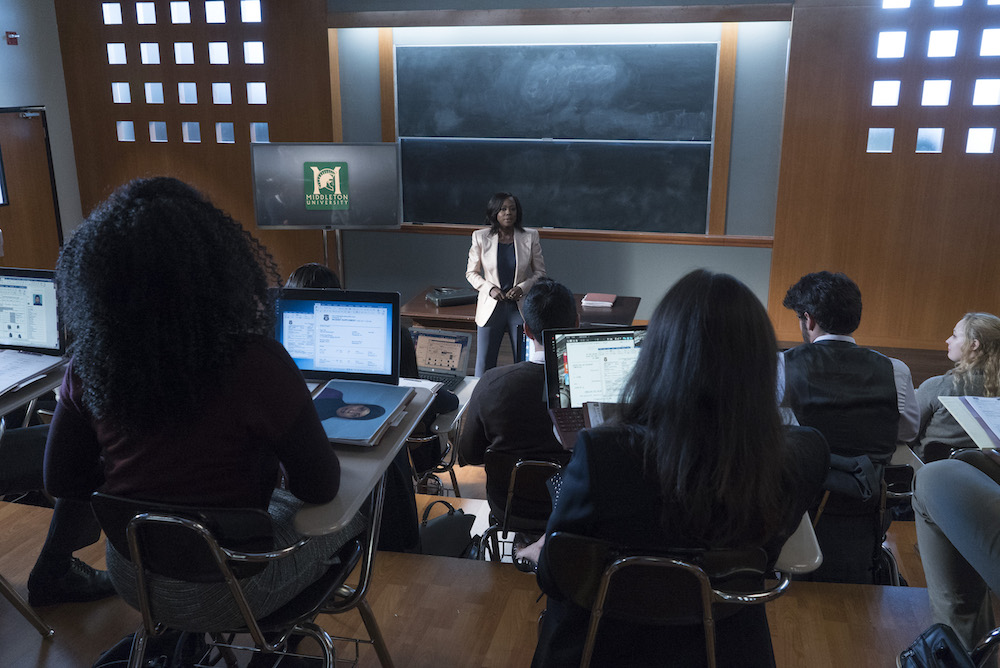 Photo: 

ABC/Richard Cartwright
From ABC:
Annalise preps to defend her first class action plaintiff and adjusts to the politics of the new job. Meanwhile, Frank is suspicious of Gabriel and does some investigating of his own, and Asher complicates Bonnie's new life away from Annalise.
—
Fresh Off the Boat
"Fresh Off the RV" – Season 5 premiere
Fri Oct 5 – 8PM
On ABC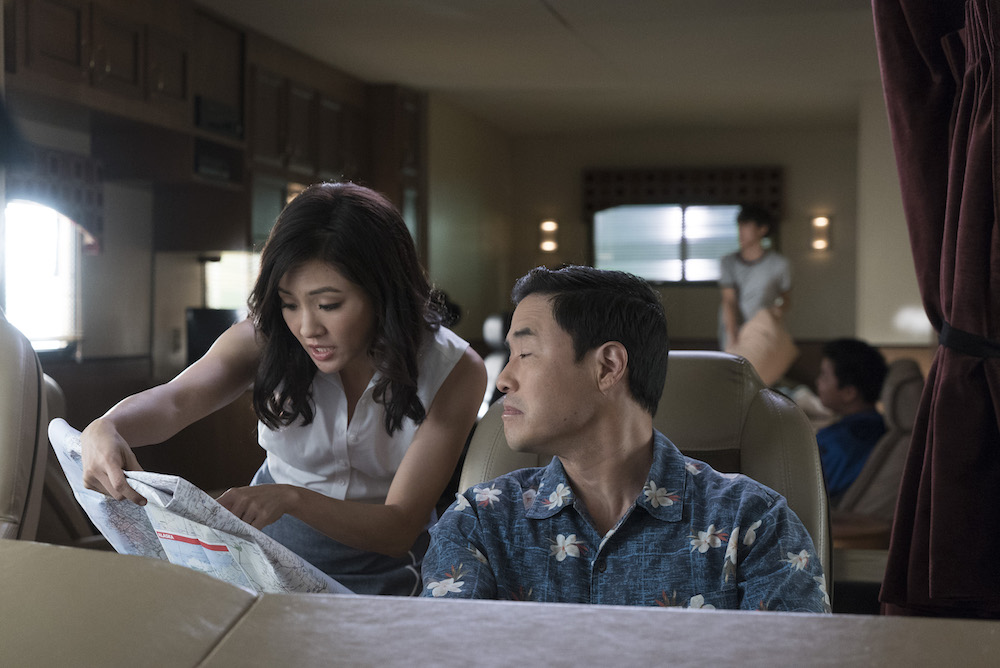 Photo: 

ABC/Richard Cartwright
What happens when you get a book published? You rent an RV and take your whole family cross-country to promote it. It's the American way, right? Dammit we missed Fresh Off the Boat and the Huang family antics. Season 5 is welcoming us back by sticking the family in a confined space on a long, long road trip… You already know how that's gonna go. Good thing there are plenty of pillows to hit each other with and plenty of microwave ovens to smack—this RV is stocked and ready to go (just not quite ready for them).
Fresh Off the Boat season 5 kicks off this Friday on ABC.
From ABC:
While Honey and Marvin celebrate the birth of their baby, Jessica's book is finally released, and she's optimistically looking forward to a book store reading that's been set up by her publisher to help boost sales. Louis is so excited to promote the book across the country that he buys an RV from Los Angeles Lakers great Kareem Abdul-Jabbar, who owns an RV dealership which is managed by underappreciated Calvin (Jaleel White, "Family Matters"). Meanwhile, Emery and Evan are concerned about Eddie after Nicole tells him that she's moving to New York, and he seems completely unfazed about losing his best friend.
—
Speechless
"L-O-N— LONDON (Part 1)" – Season 3 premiere
Fri Oct 5 – 8:30PM
On ABC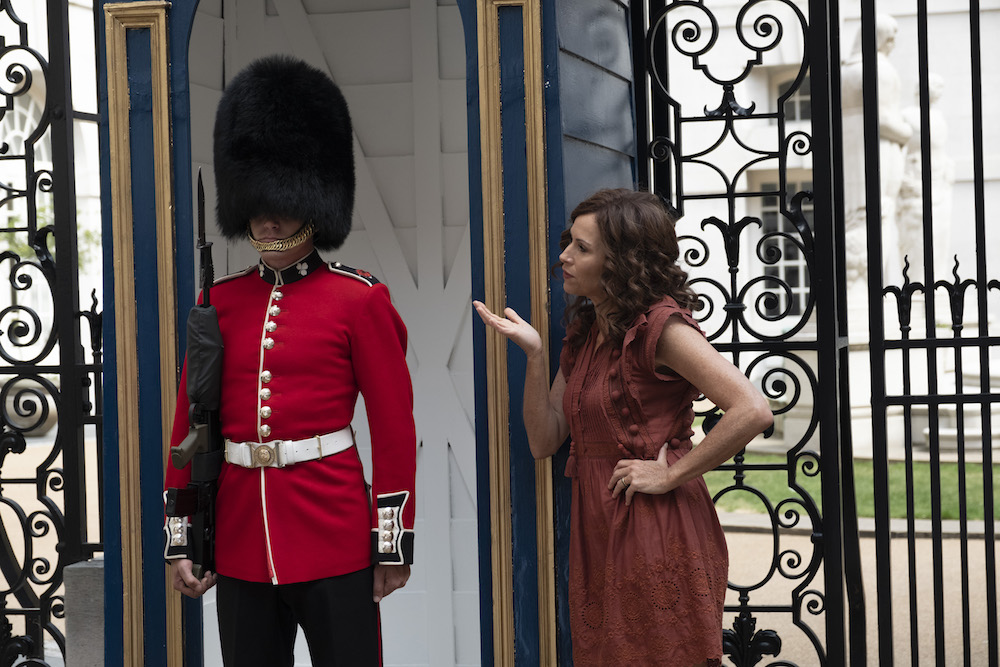 Photo: 

ABC/Angus Young
The DiMeos are headed to England! Whether you love it or hate it, Speechless is all about embracing family dysfunction and getting real with a whole lotta humor. Seeing Maya (Minnie Driver) on her home turf while the rest of her family take the tourist role seriously (it's all about the Royal Wedding, y'all) is hilarious—the DiMeos have never fit and nor do they want to, they wear their quirks like a badge of honor.
Speechless season 3 premieres this Friday, only on ABC.
From ABC:
The DiMeos cross the pond so Maya can ask her estranged father, the challenging Martin, for a loan to save their house. Meanwhile, Jimmy puts on his "fun dad" hat to ensure JJ has a great trip, Ray digs deep to summon Californian vibes to endear himself to British girls, and Kenneth reveals a love for all things royal.
—
Flight of the Conchords: Live in London
Sat Oct 6 – 10PM
On HBO
We're not cryin'…it'll just be raining on our faces.
Catch Flight of the Conchords: Live in London this Saturday on HBO.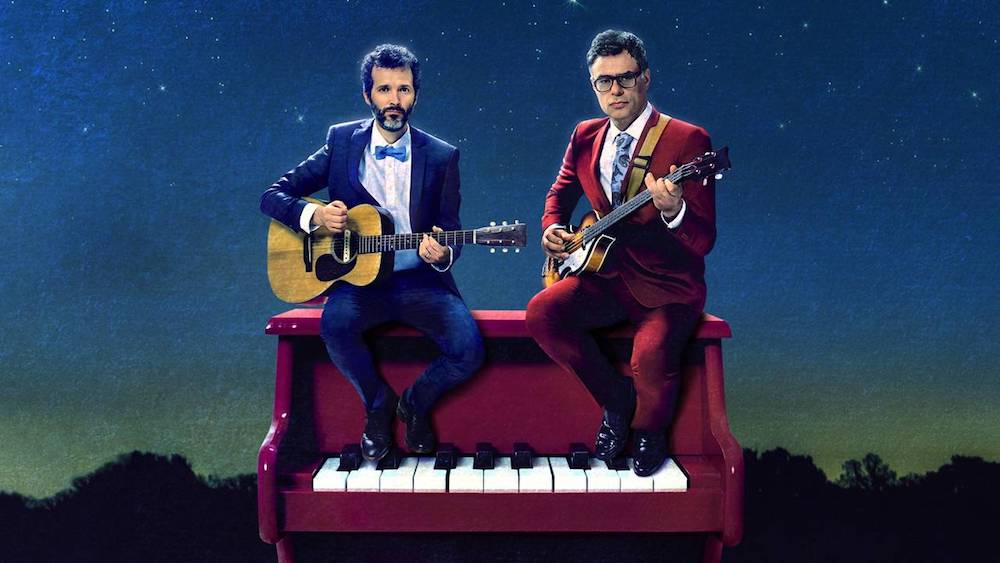 Photo: HBO
From HBO:
It's business time. Ten years after their critically acclaimed HBO series debuted, New Zealand music-comedy savants Bret McKenzie and Jemaine Clement—a.k.a. Flight of the Conchords—return with this comedy special. Taped before a live audience at the Eventim Apollo in London, the exclusive presentation will feature the Conchords performing their classics as well as new original songs from the "Flight of the Conchords Sing Flight of the Conchords" tour.
—
Doctor Who
"The Woman Who Fell to Earth" – Season 11 premiere
Sun Oct 7 – 8PM
On BBC America
Doctor Who? It's Doctor Jodie Whittaker!
Doctor Who is back this Sunday on BBC America.
From BBC America:
"We don't get aliens in Sheffield." In a South Yorkshire city, Ryan Sinclair, Yasmin Khan and Graham O'Brien are about to have their lives changed forever as a mysterious woman, unable to remember her own name, falls from the night sky. Can they believe a word she says? And can she help solve the strange events taking place across the city?
—
The Walking Dead
"A New Beginning" – Season 9 premiere
Sun Oct 7 – 9PM
On AMC
Season 9 of The Walking Dead kicks off this Sunday on AMC.
From AMC:
Rick and his group make a risky run into Washington, D.C. to search for artifacts they will need to build the civilization he and Carl envisioned.
—
Star Wars Resistance
"The Recruit" – Series premiere
Sun Oct 7 – 10PM
On Disney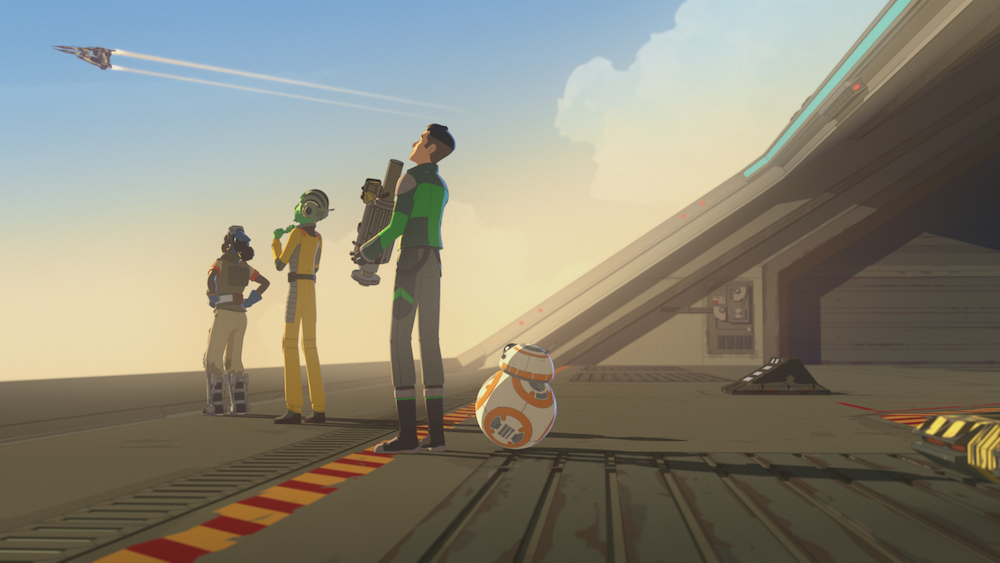 Photo: 

Lucasfilm
Who doesn't want more Oscar Isaac and Star Wars in their lives? (And, of course, BB-8. We'll never forget you, B.) In this spinoff animation Poe Dameron (Isaac) is heading up the Resistance and sends new recruit Kazuda Xiono (Christopher Sean) to spy on the First Order. Settle in for plenty of space races and anime-style fun for kids—the visuals are a step up and downright awesome—with plenty of exciting Easter eggs for adults. Jim Rash and Bobby Moynihan make guest appearances as Flix and Orka respectively. Plus there's Bucket! We heart that beloved ol' mechanic.
Star Wars Resistance debuts on Disney this Sunday.
From Disney:
X-wing pilot Kazuda Xiono is recruited for the Resistance, but finds himself in over his head when Poe Dameron assigns him to a remote fueling station to spy on the First Order. Then, after Kaz boasts about being the best pilot around, he is forced to compete in a dangerous sky race.