This week: The Hustler, Zoey's Extraordinary Playlist, History of Swear Words, Chicago Med, Mr. Mayor, Pieces of a Woman, Pretend It's a City, Lupin, American Gods
The Hustler
"A Puzzle, Wrapped in an Enigma, Tattooed in Mystery" – Series premiere
Mon Jan 4 – 10PM
On ABC
Watch The Hustler on ABC tonight.
From ABC:
Each episode of "The Hustler" follows five contestants as they collaborate to answer a series of 10 trivia questions worth $10,000 each, with the goal of building a collective prize pot that increases with each correct answer. The catch? One of the five contestants, the Hustler, already knows the answers because every question is inspired by his/her life and interests but must keep their identity a secret in order to have a shot at winning the grand prize. Throughout each episode, two contestants are anonymously eliminated by the Hustler, leaving three remaining contestants—the Hustler and two others—who must collectively decide who they think the Hustler is. If they are right, they share the prize pot that could be worth over $100,000. If the two contestants are wrong, the Hustler goes home with the full cash reward.
—
Zoey's Extraordinary Playlist
"Zoey's Extraordinary Return" – Season 2 premiere
Tues Jan 5 – 8PM
On NBC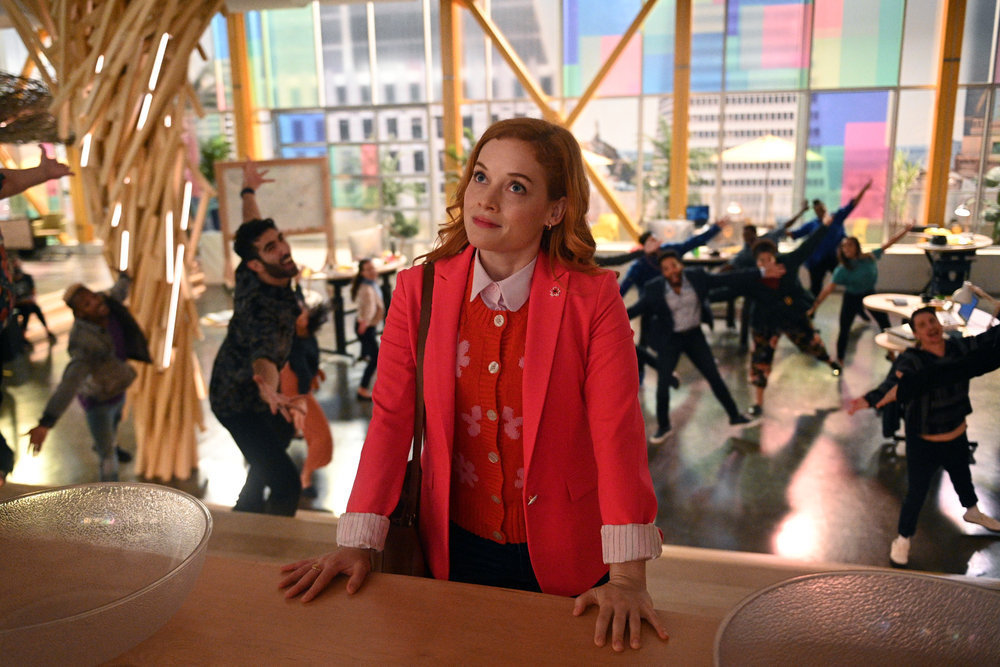 Photo by: Sergei Bachlakov/NBC/Lionsgate
It's been six weeks since Zoey (Jane Levy) lost her father and she's struggling. Mo (Alex Newell) tries her best to help Zoey reconnect with the world (and with the people who sing their way into her heart). Unfortunately her power makes it difficult to quietly transition back to her daily life. Zoey soon becomes overwhelmed, especially when she gets more responsibility shoved on her at work (but at least her "welcome back" song is pretty phenomenal). Meanwhile David (Andrew Leeds) and Emily (Alice Lee) are also feeling the pressures of everyday life as they adjust to parenthood. Maggie (Mary Steenburgen) tries to offer her support to the new parents but she's already stretched so thin while coping with the loss of her husband. Everyone is in a lot of pain and it takes time for Zoey to accept she's not the only one wrapped up in grief. But just when everyone in Zoey's life seems lost, her family is brought together again by Mitch (Peter Gallagher) one last time.
Zoey's Extraordinary Playlist S2 immediately reconnects with you in deep and painful ways that will make you remember just how much you love these characters. Oh gosh, by the final song you'll be misty-eyed. Stock up on the tissues and settle in with a glass of wine for more charming musical moments that tap straight into your heart.
Zoey's Extraordinary Playlist returns to NBC tomorrow.
From NBC:
Zoey returns to the world after an extended time away and discovers that a lot has changed at work and in her personal life in her absence. Harvey Guillén guest stars.

—
History of Swear Words
Season 1
Tues Jan 5
On Netflix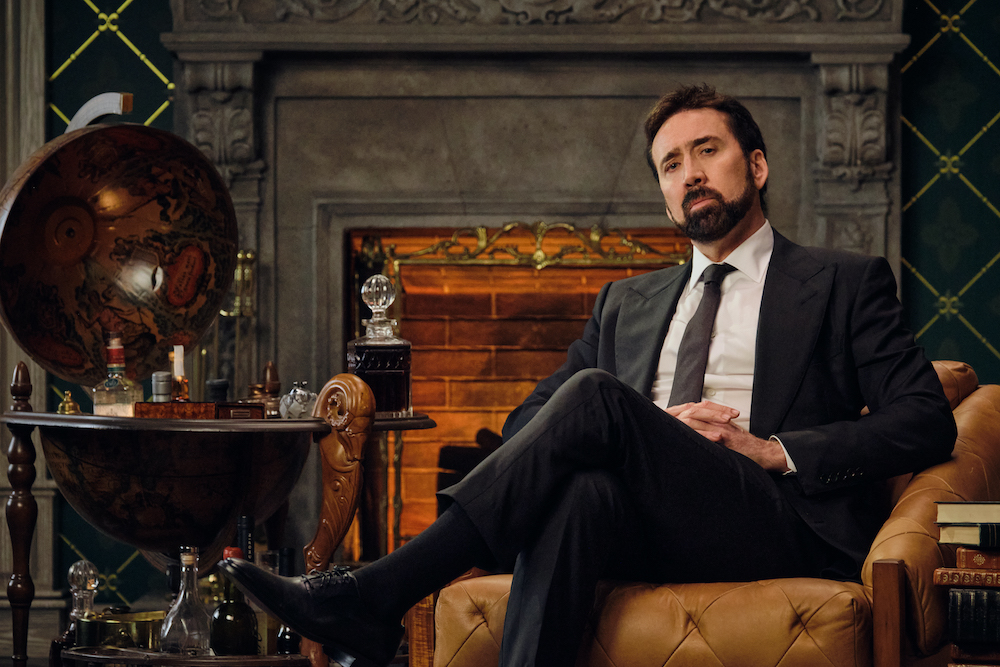 Photo: Adam Rose/Netflix
English is, to quote a famous shitpost, "three languages stacked on top of each other wearing a trenchcoat," which means that all your fave swear words have a long and outrageous history. Hosted by Nicolas Cage, History of Swear Words gives you a badass education of where each expletive came from and their impact on today's pop culture. With appearances from Nick Offerman, Patti Harrison, DeRay Davis, Jim Jefferies, and more comedians plus experts in etymology and historians, History of Swear Words shows us the power of cursing and puts the pro in profanity.
Stream History of Swear Words on Netflix tomorrow.
From Netflix:
An education in expletives: the history lesson you didn't know you needed. History of Swear Words, hosted by Nicolas Cage, is a loud and proudly profane series that explores the origins, pop culture-usage, science and cultural impact of curse words. Through interviews with experts in etymology, pop culture, historians and entertainers, the six-episode series dives into the origins of "F**k", "Sh*t", "B*tch", "D**k", "Pu**y", and "Damn". History of Swear Words will premiere globally on Netflix on January 5, 2021.
—
Chicago Med
"Do You Know the Way Home" – Season 6, Episode 3
Wed Jan 6 – 8PM
On NBC
Chicago Med airs on NBC every Wednesday.
From NBC:
Dr. Charles and April team up to take on a mysterious patient in the ED. Dr. Halstead is forced to make a life-or-death decision for one of his trial patients. Dr. Marcel is confronted by his past when a former acquaintance is brought into the ED.
—
Mr. Mayor
Series premiere
Thurs Jan 7 – 8PM
On NBC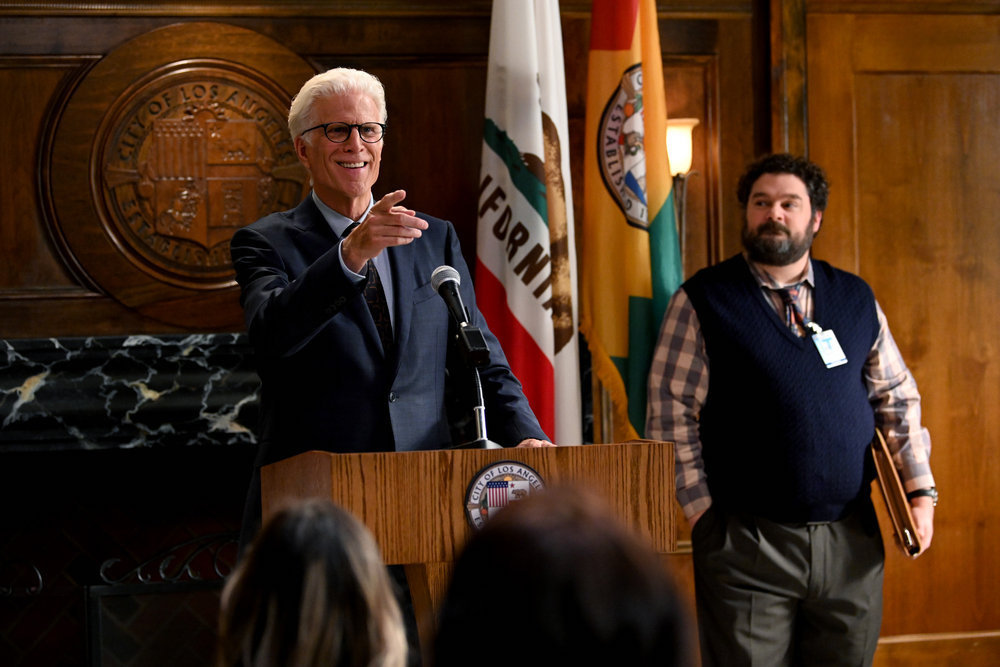 Photo by: Mitchell Haddad/NBC
Our beloved Ted Danson is back in NBC's new comedy Mr. Mayor, where he plays the newly elected mayor of Los Angeles (surprise!). As a retired businessman looking for a new project, Neil quickly realizes it's not all photo ops and chances to score brownie points with his annoyed-at-everything daughter (Kyla Kenedy). Instead being mayor requires a lot of listening to angry citizens, back-scratching other politicians, and playing games to achieve what he wants. And even then things always seem to go awry (especially when edibles are involved). Ted Danson is as charming as ever playing the fish out of water type wonderfully. The mayor's staff are just as stellar: Vella Lovell is witty and slightly wacky as his chief of staff, while Holly Hunter provides the comedic friction, playing a political veteran who loves to poke fun at Mr. Mayor's inexperience. It'll come as no surprise that Tina Fey is behind this when you get a taste of the snappy one liners and on point commentary but it's the actors who truly sparkle here, making Mr. Mayor an entertaining new addition to your Thursday night.
Mr. Mayor debuts on NBC on Thursday.
From NBC:
"Mr. Mayor" follows a retired businessman (Ted Danson) who runs for mayor of Los Angeles to prove he's "still got it." Once he wins, he has to figure out what he stands for, gain the respect of his biggest critic (Holly Hunter) and connect with his teenage daughter, all while trying to get anything right for America's second weirdest city.

—
Pieces of a Woman
Thurs Jan 7
On Netflix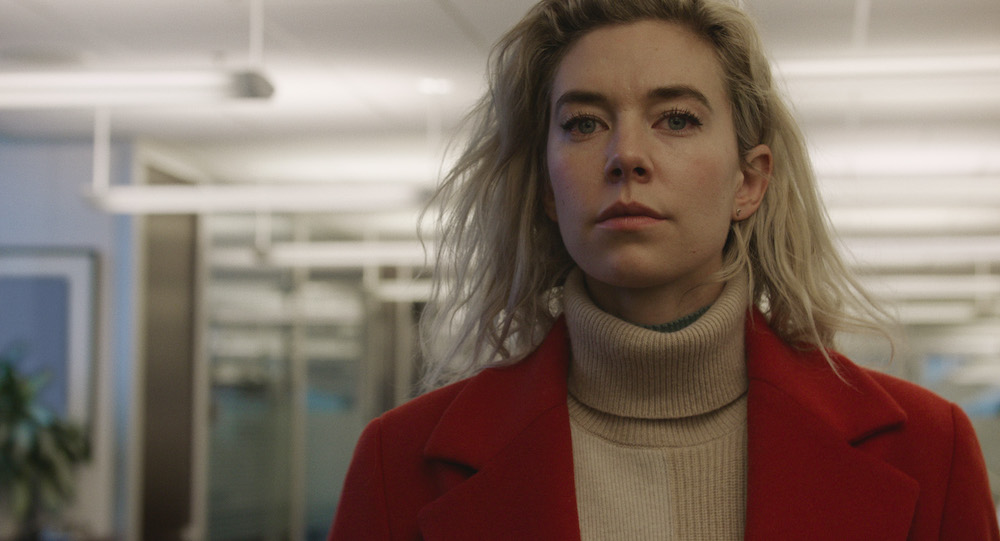 Photo: Benjamin Loeb / Netflix
Pieces of a Woman is a painful but powerful watch. The film follows a young mother, Martha (Vanessa Kirby) who chooses to give birth at home with a midwife (Molly Parker) to help her and the support of her partner Sean (Shia LaBeouf). But there are terrible complications that lead to the loss of her daughter. Any fleeting moment of joy is cruelly taken away…and the film continues to dissect Martha's pain. Pieces of a Woman doesn't shy away from showing every part of the birth and the pain and distress and sadness that comes with it. 
Eva (Parker) is publicly vilified for her negligence and malpractice; Martha must face her in court but struggles more with facing the world alone. Sean wrestles with his grief, with Martha's grief, as well as his past addiction—and his actions only further hurt them both. The people around Martha—including her overbearing but increasingly frail mother (Ellen Burstyn)—are incredibly toxic at times, which feels suffocating in the film's quiet moments but explosive when those moments reach a boiling point. Vanessa Kirby plays Martha with so much poise you can feel her pain radiate through her every movement. Pieces of a Woman is a snapshot of life at its lowest, when everything seems lost, when you wonder how you will ever go on. It takes you on Martha's journey through that pain in order to understand it and learn how to live with it. Through everything, this heavy film flickers with hope.
Watch Pieces of a Woman on Netflix on Thursday.
From Netflix:
Martha and Sean are a Boston couple on the verge of parenthood whose lives change irrevocably when a home birth ends in unimaginable tragedy. Thus begins a yearlong odyssey for Martha, who must navigate her grief while working through fractious relationships with Sean and her domineering mother (Ellen Burstyn), along with the publicly vilified midwife (Molly Parker), whom she must face in court. Directed by Kornél Mundruczó (WHITE GOD, winner of the 2014 Prix Un Certain Regard Award), written by Kata Wéber, and executive produced by Martin Scorsese, PIECES OF A WOMAN is a deeply personal, searing, and ultimately transcendent story of a woman learning to live alongside her loss.
—
Pretend It's a City
Season 1
Fri Jan 8
On Netflix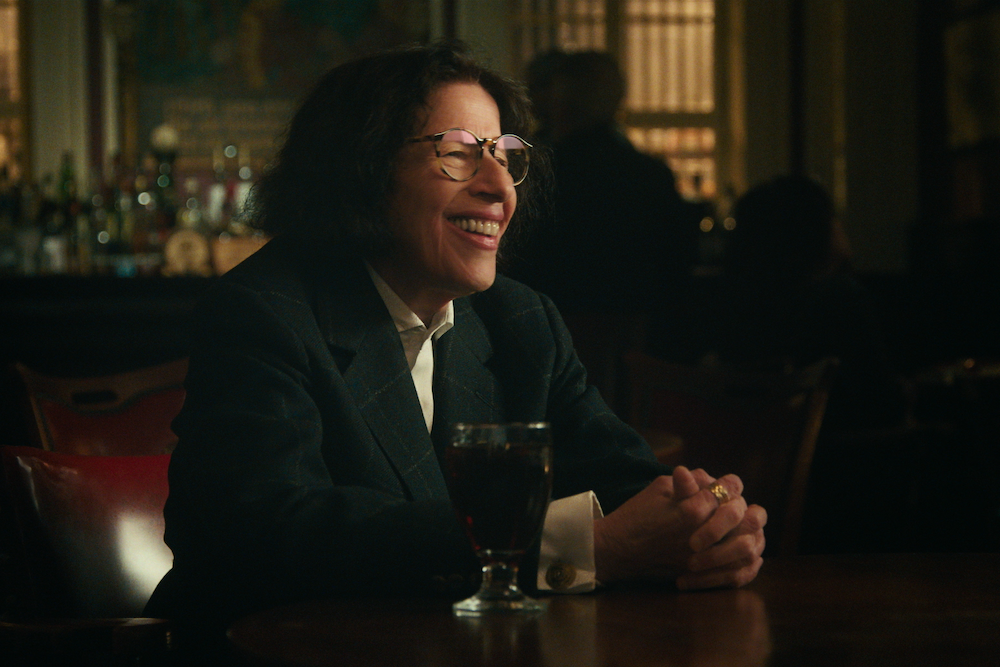 Photo courtesy of Netflix
You can't travel right now but you can take a virtual trip to New York with Fran Lebowitz—and she'll paint a better picture of life in the city than most shows or films set there. Because she loves New York like it's family—it's part of who she is, the good, the weird, and the less than glamorous—she tells the truth about it without holding back. Directed by Martin Scorsese, Pretend It's a City gives us a legendary and entertaining pairing. Lebowitz shares her many colorful opinions on life, NYC, and the people she's met along the way. Her stories are underscored by Scorsese's sharp and whimsical shots of Lebowitz and the city—penning a love letter to the place they both call home.
Pretend It's a City comes to Netflix on Friday.
From Netflix:
Fran Lebowitz knows what she likes—and what she doesn't like. And she won't wait for an invitation to tell you. For decades, the critic and essayist has been expressing her opinions, sometimes grouchily, always riotously. A New Yorker to the core, Lebowitz has raised straight talk to an art form, packaging her no-nonsense observations about the city and its denizens into a punchy running commentary, one that spares nobody.

—
Lupin
Part 1
Fri Jan 8
On Netflix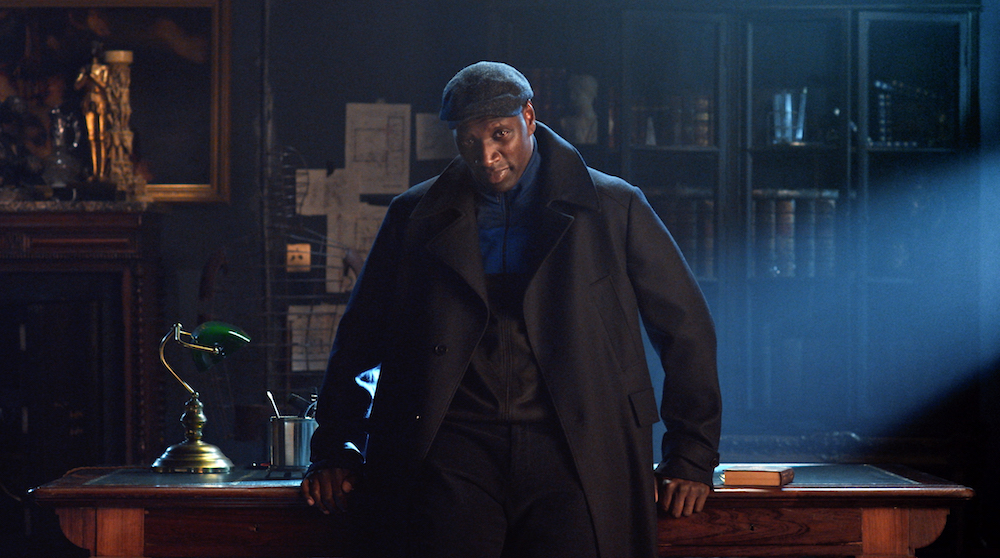 Photo: Netflix
Netflix is bringing Lupin to the live-action world. In this adaptation, Assane Diop (Omar Sy) is on a mission: To emulate the legendary gentleman burglar Arsène Lupin and pull off incredible heists in order to avenge his wrongly-imprisoned father. To achieve this, Assane takes on a job as a janitor for the Louvre, which allows him access and insider info while flying under the radar.
The series takes its time to establish Assane's life and his experiences that led up to his ultimate goal of becoming a master thief. Always one (or three) steps behind Assane are the French police, led by Capitaine Laugier (Vincent Londez). He can never quite catch Assane, even as he stands nearby, winking at the camera. Oui, c'est magnifique. Netflix's Lupin takes the mystery & thrill vibe from the original stories while showing off the gorgeous city of Paris which adds to the charm of the show. As a French series, the dubbing may remove some of the magic but the storytelling cues and beats translate well enough to keep you engaged. And it serves as a standalone entry into the Lupin world, pulling you in with an almost spy-thriller-esque tone.
Stay tuned for our review!
Watch Lupin on Netflix on Friday.
From Netflix:
As a teenager, Assane Diop's life was turned upside down when his father died after being accused of a crime he didn't commit. 25 years later, Assane will use "Arsène Lupin, Gentleman Burglar" as his inspiration to avenge his father.

—
American Gods
"A Winter's Tale" – Season 3 premiere
Sun Jan 10 – 8PM
On STARZ
American Gods returns to STARZ on Sunday.
From STARZ:
Shadow's attempt to break away from Mr. Wednesday and the brewing war is thwarted by the secrets of the Gods — both Old and New.