This week: 9-1-1, Zoey's Extraordinary Playlist, black-ish, mixed-ish, Bonding, Resident Alien, grown-ish, We Are: The Brooklyn Saints
9-1-1
"Alone Together" – Season 4, Episode 2
Mon Jan 25 – 8PM
On FOX
9-1-1 airs on FOX every Monday.
From TV Guide:
In the aftermath of the dam break, massive mudslides wreak havoc throughout Los Angeles. As Athena fights to save herself and an agoraphobic woman after her house collapses, Bobby, Hen and Eddie rush to save hikers endangered by the falling of the Hollywood sign. 
—
Snowpiercer
Season 2 premiere
Mon Jan 25 – 9PM
On TNT
Snowpiercer returns to TNT tonight.
From TNT:
Mr. Wilford returns to Snowpiercer and brings chaos and corruption to the freedom just won.
—
Zoey's Extraordinary Playlist
"Zoey's Extraordinary Employee" – Season 2, Episode 4
Tues Jan 26 – 8PM
On NBC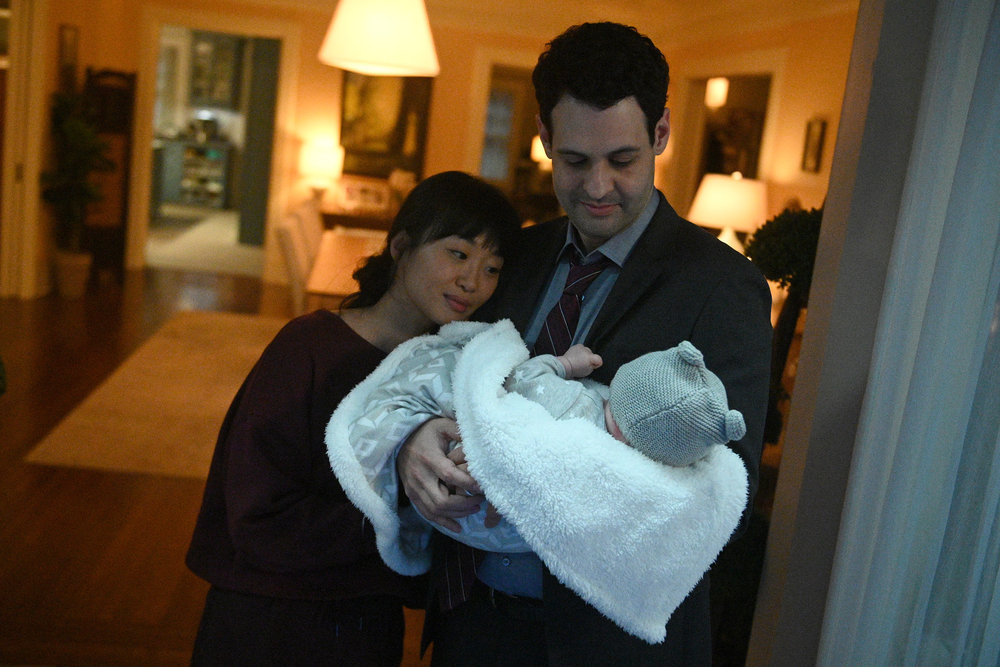 Photo by: Sergei Bachlakov/NBC
Change comes at you whether you like it or not. And life doesn't always present that change in the way you want. For Maggie (Mary Steenburgen), change comes in the form of a kind man who simply wants to enjoy her company. For David (Andrew Leeds), it's a court case that makes him realize what he really wants. And for Zoey (Jane Levy), it means choosing to be more appreciative of those around her. Which is harder than she realizes, especially when some spectacular juiced-up numbers tell her how her loved ones really feel. It all comes to a head at Mo (Alex Newell) and Max's (Skylar Astin) first restaurant event where the drinks are flowing and emotions come pouring out. "Zoey's Extraordinary Employee" makes each character face their fears in order to have some uncomfortable conversations, which will encourage you to look at your own insecurities. This episode will also make you remember how important it is to believe in yourself and surround yourself with people who'll support you no matter what—cheers to the show for that reminder!
Watch Zoey's Extraordinary Playlist on NBC on Tuesday.
From NBC:
Zoey tries to "choose happiness" but finds it is easier said than done. David re-evaluates his priorities. Mo and Max face their first real challenge as business partners.
—
black-ish
"black-out" – Season 7, Episode 9
Tues Jan 26 – 9PM
On ABC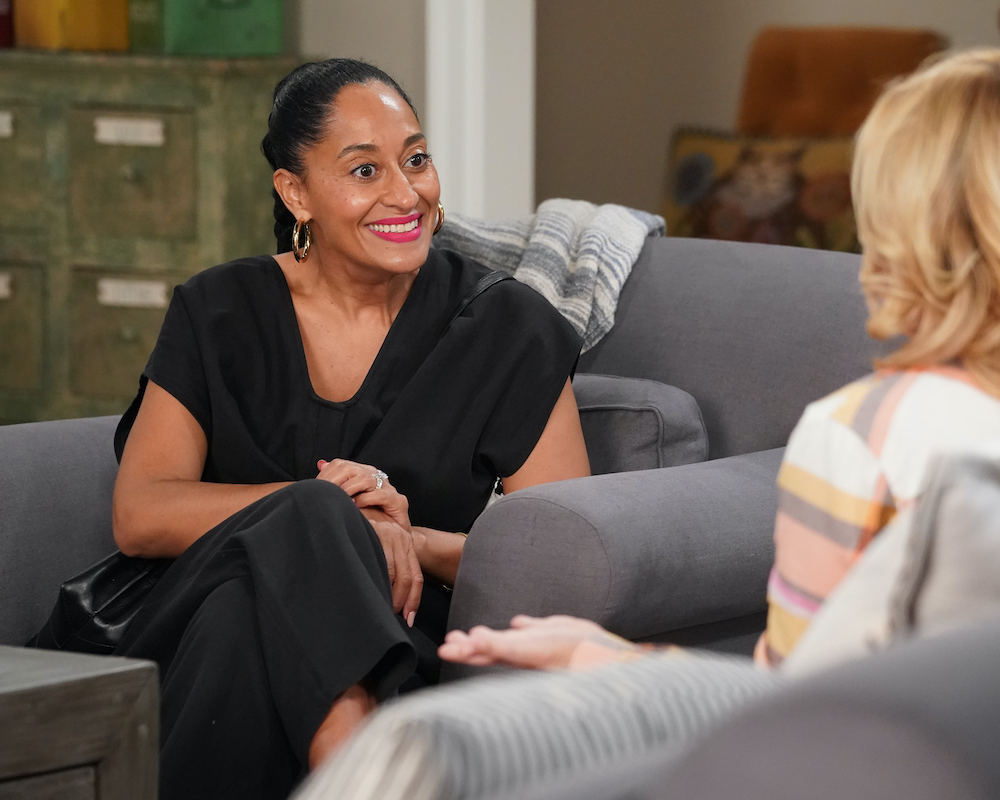 Photo: ABC/Richard Cartwright
Even after everything the Johnson family has been through this year, Bow (Tracee Ellis Ross) still has faith in her community. Dre (Anthony Anderson) is a bit more reserved. Both of their viewpoints are challenged…for better or for worse…when a black-out forces them to rely on their neighbors. Dealing with neighbors can either be pleasant or extremely uncomfortable and the show pokes fun at the whole spectrum of awkward interaction. It reminds Bow and Dre how alone they sometimes feel being the only Black family in the neighborhood. It also reminds them how community can be found anywhere with anyone. black-ish is back from its midseason break to shine a (proverbial) light on the issues the Johnson family have been avoiding until now. And in true black-ish style, this episode encourages deeper conversation long after the show credits roll.
black-ish is back on ABC tomorrow.
From ABC:
When the power goes out in the neighborhood, Dre's instinct is to go into survival mode and stockpile on essentials, while Bow focuses on helping their neighbors. Meanwhile, Junior desperately searches for a place to charge his phone to get in touch with Olivia.
—
mixed-ish
"Sweet Child O' Mine" – Season 2 premiere
Tues Jan 26 – 9:30PM
On ABC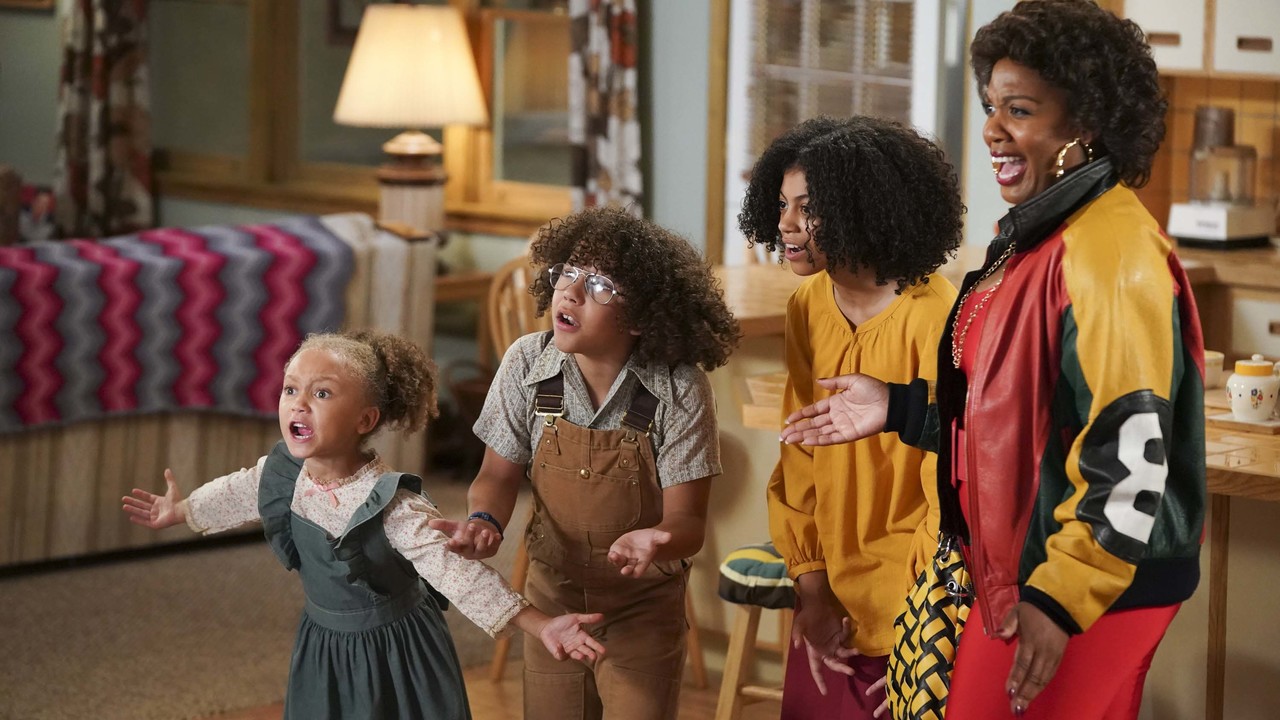 Photo: Eric McCandless / ABC
Time to head back to 1986—the year of Oprah's debut, Hands Across America, and the USSR Space Station launch. Closer to home, Alicia (Tika Sumpter) just got a big promotion, Paul (Mark-Paul Gosselaar) takes on a new class, and Dukes of Hazard is a family TV event (yup). Rainbow (Arica Himmel) is now 13 and has all the confidence of a teenager who thinks she's figured out who she is. And she's ready to pass on her sense of empowerment to her siblings. When Johan (Ethan William Childress) is called a slur at school, the rest of the family are outraged and…confused. Rainbow is still determined to help make Johan feel proud of his Blackness. This episode of mixed-ish raises important questions surrounding race and identity for all the family, wrapped up in sweet and funny conversations that remind us all how difficult and messy navigating life can be as a person of color.
mixed-ish returns to ABC tomorrow.
From ABC:
After finding out Johan has been pretending to be a different race, Rainbow gets mad, and Alicia and Paul try to find a way to encourage Johan to be proud of being Black.
—
Bonding
Season 2
Wed Jan 27
On Netflix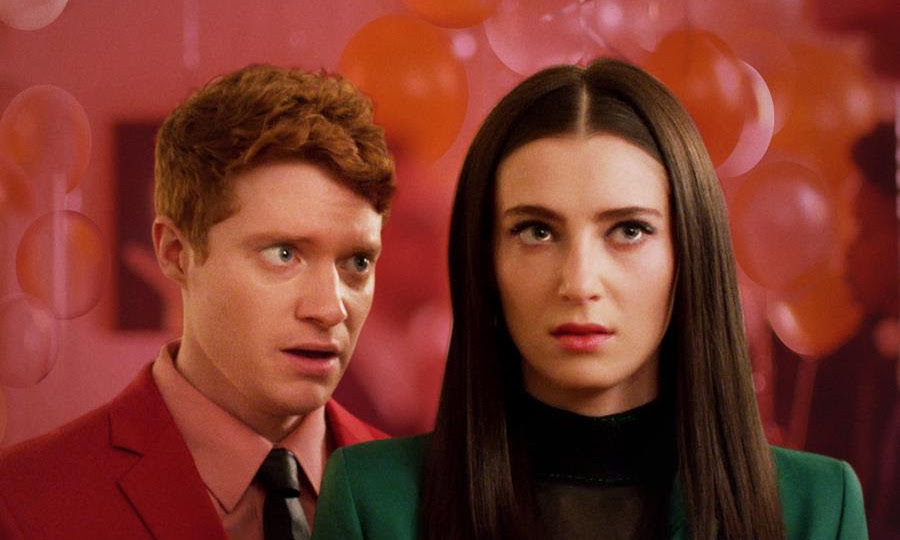 Photo via Netflix
Netflix continues its push for more diverse conversations in its originals with the return of Bonding. The show is about to give Tiff (Zoe Levin) and Pete (Brendan Scannell)—and all of us—a crash course in true dominatrix practices. Yup, since we last saw them, our dom-wannabe duo have been kicked out of every dungeon in NY but there's one person who is still willing to teach them. Enter: Mistress Mira (Nana Mensah) who is both terrifying and fascinating all wrapped up in some fierce outfits. And she's gonna give the kids some hard lessons on kink and running a safe consensual dom business. Beyond each intense sex lesson, Tiff & Pete get more time to unwrap layers of themselves, figuring out where they fit in each class (and the rest of the world). The music and snark add some levity to the show and allow you to take in the often bizarre situations, which culminates in another season of wacky humor with plenty of drive and heart.
Bonding is back on Netflix on Wednesday.
From Netflix:
Ten months since they evaded the police together, Tiff (Zoe Levin) and Pete (Brendan Scannell) have been kicked out of every dungeon in New York City for their uninformed practices. In need of money before the start of the new year, Tiff begs her long lost mentor, Mistress Mira (Nana Mensah), to take them in. Mira agrees on one condition: Tiff and Pete go back to domme school.
—
Resident Alien
Series premiere
Wed Jan 27 -10PM
On Syfy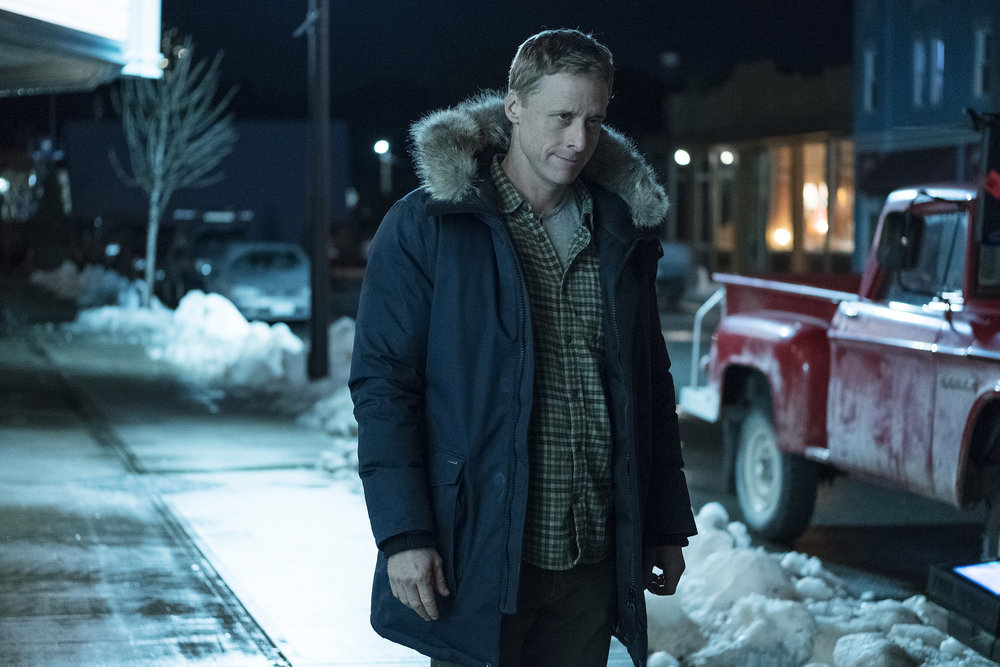 Photo by: James Dittinger/SYFY
Welcome to Patience, a small Colorado town barely on the map. With a tiny population and very few visitors, it's the perfect place to go unnoticed…at least that's what Captain Hah Re thinks. He's an alien who crash-landed on Earth and takes on the bodily form of the local doctor (Alan Tudyk). Hah Re is on a mission to wipe out humanity but soon realizes that living as a human is messy, ridiculous, and more difficult than he bargained for. Based on the Dark Horse comic of the same name, Resident Alien is a dark & funny fish-out-of-water story with a creepy twist that will suck you in, largely thanks to Alan Tudyk's trademark charm.
Resident Alien debuts on Syfy on Wednesday.
From Syfy:
Based on the Dark Horse comic, SYFY's RESIDENT ALIEN follows Harry, an alien played by Alan Tudyk ("Rogue One," "Firefly") that crash lands on Earth and passes himself off as a small-town human doctor. Arriving with a secret mission to kill all humans, Harry starts off living a simple life… but things get a bit rocky when he's roped into solving a local murder and realizes he needs to assimilate into his new world. As he does so, he begins to wrestle with the moral dilemma of his mission and asking the big life questions like: "Are human beings worth saving?" and "Why do they fold their pizza before eating it?"
—
grown-ish
"Hard Place" Season 3, Episode 2
Thurs Jan 28 – 8PM
On Freeform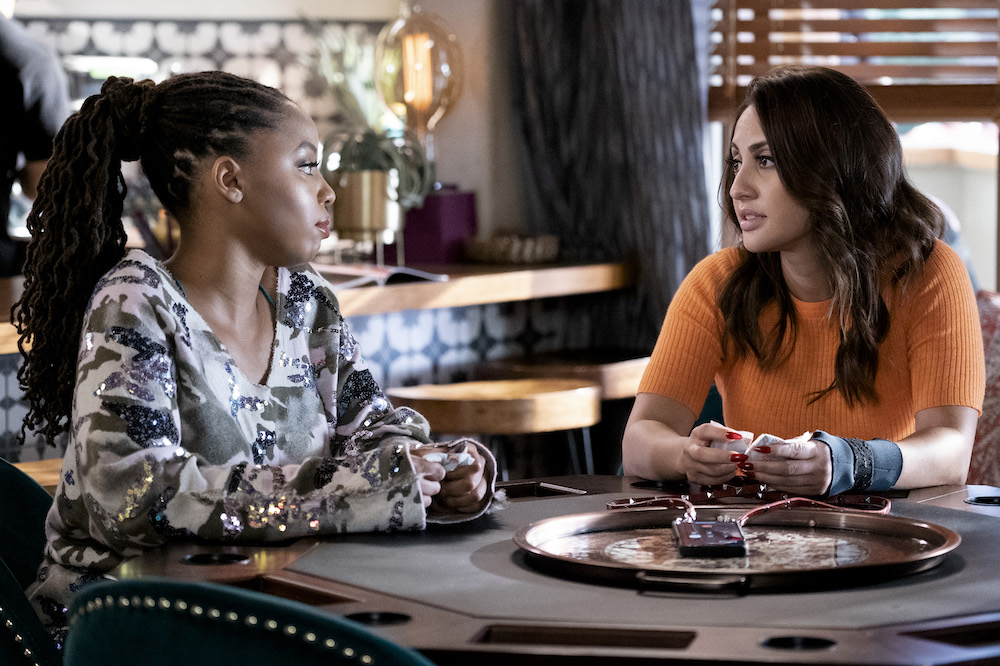 Photo: Freeform/Kelsey McNeal
Just as things start to heat up for Ana (Francia Raisa) and Javi (Henri Esteve), things get…stopped short. Which forces them to examine the importance of sex in romantic relationships and how religion coincides with dating. Ana's beliefs are challenged which causes her to do some soul-searching. Speaking of challenges, Aaron (Trevor Jackson) learns that Cal U invests in private prisons—yeah, we know you're just as surprised as he is. So he organizes a protest and exercises his right to speak out—and you'll be cheering him on. No matter how silly the grown-ish crew can get sometimes, the show always takes time to focus on the bigger issues, which makes it one of the most vital and truthful college-focused series on television right now.
grown-ish returns to Freeform on Thursday.
From Freeform:
As her relationship with Javi heats up, Ana makes a discovery about him that challenges her entire belief system. Meanwhile, Aaron learns about Cal U's investment in private prisons, challenging him to reconnect with his activist roots.
—
We Are: The Brooklyn Saints
Season 1
Fri Jan 29
On Netflix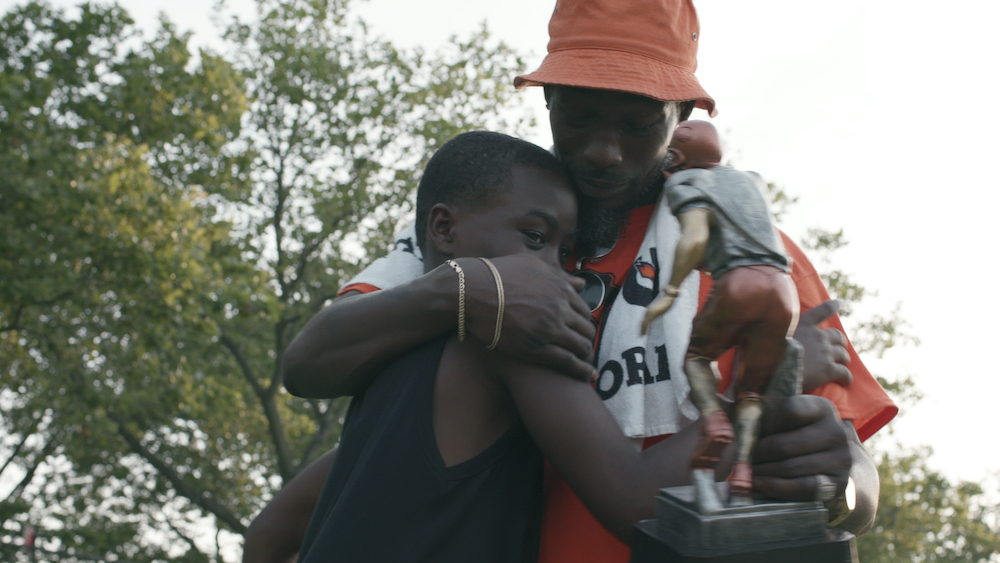 Photo © 2021
"It's all love in the Brooklyn Saints," one of the players says on the field. We Are: The Brooklyn Saints follows a youth football program for boys ages 7–13. You'll get to meet each player and the staff involved, where you'll soon learn that it's not just about sport, it's about community and opportunity. While they come together as a team on and off the field, the players all have their own dreams and aspirations and the Brooklyn Saints is a way to get there. This documentary is touching and full of life—the kids are complete gems and everyone has pearls of wisdom to drop, no matter their age, to keep you invested in their dream from start to finish.
Stream We Are: The Brooklyn Saints on Netflix on Friday.
From Netflix:
From Emmy-award winning filmmaker Rudy Valdez (The Sentence), Imagine Documentaries, and Disarming Films comes We Are: The Brooklyn Saints, a four-part documentary series following a youth football program in the heart of inner city East NY, Brooklyn. Geared towards boys 7-13 years old, the Brooklyn Saints program is more than a sport – it's a family, and a vehicle for opportunity. Through intimate verité footage, the series immerses us in the world of Brooklyn Saints football and their community, chronicling the personal stories of the driven young athletes, as well as the support system of coaches and parents rallying behind them. Over the course of a season, we witness the Saints' power on and off the field, as they celebrate victories and overcome losses, both personal and athletic. Raw and authentic, the pressures of adolescence unfolds in real time as the boys work to propel themselves to a brighter future.