This week: Resident Alien, Astrid & Lilly Save the World, grown-ish, The Legend of Vox Machina, The Woman in the House Across the Street From the Girl in the Window, The Afterparty, Getting Curious With Jonathan Van Ness
Resident Alien
Season 2 premiere
Wed Jan 26 – 9PM
On USA Network and SYFY
Resident Alien returns to USA Network and SYFY tomorrow.
From SYFY:
Based on the Dark Horse comics, SYFY's "Resident Alien" follows a crash-landed alien named Harry (Alan Tudyk) whose secret mission is to kill all humans. In season two, Harry is once again stranded on Earth where he must confront the consequences of having failed his people's mission to destroy the human race. On his new quest to protect the people of Earth, Harry struggles to hold on to his alien identity as his human emotions grow stronger by the day. In an adventure that takes Harry and Asta (Sara Tomko) all the way to New York City, Asta brings Harry into the arms of someone he can call family. While back in Patience, Sheriff Mike (Corey Reynolds) and Deputy Liv (Elizabeth Bowen) find themselves closer to unraveling the mystery of Sam Hodges's murder. "Resident Alien" also stars Alice Wetterlund, Levi Fiehler and Judah Prehn. 
–
Astrid & Lilly Save the World
Series premiere
Wed Jan 26 – 10PM
On USA Network and SYFY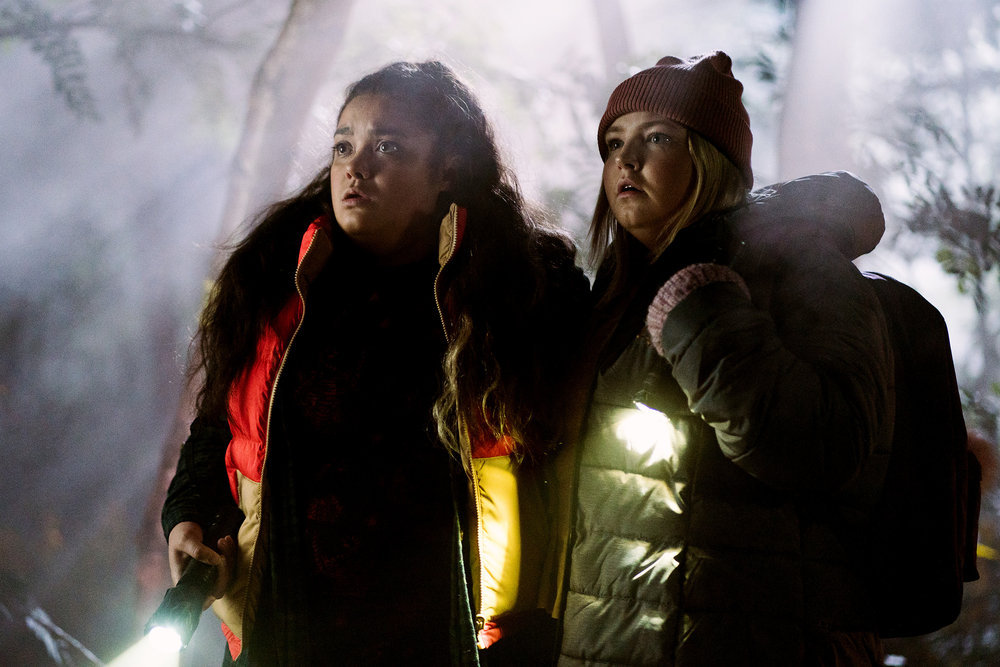 We're gonna be real here: High school sucks for most of us. Growing up and figuring out who you are is hard enough…and then there's the question of fitting in. Astrid (Jana Morrison) and Lilly (Samantha Aucoin) definitely do not fit in but you'll never want them to—they're too awesome and you'll be in their weird & wacky corner immediately. While hanging out doing the usual teenage girl stuff—y'know, chanting demonic sounding phrases around a fire—they accidentally open a portal to a monster dimension. So they do the only thing they can think of: Become monster hunters on a quest to close the portal and save the world from all the creepy creatures that come crawling out of it. Astrid & Lilly Save the World is the kind of quirky sci-fi your Wednesday nights are missing—it's fun, it's messy (the gooey kind), and takes you to far out places with a pair of BFFs you wish you had to help you navigate the true enemy: High school.
Watch Astrid & Lilly Save the World
on USA Network and SYFY tomorrow.
From SYFY:
High school is hard enough when you're different, but when outcast BFFs Astrid (Jana Morrison) and Lilly (Samantha Aucoin) accidentally crack open a portal to a terrifyingly quirky monster dimension, it gets a lot more complicated. It's up to them to vanquish the creepy creatures and save the world, becoming the badass heroes they were meant to be. That is, if they can survive the horrors of high school.
–
grown-ish
"It Was Good Until It Wasn't" – Season 4, Episode 10
Thurs Jan 27 – 10PM
On Freeform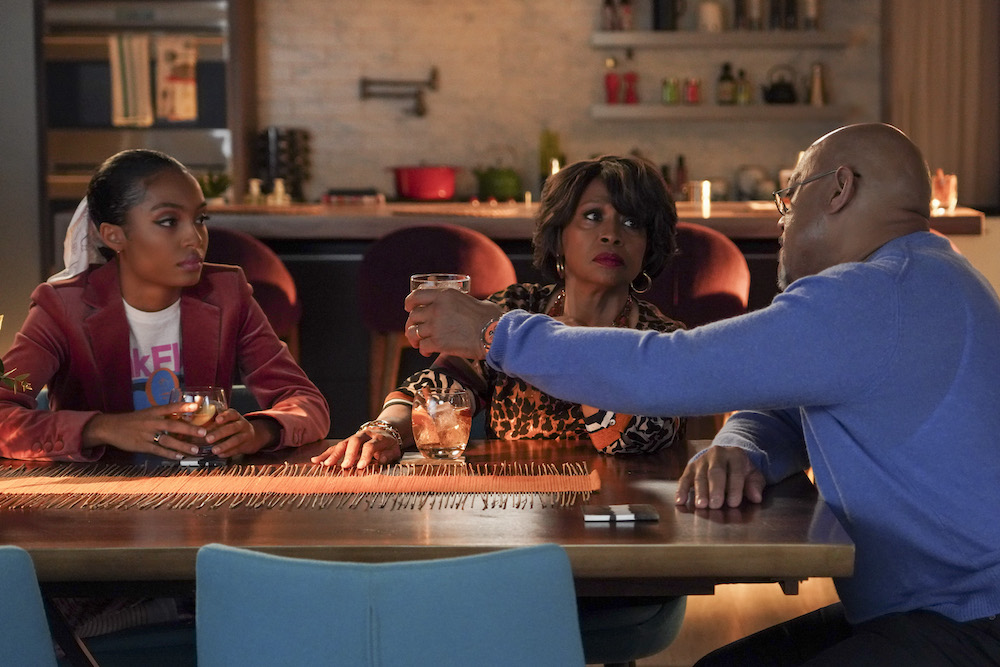 grown-ish is back and ready to get messy—did ya miss the drama? We sure did. Zoey (Yara Shahidi) and Aaron (Trevor Jackson) are still reeling from their big blowout fight—concerning Luca (Luka Sabbat) and his well-meaning job offer—and so they turn to their loved ones for help. Zoey goes to Pops and Ruby who drop some pure golden nuggets of wisdom (and fiery arguments). The legendary Laurence Fishburne and Jenifer Lewis are a delight to watch and completely steal the show. Meanwhile, Aaron goes to his boys who…well…have their own agendas. Jazz (Chloe Bailey) considers stepping out of her comfort zone (read: Doug) and dating again. As for Doug (Diggy Simmons), he's already stepped way over the line. Nomi (Emily Arlook) is torn up about her baby daddy. And Vivek (Jordan Buhat) is still riding the high of hooking up with Ana (Francia Raisa)…much to her disgust. Ooh, we hope you've stocked up on popcorn because there's drah-ma abound and you'll switch between gasping and giggling at how the crew handle it.
grown-ish is back on Thursday on Freeform.
From Freeform:
The gang deals with the fallout of the explosive events that took place at the luau: Aaron must deal with the accountability of his actions at the party, Zoey turns to Pops and Ruby for advice, and Ana and Vivek do their best to keep the secret of their hookup under wraps. Jazz struggles with her feelings for Des. Nomi processes her run-in with Phil.
–
The Legend of Vox Machina
Season 1
Fri Jan 28
On Amazon Prime Video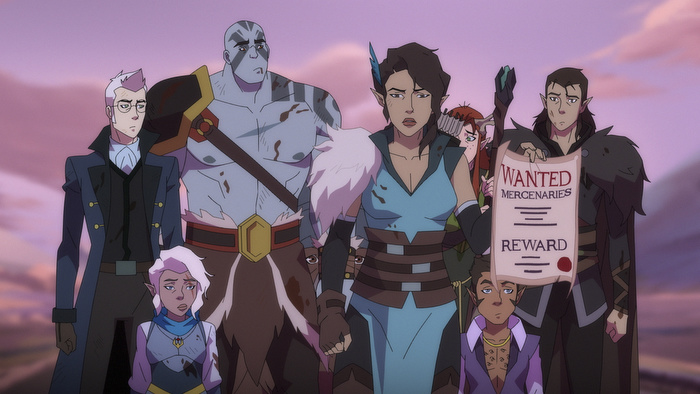 The Legend of Vox Machina is based on Critical Role's first role-playing game (RPG) campaign, bringing to animated life the beloved motley crew of Vox Machina. Made up of boozehounds, misfits, and warriors (sometimes all three), the group embark on a quest to defend their realm from dark and dangerous foes. The animation is action-packed and gorgeous to watch, while the characters are colorful in every sense of the word. Bursting with magic, swordplay, and monsters, it feels like a cross between an epic anime-style journey and a Dungeons & Dragons game, launching you into its world for one hell of an adventure.
Stream The Legend of Vox Machina on Amazon on Friday.
From Amazon:
Based on the beloved characters and adventures of Critical Role's first livestreamed tabletop role-playing game (RPG) campaign, The Legend of Vox Machina is an animated fantasy-adventure series for adults that follows Vox Machina, a band of misfits with a fondness for boozing and brawling. In a desperate attempt to pay off their mounting bar tab, these unlikely heroes end up on a quest to save the realm of Exandria from dark magical forces. From a sinister necromancer to a powerful curse, the group confronts a variety of obstacles that not only test their skills, but also the strength of their bond.
–
The Woman in the House Across the Street
From the Girl in the Window
Season 1
Fri Jan 28
On Netflix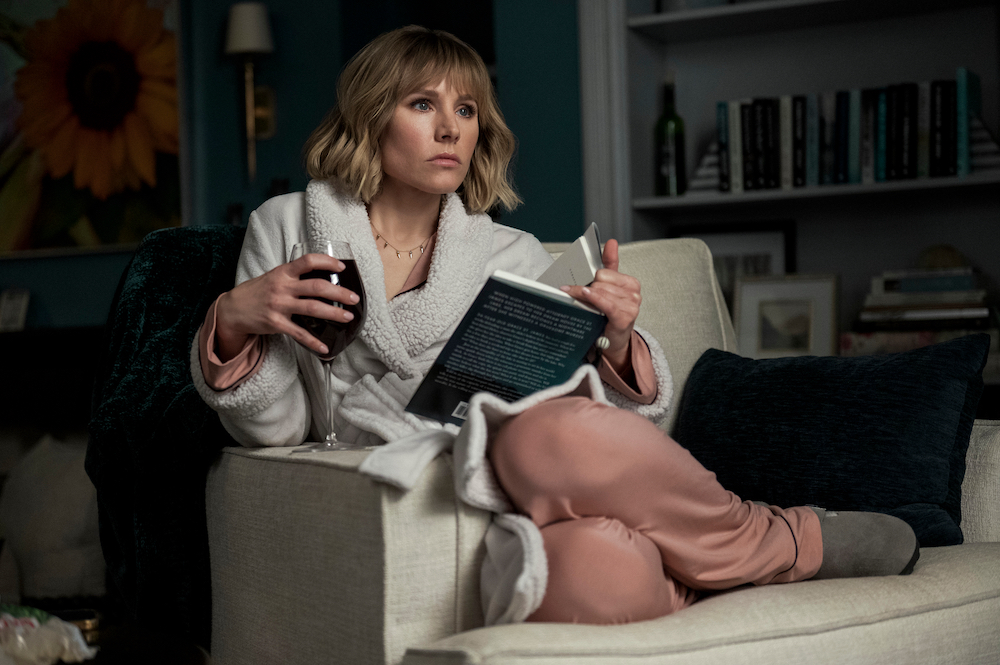 Anna (Kristen Bell) spends her days sitting in her house, staring out of the window, glass of wine in hand, casserole dish in the oven. She medicates her pain away and watches the world go by because her own life has fallen apart. When a new family moves in across the street—charming widower Neil (Tom Riley) and his sweet little daughter (Samsara Yett)—Anna quickly becomes hooked on their story. That is…until she witnesses a brutal murder take place through their window…or so she thinks. And that's when it really turns into an obsession–for truth, for new meaning, for moving on. The Woman in the House Across the Street From the Girl in the Window is gripping, pulling you into its intense secrets behind the suburban facade until you don't know who to trust. Bell brings her A-game, stepping into Anna and making you question every little detail. The twists come and turn you around until you're searching for the next revelation. It's melodramatic at times with some quirks thrown in but you'll be here for all of it. Break out the wine and get ready to play armchair detective right 'til the end.
P.S. How many casserole dishes can one person own? Asking for a friend.
The Woman in the House Across the Street
From the Girl in the Window hits Netflix on Friday.
From Netflix:
For heartbroken Anna (Kristen Bell), every day is the same. She sits with her wine, staring out the window, watching life go by without her. But when a handsome neighbor (Tom Riley) and his adorable daughter (Samsara Yett) move in across the street, Anna starts to see a light at the end of the tunnel. That is until she witnesses a gruesome murder… Or did she?
–
The Afterparty
Season 1
Fri Jan 28
On Apple TV+
Watch The Afterparty on Apple TV+ on Friday.
From Apple:
"The Afterparty" centers on a murder mystery at a high school reunion. Each of the eight episodes features a retelling of the same night told through a different character's perspective, each with its own unique visual style and film genre to match the teller's personality.
–
Getting Curious With Jonathan Van Ness
Season 1
Fri Jan 28
On Netflix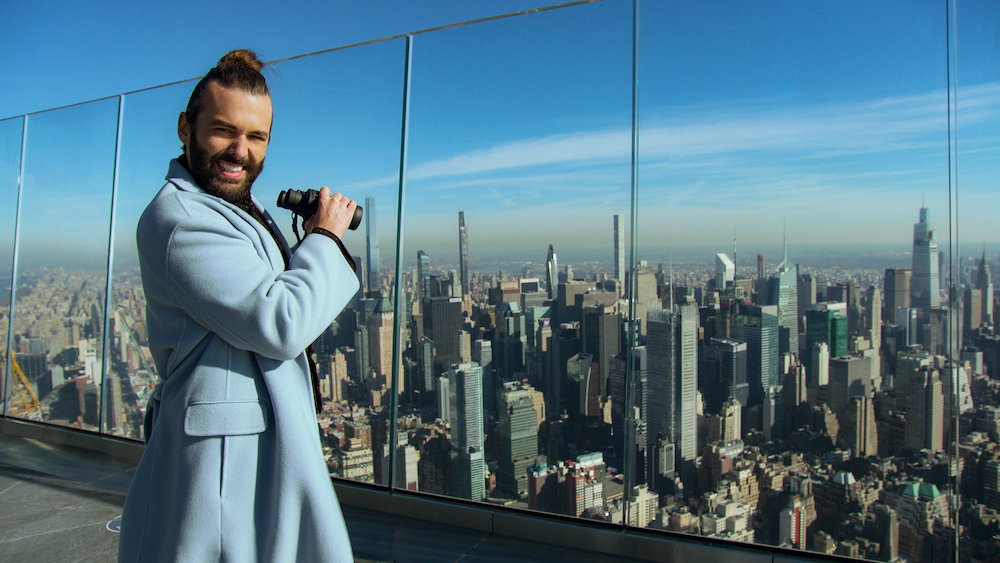 Jonathan Van Ness is continuing to live his best life with his new Netflix series Getting Curious. The show takes on everything that makes him wonder—from skyscrapers to snacks, figure skating to gender identity, and beyond. His wonderful approach to life and all its great questions means there's plenty of open enthusiasm that will give you a newfound appreciation for subjects you wouldn't expect. JVN looks at all kinds of perspectives too so you're bound to learn something. If you're ready for some extra joy in your life, get curious with Jonathan Van Ness!
Stream Getting Curious With Jonathan Van Ness
on Netflix on Friday.
From Netflix:
Getting Curious with Jonathan Van Ness is an unabashedly smart and quirky exploration into topics and questions that make Jonathan curious. From skyscrapers to bugs, or from gender identity to snacks, each episode follows Jonathan as he meets with experts in various fields to uncover complexities in a wide range of subjects.