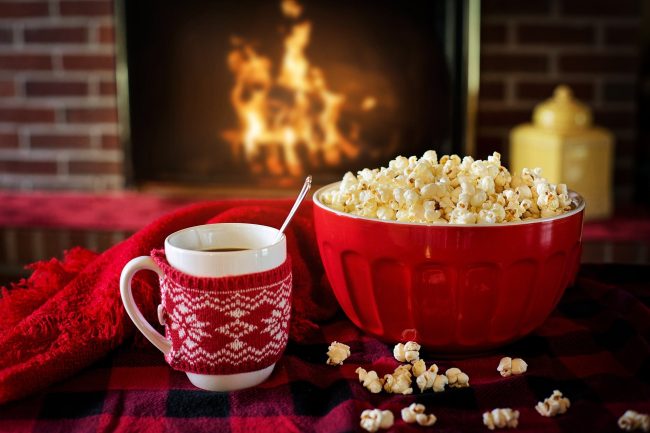 The most wonderful time of the year is here and with it comes a lot of movie releases. Christmas is known for cheesy films that make you feel all fuzzy inside… but when there are dozens released every year, it's hard to know which ones are worth your time.
Lucky for you, we went through this year's holly jolly releases to bring you a definitive list of what you need to watch. From snowy Netflix adventures to cozy rom-coms, these flicks will put you in the holiday spirit in no time.
—
Happiest Season
2020 has been a dumpster fire year from hell but that's nothing Hulu can't fix. Okay, maybe they can't fix all our problems—but they can distract us with the most exciting holiday rom-com in recent years.
Happiest Season turns typical Christmas tropes on their head by being LGBT+ inclusive. The film centers on Abby and Harper, a couple played by Kristen Stewart and Mackenzie Davis (to the delight of sapphic women everywhere). When Abby heads home to Harper's parents for the holidays she finds Harper hasn't come out yet… which is a problem, considering her plans to propose.
If that wasn't enough to add the movie to your holiday watchlist, you'll see another familiar face in the cast too: Schitt's Creek's Dan Levy. (Go ahead, squeal for as long as you need.)
Watch Happiest Season on Hulu.
—
—
Christmas On The Square
As we all know, Dolly Parton is a literal angel—and she plays one in her new Netflix Christmas movie too. When a high powered business woman named Regina (Christine Baranski) rolls into a small town right before the holidays things don't look good for the residents. In a plot that feels a little too on the nose after the year we've had, she threatens to evict everyone from their homes (on Christmas Eve no less.)
Throughout the movie, our designated Scrooge is guided by Dolly (and some fun musical numbers) to becoming a kinder person.
Watch Christmas On The Square on Netflix.
—
—
Jingle Jangle: A Christmas Journey
When we were kids Christmas was an absolutely magical time. You can find that whimsical energy again on Jingle Jangle: A Christmas Journey. The movie is about a toymaker, his granddaughter, and a very cool little robot with its own prerogative.
The film is full of musical numbers and enchanting visuals that have us ready for an adventure. We can already see ourselves rewatching this year after year, always catching something new we missed last time around. It's a smash hit in the making, so be ready to add it to your holiday traditions.
Watch Jingle Jangle: A Christmas Journey on Netflix.
—
—
Christmas On Wheels
Christmas On Wheels takes age-old holiday tropes and puts a fun little spin on them. When Ashley comes home from the city to take care of her uncle, she meets an attorney who helps her track down her mother's red convertible. It'll become a pseudo-sleigh later in the film, delivering gifts and good cheer to the townspeople.
What we're really excited about here is Tiya Sircar's role as Ashley. After her breakout demon skills on NBC's The Good Place, Sircar switches gears for a far less damned character and some romance.
Watch Christmas On Wheels on Lifetime.
—
—
Alien Xmas
Plenty of Christmas movies are good but what makes them truly great is when they become a tradition. Growing up, we had Rudolph and Frosty, The Santa Clause, and Home Alone. The next generation will have Alien Xmas.
Netflix's new feature seems to have instant classic status. It's stop motion animation, so it'll fit in well with the greats that came before it. It tells the story of underdog alien "X", who tries to save the world from other aliens who are invading. And finally, it was executive produced by Jon Favreau, the man who brought us Baby Yoda.
—
—
The Christmas House
Every year, without fail, Hallmark delivers that one Christmas movie. You know the one I'm talking about—a big city protagonist moves home, only to find everything they were looking for was there all along. Even in the midst of a pandemic, the feel-good network delivered. 
The Christmas House checks all the boxes for a stereotypical holiday love story… but this one stands out for all the right reasons. Our main protagonist is Mike (Robert Buckley), an out of work actor who comes home to help his parents decorate for Christmas. His brother Brandon (Jonathan Bennett), however, is the real trailblazer—he'll be part of Hallmark's first gay couple. The festive-inclusivity seems to be spreading across all networks this holiday season, and we're here for it.
Watch The Christmas House on Hallmark.
—
—
A Timeless Christmas
When picking Christmas movies, "stereotypical" isn't necessarily a bad thing. It's almost what you look for—part of the joy is knowing exactly how the film will end and that everyone will wind up happy.
That being said, A Timeless Christmas is on this list because it strays from the beaten holiday rom-com path. The Hallmark film is based off of a Hallmark book and it brings the magic of time travel to the table. When Megan (Erin Cahill) is giving a tour of a festive mansion, she comes face to face with the owner. Which is odd, because he went missing over a hundred years ago and hasn't aged a bit. We're getting Time After Time feels but in a warm and cozy way. We have a lot of questions (mostly if the hero has a phone number in the modern world) and we hope for answers with some hot cocoa and thoroughly decked halls.
Watch A Timeless Christmas on Hallmark.
—
—
Honorable Mentions
—
Snowglobe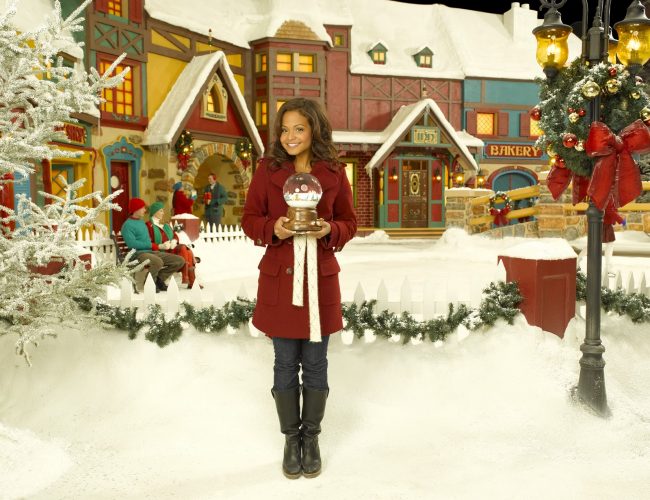 Snowglobe is by no means a new Christmas movie but until this year it was exceptionally hard to find. Before it was added to Disney+, you might have had to bootleg it online or track down a (rare) DVD copy. 
Now that it's so accessible, it's a no-brainer recommendation. The film is 13 years old and was released by a network that doesn't even exist anymore and still it's the ultimate cheesy holiday rom-com. Angela (Christina Milian) has an overbearing family, a love of all things Christmas, and a magical snowglobe she likes to visit from time to time. Paired with a signature holiday drink and the timeless setting of New York at Christmastime, you'll love this one way more than you'll ever admit.
Watch Snowglobe on Disney+.
—
—
A Christmas Movie Christmas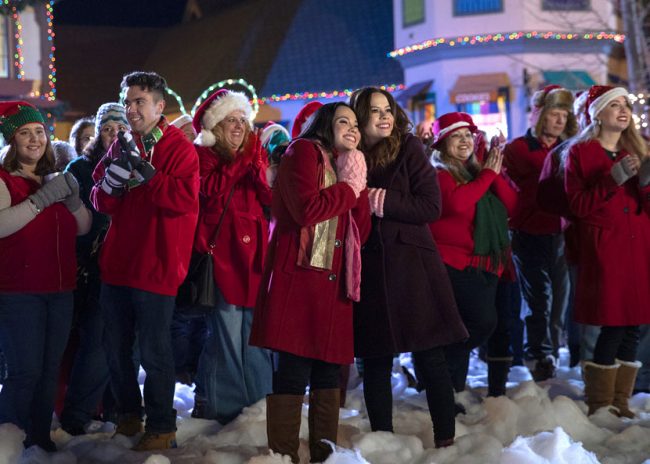 A Christmas Movie Christmas was released last year and, to its core, it's everything you expect from a holiday film. After being teleported to the "perfect Christmas movie" it's up to Eve (Lana McKissack) and Lacy (Kimberly Daugherty) to get back to real life… while learning some important lessons along the way.
What's cool about this particular movie is that you can actually visit the festive town it's filmed in. UPtv set up camp in Frankenmuth, MI to film, a city that celebrates Christmas 365 days a year. Walk through the adorable shopping district, take a trip to the world's largest Christmas store, and pretend you too have been transported to A Christmas Movie Christmas.
Watch A Christmas Movie Christmas on UPtv.