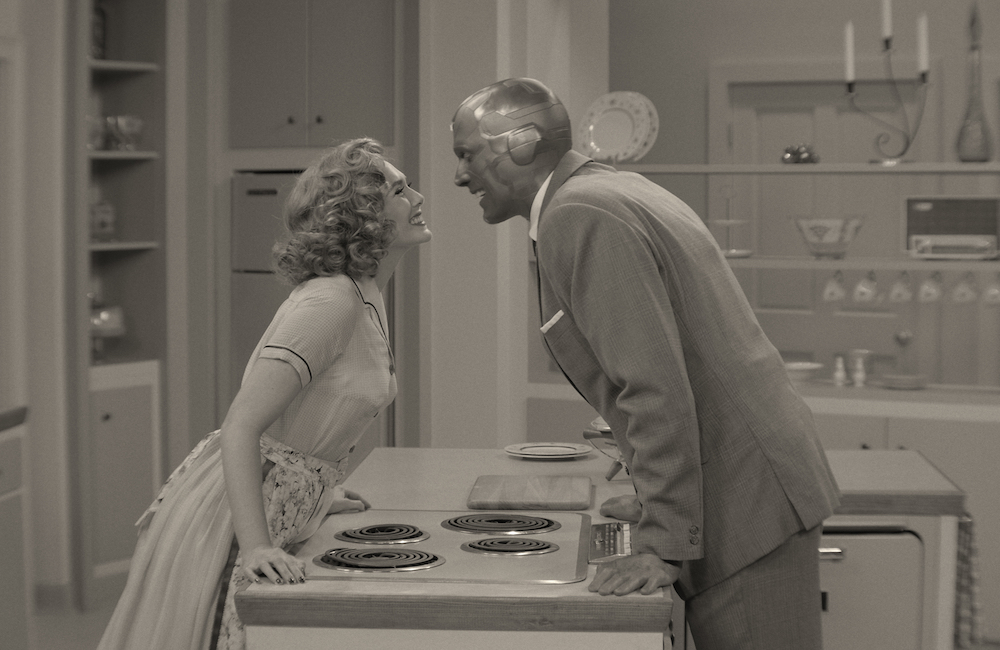 Photo courtesy of Marvel Studios © Marvel Studios 2020
A lot of what is most intriguing about the first three episodes of the new Disney+ series WandaVision, from Marvel Studios, is indicative of a lot of what's wrong in America. WandaVision carries the veneer of classic TV, when everything was perfect and perfectly funny and yet we know those times weren't great for everybody. There was something sinister beneath the surface. In that way, we suspect things aren't so great for Wanda (Elizabeth Olsen) and Vision (Paul Bettany) either.
Something is very wrong in the idyllic new town they've moved to—we can tell because the series starts off in a The Dick Van Dyke Show (1961) world and it's funny and it's cute and it's also a little bit creepy. Moments hitch, things go strangely askew, and red is the only spot of color (like a warning light or a bloody cut). The show purposefully uses one of the brightest TV shows ever made to contrast the suppurating ideology that gives "make America great again" power. And that's what begins to make you uncomfortable—laugh track and all.
In episode two, we move on to a show very much like Bewitched (1964), with Wanda as our magical Samantha and Vision as our goofy Darren, but here again we're shown hits of something sinister, a Stepford Wives (1975) vibe, and possibly the foreshadowing of erased memories. There's even a constant chant of "for the children" that brings to mind the chilling conspiracy theories of QAnon and how they hid their true purpose. Finally, in episode three, we move into a cross between The Brady Bunch (1969) and The Partridge Family (1970) and this is where things really go off the rails. Here, the distrust of the Black friend becomes both commentary and a major clue. Meanwhile the entire series winks at the idiocy of misogyny.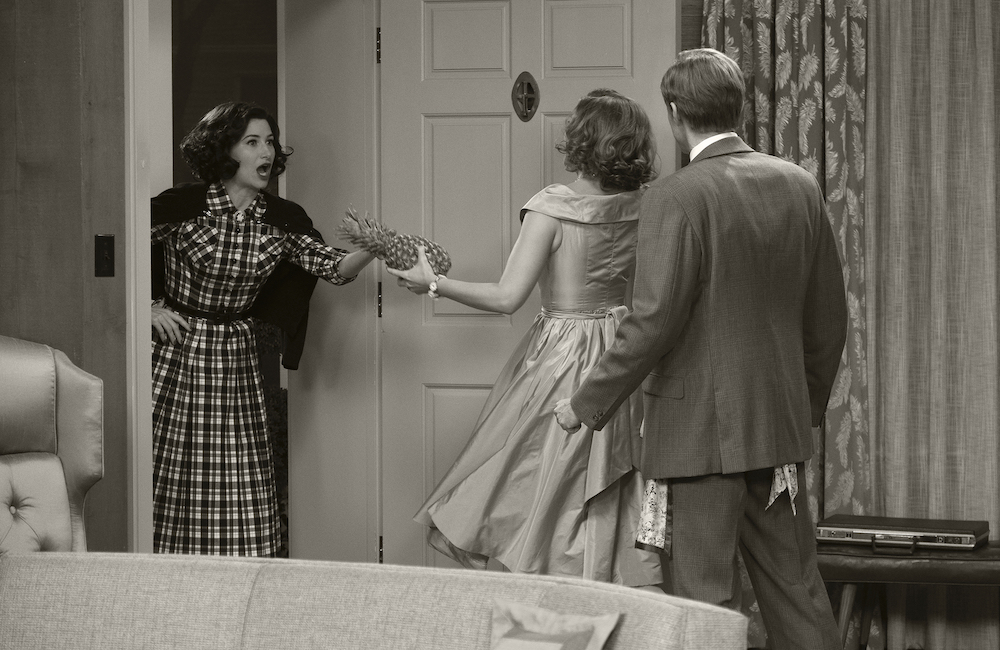 Photo courtesy of Marvel Studios © Marvel Studios 2020
It's brilliant once you've thought it over. These allusions to classic comfort food TV make us believe someone's mind might be breaking… But who? Where exactly are they? And why does all this quirky perfection make us so uncomfortable? That is the hook that the creators yank us into this beautiful yet disturbing landscape with, and the actors play their roles perfectly, Olsen and Bettany are adorable yet riveting, Teyonah Parris intrigues in her introduction as Monica Rambeau, and Kathryn Hahn nails the nosy neighbor you're not sure you can trust but you love to watch.
In many ways WandaVision's style (but not the storytelling itself) reminds you very much of what was done on Legion (2017), another Marvel Comics show where your perception is warped by whomever's POV you're trapped in. There are even embedded nods to Hydra, Stark Industries and more. In this way, the first three episodes become a three-part pilot. Since there are nine episodes it plays like the first of three acts, in which we don't really get started until the very end of episode three. And that is well done too because without a doubt you're left wanting more.
Read our reviews – #1 by Julian Lytle | #2 by Drew & Kat Bittner