It seems like love is in the air for alternative musicians all across the country. In early September, Meet Me @ The Altar guitarist Téa Campbell announced that her long-term partner said "Yes!" when she popped the question. Now, fans of The Summer Set also have something to celebrate, too, as vocalist Brian Logan Dales just announced his engagement.
Logan Dales proposed to his long-term girlfriend, actress Briana Cuoco, on September 12, surrounded by loved ones, including the couple's dog Joni.
In an Instagram story, Logan Dales shared, "Joni got spooked by the confetti poppers, but it was worth it so @jessedeflorio could get the best photo of all time. Anyways, Bri and I are getting married!"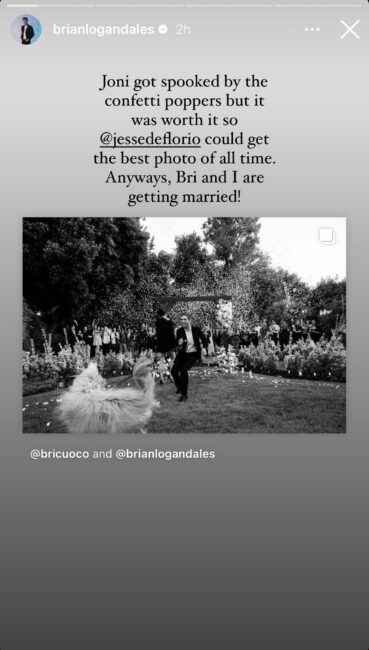 Musicians and fellow bandmates were ecstatic for the happy couple.
John Gomez commented, "Best photo of all time," and Jagwar Twin said, "Love you guys so much." Briana's sister Kaley Cuoco of 'The Big Bang Theory' fame also said, "Finallyyyyyyyyy best night ever!!!!!!!!!!! Love you both so much!!!!"
According to People, Cuoco and Logan Dales have been dating since 2021. "We've been friends for years, we've been friends for maybe four years at this point and dated briefly before, and now we're back in it, and it's been about 8 or 9 months at this point," she told Extra back in 2022. "But it's like … he's just it … It's the most wonderful, easy thing. It's the best thing in my life."
As the two begin wedding planning for a dazzling celebration of their love, Logan Dales is also embarking on a journey with The Summer Set as they support Boys Like Girls on tour this fall. Having just released their LP Blossom in 2022, the band has a lot of great hits, both new and old, to share with fans. After their run in the US, you can also catch them singing the hits on a headline tour across the UK with Arrows In Action. You can grab your tickets here and check out the full list of dates below.
Tour Dates:
Oct. 6—San Francisco, CA @ The Masonic
Oct. 8—Portland, OR @ Crystal Ballroom
Oct. 10—Vancouver, BC @ Commodore Ballroom
Oct. 11—Seattle, WA @ Paramount Theatre
Oct. 13—Salt Lake City, UT @ The Depot
Oct. 14—Denver, CO @ Fillmore Auditorium
Oct. 16—Minneapolis, MN @ The Fillmore Minneapolis
Oct. 18—Madison, WI @ The Sylvee
Oct. 19—Chicago, IL @ Byline Bank Aragon Ballroom
Oct. 21—Cleveland, OH @ House of Blues Cleveland
Oct. 22—Detroit, MI @ The Fillmore Detroit
Oct. 23—Pittsburgh, PA @ Roxan Theatre
Oct. 24—Toronto, ON @ History
Oct. 26—Boston, MA @ MGM Music Hall At Fenway
Oct. 27—New York, NY @ Hammerstein Ballroom
Oct. 30—Philadelphia, PA @ The Fillmore Philadelphia
Oct. 31—Silver Spring, MD @ The Fillmore Silver Spring
Nov. 1—Raleigh, NC @ The Ritz
Nov. 16—Bristol, UK @ Thekla
Nov. 17—Glasgow, UK @ Cathouse
Nov. 18—Manchester, UK @ Bread Shed
Nov. 19—Birmingham, UK @ The Asylum
Nov. 21—Newcastle, UK @ Think Tank
Nov. 22—Nottingham, UK @ Rescue Rooms
Nov. 23— London, UK @ Islington Academy
Nov. 24—Southampton, UK @ Joiners