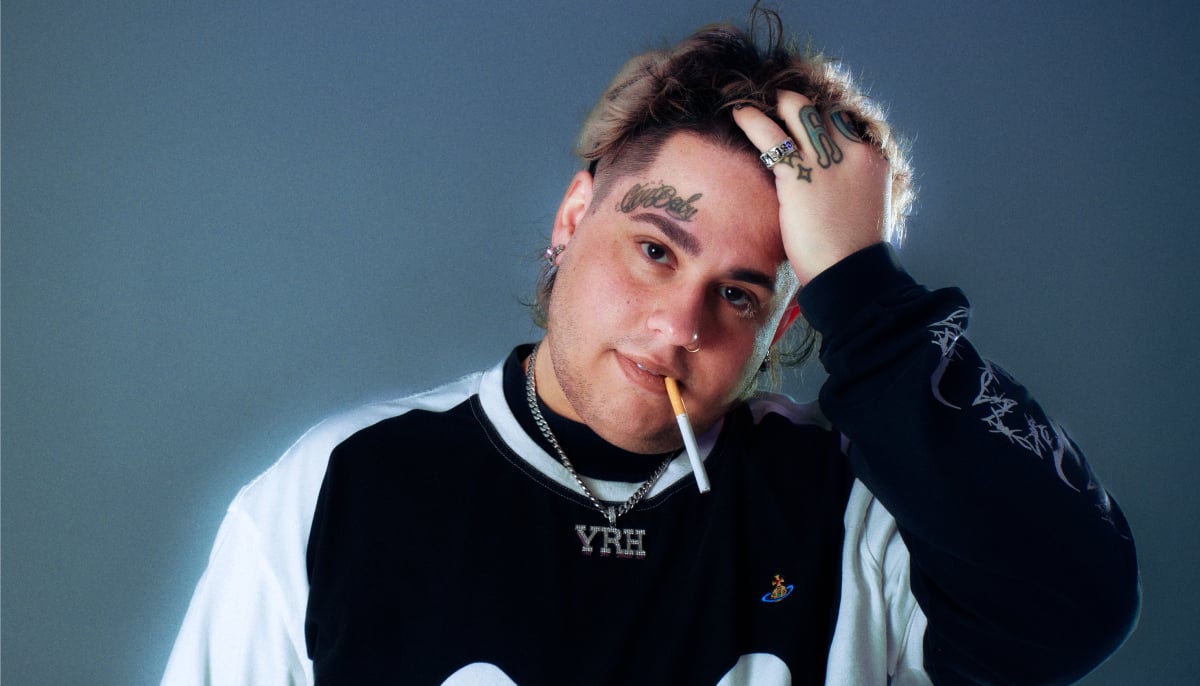 Fat Nick has spent the last eight years becoming one of the most distinct and daring voices in the rap scene. Racking up millions of views and streams, touring the world and working with some of the best in the business, he has seen and done it all. But now, he is taking things back to his roots and releasing a record that focuses on his first true love. Pop-punk.

That record is called HELLO I'M VULNERABLE and will be released on August 25 via Rostrum Records. Bringing together all of the most buoyant and bright elements that made the greats so great and forcing it through the mesh of modern rap production, the result is clean, crisp and crushing in all the right ways. It is also the first time that Nick has been able to speak openly about feelings that would otherwise stay in his head. Expressing himself in ways he never thought he could, it's an incredible first step into a whole new chapter in his journey.
To find out more about his love of the scene, how this record came together and what he is going to do next, idobi had a sit down with Nick. Here's what he had to say…
How does it feel to be in a place where you're making a record like this rather than just one song that sounds like this?

I'm excited, bro. I've been wanting to do shit like this. Our fanbase is very welcoming to this type of music. People have experimented with indie before, and Lil Peep did stuff close to pop-punk, so people are familiar with it and know if it is for them. So the whole thing has just made sense.
What was the catalyst for it all, then?

One of my first tattoos was a stick and poke of Taking Back Sunday lyrics on my calf. That was the first one ever. I've always liked the music first, but then I got into rap in eighth grade. But my playlist has always been The Story So Far, Taking Back Sunday, and bands like that. Then I was in the studio a year ago, and I was bored. I felt like I needed to do something to expand; you get me? With rap, I know some people can change it and do soft rap and stuff, but that's not my thing. So instead, let's go to some shit that I'm a fan of. It just came from being bored with what else I had going on. I could crank out three more rap albums, but I didn't want to crank something out that I wasn't invested in.
So what album would you say was the one that made you fall in love with all of this when you were younger?

I wouldn't say it was an album, but it was the whole Summer before 6th grade. My sister had left a CD she had burned from Limewire back in the day in my mom's car. I popped it in, and there was Taking Back Sunday, Tegan and Sara, and Billy Talent. Then that's when I dove in and did my research. That CD had everything on it, and then I disappeared down the rabbit hole.
How do you feel your approach personally to each side of your sound has differed?

How I express myself between the two feels very different. I can't talk about my feelings in the way I do in the rock songs in the rap songs; that shit wouldn't fly. The beat selection I choose means it wouldn't make any sense. So on the rock side, I can express more emotions. I have more of a selection of sounds that I can use.
So what was the first song that can about, and how did it come together?
I hit my homie Christian, whose producer name is Delmar. He produced Pouya's album and a lot of this album. So I told him I wanted to get in touch with my pop-punk side and wanted a beat that felt like being in American Pie. Then I went to his studio, and it was done. I told him to imagine a 90s American Rom-Com, and he had it. If this genre is done correctly, there's a sense of nostalgia that you touch, and that's what this managed to do.
Have you ever come across anybody else in rap who had come up and loved this music in the same way as you?

Only a few, but the few that I did run into really knew their shit.
And what did you find yourself writing about once you had the beats and music in place? Did what was coming out surprise you?

Yeah, dude, I had never written down these things at all in my life. It's the yin and yang. The stuff coming out was like night and day compared to what I would usually write. When I work on music, especially albums, I throw myself into a particular world. So in rap, I have to be this specific character and do the same thing for this. Both sides of that have pros and cons to them, but I enjoy writing on both sides.
So what did the character for this album look and feel like?

I wrote a whole thing in my notepad about this. The character is all about touching your roots. It's about not forgetting where you came from and making sure you have out and touched grass for a little while. With this character, I can be more of this sort of person who shows off their emotions in this way. And I can do more of it. I can show heartbreak, I show off fun. I can do it all with this character and this world.
Being comfortable to express those things and say, "This was a time when I wasn't feeling like the person you think you know", is a pretty special thing to achieve…

There's nothing wrong with feeling alone. There's nothing wrong with feeling depressed. The important thing is that you can never lose yourself. The world doesn't owe you shit, either. It's very cutthroat out there. So you have to feel what you are feeling but also hold yourself together so you don't go missing in that world. This is easier said than done because not everybody is on the same level. But also, if you have a cool support system and a cool group of friends, you will always find a way to be good.
To be able to come out the other end of that with something as extraordinary as music is always pretty special too…

Music is all about opinion. And you can like me or dislike me, but to me, this is fucking gas. And that's all that matters. When the SoundCloud era started, some people were doing it forcefully and some properly. You can always tell. If it's organic, it will be good. It would be an entirely different story if I didn't grow up on this, but this is the first thing I was ever introduced to. On my first day of 6th grade, my outfit was a The Academy Is… T-shirt and a HIM satchel. That's why it feels so good.
And what songs do you feel the closest to right now?

The one that sticks closest to me right now is "Homesick". I feel like I really talked my shit on that song. That was the one where I could touch on these different concepts. And the thing is that even now, I almost have another tape practically done already. This is the first time I have worked like this in a really long time. This process and this chapter made me really get more hands-on. These songs made me want to try a lot more.
Has it encouraged you to get in touch with some people to guest with you? People that helped you fall in love with this?

Yeah, I've hit up some people, and they like the stuff and have responded. For the second tape, I really want to get some wild features.
What does being in this position mean to you as Nick, the kid who discovered the scene? What does it mean the Nick that you are now?

It's made me the most motivated and hyped that I have been in a while. That's something that's exciting for me. When I make this music, it makes me feel a certain way. You never get too high off the highs and never too low off the lows. But I run highest when I am at those lows. For me, being there makes me go harder. I enjoy those feelings, and they help me make stuff like this. I use them as gasoline. They make me feel alive.