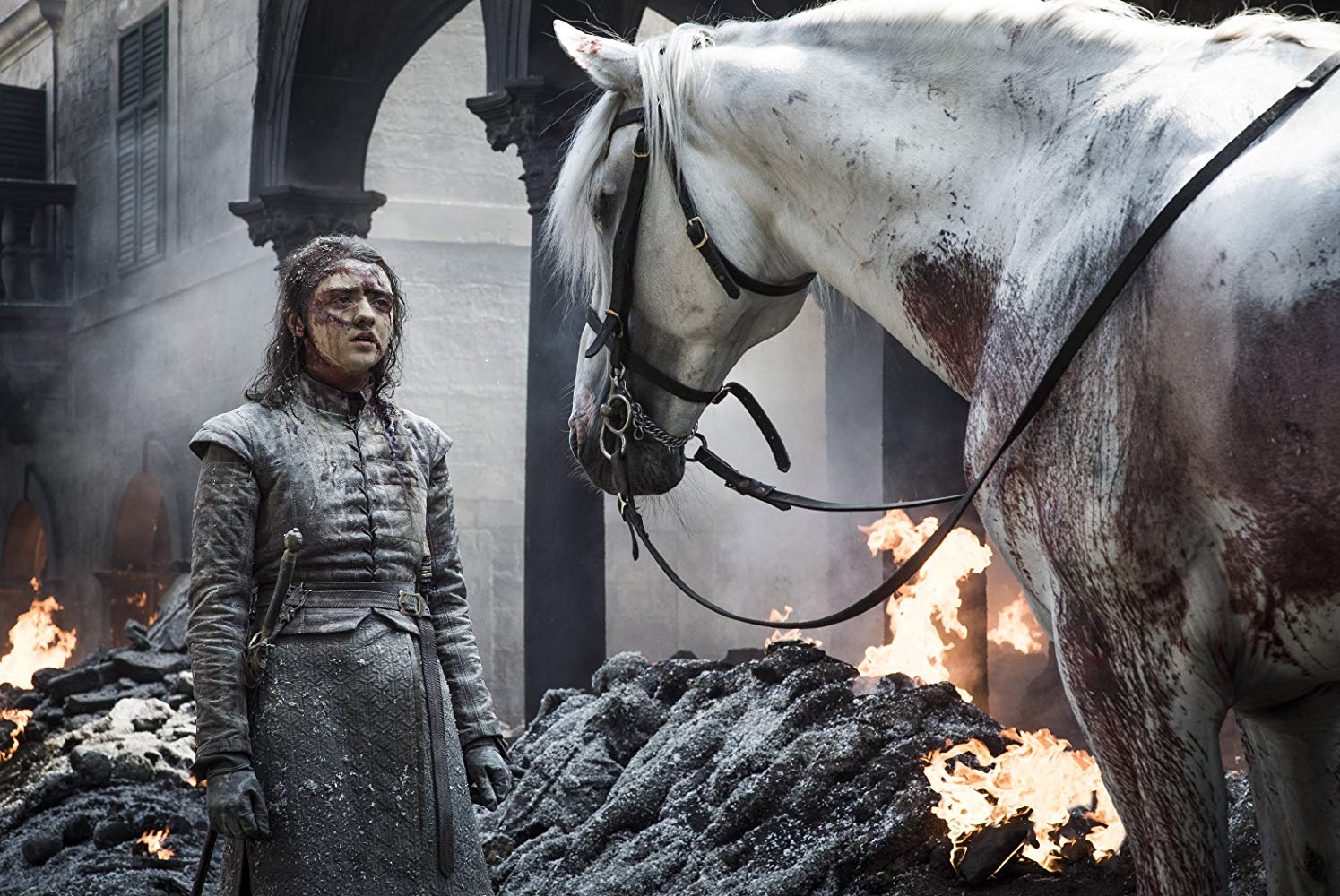 Happy Mother of Dragons vs. Mother of Inbreds Day! While we're still recovering from episode 5, here's your analysis of the shade that was thrown in the penultimate episode of Game of Thrones…ever!

/// This is your only warning: SPOILERS! ///
Varys (Conleth Hill) stayed a real G 'til the end, we open on him plotting with one of his little birds to poison Dany's (Emilia Clarke) meals…unsuccessfully (as it's been revealed that she hadn't eaten in days). But even though he's gone, never forget: Our Queen of Hot Goss was right about Dany's Mad Queen turn. Print that. Rock it on a T-shirt.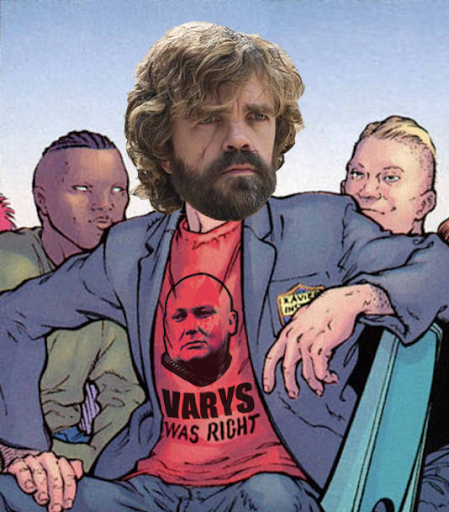 This is a very deep nerdy X-Men cut, but IDGAF

As predicted last week, Daenerys broke bad and went full-on Carrie. Was it because Missandei (Nathalie Emmanuel) was the only one who knew where to source that 100% Valyrian Virgin Remy (it's a weave, children) and her death left Dany with a hot mess of Elizabeth Holmes hair? Was it because her nephew canceled all their upcoming dick appointments, due to… [checks notes] …incest? Was it because the "hanger" was real? Was it because she secretly had a Pavlovian reaction to the sound of bells that was never previously established on the show???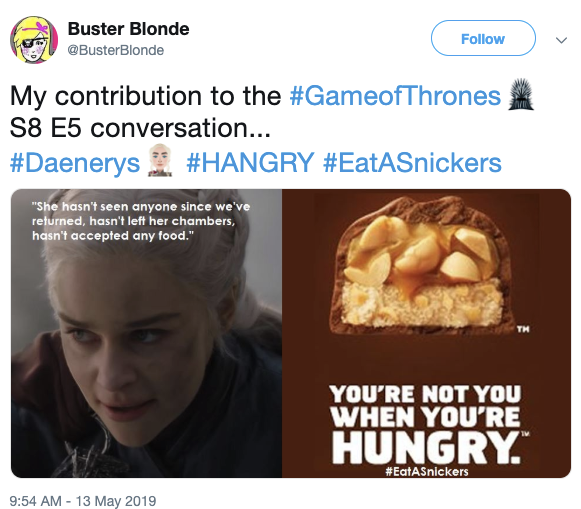 Was this 78-minute long Snickers commercial trying
to get in on the Starbucks product-placement game?

Damn Dany. She went SO Mad-Queen that they basically showed how the wildfire that her dad planted around King's Landing was nothing compared to the damage her dragon fire did.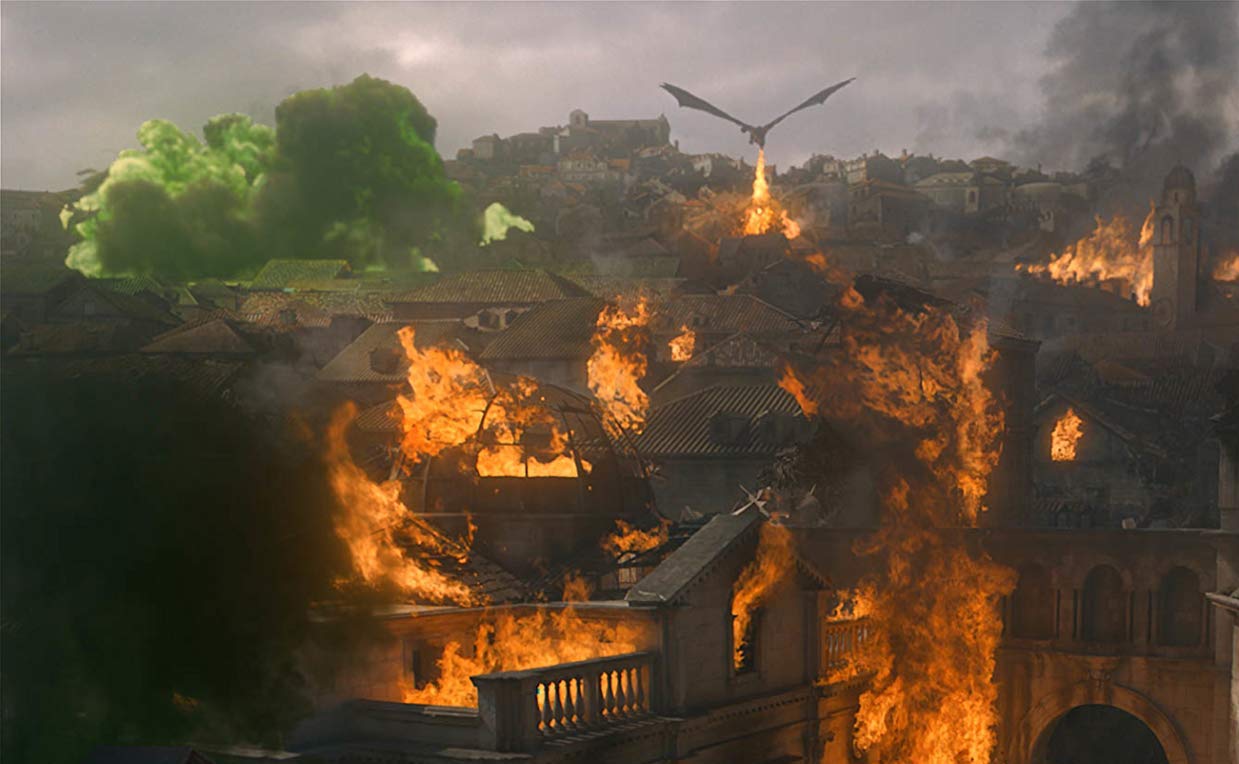 Papa Targaryen would be proud.

Meanwhile, we got Cleganebowl, which would have been way more satisfying if The Mountain (Hafþór Júlíus Björnsson) wasn't already undead. Damnit Sandor (Rory McCann), haven't you ever seen The Walking Dead? DESTROY THE BRAIN!

So I guess Lannister incest mating rituals must start with an assassination attempt, because that's the only thing that could explain Jaime (Nikolaj Coster-Waldau) smash-n-dashing on Brienne (Gwendoline Christie) before riding all the way back to King's Landing to die with Cersei (Lena Headey), after she sent Bronn (Jerome Flynn) to kill him. Just like how Dany decided to firebomb all those innocent King's Landing smallfolk after they already surrendered and she was free to claim an easy victory. This show began with deftly showing the audience how gray characters are led to make their gray decisions, but these latest character beats are leaving fans feeling played. It's not that the groundwork wasn't there. It's that getting Jaime and Dany from Point A to Point C meant going through some ol' Point B.S.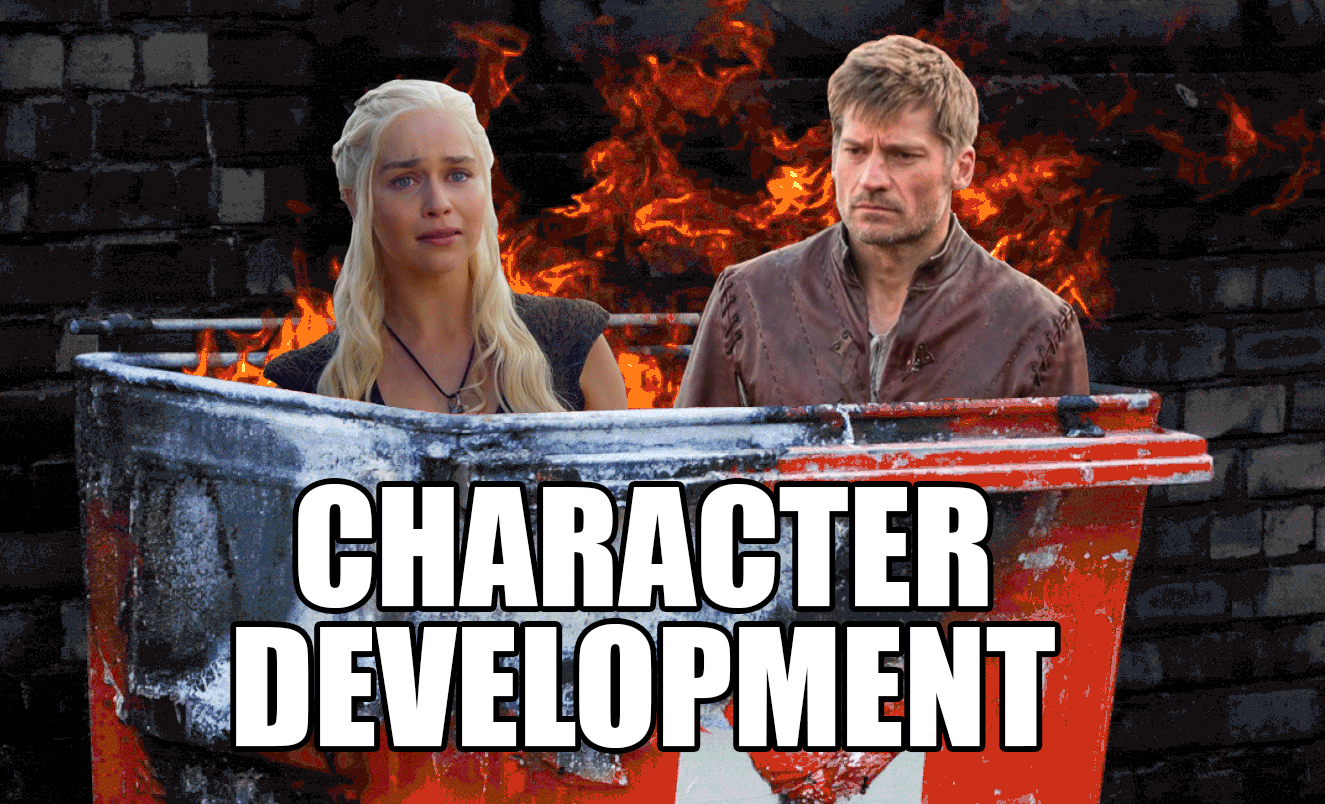 It's also strange that Cersei seems to have the higher ground, in this case. Using the smallfolk of King's Landing as dragon fodder makes some type of sense to her character. They are, after all, the same people who jeered and spat on her as she made her naked walk of atonement from the Great Sept in season 5. They were also the same people who started rioting against her son, Joffrey (Jack Gleeson), in season 2. Daenerys, on the other hand, shouldn't have any beef with these people. She built her reputation on being the "Breaker of Chains", "Mhysa", and generally a savior-figure for a reason. Conqueror though she may be, she's usually had a reasoning for her wrath. And her wrath has been mainly directed at slave-masters and lords who refused to bend the knee—not, typically, the common peasants. Not to mention, she has stated in the past, "I am not here to be queen of the ashes".

Here's one change to this episode that could have given Dany's breakdown better context: Instead of giving her an easy win at the beginning of the battle, they could have shown Dany's side sustaining major damage to increase the suspense. It didn't make sense in the first place that Dany's forces would suddenly be able to overpower Cersei's Iron Fleet, Golden Company, and Lannister Army when she's actually lost a dragon and a ton of soldiers to Euron's (Pilou Asbæk) ambush, anyway. Then when things look the most bleak, that's when Dany pulls out all the stops to rain down fire and blood upon soldiers and civilians alike to a terrifying Pyrrhic victory.

But it's too late to fix this mess of an episode (let alone season), so it is what it is.

Next week: Will Arya (Maisie Williams) become Death on a Pale Horse and replace one queen on her List with another? Will Jon Snow (Kit Harington) do something more than being a highly-paid extra? Will there be a wave of name-change affidavits filed by everyone who named their kid "Khaleesi"?

P.S. — HBO, can you please cancel Confederate already? First Benioff and Weiss had Missandei, a former slave, dying in chains. And now they reveal her only possession was her slave collar, after spending 5 seasons being a Queen's best friend? This all goes to show how little understanding or empathy the showrunners have towards enslaved people and how they have no business doing another show featuring slavery.
—
---
Alice Meichi Li is an illustrator who's originally from Detroit and is now based in Jamaica, Queens. Please support her artwork by checking out her Game of Thrones-inspired merch here!