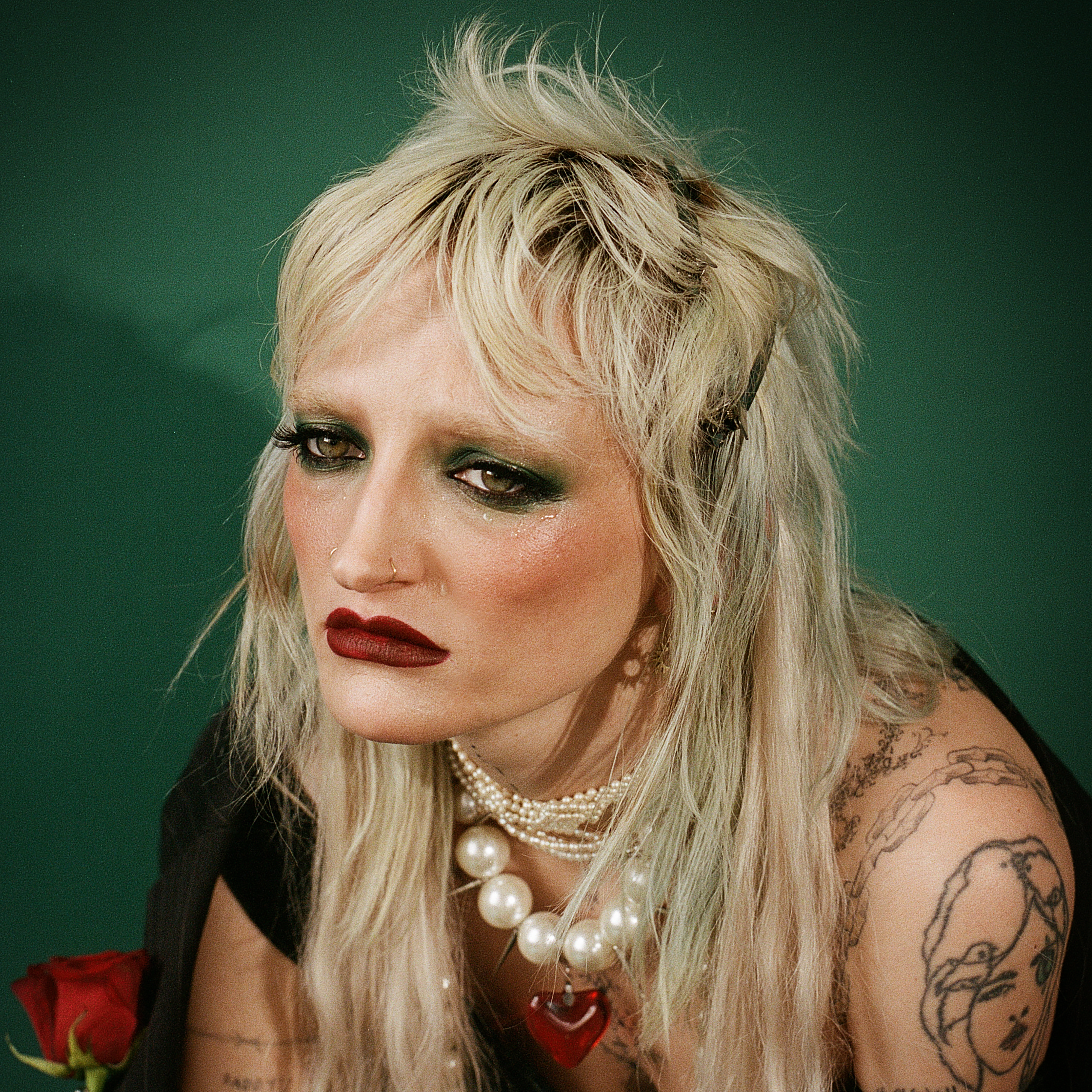 The one-of-a-kind genre-bending artist, Royal & the Serpent is back with the fourth installment of her Rat Trap saga today with the release of RAT TRAP 4: the burden. This collection includes three new tracks, "u ruined frank ocean 4 me", "separation anxiety", and "oops". This is a much more somber EP, in comparison to RAT TRAP 1: the blueprint, RAT TRAP 2: the burn, and RAT TRAP 3: the band-aid. All three songs Royal & the Serpent delivers on RAT TRAP 4: the burden follow her relationship with romance, whether that be unrequited, anxious, or avoidant.
Her choice to give calm and restrained visualizers for "oops" and "u ruined frank ocean 4 me" perfectly reflect the emotions of the songs. Whereas "separation anxiety" is met with a full music video, showing Royal drenched in a spotlight, dancing like a ballerina in the rain. It is so simple, yet it hurts all the same. It feels like taking a peak inside of her deepest, darkest most personal thoughts.
 "The main reason I make music is that it's the best therapy I could ever ask for: the process of taking everything in my brain and putting it on paper and then singing it out loud for people is so helpful and healing for me. The idea that my own expression can affect people in positive ways is such a blessing and a gift; I don't ever take it lightly. I just want to keep telling my truth and reach as many people as I possibly can, and see where this little journey takes us," she shares.
The first release of this unique cycle was RAT TRAP 1: the blueprint. This included "ONE NATION UNDERDOGS", a punk rock call-to-action track about self love, acceptance, and equality. The second track, "ASTROTURF", starts off beautifully slow before exploding into a full band cacophony reminiscent of "Happier Than Ever" by Billie Eilish. RAT TRAP 2: the burn boasted "JUNKIE" and "SLUG", both focusing on the narrative of toxic love and heartbreak. These tracks start slower, but grow into catchy, alternative rock grooves. Royal & the Serpent is surely showing off her diverse songwriting abilities on these double singles.
 RAT TRAP 3: the band-aid, brought us "Utopia" and "Sweet Tooth". "Utopia" follows a love story that has ended. "Sweet Tooth" however, recants nearly every sentiment from "Utopia". It is the crawl back to the person, the realization you want them anyway, even if they hurt you. 
Royal is set to head out on a headlining tour this fall, hopefully we will get live performances of all the new songs! Grab a ticket here and check out the full list of dates below.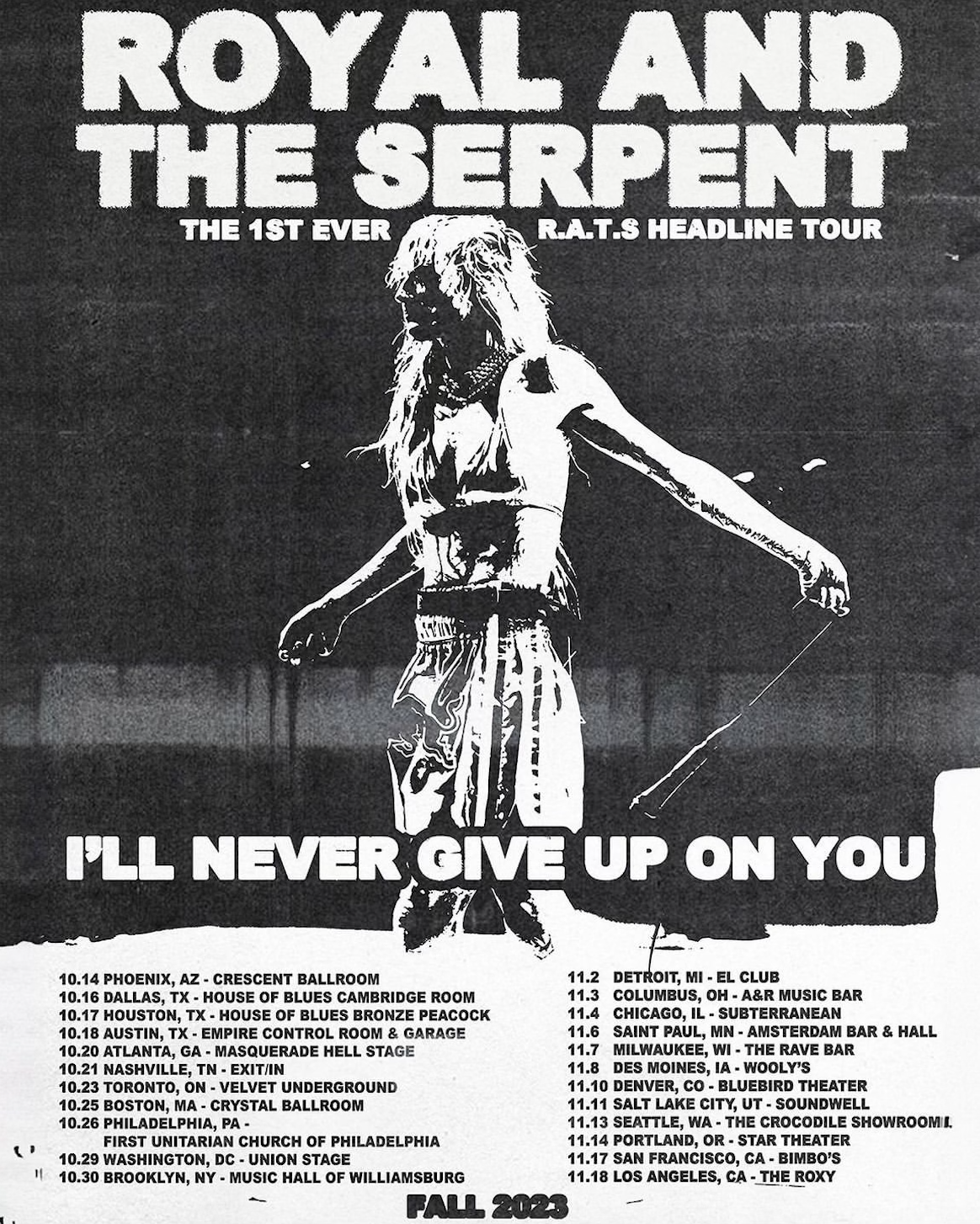 Royal & the Serpent Headline Tour Dates:
Oct. 14 – Phoenix, AZ @ Crescent Ballroom 
Oct. 16 – Dallas, TX @ House of Blues Dallas Cambridge Room 
Oct. 17 – Houston, TX @ House of Blues Bronze Peacock 
Oct. 18 – Austin, TX @ Empire Control Room & Garage 
Oct. 20 – Atlanta, GA @ Masquerade Hell Stage 
Oct. 21 – Nashville, TN @ Exit/In 
Oct. 23 – Toronto, ON @ Velvet Underground 
Oct. 25 – Boston, MA @ Crystal Ballroom 
Oct. 26 – Philadelphia, PA @ First Unitarian Church of Philadelphia 
Oct. 29 – Washington, DC @ Union Stage 
Oct. 30 – Brooklyn, NY @ Music Hall of Williamsburg  
Nov. 2 – Detroit, MI @ EL Club 
Nov. 3 – Columbus, OH @ A&R Music Bar 
Nov. 4 – Chicago, IL @ Subterranean 
Nov. 6 – Saint Paul, MN @ Amsterdam Bar & Hall 
Nov. 7 – Milwaukee, WI @ The Rave Bar 
Nov. 8 – Des Moines, IA @ Wooly's 
Nov. 10 – Denver, CO @ Bluebird Theater 
Nov. 11 – Salt Lake City, UT @ Soundwell 
Nov. 13 – Seattle, WA @ The Crocodile – Showroom 
Nov. 14 – Portland, OR @ Star Theatre 
Nov. 17 – San Francisco, CA @ Bimbo's 
Nov. 18 – Los Angeles, CA @ The Roxy