Start your day with a balanced playlist,
it's time to Rise Rock n' Shine…
Who: 2021 is the year of BLACKOUT PROBLEMS… and they're going to make sure you know it. The German rock band just dropped DARK, their new album with an accompanying documentary, to kick off what will surely be a monumental year in their career.
What: Before you dive into DARK, dip your toes in the waters of  "DRIVEBY".
Why: If you're not acquainted with BLACKOUT PROBLEMS' high-voltage sound, "DRIVEBY" is a good place to start. The song is all chaos as frontman Mario Radetzky leads us into the melody—one that is subject to change. The band finds their way from radio-ready anthems to post-hardcore shouts with ease, playing with a handful of genres without ever really committing to one. Instead the song lands somewhere outside of labels and definitions with a sound that could only be described as BLACKOUT PROBLEMS.
FFO: idobi Radio
Find BLACKOUT PROBLEMS on Facebook, Instagram, and Twitter.
"'DRIVEBY' is one of these songs that came about without a real plan. We wrote this one on a rainy day in Berlin and it was just a great moment to get out of Munich, spend some time in the capital with old friends and be creative in the midst of it all. You sometimes come up with stuff that is waiting in your unconsciousness and you just start to bring it up by writing down whatever comes to your mind. It happened not only once that the lines I came up with made sense later on. So take for instance the chorus line 'I DON'T GET YOUR IGNORANCE' I could apply this one to a lot of things happening right now." – Mario Radetzky, frontman/guitarist for BLACKOUT PROBLEMS
—
—
Who: After impressing fans and critics alike with their self-titled debut, Holding Absence went straight to work on their second album—and now it's nearly finished. The Greatest Mistake Of My Life will drop on 4/16 with Sharptone Records.
What: The band gives us another taste of the collection with second single "Afterlife".
Why: We're not sure if we want to rage or cry but we do know "Afterlife" is an absolute banger. The heartbroken tune comes to life thanks to Lucas Woodland's rough around the edges vocals, luring you into the onslaught before you even know what's coming. The song slows down just long enough to let you catch your breath before breaking into an emotional plead that'll have you headbanging the tears away. These kind of songs always feel a little bit like a therapy session, so we suggest you turn it up and let it out.
FFO: idobi Howl
Find Holding Absence on Facebook, Instagram, and Twitter.
—
—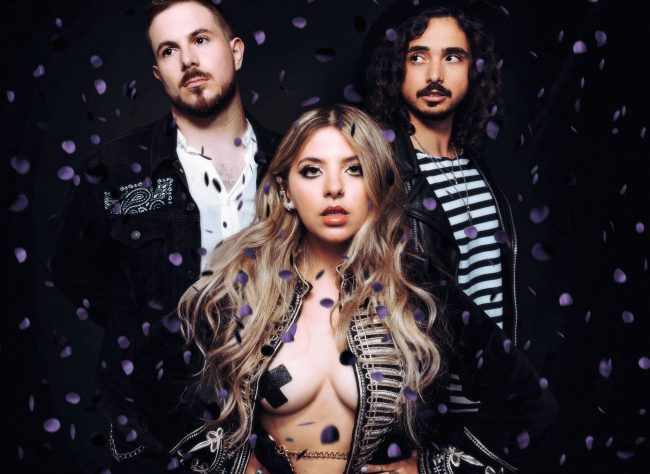 Who: If MONOWHALES wasn't already on your radar, they would have been soon. The Toronto band has been making waves since their 2017 debut. Now with a few years experience and a new album out this March, the group heads into 2021 stronger than ever.
What: Get a taste of the new collection when you hit play on "Out With The Old".
Why: The world's a messed up place and if you're sick of it, you'll get a lot out of listening to "Out With The Old". MONOWHALES take on society norms and ask "How useful are these really?" The renegade revolution was made for the dance floor, starting with a guitar line that gets into your bones. You'll be busting a move by the time the drum beat kicks in and if you can make it to the end without breaking out into dance… well you're stronger than us, fam.
FFO: idobi Radio
Find Monowhales on Facebook, Instagram, and Twitter.