New day, new start, new music,
it's time to Rise Rock n' Shine…
Who: A Few Too Many is making pop punk tunes from Cambridgeshire, England. The band draws on the greats that came before them to craft a sound that feels nostalgic and brand new all at the same time.
What: Power through the rest of the year with their new survival anthem "Someday".
Why: The weather's getting colder but the bright pop punk beats on "Someday" have us dreaming of sunny days and music festivals. The song reminds you to keep going and keep dancing, through life's many hurdles. As long as you have this one playing in your headphones nothing will truly seem impossible.
FFO: idobi Radio
Find A Few Too Many on Facebook, Instagram, and Twitter.
"'Someday' is a song about having been stuck in a rut for a long time and wanting to get out of it, getting away from the ordinary and experiencing the extraordinary. More than anything, at its core, 'Someday' is about knowing you deserve better and that it's okay to cut things or people off if they're not having a positive impact in your life—it's self care to leave toxic situations behind." – A Few Too Many
—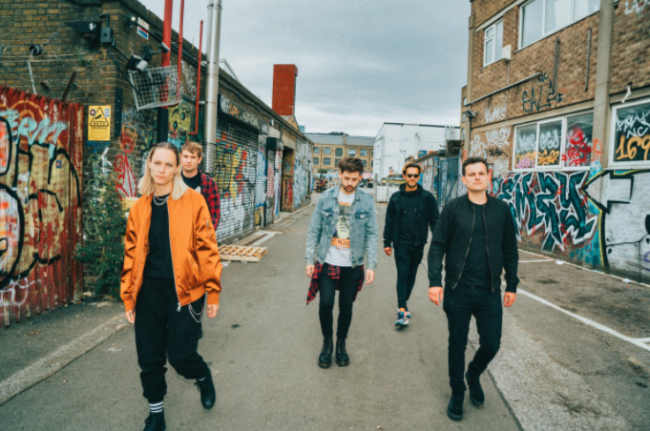 Who: The past couple years have been monumental for London's DRONES. They've released their debut album, hit the stage with acts like Neck Deep and Young Guns, and have solidified their stance as an up and coming punk/post-hardcore band.
What: Hear "Our Hell Is Right Here", the title track from their forthcoming collection Our Hell Is Right Here.
Why: If you need a little help waking up this morning, "Our Hell Is Right Here" will get you going. The song goes hard from the very first second, delivering an onslaught of guitars and intense vocals that'll have you head-banging before you even have your first cup of coffee. Turn it up and rock out.
FFO: idobi Radio
Find DRONES on Facebook, Twitter, and Instagram.
"The title track 'Our Hell Is Right Here' is a damning condemnation on abuse of power. This was one of the earliest tracks we wrote that ended up making the cut for the record and it's definitely one of the heaviest. It's a pretty ugly topic lyrically and we knew we wanted a fierce guest vocal to complement that. We roped in our friend Ren from Petrol Girls who actually recorded her parts over in Germany remotely. She absolutely smashed it!
Amongst a bunch of tracks that are set to push the boundaries of Drones' typical sound, 'Our Hell Is Right Here' is the track that stays the most faithful to the punk roots of the band. We hope you enjoy listening to it as much as we enjoyed writing it." – DRONES