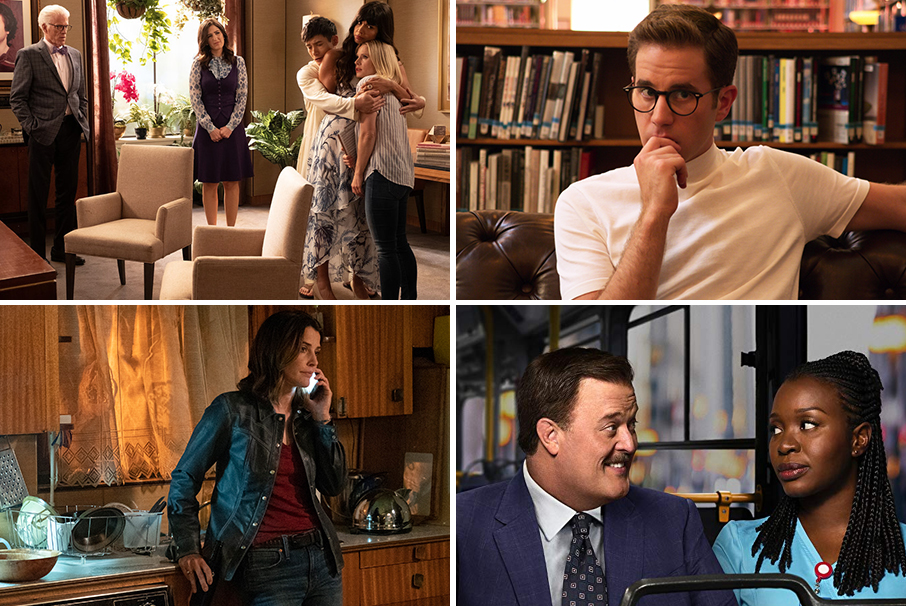 It's time to make a comfy groove in your sofa and get settled in because you'll never want to miss these shows. Fall TV is upon us and Geek Girl Riot has been filling us in on all the new series. Catch some quick takes below from GGR about the TV premiering this week and listen to the full roundup here.
—
Bob Hearts Abishola
"Bob Hearts Abishola about a big fluffy midwestern socks salesman named Bob (Billy Gardell) who falls in love with his nurse at the hospital (because of course he had a cardiac arrest…this is America). Her name is Abishola (Folake Olowofoyeku) and she is a Nigerian immigrant."
"We were hesitant about the premise because it felt like a giant red warning sign but the pilot we saw surprised us."
"There was an authenticity to the Nigerianness [we had to check if there was a Nigerian writer and yup there is, Gina Yashere, who is also one of the creators]…and the central character, played by Folake Olowofoyeku, is wonderful in this."

NOTE: Audience criticism of the show, and specifically of certain jokes, has made us question if the pilot we saw a few months ago is a different version from the one that ultimately aired.
"It's nice to see a sitcom that has so much truth and authenticity to it."
"It's a heartfelt cute little show and I can't wait to see more of it."
Watch Bob (Hearts) Abishola every Monday night on CBS.
—
All Rise
"Simone Missick plays Judge Lola Carmichael, who goes from being a district attorney and she takes the bench. Some really cute things happen with her best friend and the other cast members and there's some tragedy involved that binds them all together."
"It had all the ingredients of a Shonda Rhimes show but it didn't quite have that BOOM. We're not quite sure where it's going but hopefully the show picks up and takes off because it'd be great to see Simone Missick have a win as a lead actress."
—
Mixed-ish
"Mixed-ish is another -ish universe spinoff…which takes the lead character from black-ish, Bow, and shows us her childhood. She started out living in a weird hippie commune but when it was destroyed her family had to go and live with her rich white grandfather…Her hippie family have no idea how to survive in the real world."
"It's really cute and the -ish universe has never let us down so I don't believe it's going to now."
"We all love Rainbow Johnson (Tracee Ellis Ross)—we could all stand to use more Rainbow in our lives. And getting to see where she came from and how she turned out to be the way she did is pretty special."
Catch Mixed-ish on ABC every Tuesday.

—
Emergence
"Emergence is about a police chief who finds a young child near the site of a plane crash. The kid has no memory of who she is or where she's from…but she has these mysterious powers that causes the FBI and other organizations to come looking for her. So the police chief takes her in and tries to protect her…even if this kid doesn't really need protecting."
"There's a lot of great tension, the writing is solid and believable, the characters have layers and edges. I can't wait to see what the mystery is behind this little girl…this show might be a winner."
"I have a lot of hope for this show. The pilot really drew me in and it made me say 'I need to see more!' ABC is starting out strong with this one."
Watch Emergence on ABC on Tuesday nights.
—
Abstract: The Art of Design
"The first season of Abstract just sent me over the moon…Tinker Hatfield from Nike, Es Devlin the design of all the biggest concerts…and this season is no less than great. Just seeing Ruth E. Carter's process in Season 2 is wonderful as well."
Abstract: The Art of Design S2 is now streaming on Netflix.

—
Stumptown
"Colbie Smulders, who generally is a fave, plays an army vet turned PI who has quite an abrasive style of investigation. She goes all in, and I'm here for that. However the pilot didn't quite grab me. I think Colbie Smulders does a great job…but I think I probably would need to see a few more episodes to really get into it."
"Stumptown has a lot of the qualities of 1990s television and comic books. We have a 90s style female lead—she's brash and abrasive and she drinks too much, she's sexually empowered, she messes up, and she's quirky and funny, plus she punches people…So we've seen it before…but Colbie Smulders brings something really nice to it and it's kinda fun. And there's good chemistry between her and the male lead played by the lovely Michael Ealy."
Catch Stumptown on ABC on Wednesday.
—
The Good Place
"Eleanor (Kristen Bell) and Chidi (William Jackson Harper) are separated by nothing more than memory. Chidi has no idea who Eleanor is because his memory has been erased to keep the sacred nature of an experiment that the team are doing. But Eleanor is well aware of all their shared love."
"Eleanor is trying her best to be impartial while she helps to run this experiment but things don't go according to plan…because of Shawn (Marc Evan Jackson). I love Shawn, he's one of our favorite demons. He is definitely at play here, sending in all of his best workers to mess things up."
"The one liners, you guys, but also the jokes that fall into continuity or are callbacks to other seasons. The characters continue to grow and you'd think in a show that is so absurd that you wouldn't have such deep rooted and emotional character growth but you absolutely do."
"The show gives you such love. I appreciate it so much. I will miss it dearly but I am so glad to have had it."
"I'm so sad it's ending but at the same time I'm glad they're taking the show out when they want it to."
"The Good Place is certainly worth every moment we've spent watching it."
The Good Place returns to NBC tonight.
—
The Politician
"The Politician is Ryan Murphy's new show set in high school—which, let's be honest, is a battle zone—and it's a little bit Glee (but a little bit more murdery). Ben Platt plays a high school student who wants to be student body president."
"…and then President of the country. He has a plan to become student body president, go to Harvard, and then become President. This is very clear: Payton Hobart has a plan and he does not want to deviate from it…but let me tell you something about life…"
"The show is ridiculous and highly hilarious in some parts but it doesn't quite connect. I feel it's trying too hard."
"The Politician is most definitely Election, Popular, and Glee mixed up in a blender and thrown into a glass—kinda tasty…might have a little bit of an aftertaste. Still it's classic Ryan Murphy—the quirkiness, the camp, the characters who have wounded souls but express it in comedic and dark ways. It's just a little bit too set on itself and it might be going too fast."