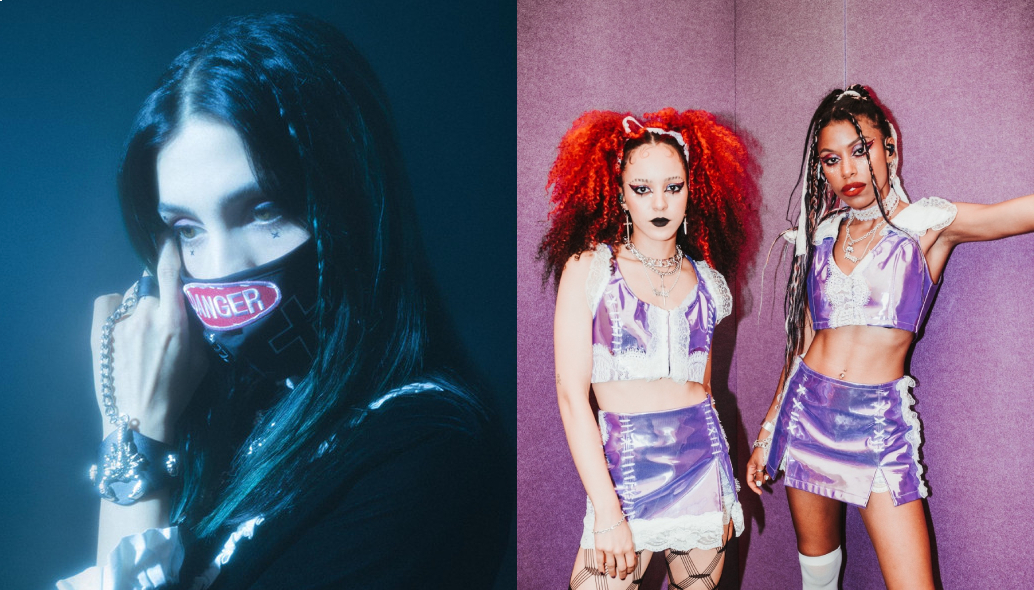 Pussy Riot and Nova Twins have combined their talents for a destructive new track called "Bad Trip". In terms of a combination of talents, it is as potent as it gets. Pussy Riot have spent the last decade dealing out home truths and harrowing tunes with their vicious brand of anarchic electro-punk. Nova Twins have been following the same route in the UK. Delivering chaotic tracks fuelled on acceptance, rebellion and expression, they have cemented their place as one of the UK's leading lights in rock. So you know that when those paths collide, you're in for something special.
With "Bad Trip", things get dark really fast. 126 seconds of trap-leaning metal-rap that ebbs and flows between discomforting and destructive, it's an assault on the senses. Fiery as it gets, it also exhibits all of the things that both groups stand for. With female liberation at the forefront and dispelling mansplaining for the disrespectful matter that it is, it's a huge collaboration that speaks for itself.

Pussy Riot leader Nadya Riot had this to say about the song:

"Mykka played this beat for me and I got obsessed and begged her to give it to me. It sounds menacing and dominant. I'm a big fan of Bosch, so I wanted to imagine what would be my version of hell / bad trip in this track — being mansplained and totally dominated would be a version of hell for me, that's why my verse goes: 'Mansplain me! I don't really know what am I doing with my life, how to be a woman, tell me how to be a wife, tell me how to kiss and tell me how to die. wanna be obedient, I wanna be your wife wife.'"
And Nova Twins had this to add:
"We love Pussy Riot and all that they stand for, so when Nadya messaged us during lockdown, asking us to feature on 'Bad Trip,' we were super excited! The tune bangs and they are a force of nature!"

Nova Twins released their latest album Supernova last year to critical acclaim. It gained them a nomination at the BRIT Awards and the Mercury Prize in the UK. Here's the stunning "K.M.B".

"Bad Trip" follows on from "Chastity" for Pussy Riot. A song with a beat created by Boys Noize and featuring an appearance from the unstoppable Alice Glass, it's a who's who of alternative talent. Check it out below.