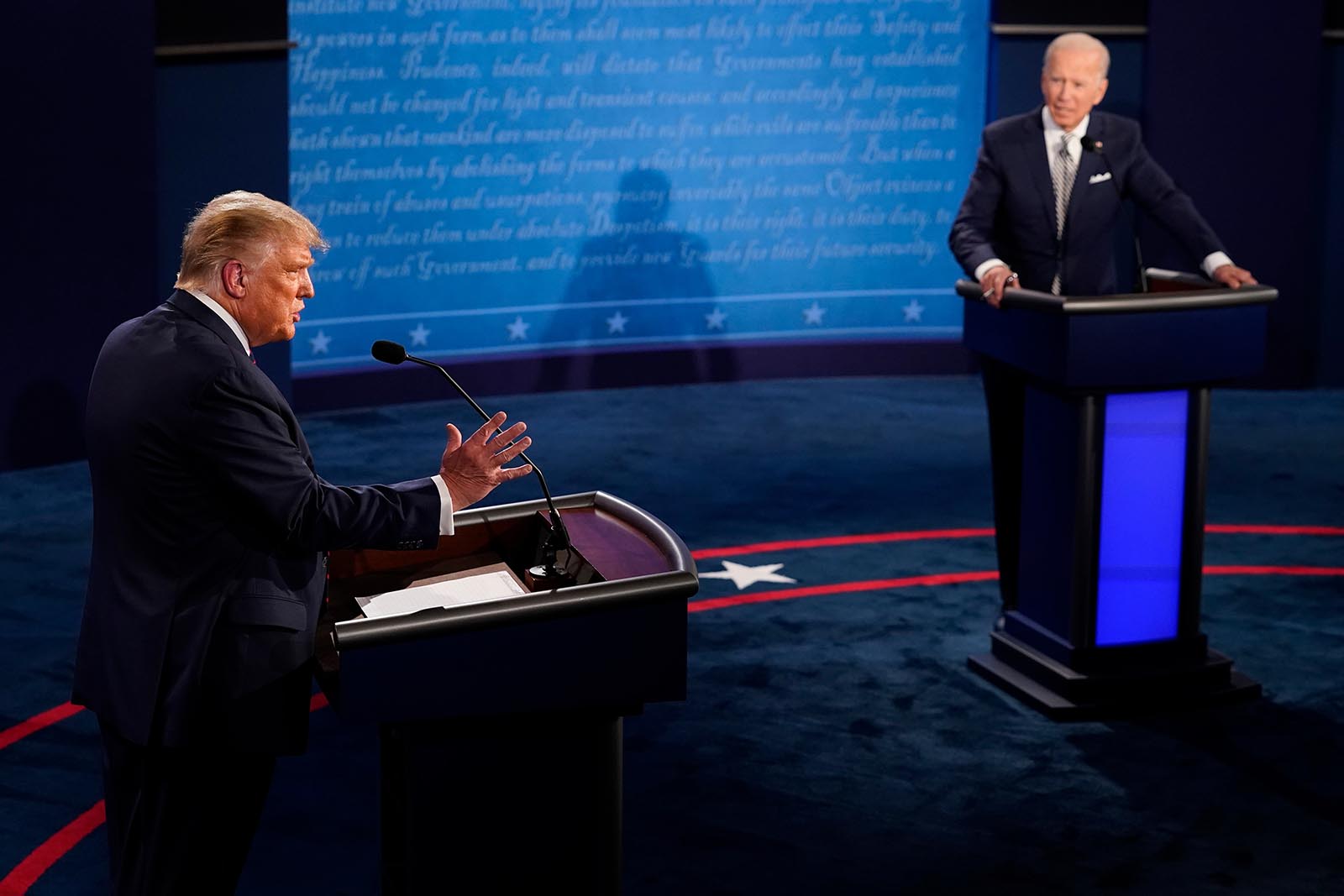 CLEVELAND, OHIO - SEPTEMBER 29: U.S. President Donald Trump speaks during the first presidential 
debate against former Vice President and Democratic presidential nominee Joe Biden at the Health 
Education Campus of Case Western Reserve University on September 29, 2020 in Cleveland, Ohio. 
(Photo by Morry Gash-Pool/Getty Images)
When I was a child, I saw a train of manure run into a garbage fire as it plummeted off a cliff into a tar pit that suddenly burst into flames. It was a dream or, more accurately a nightmare, but upon reflection it remains a better memory than watching the spectacle of Tuesday's Presidential debate. It is said discourse and critical thinking are essential tools when it comes to securing progress in a democratic society…*
…sadly, today was not that day.
If tonight's exhibition of democracy in action did not show voters what was at stake in this year's election, then nothing will. On one side, we have a candidate striving to achieve the ideals set forth by the Founding Fathers for ALL Americans—except the slaves they owned but let's ignore that for now (they do). On the other side, we have an "adult" man whose entire presidency breaks down to feed me. Feed my ego. Feed my wallet. Feed me all the things because I say so. While all his hunger comes at a cost—200,000 lives and counting, countless jobs lost, children in cages. And who was the ringmaster of this show? It was everyone's favorite substitute teacher: Fox News' Chris Wallace. He really did try his best. But…you know what they say about the road to hell and good intentions.
As the debates began, it's common knowledge that both men must straddle a political thin line to succeed. For Joe Biden it's maintaining his democratic base while bringing over moderates and undecideds—who remain fearful and uncertain over the best presidential option in this tumultuous time. It's simple for Donald Trump; his highwire balancing act consists of keeping his base happy and choosing whether to deal in facts or lies—spoiler alert, he does not choose facts.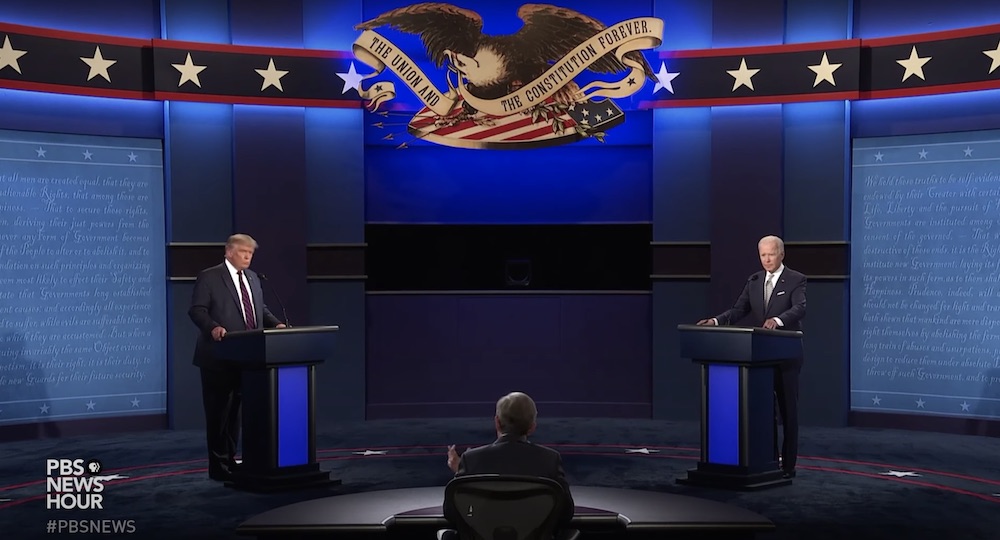 The first presidential 2020 debate at the Health Education Campus of Case Western Reserve 
University on September 29, 2020 in Cleveland, Ohio. (Screenshot via PBS NewsHour on YouTube)
Now, let's review some highlights of the debate:
THE SUPREME COURT:
I got more Judges than American Idol
The "debate" opened with the new existential threat facing us all; the recent Supreme Court pick, Amy Coney Barrett and her impact on the fate of well…EVERYTHING. And almost as if in a scene from Fast and Furious, the discussion took a hard left into healthcare and broke down into caustic distracting nonsense. Trump interrupted so compulsively one might think he was stricken by some sort of 15th century-style palsy. Any effort to glean any kind of coherent narrative was lost in the ether of internet memes.
As the barrage of interruptions continued, a frustrated Joe Biden, as if channeling the souls of Americans everywhere, uttered to the President: "Will you shut up, man?"
RACE IN AMERICA / LAW AND ORDER:
Lincoln has nothing on me.
Wallace then chose the The Purge-like umbrella falling across America because of Black Lives Matters and Antifa [Anti-Fascists btw]. Shaping the talk about law and order vs. socialist protests, Wallace posited the notion that the protests and police reform were a threat to public safety. Leaving the concept of equity on the ground and bleeding like so many murdered African-Americans. Donald Trump, like the finest of opera-level dog whistlers, jumped on the idea. He painted any racial justice advocates as "criminals" "violent" and "anarchists" while blaming Democratic-run cities for all crime problems in America…EVER. Nevermind his growing rap sheet.
Basic questions about the existence of racial justice, institutional racism, or white supremacy went unaddressed—sorry, I missed any "addressing" from the President. Biden held his own in the exchange, using a significant counterpoint that went relatively unreported to the country. That in reality, the Trump administration has repeatedly proposed cuts in police funding.
I won't bother talking about the white supremacy and white supremacists, labeled a threat by the FBI. Just. Like. The President of the United States has.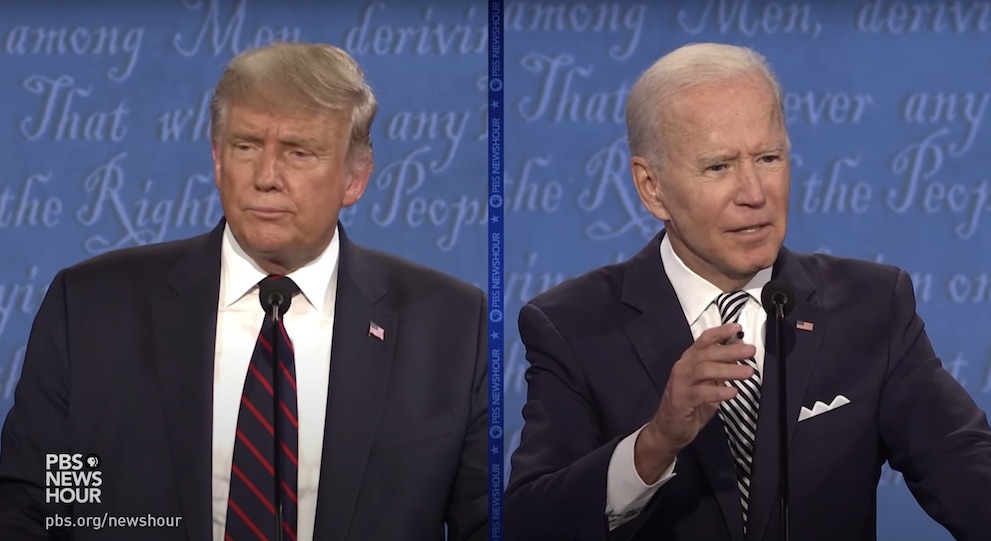 The first presidential 2020 debate at the Health Education Campus of Case Western Reserve 
University on September 29, 2020 in Cleveland, Ohio. (Screenshot via PBS NewsHour on YouTube)
CLIMATE CHANGE:
Cars don't cause pollution; air does.
The West Coast was ravaged by wildfires (and gender reveal parties). The Gulf Coast is facing a terrifying hurricane season. So Wallace gave Trump a meatball pitch to acknowledge climate change as an ACTUAL problem caused by humans. What followed was a stream of consciousness brain fart that included forest management, socialist green deal terrorists, a billion tree planting initiative, and lastly, forest cities.
Yes, FOREST CITIES. Below is an excerpt of his comment on these magical kingdoms:
"In Europe, they live, they have forest cities. They're called forest cities. They maintain their forest, they manage their forest.

I was with the head of a major country, it's a forest city."
I swear to God, he is talking about Elves—European F!&%ing Elves. This can be the only explanation for this level of malarkey, beyond a complete mental breakdown…which… Did he confuse Climate Change for Lord of the Rings? Let's hope Galadriel "Lady" of the woods of Lothlórien is not one of his campaign managers.
In closing, below are the quotes of the night:
"Will you shut up, man?"

"He's Putin's puppy!"

"Do you have any idea what this clown's doing?"

"I'm getting it [Insulin] so cheap, it's like water."

"Keep yapping, man."

"I'm the one that brought back football… people of Ohio are very proud of me,"

"I'm letting people out of jail now,"
And that's the end…quite possible of everything.
—
Here are the remaining debates we can look forward to:
Oct. 7: Vice-presidential debate at the University of Utah in Salt Lake City
Oct. 15: Second Presidential debate at Adrienne Arsht Center for the Performing Arts in Miami, Florida
Oct. 22: Third Presidential debate at Belmont University in Nashville, Tennessee
—
* Aberjhani, Splendid Literarium: A Treasury of Stories, Aphorisms, Poems, and Essays