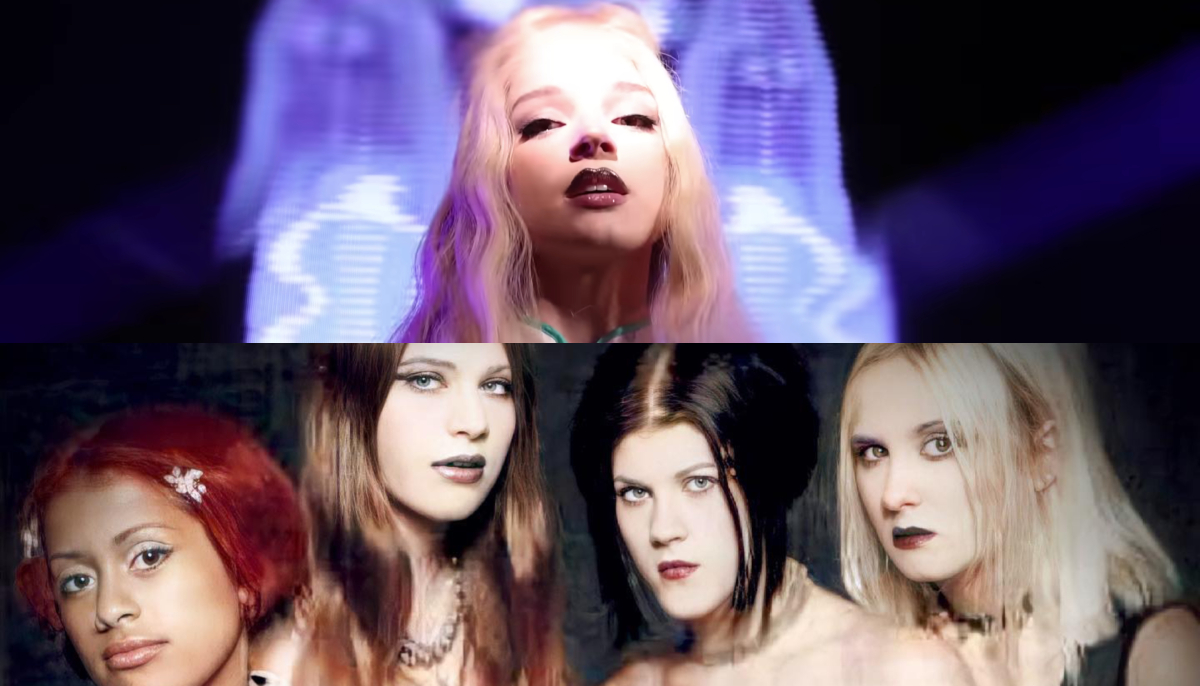 Poppy is very much a trailblazer when it comes to alternative music. Flitting between whatever sound and style she wishes at the speed of light whilst showing no fear in the face of what people may think of what she produces, it is an attitude that we can all learn something from. But as well as being a trailblazer in the modern day, she is also an artist who wants to pay tribute to the trailblazers of the past.

One such trailblazer is Kittie, one of the early '00s most brilliantly dark and destructive all-girl groups. Delivering their own take on nu-metal and heavy metal in a scene that was heavily male-dominated, they served as inspiration for a whole generation of women to do what makes them happy and create the art that their heart screams for.

So that's how we have ended up here, with Poppy covering Kittie's classic track "Spit". Taken from their 1999 debut album of the same name, it is a vicious experience, full of baited breaths and dark threats over a cathartic collection of razor-sharp riffs. And Poppy takes all of the aggression and angst of the original and brings it crashing into the modern-day in extreme style. Polished, punishing and powerful in all the right ways, it's an incredible salute to a band that helped so many who followed them to shine.

And here is the original just to let you know how they compare:

Poppy is set to tour the US alongside PVRIS this Summer. Here are all the dates:
Aug 18 – Seattle, WA @ Showbox SoDo
Aug 19 – Portland, OR @ Roseland Theatre
Aug 22 – San Francisco, CA @ Regency Ballroom
Aug 24 – Los Angeles, CA @ The Wiltern
Aug 25 – Tempe, AZ @ Marquee Theatre
Aug 26 – Las Vegas, NV @ Brooklyn Bowl
Aug 28 – Salt Lake City, UT @ The Complex
Aug 29 – Denver, CO @ Ogden Theatre
Sept 01 – San Antonio, TX @ Aztec Theatre
Sept 02 – Houston, TX @ House of Blues
Sept 03 – Oklahoma City, OK @ Tower Theatre
Sept 06 – Kansas City, MO @ The Truman
Sept 07 – Minneapolis, MN @ First Avenue
Sept 09 – St. Louis, MO @ The Pageant
Sept 10 – Columbus, OH @ KEMBA Live!
Sept 13 – Pittsburgh, PA @ Roxian Theatre
Sept 14 – Cleveland, OH @ House of Blues
Sept 15 – Toronto, ON @ History