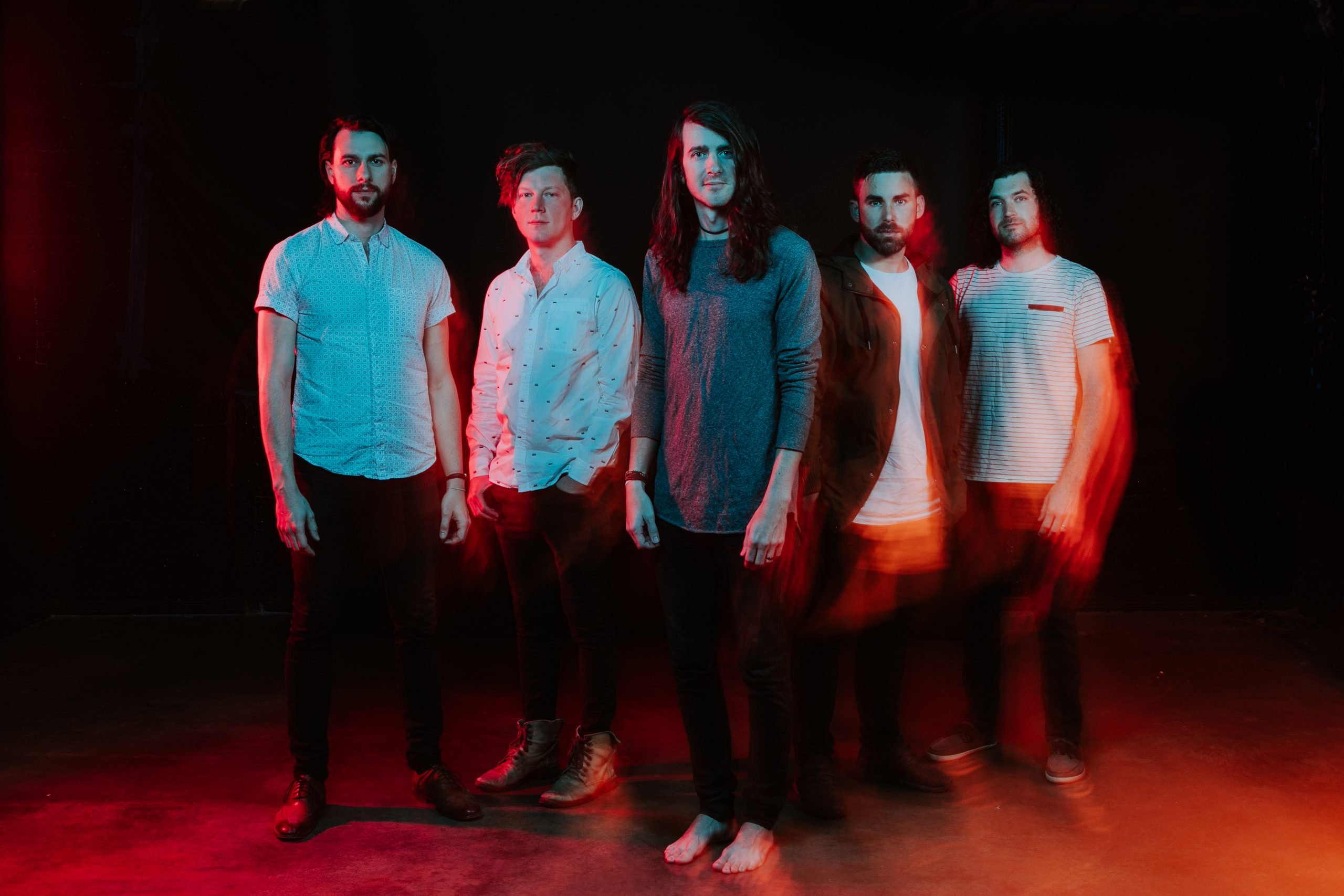 A lot can change in ten years: personalities, tastes, relationships. For Mayday Parade the last ten years have been a chance to grow as a band, explore new ways to entertain, and to connect with their fans. Which is why—almost exactly a decade after seeing them live for the first time—I'm sitting on a tour bus in Chicago, chatting with frontman Derek Sanders.
We're at the back of the bus. On one side of Sanders, guitarist Brooks Betts is fiddling around on a laptop, on the other, bassist Jeremy Lenzo pre-signs a stack of Sunnyland CDs. The window is cracked open a little bit, letting in the crisp Chicago breeze and the sounds of traffic barreling past tonight's venue. The Metro Theater doors have been open for about twenty minutes but the line to get in still stretches down the street, people huddling together to stay warm.
Sanders' foot is wrapped up in a cast—he fractured it a few weeks ago—but that doesn't stop him from bouncing around on stage. Good thing too, Mayday Parade is currently in the middle of not one but two tours. In between shows celebrating the tenth anniversary of their second album, Anywhere But Here, they've been performing a mix of originals and covers on the Forever Emo tour. If you've been listening for a while you'll be familiar with their various contributions to the Punk Goes series (who amongst us hasn't jammed to "When I Grow Up"?), so a tour entirely built around covers makes a lot of sense.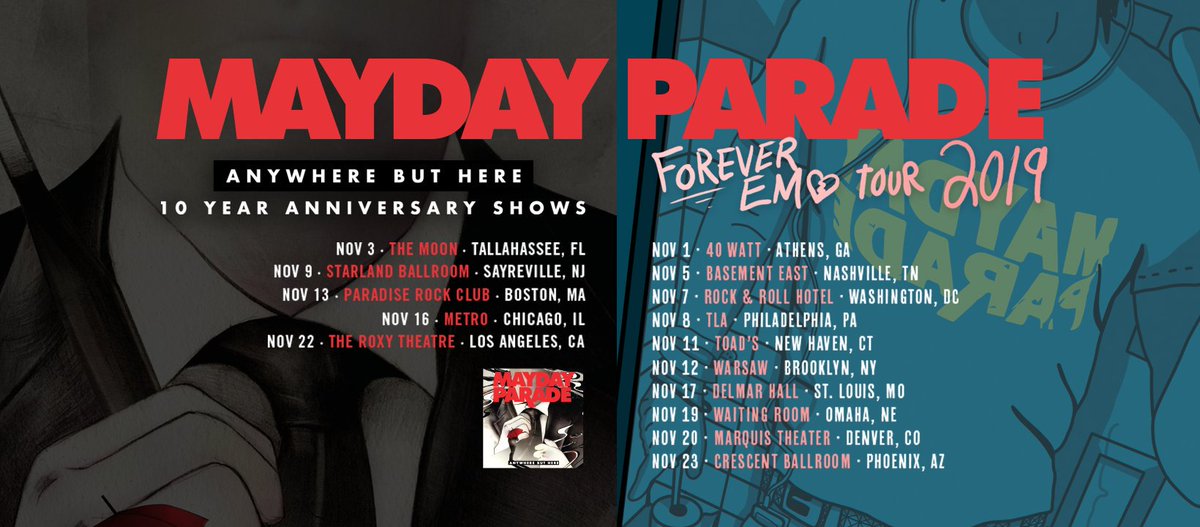 "We decided to do these hub cities for Anywhere But Here so we tried to spread it out versus doing an entire tour," Sanders explains, a change from the full tour they did for the A Lesson in Romantics anniversary two years ago. "With this setup, it made more sense to tour in between shows and we had been talking about this idea of doing a live emo night thing for a while so it felt like a good opportunity to merge those two ideas." He laughs ruefully. "It's been a lot of fun but it's a lot to prepare for and build both of these sets. All of us had many conversations about it and we tried our best to balance what we want to play and what the crowd's going to be the most stoked on," he says of the setlist-picking process. "It's a lot of relatively older stuff, mostly bands that inspired Mayday Parade, bands who we listened to in high school…it's kind of a throwback thing but it's a lot of fun."
Meanwhile, the Anywhere But Here shows give Mayday an opportunity to play songs that rarely see the light of day. I ask Sanders if there are songs in their extensive catalogue that he wishes they could play more often and, after thinking for a minute, he admits, "One of those songs, for a long time, was "So Far Away", which is a b-side in the deluxe edition of Anywhere But Here. I love that song, I love the energy of it. With so many albums, there's a decent amount of songs that never end up being played…that would be the cool part of the ten years tours."
It's hard for the band to know now if they'll do anniversary tours for every album, but it's something Sanders is considering. "I imagine we will [tour] for the self-titled album two years from now and then we'll have to see. At the very least, we'll play a few shows for each ten year anniversary." He laughs, pointing out that by the time they play a ten-year show for Sunnyland, they'll be ready to celebrate twenty years of A Lesson in Romantics.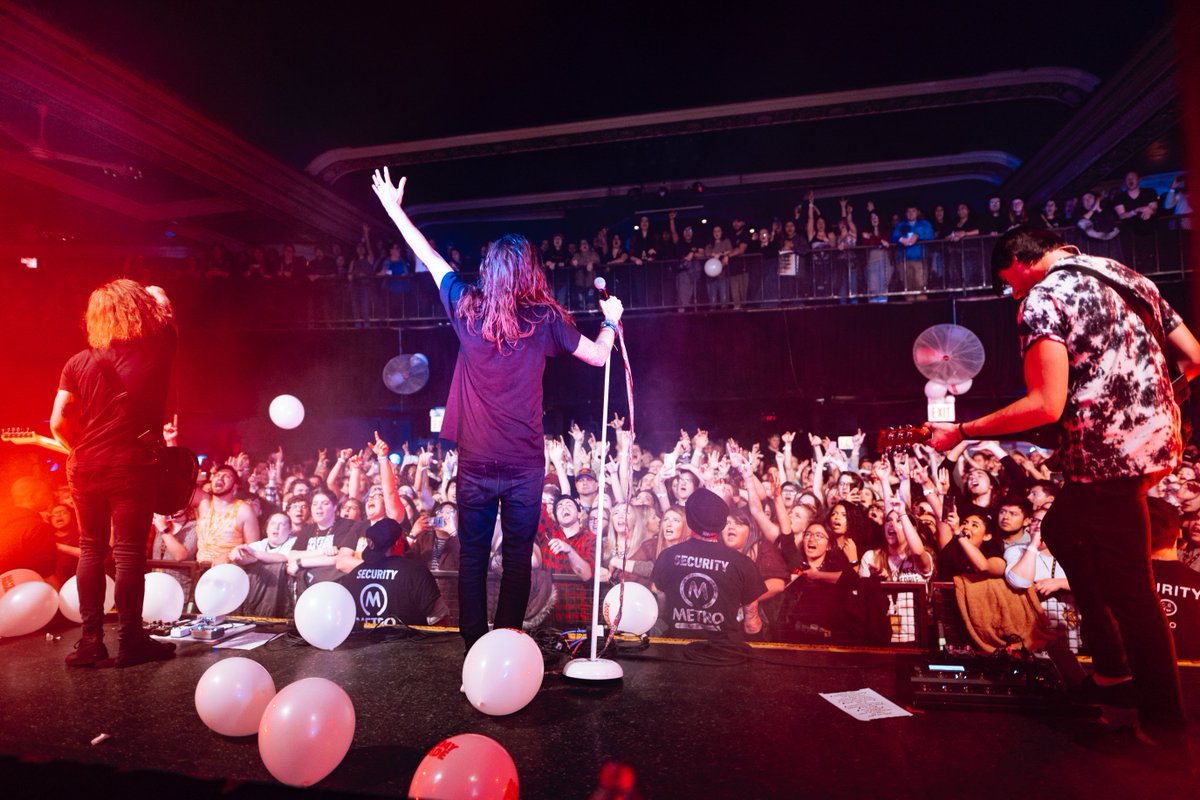 Back when Mayday Parade was first starting out, none of them ever dreamed that they'd be celebrating ten years as a band, nevermind ten years of a sophomore album. "From the start of this band, we were always looking six months to a year ahead and anything beyond that…" Sanders pauses. "We didn't even think about what's next." Fast forward fourteen years and they're playing a sold out show in Chicago for their sophomore album. An album, Sanders says, that they weren't even sure would happen.
He mentions it on stage during their set, but here in the bus he confides, "It was a difficult time for the band and we have a lot of mixed feelings about the whole process of making this album and the end result." Thankfully, they powered through any misgivings they might have had at the time, which helped them grow into the band they are now.
Mayday Parade has had their ups and downs, like every other band, but if there's one thing that is consistent it's their dedication to their craft—whether it's touring or regularly putting out new music. As someone who's been listening to them for over a decade, I find it interesting how their sound shifts and changes from album to album.
"We've steered in a couple of different directions and tried out different things," says Sanders. "But it's still rooted in the same thing it's always been. We write sad songs and mostly rock or pop-rock songs. Black Lines was darker and heavier, but Sunnyland brought back the older Mayday Parade sound. We try different ideas but the core of it is relatively the same—there are songs on Sunnyland that sound like they could be on A Lesson in Romantics…it all ties together."
More than just making new music is their willingness to go out and play shows. This year alone, they've done a variety of tours—from their first performance of 2019 at 8123 Fest to stints in Europe and Asia, not to mention Sad Summer Fest and their current run of two different headlining tours. Sanders cheekily hints there are more dates in the works for 2020.
Despite all of that, their schedule is not as grueling as it had been. "We don't tour quite as often as we used to, it's slowed down over the years," explains Sanders. Keeping the balance between music and family, he says, involves making sure there are always breaks here and there. "In the early years, we'd hit the road pretty hard, go nonstop for seven months at a time. We wouldn't do that now." He smiles. "It's our job at this point, it's not something we can just set down."
Like any job, Mayday Parade tries to keep it fresh and exciting. For example, last year saw them leave their longtime label Fearless and sign to Rise Records in time to release Sunnyland. "For the most part, nothing's really all that drastically different, at least from our end of it," Sanders muses. "Both labels are great and let us do our own thing creatively and offer support. We'd been at Fearless for so long and most of the folks we were close with weren't even there anymore so we didn't have the same attachments. We felt like trying something different." Even with a label change, Mayday Parade is as busy as ever. Sanders teases that in addition to more exciting tour announcements, new music is on the horizon. At the end of the day, both Fearless and Rise prioritize their artists' happiness and "that's the most you can ask for."
If you've ever seen Mayday Parade live, it should come as no surprise to hear Sanders talk about the importance of being kind to each other. It's something he seems to mention at every show and some of it stems from Mayday's first few years on the scene. "We learn a lot from other bands that we tour with, especially in the early days," he says. "Back in 2007 we toured with Plain White T's…we'd done these really small tours before that, nothing on that level. They were great to all the bands and created a very welcoming environment. We've always tried to pass that along and try to be cool to everybody. You always have to try to stay positive and be kind to everyone you meet."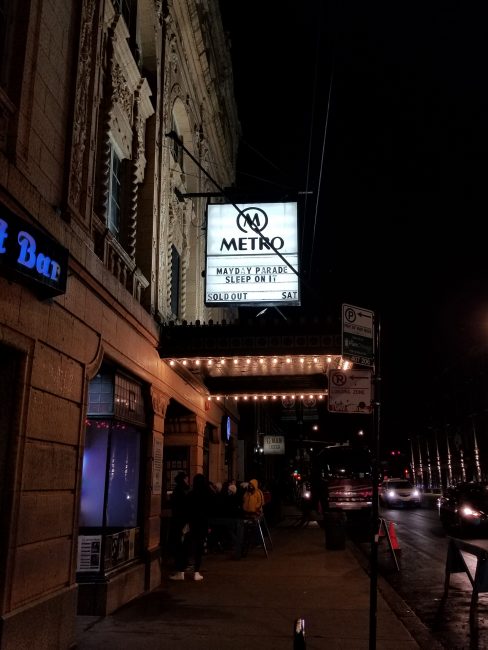 It feels, in a way, like Mayday Parade is still paying it back. They constantly bring smaller bands out on tour with them and these two runs have a different band opening on each date. For the most part, it's someone local (in this case it's Chicago's own Sleep On It). Despite having been a band for nearly fifteen years, Mayday Parade stays humble. "It's pretty crazy we've been a band for so long," says Sanders as the interview wraps up. "We appreciate that we've had the opportunity to do all the things we've done. It's unreal to go out in front of people and sing our songs for a living."
Being in the crowd for the Anywhere But Here show is an experience. It's been sold out for two months and Metro Theater is packed to the gills. When the band storms on stage and the opening riff of "Kids in Love" kicks off, the crowd explodes and the energy doesn't die down for the rest of the night.
During "Get Up" Sanders holds the mic out to the audience in time for them to shout the "I can't get Chicago off my mind" line. It's a joyful moment and even though I'm not actually from Chicago, I too feel my heart expand with pride. A few songs later, before Sanders plays "I Swear This Time I Mean It" on his acoustic guitar, he takes a minute to thank the crowd for being there—not just that one night but every moment of their career thus far. "Touring is what saved us from breaking up [after this album]," he admits to thunderous applause.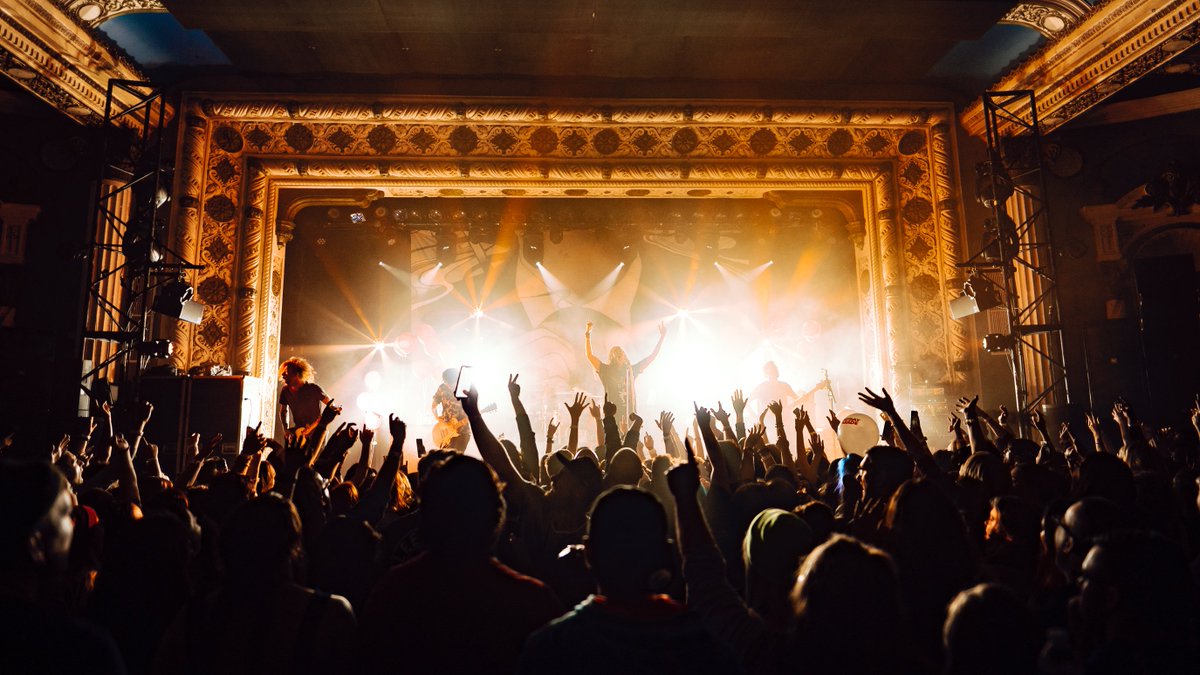 When the core album is done, Sanders announces that it's time for the b-sides—two songs that I have to admit I didn't realize existed until about a week before the show. The same cannot be said for the crowd. All around me, people scream the lyrics back at Sanders. The set is rounded off with a couple of their biggest hits, "Piece of Your Heart" "Oh Well, Oh Well" and "Jamie All Over", and the encore consists of a cover of "Grand Theft Autumn" (for some more hometown pride) before ending with an energetic rendition of "Jersey".
A lot can change in ten years, but Mayday Parade's ability to put on a show that gets your heart racing and your feet moving has never changed. Stumbling out of the theater and back into the cold Chicago streets with my ears ringing and my throat sore from singing along, I'm reminded of just how satisfying it is to walk out of a Mayday Parade show knowing that the next time I see them, they'll bring that same amount of passion and joy to the stage all over again.