Today we talk about last night's Emmys, share how we are moving forward in the pandemic, give a Gabby Petito update, and gush over Broadway Does Punk.
Emmys Highlights
Ted Lasso, Mare Of Easttown, and The Crown swept the Emmys last night. The Lead Actor and Lead Actress awards went to Ewan McGregor and Kate Winslet respectively. To be honest, a lot of shows that were nominated felt like they were released an entire lifetime ago. Hamilton and The Mandalorian were nominated for Outstanding Variety Special and Outstanding Drama Series, for example. A lot of other great television shows didn't see a single award. I guess there could only be one winner of each category but an important thing to note is that there wasn't a single person of color who won in the top 12 categories. Once again, a Hollywood award show failed to recognize more diversity. Outside of these categories, it was bittersweet. RuPaul officially became the most awarded person of color, with a total of 12 Emmys. Another notable win was Michaela Coel's long deserved award for Limited Series Writing for I May Destroy You, which she also co-directs and stars in. She dedicated her award to "every single survivor of sexual assault" and encouraged writers to "write what scared them". While we love to see the progress, and the talent we love getting recognized, these award shows still seem to have a long way to go.
—
—
Making Progress in the Pandemic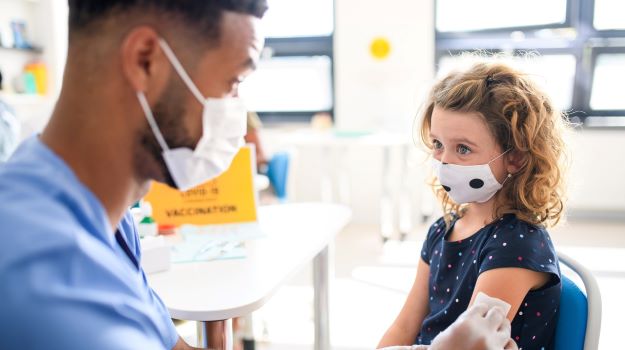 It seems like a little glimmer of hope when we make progress towards helping more people and restoring our world back to normal after over a year and a half of facing the Coronavirus. Two announcements have been made that seem to be positive. First of all, the Pfizer vaccine has now been deemed safe for children ages 5 to 11. With kids mostly back in school, this is a huge step in restoring normalcy for our children moving forward. Pfizer CEO, Albert Bourla told NPR that pediatric cases for the virus have gone up by 240% since July, making it crucial that they have an option to get vaccinated.
The White House also announced today that the European travel ban, that has been in effect since March 2020, will be lifted and travel may resume at the beginning of November. European travelers must show proof of double vaccination and a negative COVID-19 test that took place within three days of travel. Lifting this ban will not only give us more freedom but will hopefully help economically as well.
—
—
Gabby Petito Update
A lot happened over the weekend with the Gabby Petito case. The biggest bit of news, and clearly the most heartbreaking, is that a body was found in Teton National Park that matched the description of the 22-year-old. While the FBI held a press conference, and is still not confirming that it is the missing woman, the verbiage that officials and Petito's family are using has led to speculation that it is her. Grand Teton County, Wyoming Coroner Brent Blue announced this morning that an autopsy will be done tomorrow and it's likely that more information won't be released until the results are communicated with the person's family. Police have not released any details on their search but many are speculating that it was aided by YouTubers Red, White, and Bethune who spotted Petito's white van in one of their videos while visiting Teton National Park. They claim to have turned their video over to the FBI, giving searchers a more narrowed down area to go through.
However, there is a whole other side to this case that has many people furious. It was reported on Friday by several news sources, including CNN, that Brian Laundrie, Petito's boyfriend and travel partner, is "missing." The Petito family then released a statement via their lawyer, claiming that he is not missing, he is hiding. Laundrie's family claim, through their lawyer, that their son has actually been gone since last Tuesday, when he told them he was going on a hike. He allegedly never returned home and his parents went to retrieve his Mustang from the Carlton Reserve, where he told them he would be. There has been a lot of speculation on the internet as to where he is and if his family aided his disappearance. Nothing has been confirmed and the investigation continues.
CNN also reported that, as of this morning, the Laundrie house has been deemed a crime scene. The FBI showed up, declared a search warrant, and escorted the parents out of their home and into a van. The Laundries sat in the van up until the past couple of hours, when they were escorted back into their home with the FBI, and Brian Laundrie's Mustang was towed away.
—
—
Broadway Does Punk
UNWELL frontman, Matt Copley has taken on a project of his own that is all we've listened to this weekend. The musical theatre major has taken his expertise in the genre, as well as his experience and love for pop-punk, and created an incredible mashup of the two. Two songs from his series, Broadway Does Punk dropped on Friday. Wicked's "Defying Gravity" and The Greatest Showman's "The Greatest Show" have already totally captured our attention, as well as the attention from people like Rachel Brosnahan and Darren Criss. As of today, you can now purchase and stream "Phantom of the Opera", which is already #8 on the iTunes Rock Chart. Copley started his endeavor as a series on TikTok that took off and gained millions of views. We know more is to come but, for now, fall in love with the series on TikTok here or stream and download the released song here.