[Bottom Left Clockwise: Art by Kat Nijmeddin/Pure Noise records, Photo via Metallica, Photo via Manchester Orchestra]
Today we've got Metallica announcing a reissue of their self-titled The Black Album and a 53 song covers album, Pure Noise Records drops LoFi Volume, and Manchester Orchestra reveals the dates for The Million Masks of God tour.


Metallica Announce 53 Song 'The Black Album' Covers Album
Metallica has announced something special to celebrate the 30th anniversary of their self-titled The Black Album. In addition to a reissue/remaster, the band is also releasing a collection titled The Metallica Blacklist which will feature covers of songs off The Black Album by 53 different artists. Some of the contributors include: Miley Cyrus, Elton John, Watt, Yo-Yo Ma, Chad Smith (Red Hot Chili Peppers), Phoebe Bridgers, Dave Gahan (Depeche Mode), My Morning Jacket, Darius Rucker, and Dermot Kennedy. Proceeds from The Metallica Blacklist will go to All Within My Hands and charities of each artist's choice. Ahead of the release on September 10, you can get a sneak peek at the covers in a new trailer. 


Pure Noise Records Releases LoFi Volume
If you're looking for a chill playlist to throw on while you work or study then look no further: Pure Noise Records just dropped LoFi Volume, filled with songs from artists on their roster covered by Mik & Less Gravity. You can stream the tracks here. 

Manchester Orchestra Reveal The Million Masks of God Tour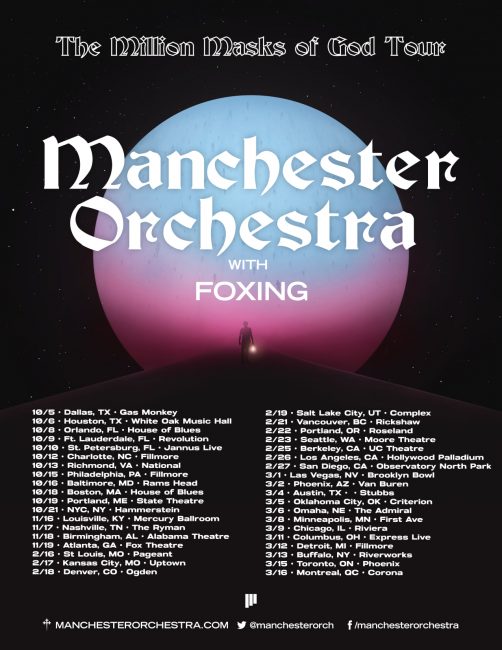 Manchester Orchestra will make their return to the stage across the United States on The Million Masks of God tour. The dates start in early October and extend through March of 2022. They will be joined by Foxing for the entire tour. Pre-sale tickets and VIP packages are available now with general sale starting Thursday. For more information head here.