[Left Clockwise: Photo via State Champs, Photo via Maya Wiley, Photo via Disney, Photo via Jim Powers]
Today we have a new teaser for Disney's The Mysterious Benedict Society, the Pure Noise Records tour returning this fall, The Strokes debut a new song, and Dave Chappelle joins Foo Fighters on stage to cover Radiohead's "Creep".


Disney+ Reveals Teaser for The Mysterious Benedict Society 
Ahead of it's two episode premiere next week, Disney+ has dropped a teaser for it's upcoming series The Mysterious Benedict Society. Based on the YA books by Trenton Lee Stewart, the series follows four gifted orphans who are recruited by Mr. Benedict to save the world from a crisis. You can catch The Mysterious Benedict Society on Disney+ June 25. 


Pure Noise Records Tour Returns This Fall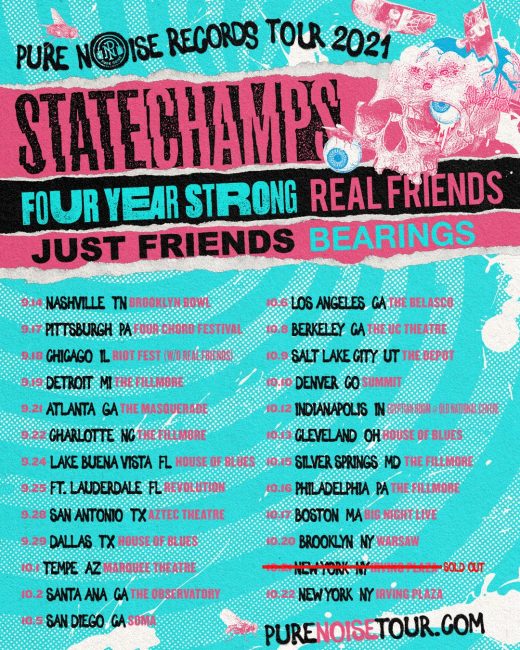 Don't be shy, open up your wallet because there's another tour you won't want to miss this fall. The Pure Noise Records tour will be back with State Champs, Four Year Strong, Real Friends, Just Friends, and Bearings. Tickets go on sale this Friday at 10am local time. For more information head here.


The Strokes Debut New Song In Maya Wiley Mayoral Ad
After a packed out show at NYC's iconic Irving Plaza, The Strokes have debuted a new song in a Maya Wiley mayoral advertisement. Fans can hear a teaser of the new track titled "Starting Again" playing throughout the television advertisement. Cowriters Julian Casablancas and Gregg Alexander shared in a joint statement, "In an era of voter suppression and mega donors dismantling democracy, it's crucial to remember New York City is too important to risk handing the reins of America's most diverse metropolis to the same kind of party machine that's controlled NY's governance for most of the 20th century… one of Brooklyn clubhouse politics, big real-estate money, and mutual back-scratching. It is time we elect Maya as the city's first woman mayor to make things better for ALL of our futures."


Dave Chappelle Joins Foo Fighters for Radiohead Cover
If you missed the first big gig in NYC, don't worry you missed a lot…like Dave Chappelle showing up to the Foo Fighters show to belt out Radiohead's "Creep". Although Chappelle is no stranger to covering the song, it is a first with the Foo Fighters and at the first full capacity show at Madison Square Garden. Check out this fan shot video of the team up and get ready for the return of live music in NYC!