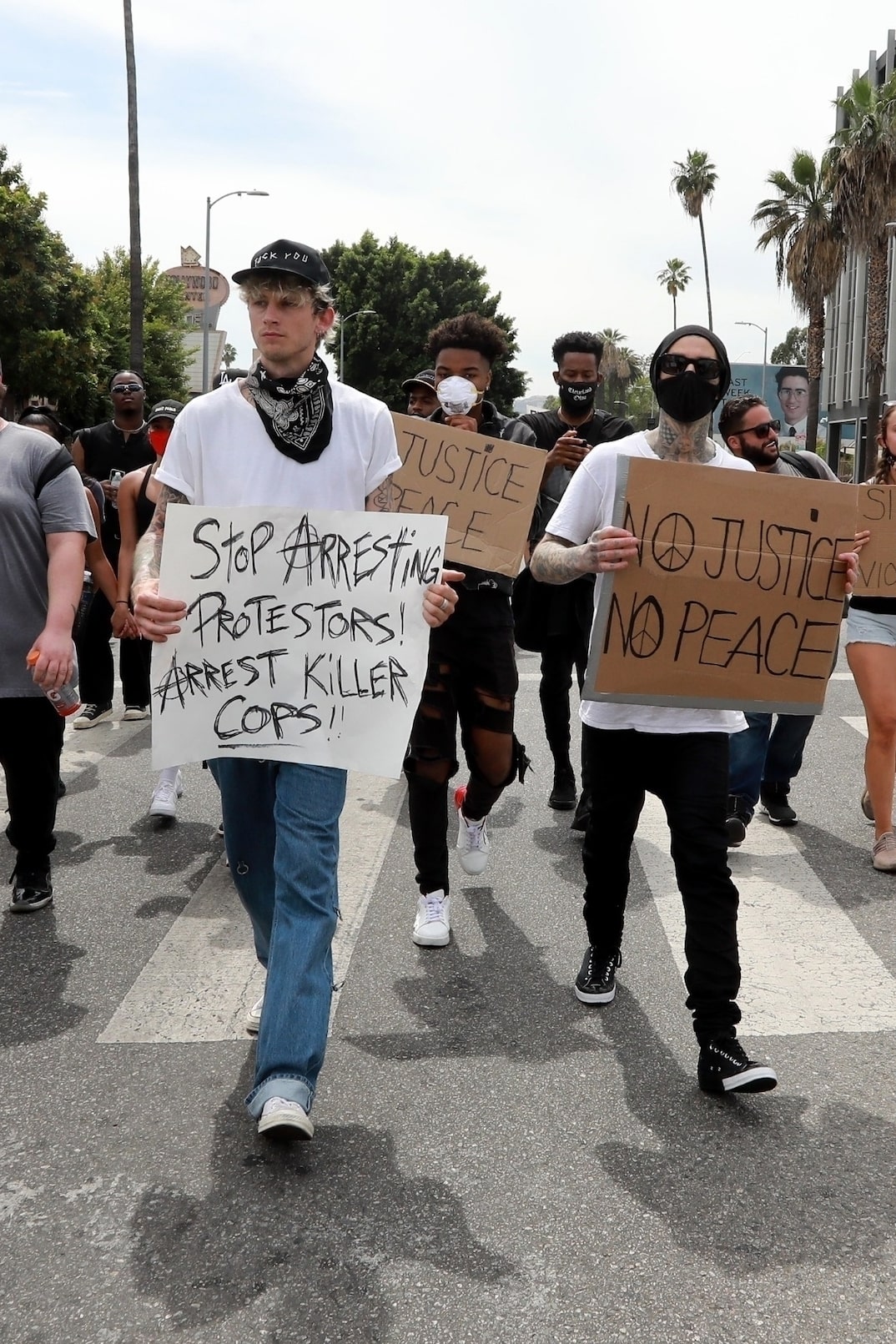 We are all looking for ways to support the Black Lives Matter movement (find a list of resources here) and that includes artists and creatives. It's incredible to see people you admire taking a stand, using their platforms to amplify black voices and advocate for change, and doing what they can to stand on the right side of humanity. Here's a list of some artists making their voices heard:
Lizzo
Lizzo has been posting videos on Instagram to spread awareness, educate, and provide information on where you can go to make a change. She's remained vocal and has used her talent to grab her fans' attention and point them in the right direction.
Halsey
Halsey has also been vocal on social media and she's been seen protesting in Los Angeles. She was spotted helping fellow protestors who were injured by police. She was hit with rubber bullets herself early on while demonstrating.
ICE T
Ice T has been BOLD on Twitter and has not held back at all on his thoughts. He hasn't sugar coated a damn thing and is clear and consistent in speaking out.
Please shut the Fuck up…. https://t.co/I9PA201Vsu

— ICE T (@FINALLEVEL) June 5, 2020
Ariana Grande
Ariana Grande went out to protest in Los Angeles and passionately spoke on the peacefulness of it all. She's also putting out calls to action frequently to demand change.
hours and miles of peaceful protesting yesterday that got little to no coverage.
all throughout beverly hills and west hollywood we chanted, people beeped and cheered along.
we were passionate, we were loud, we were loving.
cover this too please. #BLACKLIVESMATTER https://t.co/vD90CEtF94 pic.twitter.com/GZ6uKDfPM7

— Ariana Grande (@ArianaGrande) May 31, 2020
Awsten Knight
Waterparks' Awsten has never been shy on Twitter. This past week he has donated, promoted petitions to sign, and attended a Los Angeles protest.
#BlackLivesMatter #NoJusticeNoPeace #JusticeForGeorgeFloyd https://t.co/NDOXesGg7V pic.twitter.com/PVmWY2aCLH

— DANNY FANDOM (@awsten) June 2, 2020
#BlackLivesMatter https://t.co/cZbSYaKks2 pic.twitter.com/1lNn1803YP

— DANNY FANDOM (@awsten) May 30, 2020
Beyonce
Beyonce has used her giant following to guide people to where they can make a difference. She also had some encouraging words for graduates.
Harry Styles
Harry Styles went incognito to protest in LA. He donated money to bail funds for protesters who have been arrested. He has made a couple of posts on social media but has mostly shown his support by going out and protesting.
Billie Eilish
Billie Eilish has always spoken her mind freely and she really let out all her feelings (in the best way) on Instagram. She educated the "all lives matter" folks on why that's a bunch of crap! Since then, she has continued to use her platform to provide resources for people to continue supporting the movement.
Kanye West
There is always controversy surrounding Kanye and he took a while to speak out. There was plenty of commentary on how he hadn't spoken up about the protests when he has often been vocal politically before. However, according to CNN, he paid the legal fees for the families of Ahmaud Arbery and Breonna Taylor, setting up a college tuition fund for George Floyd's daughter Gianna, and donating to black owned businesses.
J Cole
J Cole isn't one to post on social media regularly but instead he has shown his passion for the movement by going out to protest in Fayetteville.
Someone turned this picture of J. Cole protesting into an album cover pic.twitter.com/TI6MaTEFSk

— XXL Magazine (@XXL) June 8, 2020
Hayley Williams
Hayley Williams handed over her Instagram account to Teens For Equality on June 8th. During the takeover they made posts that sparked controversy and subsequently took them down due to the backlash. When Hayley took her account back over, she restored the deleted posts out of support for the statements being made by the young activists.
Bruce Wiegner
idobi's own Bruce Wiegner has been incredibly vocal. He made his thoughts known on social media, has gone out to protest in Los Angeles, made donations, encouraged others to go out, and has even reached out specifically to others to tell them that it's time to speak up.
There is a lot to take in right now and I know a lot of people are sufffering. My DM's are open. Anything you need I will do my best to help. Never a burden, always loved

— BRUCE (@BruceWiegner) June 2, 2020
Mura Masa
There aren't enough women of color on touring crews in the music industry. To combat this, Mura Masa has offered weekend courses for 10 women from the black community to train in live music roles in London.
Dove Cameron
Dove Cameron has not only been vocal on both Twitter and Instagram but has also been sure to connect with her audience on a personal level.
checking in : how are you feeling

— Dove Cameron (@DoveCameron) June 10, 2020
i am always trying to source new ways/new material within myself to call on when i am anxious, as it's always changing. right now exercise is helping my low dopamine levels, writing affirmations to get myself out of repetitive (ocd) thinking patterns, stretching and breathing ???? https://t.co/sFFSpxqMuM

— Dove Cameron (@DoveCameron) June 10, 2020
Travis Barker & Machine Gun Kelly
We've seen these two work together before but their new cover of Rage Against The Machine's "Killing in The Name" sends a powerful message. On top of that, they've both been protesting and speaking out on their own platforms.
FEVER 333
FEVER 333 educated their fans by doing a live stream with advice on how individuals can use their voices to make a difference.
Fall Out Boy
Fall Out Boy shared on their social media that they will be showing their support by donating $100,000.
black lives matter pic.twitter.com/TDNrrhLu2L

— Fall Out Boy (@falloutboy) June 8, 2020
The Maine
The Maine took their passion to their fans to raise money, sign petitions, and speak out. The band members themselves donated and also gave 100% of June 3rd & 4th's profits made off of their website to the black community. They also held a raffle for fans who donated as well. On top of that, they have handed over the 8123 Festival's blog to people in the black community so that they can use their voice, and we could listen and learn. 
May 29, 2020
All Time Low
The band has taken a stand on their social media platforms. They joined other artists in the fight for the black community and donated to various organizations.
We're taking the #artistsforblacklives pledge in a continued effort to fight the injustices black communities face in this country (and all over the world) every day. We'll be sharing and donating to different organizations that do incredible work and need our support. pic.twitter.com/A43pyNlncu

— All Time Low (@AllTimeLow) June 5, 2020
BTS
BTS donated $1 million to Black Lives Matter and, within a day, their fan base matched their donation. On top of that, K-pop fans came together to drown out anti-black hashtags on Twitter by using them to post memes.
Since @BTS_twt have donated one million dollars to #BlackLivesMatter, you all have begun the #MatchaMillion project. Many of you have been asking for updates, and we can share the current total from the #BTSARMY carrd: https://t.co/Ry3Vy1rQEb pic.twitter.com/FJpYEkMggc

— One in an ARMY⁷ Charity Project ???? (@OneInAnARMY) June 7, 2020
With Confidence
With Confidence has used their platform to raise money for different organizations by encouraging their fans to donate for the chance to win merch packs.
Send a screenshot donating to the charity of your choice to [email protected], and go in the running to win 1 of 20 merch packs. We will contact winners June 12 for their pick of 3 items from the store. There is no minimum or maximum to donations, give what you can!

— With Confidence (@withconfidence_) June 6, 2020
Emo Nite
Emo Nite hosted a virtual discussion led by black members of the alternative/punk community, in order to educate others. It was moderated by photographer Courtney Coles and included: FEVER 333's Jason Aalon, writer Hanif Abdurraqib, Issues' Sky Acord, Emo Nite's Aaron Brown, and Heart Like War's Jordan Calhoun. The talk's purpose was to give their audience a chance to listen and be educated by the experiences of black artists. If you missed the conversation, make sure to watch it below.