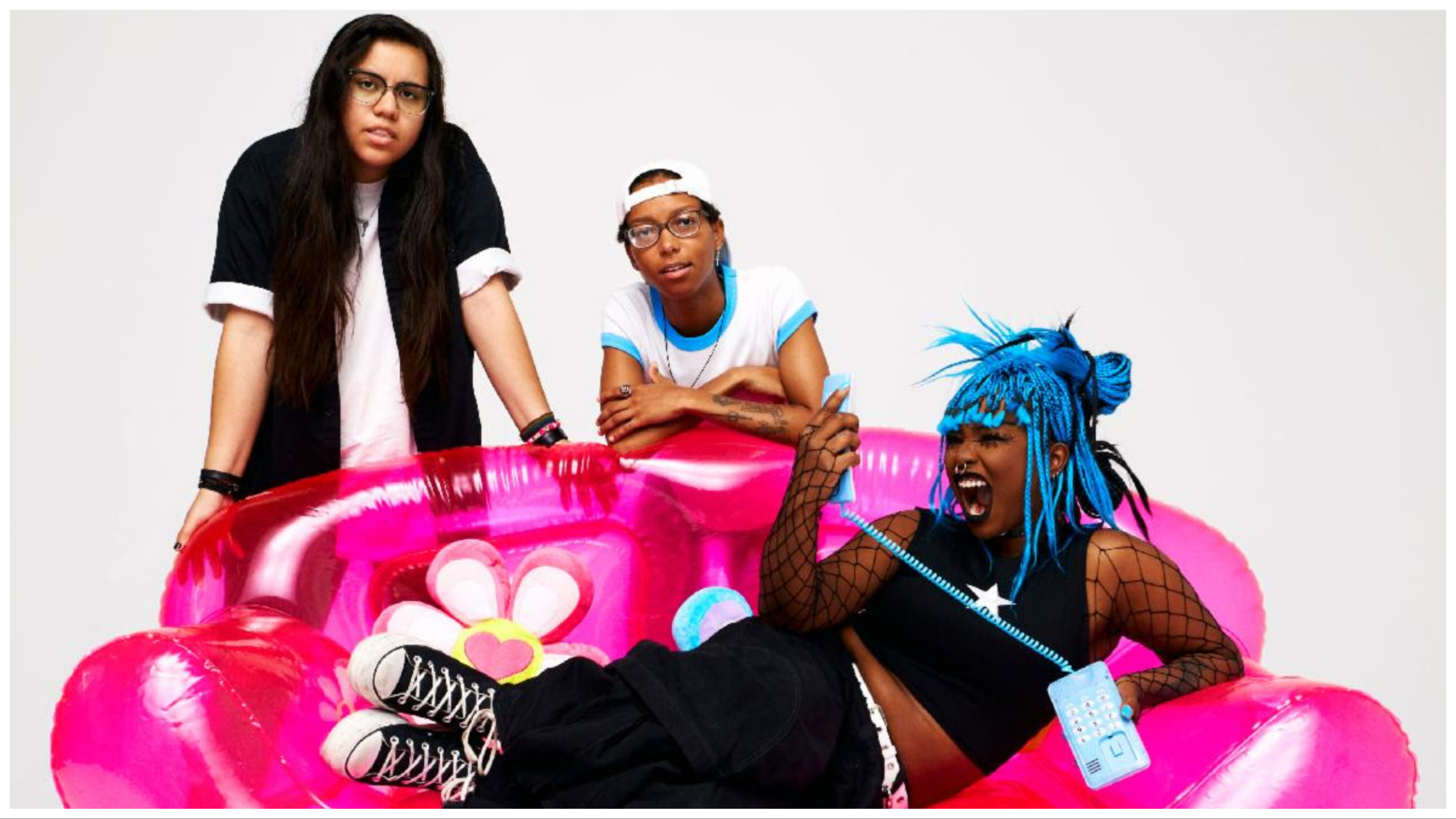 Get ready to hit the road—pop-punk trio Meet Me @ The Altar have announced their next massive headline tour "The Pink Couch Tour." The tour will see the group alongside support acts Kid Sistr and Chloe Lilac, and will kick off on May 23 in Richmond, VA following the completion of their premier headline tour. "The Pink Couch Tour" will also feature performances at the 2023 Hangout Music Fest, the inaugural Adjacent Festival, and several PRIDE events, including LA's OUTLOUD Raising Voices Festival. Tickets will be available on Friday, March 31 at 12 PM ET. You can get tickets here.
Since their inception, Meet Me @ The Altar have shown no signs of slowing down as they continue to ignite airwaves and stages across the world with their high-energy sound. Earlier this year, they announced their eagerly-awaited debut album Past // Present // Future during their first late-night television performance on The Late Show with Stephen Colbert.
Past // Present // Future, which dropped via Fueled By Ramen and was produced by John Fields (Jonas Brothers, P!NK, Miley Cyrus, Demi Lovato), arrived on March 10. Across the 11-track collection, featuring their anthemic single "Say It (To My Face)," the group pays tribute to the music that inspired them while growing up and has helped to mold them into the talented musicians they are today.
​​Meet Me @ The Altar will be wrapping up their first headline tour, the "Past // Present // Future Tour," on April 4 in Orlando, FL before heading out for "The Pink Couch Tour" in May. Check out the full Past // Present // Future album below as well as their latest music video for "T.M.I"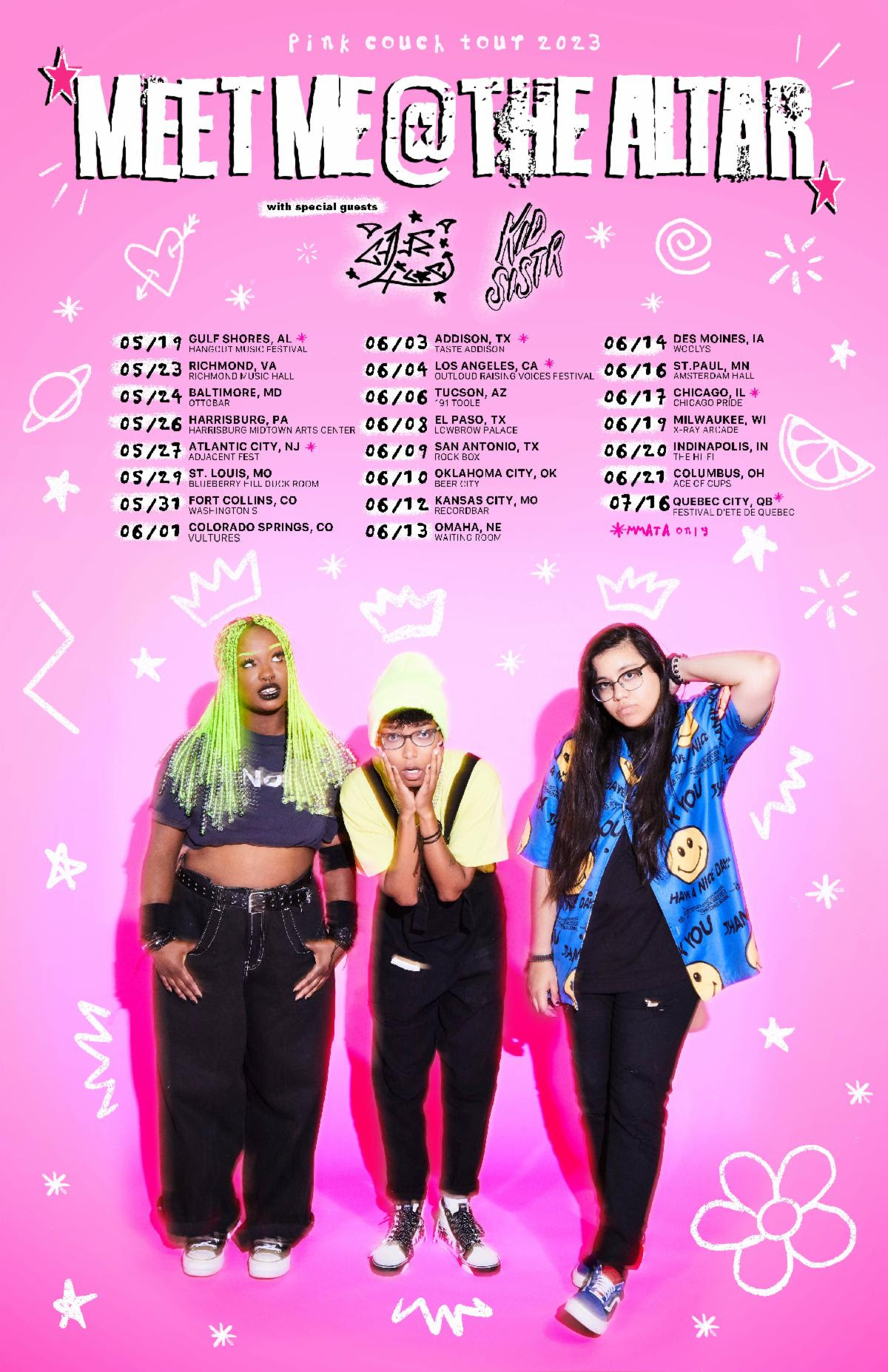 ALL TOUR DATES:
March 28—Houston, TX—House of Blues (Bronze Peacock)+
March 30—Nashville, TN—Basement East+
April 1—Atlanta, GA—The Masquerade – SOLD OUT+
April 3—Tampa, F —Orpheum+
April 4—Orlando, FL—The Abbey+
May 19—Gulf Shores, AL—Hangout Music Fest*
May 23—Richmond, VA—Richmond Music Hall^
May 24—Baltimore, MD—Ottobar^
May 26—Harrisburg, PA—Harrisburg Midtown Arts Center^
May 27—Atlantic City, NJ—Adjacent Fest^
May 29—St. Louis, MO—Blueberry Hill Duck Room^
May 31—Fort Collins, CO—Washington's^
June 1—Colorado Springs, CO—Vultures^
June 3—Addison, TX—Taste Addison*
June 4—Los Angeles, CA—OUTLOUD Raising Voices Festival*
June 6—Tucson, AZ—191 Toole^
June 8—El Paso, TX—Lowbrow Palace^
June 9—San Antonio, TX—Rock Box^
June 10—Oklahoma City, OK—Beer City^
June 12—Kansas City, MO—recordBar^
June 13—Omaha, NE—Waiting Room^
June 14—Des Moines, IA—Wooly's^
June 16—St. Paul, MN—Amsterdam Hall^
June 17—Chicago, IL—Chicago Pride*
June 19—Milwaukee, WI—XRay Arcade^
June 20—Indianapolis, IN—The Hi-Fi^
June 21—Columbus, OH—Ace of Cups^
+ With support from Young Culture and Daisy Grenade
* Festival appearance
^ With support from Kid Sistr and Chloe Lilac