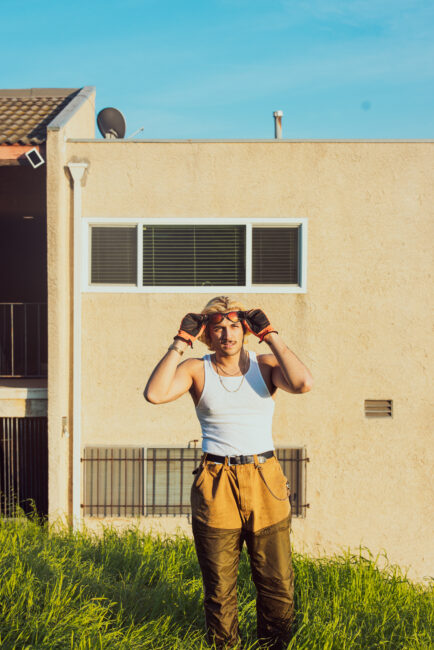 Seattle-born/LA-based artist, producer, and multi-instrumentalist Max Bennett Kelly has shared a brand new song "Superinlove (Roll Credits)," and it is a summer-soaked dream. The track comes as a teaser to his debut EP Junk Male out later this summer via AWAL. Along with the song, Max Bennett Kelly has also released a new music video that imagines him to be the protagonist of a romantic comedy, but a melancholy one where he doesn't get the girl.
He takes us through a retrospective of their tumultuous odyssey of a relationship, which spanned across the city of Los Angeles and sprawled and ambled like the city itself. To Kelly, his relationship with this Supercool artist girl, is fundamentally intertwined with his relationship with LA. While the drama of dating a fellow artist initially inspired him, it ended up distracting him from why he moved to the city in the first place – music. Check out the video below.
Speaking on the new track, Max Bennett Kelly shares: "Instead of writing music, I was going to parties, chasing this girl, and making myself unhappy," he admits. "I became the worst version of myself. 'Superinlove' is the epilogue to the story, and it's all in past tense."
His upcoming EP is his introduction to the world of who he is as an artist in full capacity. He has found the sweet spot between sticky hooks, unpredictable soundscapes and cleverly crafted lyricism. On the EP, Kelly shares: "I tried to make an authentic 90s album in the 2020s," Max explains. "I studied all of these classic records. Thematically, it's a hero's journey. I heed the call to adventure, find out it kind of sucks, and end up learning about myself. I don't have to be this Junk Male version of myself anymore. I'm in touch with what's important to me, what I like, and why I came to L.A. in the first place." Check out the EP cover art below and look out for a pre-order here.