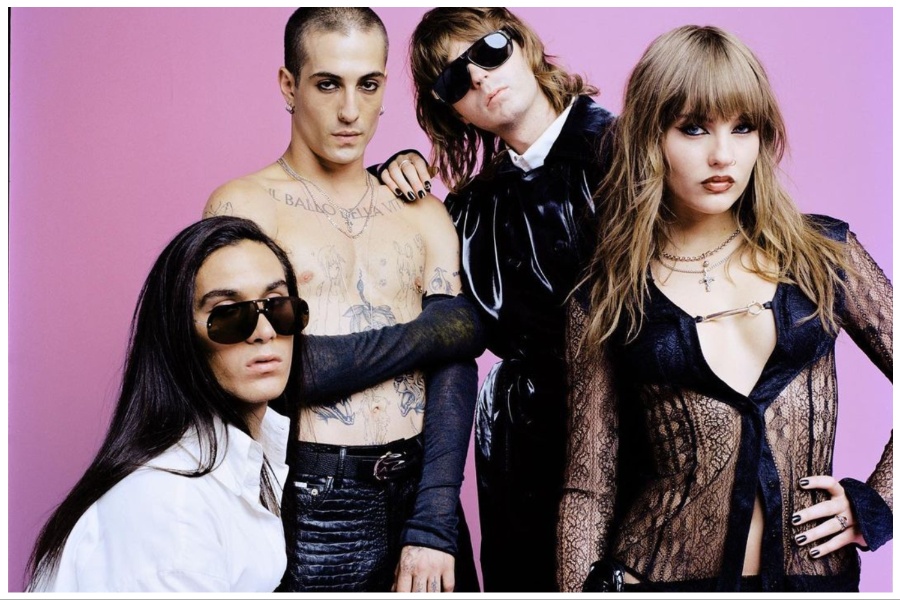 If you're anything like us, you've likely had "HONEY (ARE YOU COMING?)," the latest venture from Italian rockers Måneskin, spinning nonstop since its release on Friday, September 1. Today, the four-piece has given us an extra dose of Italian amor with the release of their official music video to accompany their stadium-ready anthem.
As they build anticipation for their eagerly-anticipated MTV VMAs performance on September 12 and their forthcoming RUSH! WORLD TOUR, the "Best Rock" nominees have channeled their electrifying energy, rock 'n' roll attitude, and signature sound into the vibrant visuals of "HONEY (ARE YOU COMING?)"—transforming it into a truly larger-than-life experience. The group's official visuals exudes the sensual allure of honey, underlining the group's magnetic sexuality, all the while elegantly capturing the profound themes at the core of the song: acceptance and enduring love.
Reflecting on the creative process behind the track, bassist Victoria De Angelis shares in a press release on Friday, September 1, "We wrote the song right after the last tour, we still had a lot of energy from the touring and the travelling. We wrote it in between London and LA. We're really happy with the result and we think it's something quite new for us."
"It's the story of someone who has no gender or anything, you decide whoever it is," frontman Damiano David adds. "Find someone else and they can see in their eyes that there's some sadness that they feel out of place and it's an invitation from one person to another to join them into this new adventure without knowing what they're actually going to find, but just enjoy the adventure."
This weekend, Måneskin kicked off the RUSH! WORLD TOUR with an electrifying performance in Germany. The setlist included their iconic Four Seasons cover of "Beggin'," "I Wanna Be Your Slave," "Gasoline," "HONEY (ARE YOU COMING?)," their MTV VMAs nominated single "The Loneliest," and more. Check out the full setlist from their September 3 performance and upcoming tour dates below.
September 3 Setlist
DON'T WANNA SLEEP
GOSSIP
ZITTI E BUONI
HONEY (ARE U COMING?)
SUPERMODEL
Iron Sky (Paolo Nutini cover) (Acapella)
CORALINE
Beggin' (The Four Seasons cover)
THE DRIVER (Live debut)
FOR YOUR LOVE
GASOLINE
IF NOT FOR YOU (Acoustic)
TIMEZONE (Acoustic)
I WANNA BE YOUR SLAVE
IN NOME DEL PADRE
MAMMAMIA
Girls & Boys (Blur cover) (Live debut)
KOOL KIDS
THE LONELIEST
I WANNA BE YOUR SLAVE (Reprise)
Tour Dates:
Sept. 6—Nancy, France @ Nancy Open Air
Sept. 21—New York, NY @ Madison Square Garden
Sept. 23—Columbia, MD @ Merriweather Post Pavilion
Sept. 25—Boston, MA @ TD Garden
Sept. 27—Toronto, ON @ Scotiabank Arena
Sept. 29—Chicago, IL @ Allstate Arena
Oct. 1—Detroit, MI @ Michigan Lottery Amphitheatre at Freedom Hill
Oct. 3—Nashville, TN @ Nashville Municipal Auditorium
Oct. 6—Irving, TX @ The Pavilion at Toyota Music Factory
Oct. 10—Los Angeles, CA @ Kia Forum
Oct. 13—Oakland, CA @ Oakland Arena
Oct. 15—Vancouver, BC @ Doug Mitchell Thunderbird Sports Centre
Oct. 20—Mexico City, Mexico @ Palacio De Los Deportes
Oct. 24—Bogotá, Colombia @ Movistar Arena
Oct. 27—Santiago, Chile @ Estadio Bicentenario La Florida
Oct. 29—Buenos Aires, Argentina @ Movistar Arena
Nov. 1—Rio de Janeiro, Brazil @ Qualistage
Nov. 3—San Paulo, Brazil @ Espaço Unimed
Nov. 20—Brisbane, QLD @ BCEC
Nov. 22—Sydney, NSW @ Hordern Pavilion
Nov. 23—Melbourne, VIC @ Margaret Court Arena
Nov. 25—Adelaide, SA @ AEC Theatre
Nov. 27—Singapore @ Singapore Expo
Dec. 2—Tokyo, Japan @ Ariake Arena
Dec. 3— Tokyo, Japan @ Ariake Arena
Dec. 5—Tokyo, Japan @ Garden Theatre
Dec. 7—Kobe, Japan @ World Hall
Dec. 14—Dublin, Ireland @ 3 Arena
Dec. 19—Manchester, UK @ AO Arena