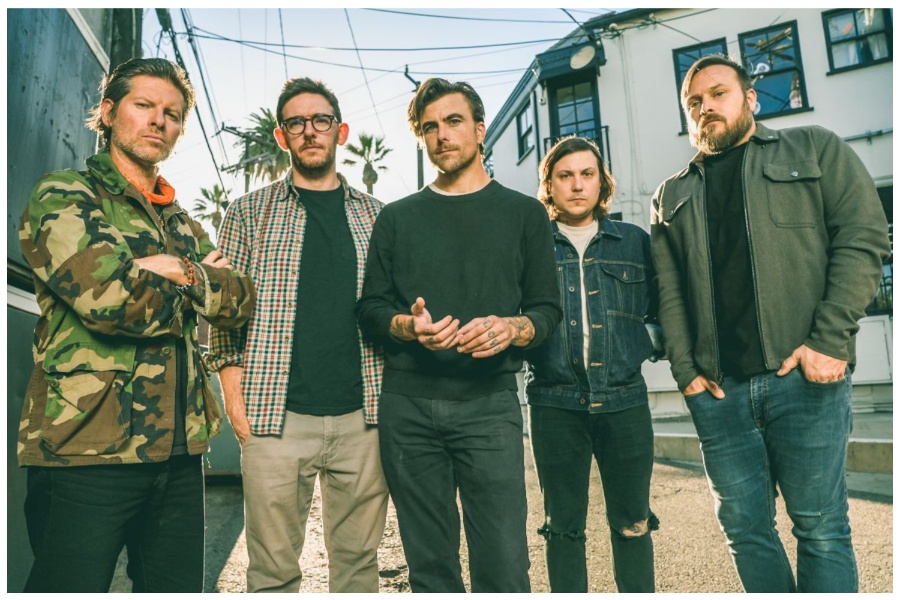 Fans of L.S. Dunes have something to celebrate today, and it's not new music. The modern rock quintet released the third and final installment of their 'Limitless Sky' documentary.
The Past Lives artists gave listeners and fans the opportunity to look into their writing and recording process at Joshua Tree. From talking about tracking and songwriting all the way to watching lead vocalist Anthony Green cook pasta for his friends, the laid-back video offers an intimate look at the behind-the-scenes of the guys' collaborative process. Check out the first and second installments of the documentary, then check out the third part below.
While at Rancho de la Luna, they recorded songs "Old Wounds" and "Benadryl Subreddit" with producer Alex Newport. In the documentary, Green praises Newport's working style, as he made the process easy and opted for takes that prioritized emotion, not perfection.
In an Instagram post, the band said, "​​The final part of our Limitless Sky documentary is officially out now. Not only did we have the best four days in Joshua Tree recording at the legendary @ranchodelalunastudio with @alexnewps but getting to hang together, make music and have the whole process filmed and documented was an experience that we won't ever forget. A huge thank you to everyone who was involved in making this happen and to @patdemarais & @nickdemarais for bringing this documentary to life."
Fortunately, the documentary reiterates that L.S. Dunes is much more than a listener-described supergroup with one album, they are here for the long haul.
"Being able to create music we love together has been so fulfilling and there's so much more to come," the band says.
You just might be able to hear new songs "Old Wounds" and "Benadryl Subreddit" in person on the upcoming Pierce The Veil Jaws Of Life Tour featuring direct support from L.S. Dunes, Dayseeker, and Destroy Boys. Plus, the band will be at Riot Fest this weekend on September 17. Check out the full list of dates below, and grab your tickets here.
Tour Dates:
Sept. 17—Chicago, IL @ Riot Fest *
Nov. 4—Sacramento, CA @ Hard Rock Live
Nov. 5—Fresno, CA @ Fresno Convention Center
Nov. 7—Phoenix, AZ @ Arizona Financial Theatre
Nov. 8—El Paso, TX @ UTEP Don Haskins Center
Nov. 10—San Antonio, TX @ The Espee
Nov. 11—Edinburg, TX @ Bert Ogden Arena
Nov. 12—Houston, TX @ 713 Music Hall
Nov. 14—Orlando, FL @ House of Blues
Nov. 15—Orlando, FL @ House of Blues
Nov. 17—Myrtle Beach, SC @ House of Blues
Nov. 18—Corbin, KY @ The Corbin Arena
Nov. 19—Macon, GA @ Macon City Auditorium
Nov. 21—Boston, MA @ MGM Music Hall at Fenway
Nov. 25—Reading, PA @ Santander Arena
Nov. 26—Columbus, OH @ KEMBA Live!
Nov. 28—Chesterfield, MO @ The Factory
Nov. 30—Chicago, IL @ Byline Bank Aragon Ballroom
Dec. 2—Des Moines, IA @ Vibrant Music Hall
Dec. 3—Minneapolis, MN @ The Armory
Dec. 5—Oklahoma City, OK @ The Criterion
Dec. 7—Las Vegas, NV @ Brooklyn Bowl
Dec. 8—San Diego, CA @ Viejas Arena