by Sasha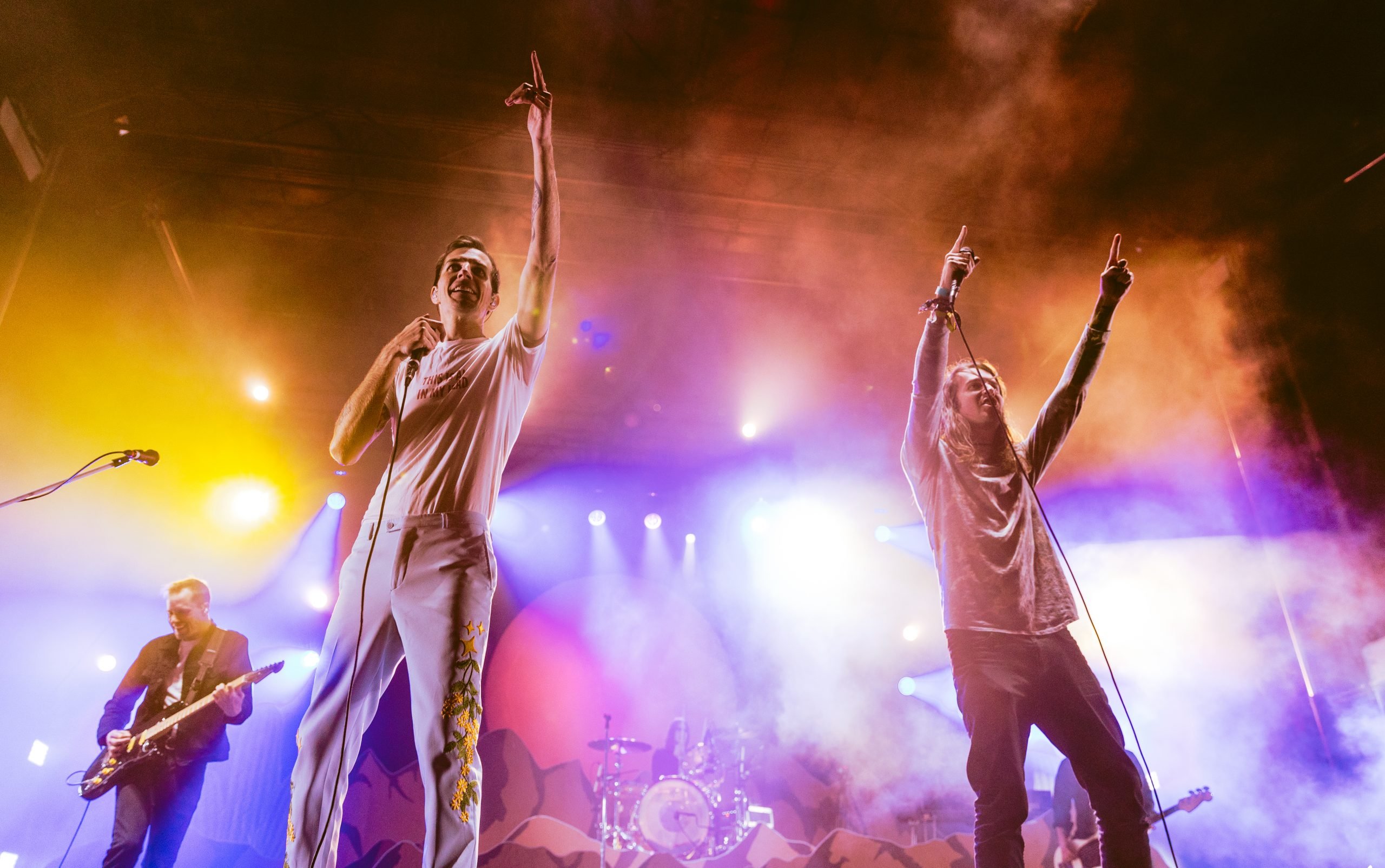 8123 means everything to me!
So, after two years of *no* live music, very little social interaction, and a whole lot of bingeing all the shows ever created; idobi gave me the moment I've been waiting for! An opportunity to go cover 8123 Fest in Phoenix!
Ok, so let me just tell you, I basically cried with happiness! There I was, telling all my friends and family how much I needed this. I had to feel music vibrating beneath my feet, to hear everyone sing their favorite songs together—I needed a festival in my life. I was going to see my favoritest of bands, the ones I have been around since I was a kid, the ones I last saw what feels like lifetimes ago. The bands that got me through my hardest of moments. Not only that, but I get to talk to them! Man, I love my job. So, so much.
Another thing I'd like to mention, aside from my amazing coworkers, I didn't know anyone on a personal level coming here. But as you know, being a fan of this music and being a part of a festival like this, you actually *do* know everyone. Sharing the love for these amazing artists is like being part of a huge supportive family. I actually have pretty bad social anxiety, but somehow as soon as we landed I felt like I was home. Almost everyone in the Phoenix airport was there for the show! So many people traveled from all over, after being stuck without our live music fix, and so many people were wearing their band t-shirts, stoked to get to their destinaysh!
The kickoff party on Friday was the perfect beginning to what was going to be a weekend of family and music and loving vibes! The Maine played XOXO in its entirety and it sounded so sick! They also brought up some friends, and shared really special memories with the crowd. Then the afterparty (Make America Emo Again!) was beyond fun. Gunz from The Gunz Show kicked off the party with a DJ set and got everyone so hyped for the night, then The Summer Set came on for their set and slayed it with fire! I went back to my hotel room literally skipping from excitement for the next day.
Waking up after multiple venues and bands, barely any sleeps from pure adrenaline, knowing I'm seeing such iconic artists was an incredible feeling. It had been so long since I've been to a festival or covered one for the radio. I was ready and waiting mad early! We got to the festival grounds and I was in heaven as soon as I heard the sound checks. After setting up our super rad idobi tent we headed on over to our press area, behind the Coroccan Stage, to start our full day of interviews and, man, we had a stacked lineup on the realsies! I can't wait for you to see all of our chats, from Weathers to Nick Santino to Tessa Violet to John the Ghost and so many more. Everyone stopped by to chat with us. Nothing says welcome back to the world like doing a TikTok trend with Tessa Violet! 
And now for the MAINE event (see what I did there?)! The show was EPIC!!!! Every single set was more amazing than the last. I may have had my own personal dance party to 3OH!3. I mean, how could you not bust a move when they are on stage!? Also, I've never seen The Summer Set perform. Can I just say…wow. I was speechless and emotional, and was feeling so very blessed they got back together and graced us with their sweet sweet jams again. And I'm not gonna lie, State Champs actually changed my life with their set. Their energy was out of control and they sounded so good! They were the perfect band to set up our heroes of the night:  The Maine. 
During our chat with John O'Callaghan, earlier in the day, he mentioned he was nervous to get back on stage for this show because it means so much to him and the band. I remember thinking that was so cool, he truly cares and loves what he does so much, even after all this time. We all still have anxiety when we put ourselves out there, even rock stars! I felt all the nerves about being back in the world—not knowing what to expect after such a long time shut in—just melt away. The whole world shares this crazy weird pandemic time collectively and in that way we are never alone. OK, getting emotional again!
When The Maine took the stage, the crowd was so amped and so ready! So many light up cowboy hats, as far as the eye could see! It's really hard to say which song was my favorite to hear, it's a toss up between "Bad Behavior" and "Sticky"—but the winner might be when Derek Sanders of Mayday Parade came on stage to play a cover of "Cute without the E" by Taking Back Sunday! The ground was literally moving from the crowd's dancing and singing. It was euphoric and emotional and everything I needed!
Suffice to say, I had the best time ever for my first festie back! This emo community runs so deep, we've all got each other's backs and are forever connected through our absolute love for these bands.
I was in that 8123 mindset, where everything is exactly as it should be.