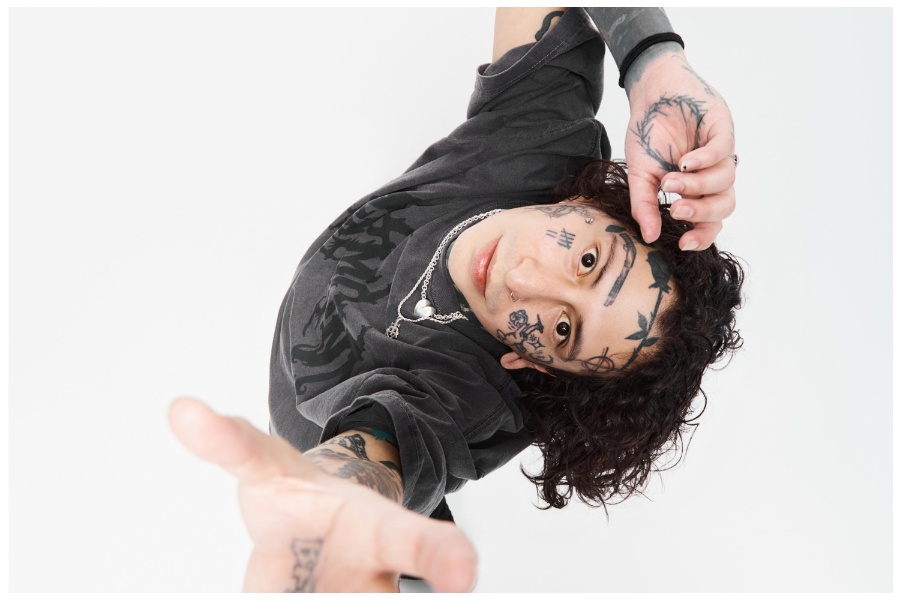 Today is a big day for Lil Lotus. The pop-punk artist and rapper just announced his sophomore record nosebleeder, which will be released on December 1 via Epitaph Records. Giving fans a taste of what to expect, Lotus just dropped the title track, which grapples with themes of mental health and addiction through a rock-forward arrangement. Combining harsh background screams with driving guitar rhythms, "nosebleeder" is an elevated new take on the artist's dynamic sound. Produced by pop-punk masters Mike Pepe (Taking Back Sunday, Charlotte Sands) and Matt Malpass (blink-182, nothing, nowhere.), we can expect this second full-length to be a blend of hard-hitting drum fills, modern synths, and satisfying ear candies.
Lil Lotus dives deep into the themes of the record in a statement. "nosebleeder symbolizes just being drained when it comes to life and everything that comes with it. Sometimes it can be the people you're surrounded by, and sometimes it can be completely internal; you could be completely alone and still have this draining experience with life," he explains. "I feel like, in my experience, it's had a lot to do with me not necessarily being very good to myself or putting myself in good situations. Now that I'm getting older, I'm slowly starting to figure out how to fix this."
The visualizer for "nosebleeder" shows Lil Lotus in a hospital room. Dressed in a gown and sporting a bloody nose, the artist paces around the room and sings the lyrics to the camera. It's a powerful symbol of the song's themes of trying to get better amid isolation.
This fall, Lil Lotus is co-headlining a North American run with In Her Own Words. Bringing out London Mars and sace6 as support, the tour will hit major cities on the West Coast and Pacific Northwest, with some Midwest and Southeast dates sprinkled in. The run begins November 1 in Nashville, TN, and will end November 24 in Columbus, OH. Tickets are on sale now, and you can check out the complete list of dates below!
Tour Dates:
Nov. 1—Nashville, TN @ The End
Nov. 2—Tulsa, OK @ Vanguard
Nov. 3—Dallas, TX @ Three Links
Nov. 5—Austin, TX @ Empire Control Room
Nov. 7—Phoenix, AZ @ The Nile Underground
Nov. 10—Los Angeles, CA @ Knitting Factory
Nov. 11—San Francisco, CA @ Neck Of The Woods
Nov. 15—Seattle, WA @ Neumos
Nov. 17—Salt Lake City, UT @ The DLC
Nov. 19—Denver, CO @ HQ
Nov. 21—Kansas City, MO @ The Rino
Nov. 22—Indianapolis, IN @ Hoosier Dome
Nov. 24—Columbus, OH @ Big Room Bar