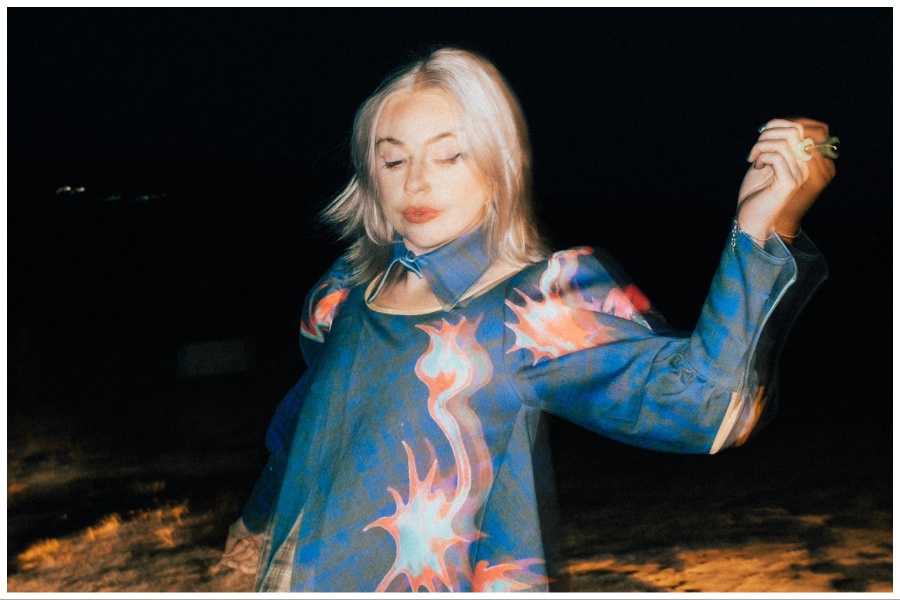 When we lose someone we love, we can feel a million different emotions simultaneously: sadness, anger, denial, and everything in between. While the technical term for it is called "grief," it is a far more complex emotion and process than these five letters make it out to be. Alt-pop songstress Lauran Hibberd does her best to bluntly explain the stages of grief in her grunge-infused new single, "I suck at grieving."
Writing about the loss of her father, Hibberd opens the floodgates of her emotions and declares that she does not know how to navigate her feelings. Finding her voice in the angsty, acoustic-driven sounds of Phoebe Bridgers and chloe moriondo, Hibberd sings in a stream-of-consciousness style that reflects her uncertainty about how to cope. She pours her heart out in every line, particularly in the song's bridge: "Stuck in bed for no good reason/I'm not ill, and I'm not bleeding/So why the hell do they call it healing?" Now that is fucking powerful.
Lauren Hibberd explains the meaning behind "I suck at grieving" in a statement.
"I lost my dad last year, and I changed in an instant but forever," Hibberd shares. "I found everyone's advice on grief painful and inappropriate, and I couldn't work out why I couldn't grieve like the internet told me to. This track feels like an extension of me, and I know it's not my usual tricks but it feels more me than anything I've ever made before."
For Hibberd, the song isn't just about telling her own story. It's about the universal experience of loss and accepting that grief is nonlinear.
"I guess eventually you run out of stuff to laugh about and have to look life—or in this case, death—straight in the eye," she says. "This is a song for people who don't want to grieve, for people who don't know where to start, and for people who don't know how it ends."
You can catch Lauran Hibberd on tour with All Time Low, Grayscale, and Gym Class Heroes this spring. Check out the tour dates below and grab tickets here!
Tour Dates:
Sept. 8—Timonium, MD @ Maryland State Fairgrounds
Sept. 10—Boston, MA @ MGM Music Hall at Fenway
Sept. 12—New York, NY @ The Rooftop at Pier 17
Sept. 13—Hampton Beach, NH @ Hampton Beach Casino Ballroom
Sept. 15—Sayreville, NJ @ Starland Ballroom
Sept. 16—Sayreville, NJ @ Starland Ballroom
Sept. 17—Philadelphia, PA @ The Fillmore Philadelphia
Sept. 19—Montreal, QC @ L'Olympia
Sept. 20—Toronto, ON @ History
Sept. 22—Detroit, MI @ The Fillmore Detroit
Sept. 23—Chicago, IL @ Aragon Ballroom
Sept. 24—Chesterfield, MO @ The Factory
Sept. 26—Charlotte, NC @ The Amp Ballantyne
Sept. 27—Atlanta, GA @ Coca-Cola Roxy
Sept. 28—Orlando, FL @ Hard Rock Live Orlando
Sept. 29—Tampa, FL @ The Ritz Ybor
Oct. 1—New Orleans, LA @ The Fillmore New Orleans
Oct. 3—Houston, TX @ Warehouse Live
Oct. 4—Dallas, TX @ The Factory in Deep Ellum
Oct. 6—Phoenix, AZ @ The Van Buren
Oct. 7—San Diego, CA @ The Observatory North Park
Oct. 11—Los Angeles, CA @ The Wiltern
Oct. 14—San Francisco, CA @ The Warfield
Oct. 16—Seattle, WA @ Showbox SoDo
Oct. 17—Portland, OR @ Roseland Theater
Oct. 20—Las Vegas, NV @ Pearl Concert Theater at Palms Casino Resort