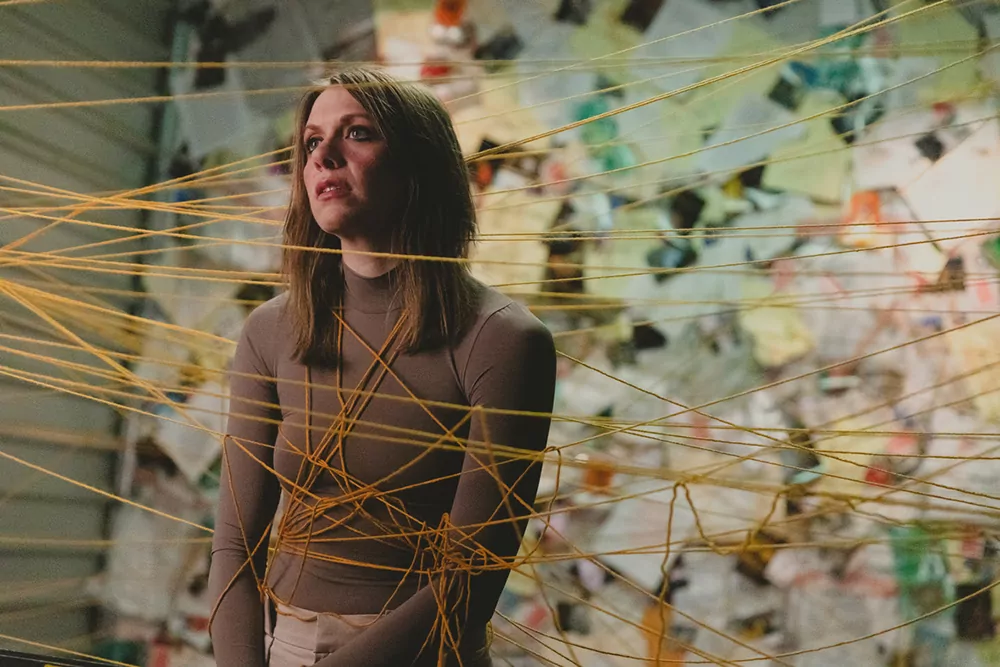 K.Flay has unveiled her captivating latest single, "Shy," a compelling follow-up to her vulnerable hit, "Raw Raw," released earlier this year. In addition to the "Shy" release, K.Flay has also revealed the eagerly awaited arrival of her forthcoming full-length album, titled MONO, which is scheduled for release on September 15. MONO is available for preorder here.
"Shy" stands as a shining example of K.Flay's distinctive musical style, seamlessly blending introspective lyrics with genre-bending soundscapes that have become her trademark. The track showcases her artistic prowess and highlights her profound ability to delve deep into her own emotions and establish a genuine connection with her fanbase.
With raw honesty and poignant storytelling, "Shy" navigates the complex themes of self-doubt, insecurities, and the internal struggle to express love toward someone truly deserving. K.Flay's lyrics delve into the depths of vulnerability, encapsulating the universal experience of grappling with one's emotions and the fear of rejection. K.Flay's delivery is imbued with a raw sincerity that elevates "Shy" to a whole new level, creating a unique sonic experience that captivates the senses with full force.
"In my music, I'm so comfortable being loud and brazen, but in my personal life, I can be a bit shy," K.Flay explains. "Especially when it comes to romantic relationships. I wrote this song after I'd just met my (now) girlfriend. And I sent it to her out of the blue. I guess I only know how to flirt through songs? It worked though."
K.Flay is currently on her co-headline tour with grandson, which kicked off at the beginning of May and runs through June. Following her US leg, K.Flay will hit the UK and Europe this fall to support the MONO release. You can check out her full touring schedule below and get tickets here.
Tour Dates:
June 8—Columbus, OH @ Skull's
June 9—Detroit, MI @ St. Andrew's Hall
June 10—Chicago, IL @ House of Blues
June 11—Chicago, IL @ House of Blues
June 12—Minneapolis, MN @ Palace Theatre
June 13—Milwaukee, WI @ The Rave
June 15—Omaha, NE @ The Admiral
June 16—St Louis, MI @ The Factory
June 17—Kansas City, MO @ Boulevardia Fest
June 19—Denver, CO @ Mission Ballroom
June 20—Salt Lake City, UT @ The Complex
June 22—Boise, ID @ Revolution
June 23—Seattle, WA @ Showbox SoDo
June 24—Portland, OR @ Roseland Theater
June 26—San Francisco, CA @ The Warfield
June 27—Los Angeles, CA @ The Wiltern
June 29—Phoenix, AZ @ The Van Buren
Sept. 20—Warsaw, Poland @ Hybrydy
Sept. 22—Hamburg, Germany @ Reeperbahn Festival
Sept. 23—Amsterdam, Netherlands @ Melkweg MAX
Sept. 25—Prague, Czech Republic @ Meetfactory
Sept. 26—Cologne, Germany @ Luxor
Sept. 28—Vienna, Austria @ Flex
Sept. 29—Berlin, Germany @ Heimathafen
Oct. 2—Manchester, UK @ Gorilla
Oct. 3—London, UK @ Brixton Electric