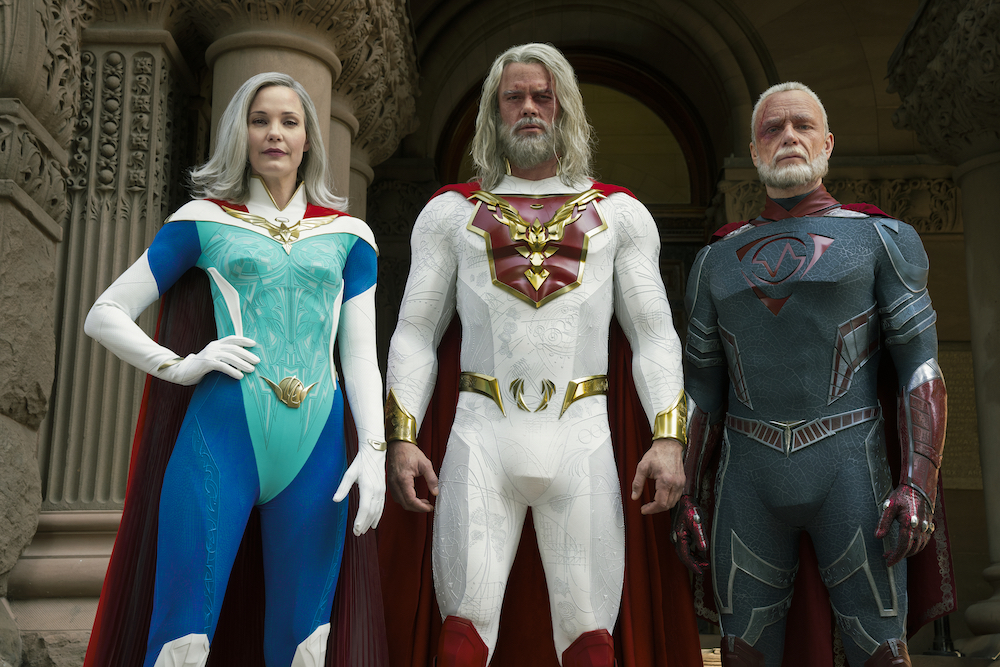 Photo: Steve Wilkie/Netflix © 2021
It's a question you've likely wondered or heard: When is the superhero trend going to end? It makes sense to ask. Since trends are cyclical, they ebb and flow in the stream of pop culture popularity. Therefore the best answer to that question came from my good friend Martin Bosworth:
"Superheroes are our modern myths."
Go ahead. Try to stop Greek mythology from infiltrating every aspect of storytelling. Superheroes are equally relentless. They have to be. It comes with the job. Much like Greek myths, our favorite supers have inspired multiple analogs that allow us to tell other stories—more dysfunctional, darker, raunchier, even more of a reflection of society. You can see it in Umbrella Academy, Invincible, The Boys, and Watchmen. Each of these television series, all based on comic books, take the core characters from DC and Marvel and dissect them, effectively tearing their insides out and sifting through the viscera. That is a natural progression. The first wave of heroes are fables, the second wave are commentary. I'm good with that.
Today, Netflix and Mark Millar bring us family drama fueled by a war between generations AND an examination of how black & white thinking will always end up tinged in red. I'm talking about blood. The red is blood. The series is Jupiter's Legacy.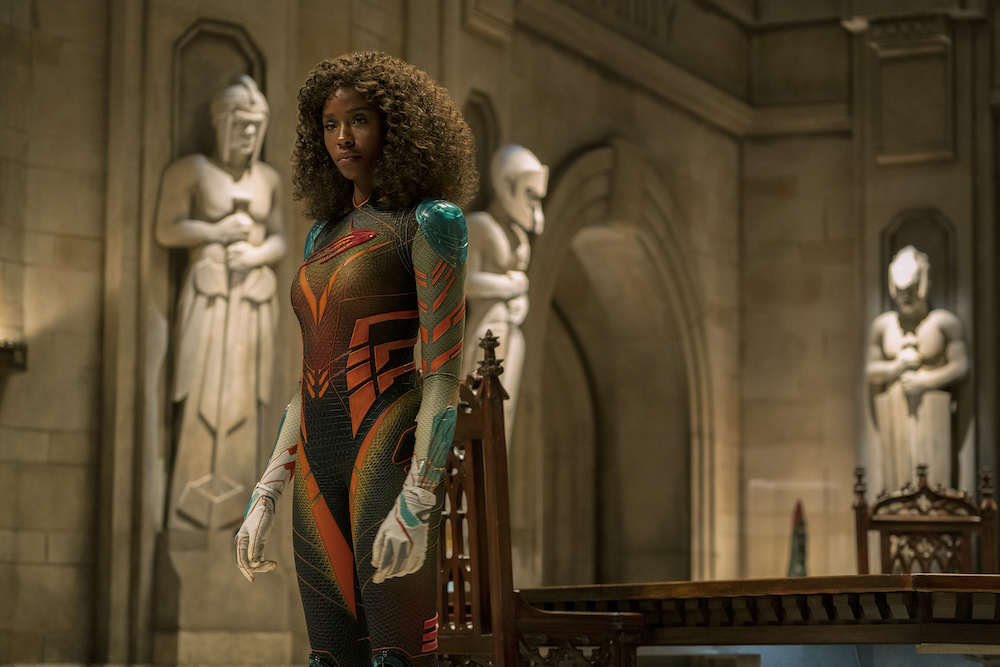 Photo: Steve Wilkie/Netflix © 2021
"…I just wanted to take all the skills I'd picked up reinventing their characters and employ them to create the biggest franchise I could possibly imagine. This starts in the 1920s and runs until the end of time, so the story predates both Marvel and DC Comics, and covers everything from the meaning of life to the biggest secret in the universe with literally a hundred different characters." –Mark Millar
You may not have heard but Mark Millar, along with artist Bryan Hitch, created The Ultimates for Marvel Comics. Why does that matter? The Ultimates are the primary inspiration for the Marvel Cinematic Universe you've been watching since that first Iron Man movie. Sam Jackson's Nick Fury. Sensitive Thor. Sassy Cap. Yup, all from the Ultimates Universe. I mention this to say, Millar is well versed in flipping the superhero paradigm and Jupiter's Legacy feels a lot like his Watchmen; a comicbook opus digging into the harsher challenges superheroes would face if everything wasn't so golden.
And it ain't pretty. The series introduces us to a hero dynasty that spans 100 years and 2 generations. The first generation is called the Union of Justice (very much an analog for DC's Justice League) and they've been fighting for America's free will since the 30s. If that reference to free will sounds a bit god-like, you're catching on to the start of a theme. The originals live by a single code:
We don't govern and we don't kill.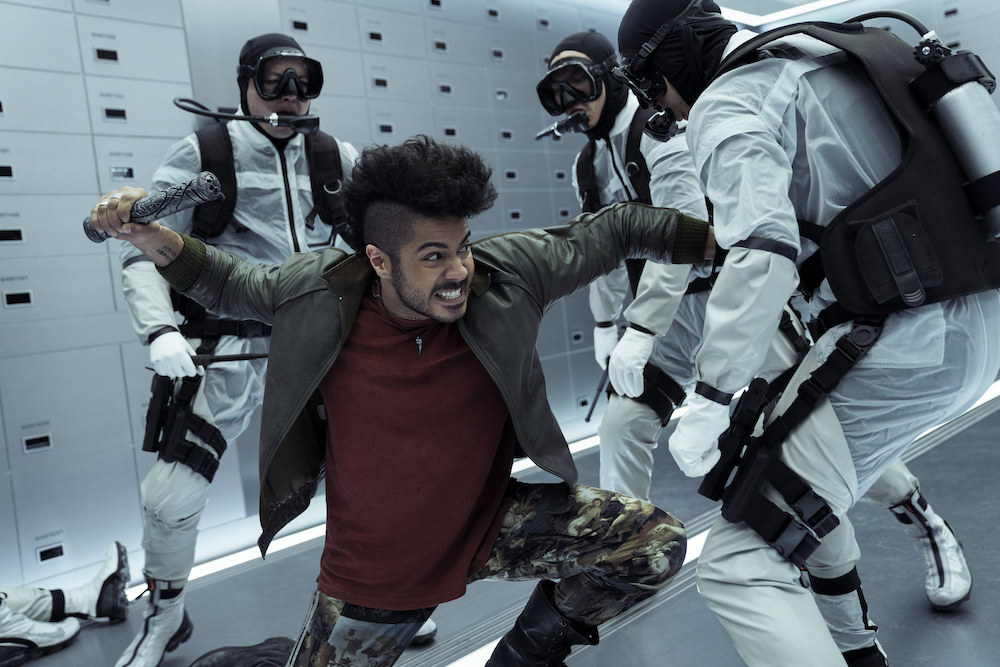 Photo: Marni Grossman/Netflix © 2021
So you already know this whole thing is going to ignite in a bonfire of idealism—I did mention the blood.
The second generation are the newer members of the Union (very much an analog for Marvel's mutants), many of them the children of the originals. The young ones are trying to live up to The Code but the villains they're fighting aren't the Dick Tracy styled scofflaws of the 1930s anymore. They're dealing with scientific minded mass murders with the power and the will to kill thousands because the barista spelled their name wrong on their coffee cup one morning…or because every backstory contains a dollop of betrayal.
So the question of Jupiter's Legacy is truly:
What do superheroes leave behind and does justice, like us, evolve?
I'mma go ahead and reveal (no spoilers): Superheroes leave behind A MESS. Not just collateral damage but emotional trauma and serious questions of morality. Jupiter's Legacy tumbles us into an entire domino chain of gotdamn these people are clearly paying their dues in purgatory. But they're not. I'll let you discover what is actually going on for yourself. Just don't expect all your questions to be answered in season one.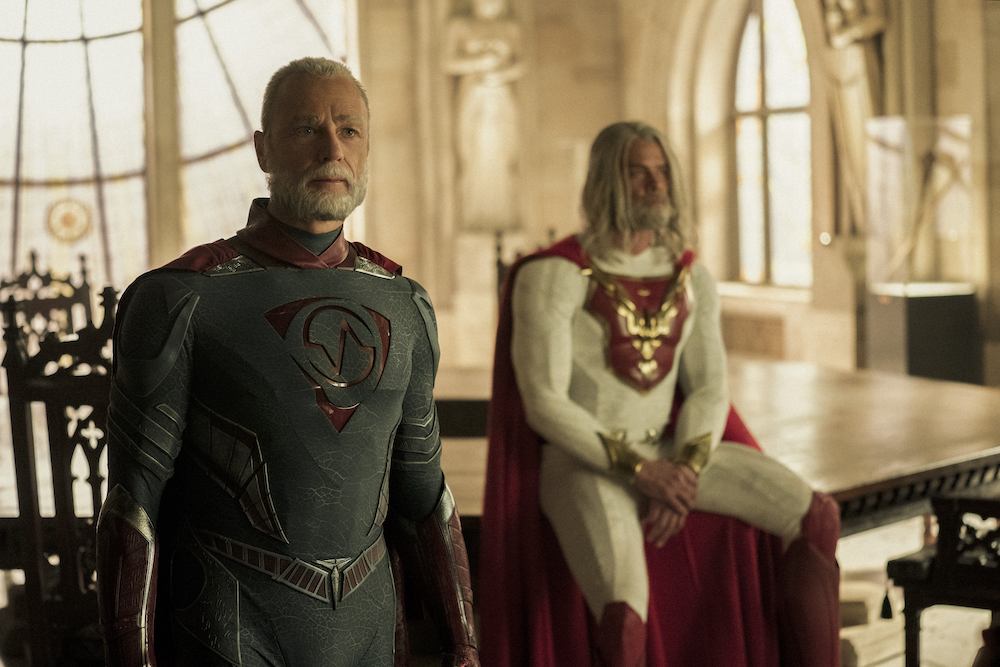 Photo: Marni Grossman/Netflix © 2021
And I lied. Hullo, it's me, your unreliable narrator. We should be able to change our minds right? (You'll realize how clever that question is after you've watched the series.) So to revise, what is most interesting about Jupiter's Legacy is the concept of old ideas. The beliefs we fought for, the ideas we labored over in order to discover who we truly are. Do they rot? And should we reexamine even the things that were once proven right?
That's the "legacy" at the core of this show, Power-Earned goes up against Power-Inherited and—just like any battle between generations—the moral high ground may be a matter of your mindset and the time period that shaped your thinking. 
So if nobody is right, does anybody win?
What? Stop looking at me. Ion't know. I'm the trickster figure here to pose the questions. You can watch Jupiter's Legacy on Netflix and figure out the answers for yourself.