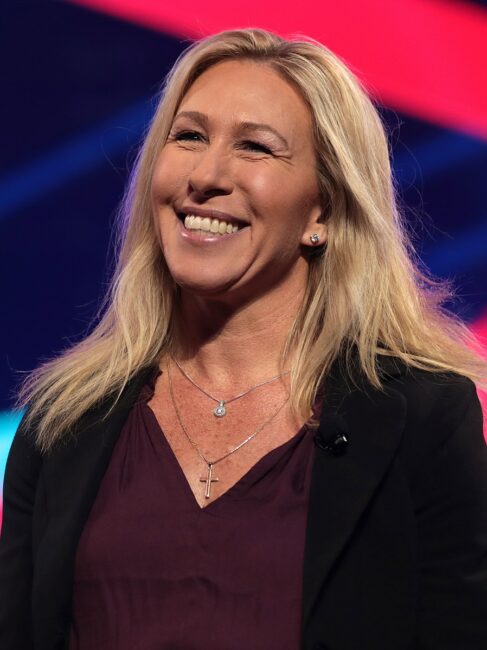 —
It doesn't really need to be said nowadays but Marjorie Taylor Greene isn't the brightest button, is she? A fascist provocateur? Sure. A social media influencer for incels and nazis? Aso-fucking-lutely. But intelligent? Nope!
When she called for a national divorce — to split the country in two along political lines — she even managed to anger Steve Bannon. How far to the right do you have to go in order to pass Bannon? Marjorie made it her mission to find out, and find out she did.
But she really didn't think it through. Or perhaps she did and that was the shit show she landed on. When any right-wing pundit tried to help her by questioning her on it, she doubled down and added more layers of nonsense. Like last week, when she said that Democrats who move to red states for work shouldn't be allowed to vote for five years. What the fuck? 
This was in the midst of a tirade about how Georgia made a mistake encouraging "Hollywood" into the state with tax breaks for movies made there. Despite the fact that the movie industry revitalized Georgia. Greene just doesn't like Will Ferrell, apparently.
How would it work anyway? It's not as if the blue states are on one side and the red states on the other, with a neat line down the middle of the country. There would be borders all over the place. And what about purple states? How do they choose?
She's just fucking cuckoo, isn't she.
Just for fun, I asked a bunch of musicians what the best and worst things about a national divorce would be. Minneapolis dark electronic artist KPT (pronounced "Kept") said, "As a progressive living in a 'blue' state, no longer having to avoid rural areas like the plague or having to wear camo to 'blend' when traveling through. 'Congrats! We're all fucking snowflakes now!. [The worst part would be,] as a progressive traveling through a 'red' state, the inherent risk of explosion from all of the gas cans in your trunk."
Greene had already angered hip-hop icon Dr. Dre this year due to the fact that she was using his song "Still DRE" in a video (before erroneously claiming that she never would despite the fact that it was ON A VIDEO).
"I don't license my music to politicians, especially someone as divisive and hateful as this one," Dre told TMZ.
It was cheesy as fuck anyway. In a video called "It's Time to Begin… and They Can't Stop What's Coming," Greene walks out of her office in slow motion to the sounds of Dre like she's, I dunno, a political Rocky or Creed or something. She's not.
"On behalf of Congresswoman Greene, please be advised that no further use of Mr. Young's copyright will be made by a political committee or via social media outlet she controls," her lawyer wrote in a letter obtained by Billboard. Dre's birth name is Andre Romelle Young.
"While I appreciate the creative chord progression," Greene told TMZ, "I would never play your words of violence against women and police officers, and your glorification of the thug life and drugs."
"The thug life?" In case you needed reminding that Greene is racist AF!
"The United States Copyright Act says a lot of things, but one of the things it says is that you can't use someone else's song for your political campaign promotions unless you get permission from the owner of the copyright in the song, a step you failed to take," Dre's attorney Howard King wrote in a letter to Greene.
And guess what: She objected to Sam Smith's gloriously devilish performance at the Grammys, like the philistine puritan that she works hard to portray herself as.
"The Grammy's featured Sam Smith's demonic performance and was sponsored by Pfizer. And the Satanic Church now has an abortion clinic in NM that requires its patients to perform a satanic ritual before services. American Christians need to get to work."
It's enough to make people who don't really like Sam Smith's music really want to like Sam Smith's music. The only shocker is that Greene didn't take the opportunity to slam trans artist Kim Petras for the same performance. Maybe she did later.
A Twitter user called Barb wrote in response, "Hey Marj! The song that he was singing was about a man that was cheating on his wife! Don't you know a little thing about cheating? Seems his song 'Unholy' could be about you?"
Nice burn! Twitter user Adrienne Taylor aimed her fire at Greene's "Satanic Panic" throwback, writing, "What are we doing about the devil on the packages of deviled ham? Are we letting our children eat this?!! What about deviled eggs…nvm eggs are to [sic] expensive, focus on that."
I'm not really here to write another column about how cuckoo Marjorie Taylor-Greene is. Well, maybe I am a little bit. It's just too much fun.
But amidst all of the mocking from Stephen Colbert, The Daily Show, and all of the MSNBC talking heads, it's worth remembering that Greene is a mainstream politician, democratically elected and sent to Congress, who is spouting ideas that would have been considered not just radical but threats of terrorism just a decade ago.
The damage Trump has done to this country is deep and, if it ever does get repaired, it will take a long, long time. The man himself isn't scary anymore — the real danger is from the seemingly infinite list of awful people he dragged out of the sewer. Greene is one of the worst, but only for now. Because the scariest thought is: Who is waiting in the wings behind her.