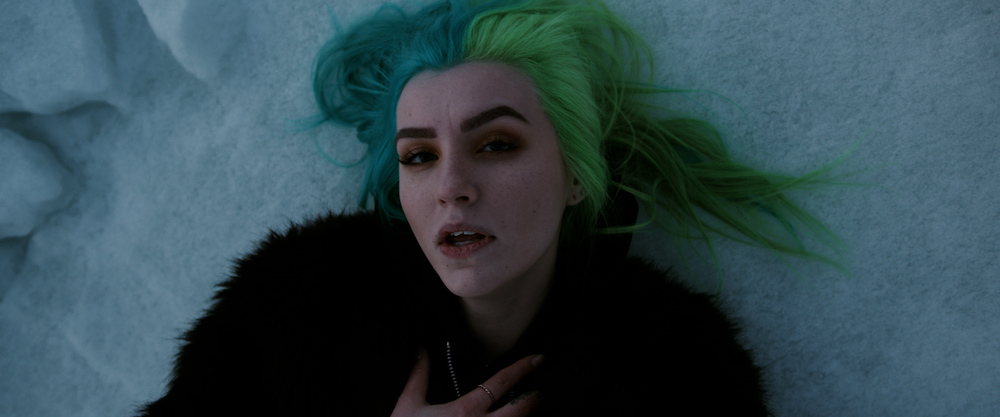 Photo by Tim Burton
Put the world on pause and lose yourself in today's Inbox Jukebox Presents. SOUNDR's new song "Mania" is a dark reflection of your innermost self wrapped up in gorgeous production and explosive choruses.

"Mania is about feeling like you have to hide pieces of yourself for people to love you," SOUNDR says of the track. It swells and ebbs, flowing with a torrent of emotions, before breaking out into a wave of power. "It's also kind of taunting in a way — saying "I've had way too many men who thought I'd be their kind of heaven." It's this weird duality of being almost proud of how appealing a manic phase can look outwardly, like you've fooled everyone? But I hate that it happens."
"I was laying in bed staring at the ceiling dissociating a lot and feeling kinda pissed that I felt the need to hide my depression from everyone. I wrote the hook that night, got up the next morning and wrote and demo'd out the whole song in my home studio in maybe… an hour? I just kept doing one take until it felt right."

You can feel the pain and bittersweet bite in each layer of "Mania"—the guitars build slowly, echoing and forming a soundscape for the chorus to burst into. The drums command your attention, turning the vibe up to the max. SOUNDR says that seeing others react to who she is fuels the fire of the song. "Being pissed that you aren't always just okay and that no one sees both sides," she continues. "Like look how beautiful my world is, but in my own head I'm a fucking mess. Which feels extremely frustrating and confusing."
That frustration bubbles through the track, culminating in a blazing anthem that will allow you to truly let loose and feel every part of how you're feeling—no matter how manic. "The swing between high and low can be really hard to handle," she says. "And 'love' became this weird cycle where you feel they only love you when you're manic, and disconnected and wild. So 'you become a slave to the mania,' never showing the whole real you." It'll have you declaring "no more"—it's time to show everyone who you truly are, with "Mania" as your mantra.
—
Fun Fact about SOUNDR:
"My favorite movie genre is horror. I love horror movie collectibles and Halloween. Halloween decor goes up at the latest around my birthday at the beginning of September. I would love to collect vintage horror film posters!" –SOUNDR
—
Keep up with SOUNDR:

Instagram | Twitter | Facebook | Soundcloud | Spotify