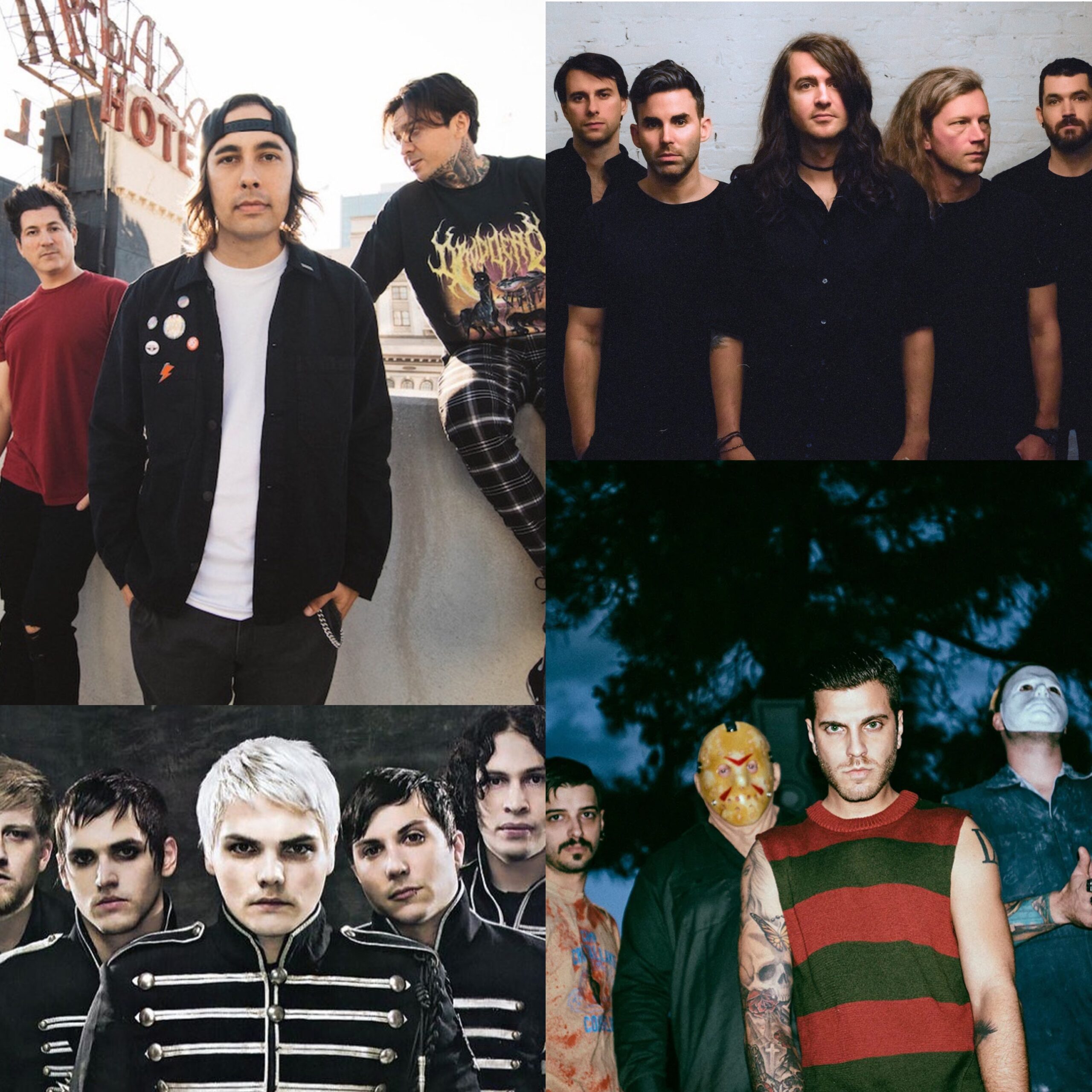 Ever wondered what a horror movie would be like if it had an entirely emo-focused soundtrack? Look no further because idobi has put together our ideal soundtrack of all of your favorite scene bands for our fake horror flick.
The difference between a good horror movie and a great horror movie is oftentimes the soundtrack or the score. Back in the early 2000s, many movies had punk rock songs on their soundtracks. However, we have yet to see a box-office horror film that features only emo songs. Why? It is such a great idea, especially because the consumers of emo and horror are so tightly intertwined.
Check out our list below and let us know what you think!

I'm Not Okay (I Promise) by My Chemical Romance
You have to start with an absolute banger in the opening credit sequence. What better track than "I'm Not Okay (I Promise)"? It is important to set the tone of the film, and My Chemical Romance never fails to be the way to go with almost anything. They even made the music video look like a movie trailer! So if our movie starts with this track, it's sure to be a good one.

Black Cat by Mayday Parade
There is always that scene pretty early on in a horror movie that introduces us to the bad guy. Whether he is a masked Jason/Michael/Freddy type or just a killer in general, we have to know who our enemy is. "Black Cat" by Mayday Parade has such a sick guitar solo and intense bridge that it feels like the perfect way to set the tone for our antagonist. Also, the whole song uses the metaphor of a film to tackle the theme of a relationship, so it feels fitting.

Disasterology by Pierce The Veil
Okay, it is time for the first kill of the flick. We need to pick up the pace a bit here without giving away all of our emo-filled glory just yet. What is the perfect in-between? "Disasterology" by Pierce The Veil, of course. This is the point in the movie where things really kick into high gear. We are probably going to get our first real scream at this point in the movie, so we need a band with screaming.

The Greatest Story Ever Told by Ice Nine Kills
The first kill of the standard horror movie usually happens before the main characters know what is going on. There then comes the part where they catch the hint and realize they need to do something. "Why are all of these people dying in our tiny hometown? We need to do some digging…" sort of thing. You get the idea. We couldn't have this list without an Ice Nine Kills song, but choosing one of their horror film odes would have been too obvious. With that in mind, we give you "The Greatest Story Ever Told", an underrated macabre classic in their arsenal.

Brick By Boring Brick by Paramore
The characters NEVER defeat the bad guy on the first try, but hell, they're gonna give it their best shot anyway. We needed a song for when they go into the situation with a ton of confidence right before they get discouraged. "Brick By Boring Brick" by Paramore is that track. It is SO hype, and the "da-das" at the end must make the movie soundtrack.

Blame It On Bad Luck by Bayside
At this point, our main characters are feeling super defeated. Their 'Plan A' didn't go as planned, and it is back to the drawing board. This is when we need a slower song. Everyone in the movie is kicking themselves and thinking that there is no hope. "Blame It On Bad Luck" by Bayside is totally playing in the background.

Body Bag by Hit The Lights
Alright, the gang has their master plan now. After reconvening, pulling up their bootstraps, and putting all of their heads together, they have figured out exactly what they need to do to take down the enemy. This scene is usually a mix of badassery with a hint of positivity and fun. We've got "Body Bag" by Hit The Lights here because that's exactly what the killer is going to need when our main people are finished.

Miss Murder by AFI
We have arrived at the climax. Our characters have crafted the perfect plan, the killer is right where we want him, and it is all about to go down. The audience is on the edge of their seat, ready to start cheering. "Miss Murder" by AFI is the obvious choice here. The bass intro to this song screams, "Let's go to war". We honestly don't even think we can take credit for this idea, it has probably been done before.

Can't Be Saved by Senses Fail
Ahhh, the killing and carnage has finally come to an end. We are cheering on the final girl at this point. We can picture her riding off into the sunset after escaping the wildest thing she has ever experienced in her life. What will happen next? We don't know. But we do know that our main character is safe, at least in our hearts and minds. The opening riff to "Can't Be Saved" by Senses Fail is drenched in nostalgia and tells us that everything will be okay.

Chicago Is So Two Years Ago by Fall Out Boy
The ending credits always call for something a bit more upbeat. The movie is over, and you're finally feeling that sense of relief wash over you. As you pick up the trash from your snacks and stand up to leave the theatre, you need something to bop your head to on the way out. "Chicago Is So Two Years Ago" by Fall Out Boy is our pick for the closing track.