In honor of the spookiest time of the year, we asked some of your favorite artists to try to spook us with their best scary story… and phew, did they deliver. Catch idobi's Beats and Boos on Instagram, idobi Radio, and right here on idobi.com.
—
Don't be ungrateful with Sydney Sprague…
They say to never look a gift horse in the mouth… especially when that gift is an army of insects.
Sydney Sprague sits down to read us one of her favorite spooky stories from Scary Stories For Sleepovers. The tale follows a young boy named Jason, who receives a less than exciting gift. An ant farm seems useless to him—there are plenty to watch outside after all.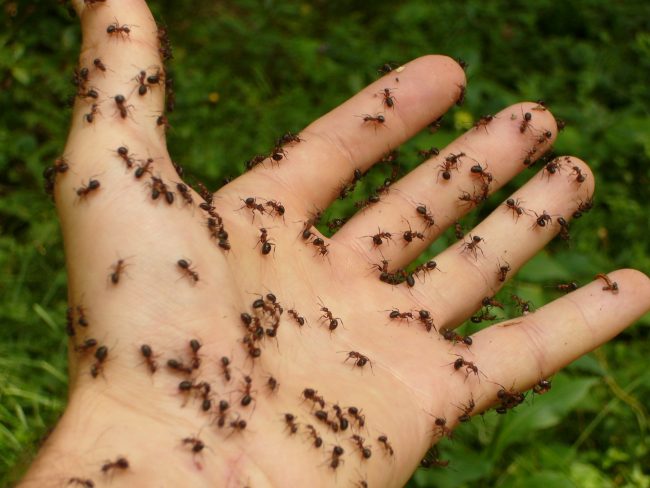 He'll soon find out that these ants, well, they might be a little bit different. After experimenting with ways to kill the colony, Jason settles on boiling water and hydrogen peroxide. (Ouch!)
If you're feeling bad for the ants, don't. They'll get their revenge soon. Once he throws the farm out and heads to bed for the night… well, that's when things get really chilling.
Read Scary Stories For Sleepovers here.
Hear Sydney's new song "steve" here.
—
The pink robe with AJ Perdomo…
Meeting your SO's family is always nerve wracking… but maybe a little more so when you meet them from beyond the grave.
It was a normal night for The Dangerous Summer's AJ Perdomo. He was staying over at his girlfriends house when he started feeling a little thirsty. He journeyed to the kitchen for some water.
There he was met with his girlfriend's mom. In a pink robe, she asked him if everything was okay. He said yes and returned to the bedroom, feeling guilty for waking her.
Until his girlfriend clued him in on some important information. Her mom wasn't home that night, so it couldn't have been her in the kitchen… 
—
A childhood fright with glimmers…
The story of the Hash Slinging Slasher is burned in the minds of every millennial. Remember that first time you heard the phone right and no one was there? It was truly a spooky time for so many children.
glimmers remember the story – so much, in fact, they've sat down for a dramatic retelling. They take the story apart, piece by piece, reminding us of the lore of the Krusty Krab. The Hash Slinging Slasher was dealt a rough hand (er, spatula) by being fired at his funeral – but was he really out for revenge?
Live through it all again, from the flickering lights to the ominous bus, with glimmers.
Hear glimmers debut EP Cluttered Heart here.