"A bad day in London is still better than a good day anywhere else." –Anon
Alright mates, welcome to the wifi world tour stop in dear ol' London. You might be stuck indoors but this guide will give you a virtual taste of my city. Please, do come visit when you get the chance. Until then, keep scrolling and carry on!
—
A Famous Food:
English Breakfast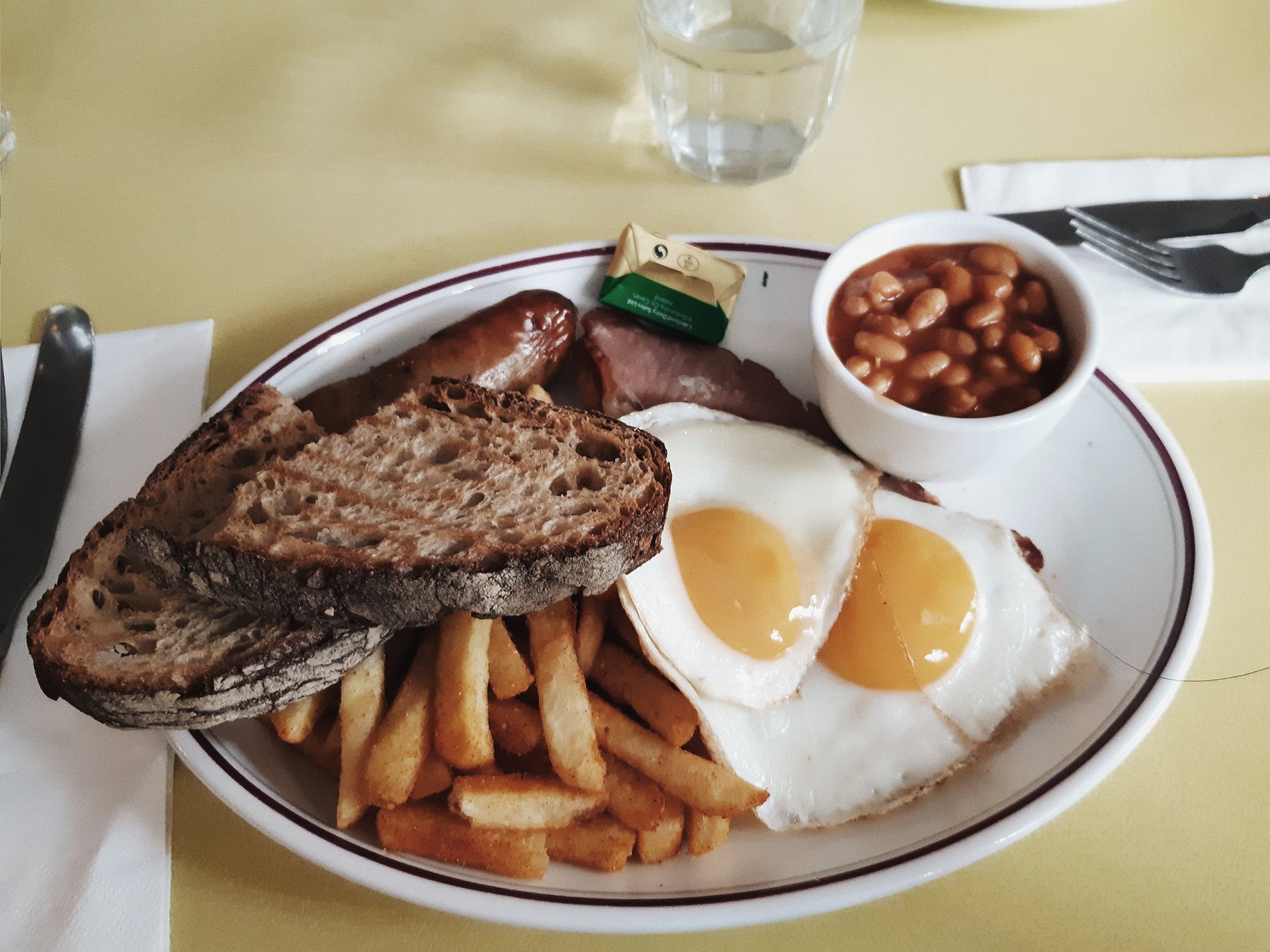 Hungover after an epic night? Gotta feed a bunch of hungry kids? Or you just need a no-nonsense meal? A good traditional fry up covers all the bases. It's very simple to make at home but timing is everything. All you have to do is…fry everything (who could've guessed?) in a pan and serve it up. Voila! An easy meal that even people like me (who could burn a salad) can make. Bonus points if you pair it with a nice cuppa English Breakfast tea (we do not serve Earl Grey in this house).
Ingredients:
2 sausages
2-3 rashers of bacon
2 flat mushrooms
1-2 ripe tomatoes
1 large egg
1 slice of bread
1 pot of Heinz Baked Beans
Chips if you feel like mixing it up (that's fries to those of you across the pond)
Recipe (hat tip to the BBC's easy-to-follow guide):
Heat up a frying pan on a medium heat and brush with olive oil.
Add the sausages to the pan first, cooking slowly and turning occasionally.
Add the bacon next. Fry for 2–4 minutes on each side (or to your preferred crispiness…we like it crispy).
Season the mushrooms and tomatoes with salt and pepper to taste and add to the pan. Cook for 1–2 minutes on each side.
Heat up another frying pan on a medium heat and brush with oil.
Add the bread to the pan and cook for 2–3 minutes on each side. We also recommend adding some butter to the pan as you do so for extra deliciousness!
Break the egg "sunny side up" style into the pan alongside the fried bread and cook to your taste.
Either heat up a pot of baked beans in a saucepan or in the microwave (we tend to use the microwave…less washing up).
Serve this all up on a plate and add ketchup or brown sauce in abundance and enjoy!
—
Where to Go:
All the Museums + Camden Town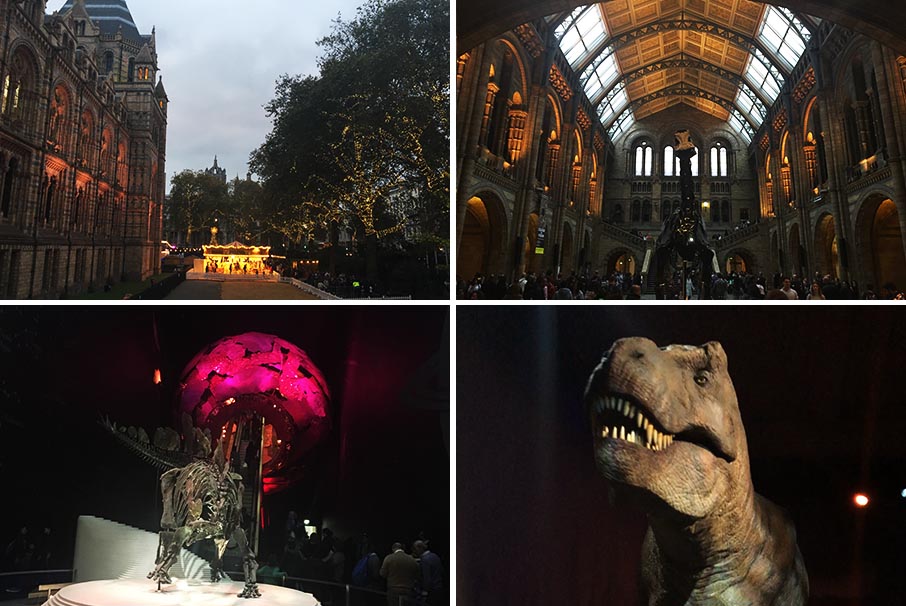 Most of the museums are free in London and are a great way to spend your time there. My favourite is the Natural History Museum—the building itself is beautiful and the collection of animals and nature is never-ending. You can get lost in there for hours! And you must find Dippy the dinosaur. There's also an ice skating rink outside in the winter which is so incredibly pretty.
For a more interactive experience, head next door to the Science Museum—you can play or interact with most things in there. Experience the evolution of invention, shoot for the stars, and mix up some chemicals (take the virtual tour here!). The V&A is nearby for the creatives among you, as well as the National Gallery, the National Portrait Gallery, the Tate Modern and Tate Britain, that each hold so much art you'll never run out of beauty to inspire you.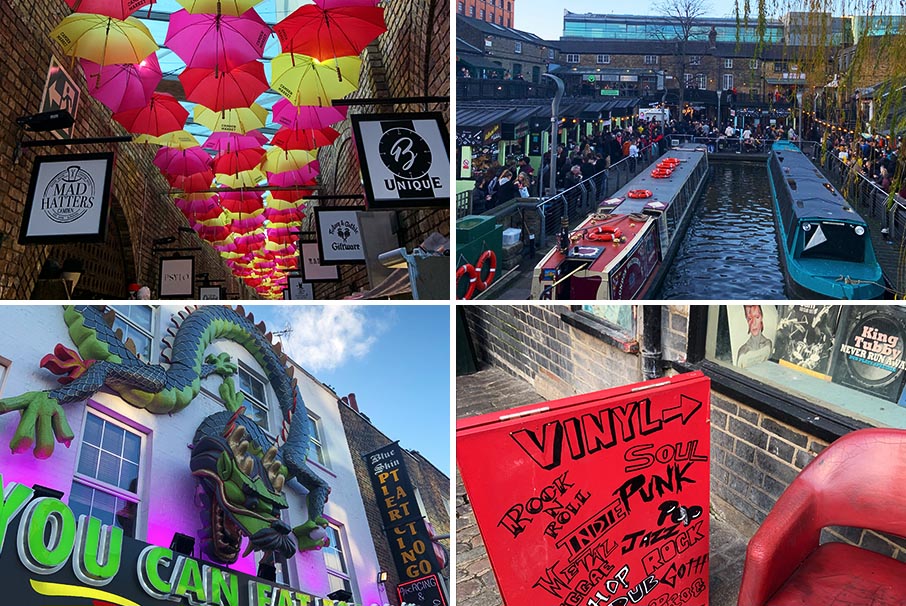 And then for a true punk rock experience, head to Camden Town.
Home to anyone who's ever felt like an outsider, Camden is the punk rock capital of the UK. There's music, food and clothing markets, and endless new possibilities. You'll take in the smells of sweet incense and fresh street food, soundtracked by buskers, the bird-whistlers on the bridge, and the relentless pounding of every kind of alternative music out there. Camden is one big art installation, from graffiti to live performances to the people dressed in every kind of fashion.
There are vinyl stores and independent coffee shops, tattoo parlours and a market stall for all the band tees you'll ever need. It's all sprawled out along the riverbanks where canal boats float on by—enjoy a good pint (or two) here watching the world go by. And, at night, the venues come to life—including the iconic Electric Ballroom, Koko, and the Underworld—where you can see big names playing next door to local bands that just want to put on a true noisy punk rock show. Anything can happen in Camden—all you've gotta do is take it in.
—
A Famous Book:
The Paddington Bear series by Michael Bond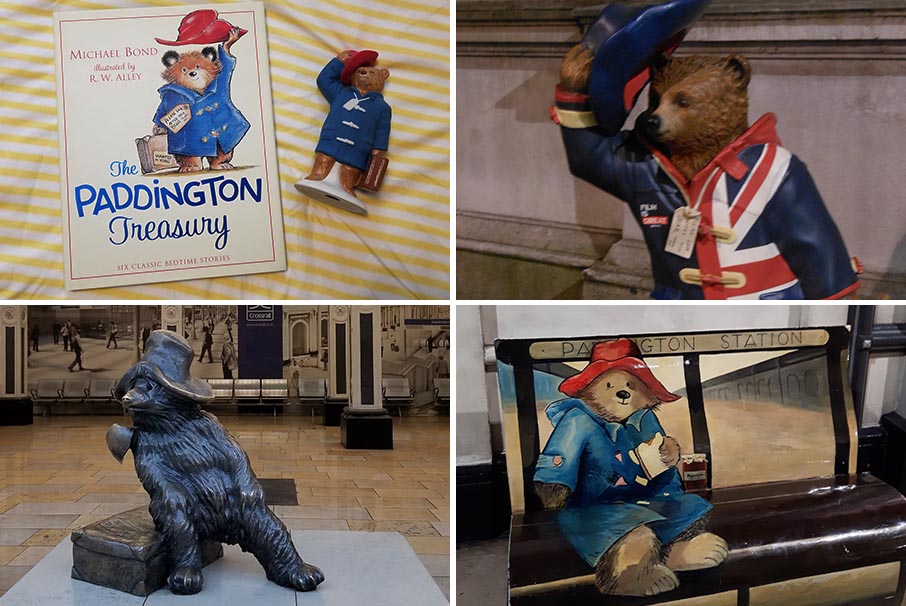 Though he wasn't born in London, Michael Bond spent his life writing about it. Specifically Paddington and the beloved bear that was inspired by it. Paddington Bear captured the hearts of whole generations and continues to delight children (and adults!) everywhere. There's never a dull moment with dear old Paddington as he went on adventures all over the city. Dotted around London you'll be able to find statues of the dearest Bear—starting with Paddington station, near to where Bond lived as an adult and where his creation sprang to life. So pack up your marmalade sandwiches and start looking!
—
A Famous Record:
Bastille – Doom Days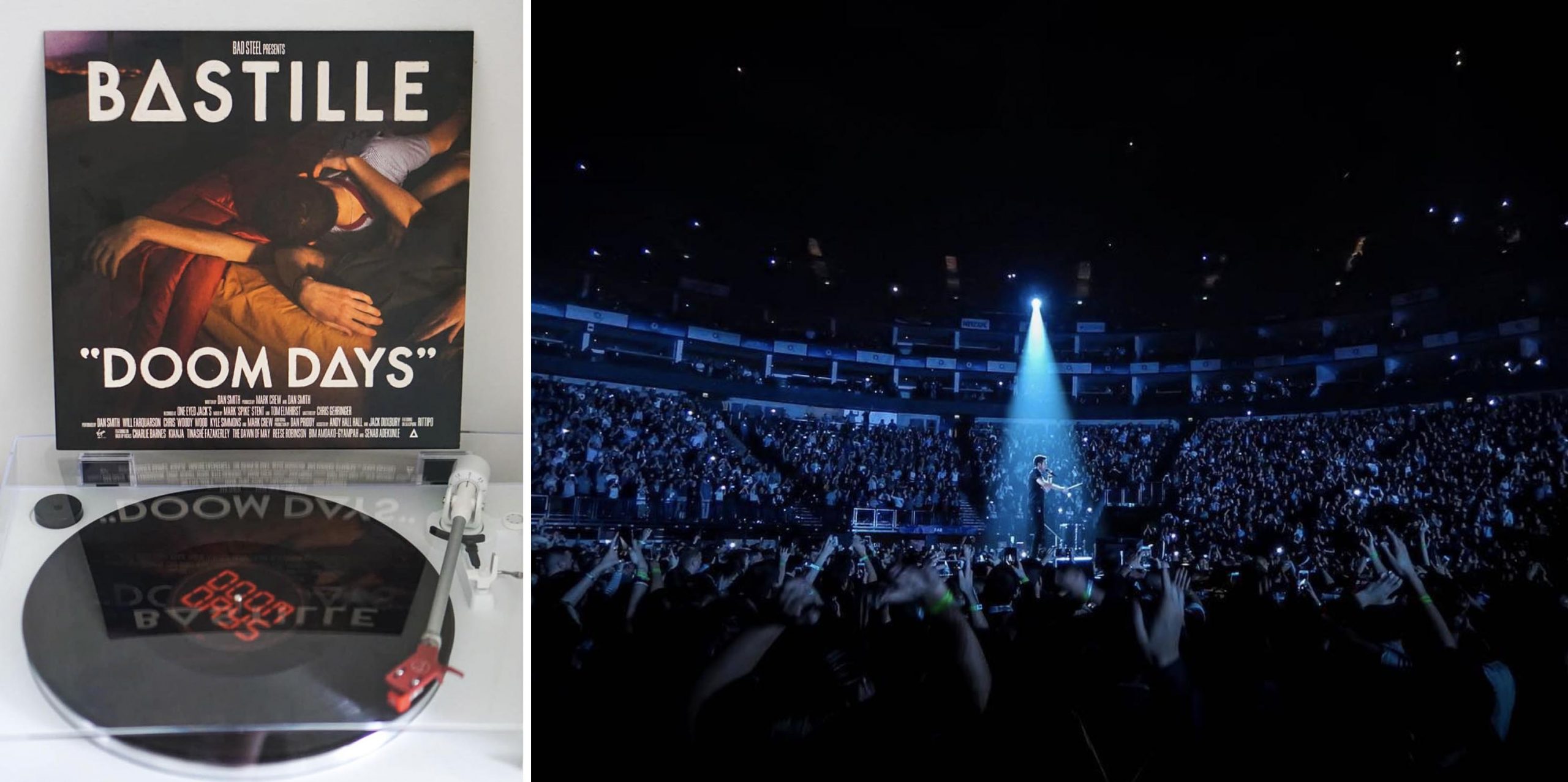 London has produced so many iconic artists over the years: The Stones, The Clash, Queen, Fleetwood Mac, Led Zeppelin, etc, etc. The list could go on for years. Joining this list of legends is Bastille (the London band with, ironically, the most French sounding name). They're an Anthm fave and regularly spin on my turntable. Bastille's upbeat indie pop scores some of the most melancholy lyrics that have
ever entered my heart, sung beautifully in frontman Dan Smith's distinctly London accent.
Bastille's most recent record Doom Days is a concept album about a night that you'll never forget, one full of "Bad Decisions" and "Joy". You can imagine racing the streets under the glowing lights of the city, feeling like anything seems possible, where your wildest dreams can come true, where whole worlds collide. Just like London, Doom Days will fill you up with every kind of emotion, good and bad and somewhere in between. If you need music to score the current apocalypse, you might as well go out dancing your heart out to Bastille. (Side note: Dan's dancing onstage is a joy to behold).
—
An Iconic Music Venue:
Brixton Academy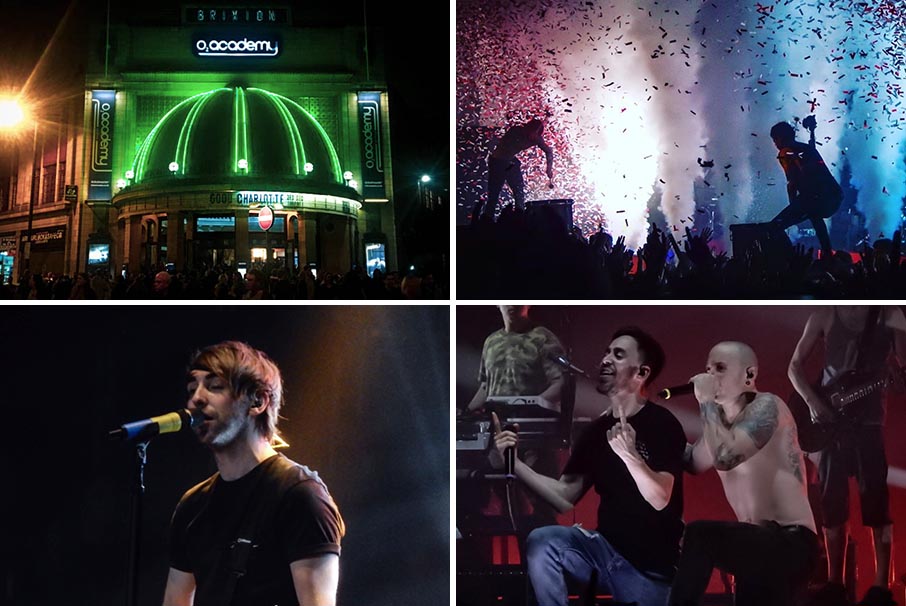 Brixton Academy is iconic—it seems every band strives to play here (and it helps that there's a Nando's across the road…why do bands love Nando's so much?). You'll know the outside of the building from your Instagram feeds. Its trademark green neon lights illuminate the marquee that proudly displays the headliner's name each night. I've seen Good Charlotte, Twenty One Pilots, All Time Low, Linkin Park, and so many more incredible artists grace the stage here. The sound and lighting is always fantastic and the atmosphere is perpetually electric. Bonus: For all the
short people out there, the floor is slanted so you can always see no matter where
you stand!
—
I hope you enjoyed your virtual tour of London and get to experience this all for yourself one day soon. Stay safe, stay healthy, and be sure to send idobi pics and take us on a wifi world tour of your own hometown!