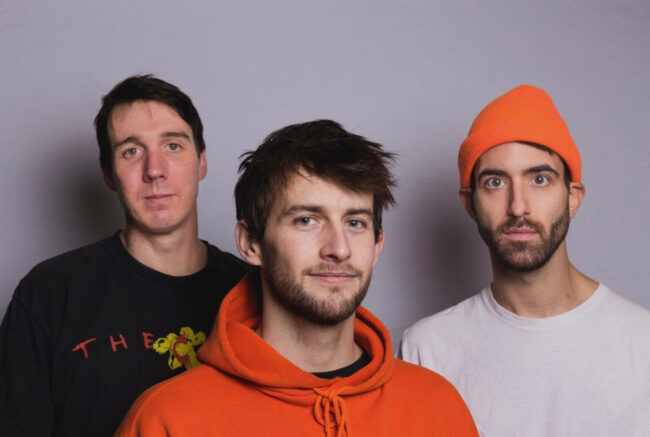 Cleveland-based punk rock group, Heart Attack Man have announced the expansion of their "Freak Of Na-Tour" to include several dates in the UK. The band that is almost too good at puns has coined the new string of shows as "FrU.K. Of Na-Tour" and we are loving it. Both legs of their upcoming tour is in support of their forthcoming third studio album Freak Of Nature out May 26th. They will be joined by the Brooklyn punk trio, THICK. Tickets for the tour can be purchased here.
Vocalist Eric Egan shared on the tour: "We're so excited to embark on the Freak Of Na-Tour! With how busy and incredible last year was, we're eager to get back out on the road and make this year even crazier with our upcoming album. These shows are gonna be next level, so don't miss it!"
Heart Attack Man have released three singles from the new record including the abrasive title track, "Freak Of Nature", the quirky pop-rock tune, "Stick Up", and their most recent power-punk anthem, "Like A Kennedy".
Egan speaking on their newest track: "It was the most meaningful song for me," shares front man Eric Egan. "Through a family tie, a relative of mine was connected to JFK. As I was sorting through the story of my twenties, I've learned about all of these family connections. I went from learning about this as a teenager to making this song as an adult. I was able to bring this weird distinct connection into a song."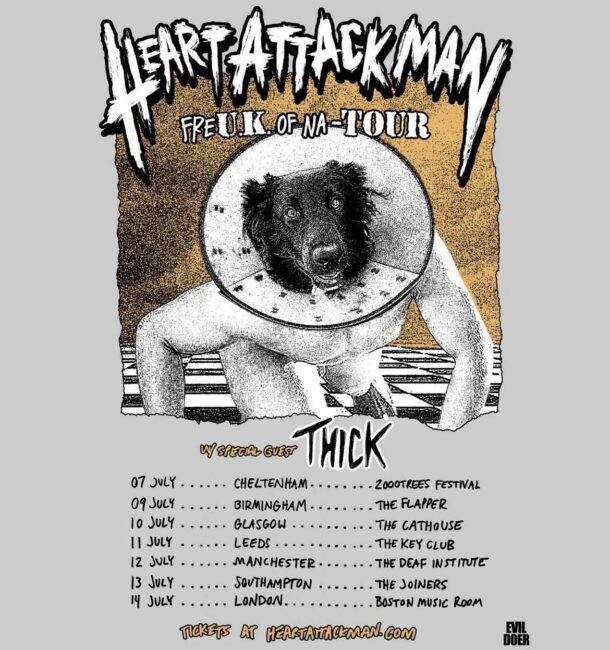 July 07 – Cheltenham – 2000 Trees Festival
July 09 – Birmingham – The Flapper
July 10 – Glasgow – The Cathouse
July 11 – Leeds – The Key Club
July 12 – Manchester – The Deaf Institute
July 13 – Southhampton – The Joiners
July 14 – London – Boston Music Room
Check out the previously announced US dates as well!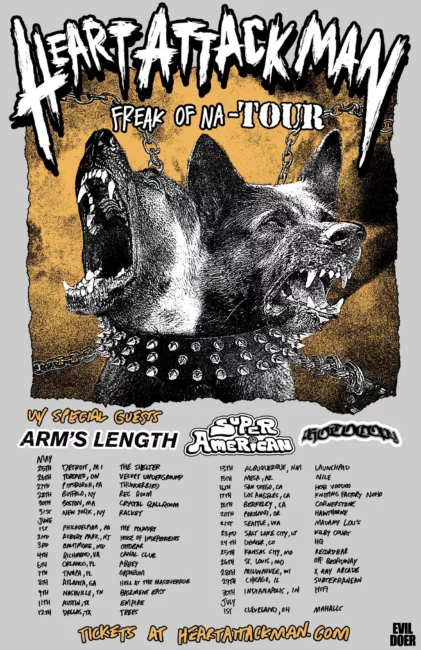 May 25 – Detroit, MI @ The Shelter
May 26 – Toronto, ON @ The Velvet Underground
May 27 – Pittsburgh, PA @ Thunderbird Music Hall
May 28 – Buffalo, NY @ Rec Room
May 30 – Somerville, MA @ Crystal Ballroom at Somerville Theatre
May 31 – New York, NY @ The Racket
June 1 – Philadelphia, PA @ The Foundry
June 2 – Asbury Park, NJ @ House of Independents
June 3 – Baltimore, MD @ Ottobar
June 4 – Richmond, VA @ Canal Club
June 6 – Orlando, FL @ The Abbey
June 7 – Atlanta, GA @ The Masquerade (Hell)
June 9 – Nashville, TN @ The Basement East
June 11 – Dallas, TX @ Trees
June 12 – Austin, TX @ Empire Control Room & Garage
June 13 – Albuquerque, NM @ Launchpad
June 15 – Phoenix, AZ @ Nile Theater
June 16 – Anaheim, CA @ Chain Reaction
June 17 – Los Angeles, CA @ Knitting Factory NoHo
June 18 – Berkeley, CA @ Cornerstone Berkeley
June 20 – Portland, OR @ Hawthorne Theatre
June 21 – Seattle, WA @ The Crocodile's Madame Lou's
June 23 – Salt Lake City, UT @ Kilby Court
June 24 – Denver, CO @ HQ Denver
June 25 – Kansas City, MO @ recordBar
June 28 – Cudahy, WI @ X-Ray Arcade
June 29 – Chicago, IL @ Subterranean
June 30 – Indianapolis, IN @ The Hi-Fi
July 1 – Cleveland, OH @ Mahalls