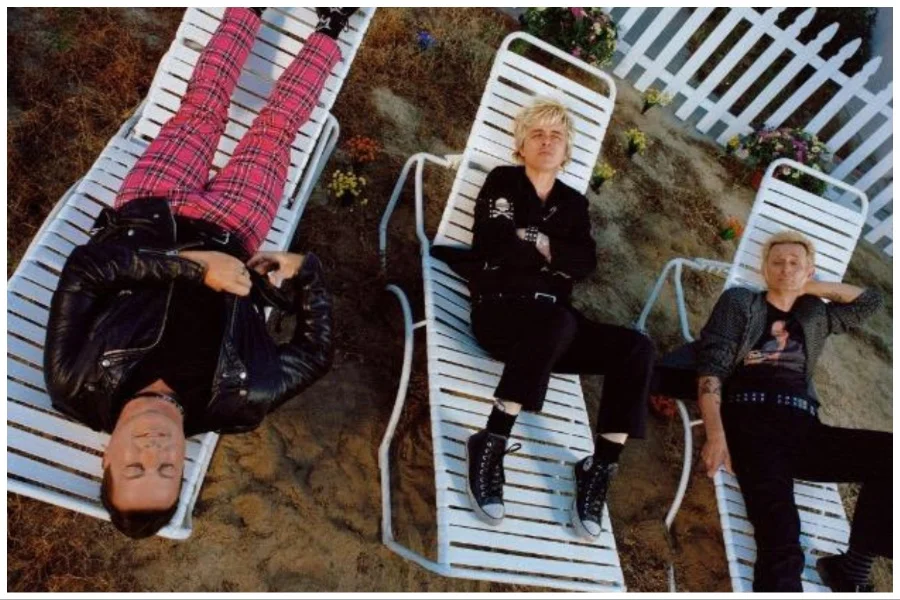 Coming off of back-to-back thunderous headlining performances this weekend at When We Were Young Fest, Green Day has announced the release of their forthcoming 14th album, Saviors, set to arrive on January 19, 2024. Setting the stage for their much-anticipated full-length is the album's opening track and lead single, "The American Dream Is Killing." This powerful anthem, which was previewed extensively during three unforgettable performances in Las Vegas, NV, has officially dropped with an accompanying film noir apocalyptic music video replete with zombies taking over the world.
Reflecting back on the creation of "The American Dream Is Killing Me," Green Day frontman Billie Joe Armstrong shares, "As soon we cut it, we said, `Okay, that's going first.' [The track is] a look at the way the traditional American Dream doesn't work for a lot of people—in fact, it's hurting a lot of people."
Of the trio's forthcoming album, the band shared on Instagram, "Saviors is an invitation into Green Day's brain, their collective spirit as a band, and an understanding of friendship, culture and legacy of the last 30 plus years. It's raw and emotional. Funny and disturbing. It's a laugh at the pain, weep in the happiness kind of record. Honesty and vulnerability."
The post continues, "What is Saviors about, you ask? Power pop, punk, rock, indie triumph. disease, war, inequality, influencers, yoga retreats, alt right, dating apps, masks, MENTAL HEALTH, climate change, oligarchs, social media division, free weed, fentanyl, fragility,,..What would Andy Warhol do? Or what would John Waters do? What would Quentin Tarantino do? What would GREEN DAY do?"
"Saviors, out January 19th, 2024. The first single 'The American Dream Is Killing Me' is out now. Watch the epic video on YouTube. Lots more coming sooner than you think aka Nov 2nd," the post concludes.
Green Day left fans in awe as they concluded their When We Were Young Fest performance with a sneak peek of another soon-to-be-released single. "Look Ma, No Brains!" made a surprise appearance on the band's Sunday, October 22 setlist, igniting the audience with its infectious pop-punk energy, tongue-in-cheek chorus, pulsating drums, and the unmistakable signature guitar prowess of Green Day. This track masterfully encapsulates the band's unbridled rebellious spirit and is certainly poised to join the ranks of classics within Green Day's illustrious discography.
Check out Green Day's preview of "Look Ma, No Brains!" at When We Were Young Fest below!
According to a fan account on TikTok under the handle greendayitaly, "'Look Ma, No Brains' by Green Day is the second track on the vinyl given out to some lucky fans during the gig at Fremont Country Club in Las Vegas last Thursday. Big shoutout to [TikTok useer] u-dersdividedsky for this cool find!!! And get ready because the worldwide tour is just around the corner."