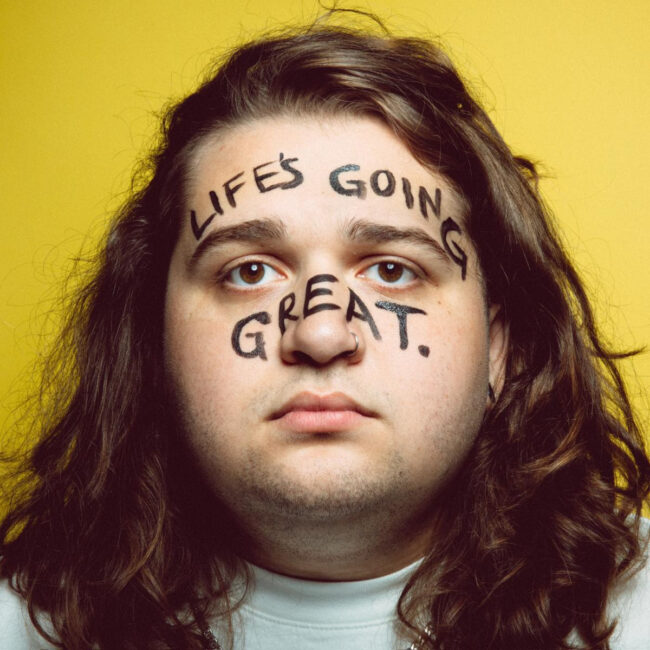 Solo pop-punk artist, Games We Play has shared a brand new emotional track, "too young." today. This tune comes with the announcement of his debut album, Life's Going Great due out October 6th via Fueled By Ramen. "too young." comes as the second single from the new record, following last month's track, "All My Untalented Friends (Ooo La La)".
Speaking on the new album and track, Games We Play shared: "The record is a snapshot of how my life has been for the past year. I've gotten to do things I've only ever DREAMED of doing while simultaneously going through the hardest challenges I've ever had. "too young." is the most important song I've ever made. I've never made anything that makes me feel like this; honest and vulnerable. I'm really excited for you to hear this, but also very very nervous," he adds on the new single."
Check out the full track list below and pre-order the album here. Games We Play is also set to head out on a headlining tour this fall around his appearance at When We Were Young Festival. He will be supported by Jutes and Ultra Q. All tour dates can also be found below!
Life's Going Great Album Track List:
The End
Oh So Blue
Pretty Boy
Girl Shaped Crater
All My Untalented Friends (Ooo La La)
Interlude
Naked
Round & Round
So Bad
too young.
Games We Play Life's Going Great Tour Dates:
Oct. 13 – Vancouver, BC @ Fortune Sound Club
Oct. 14 – Seattle, WA @ Neumos
Oct. 15 – Portland, OR @ Hawthorne Theatre
Oct. 18 – Los Angeles, CA @ El Rey
Oct. 21 – Las Vegas, NV @ When We Were Young*
Oct. 22 – Las Vegas, NV @ When We Were Young*
Oct. 24 – Salt Lake City, UT @ Soundwell
Oct. 25 – Denver, CO @ Meow Wolf
Oct. 27 – Minneapolis, MN @ Fine Line
Oct. 28 – Chicago, IL @ Bottom Lounge
Oct. 29 – Detroit, MI @ Shelter
Oct. 31 – Toronto, ON @ Axis Club
Nov. 01 – Columbus, OH @ Newport Music Hall
Nov. 03 – Washington, DC @ Atlantis
Nov. 04 – Philadelphia, PA @ Union Transfer
Nov. 05 – Boston, MA @ Brighton Music Hall
Nov. 07 – New York, NY @ Irving Plaza
Nov. 09 – Raleigh, NC @ Lincoln Theatre
Nov. 10 – Atlanta, GA @ The Loft
Nov. 11 – Orlando, FL @ Beacham
Nov. 14 – St. Louis, MO @ Old Rockhouse
Nov. 15 – Nashville, TN @ Eastside Bowl
Nov. 17 – Dallas, TX @ The Echo Lounge & Music Hall
Nov. 18 – Austin, TX @ Scoot Inn