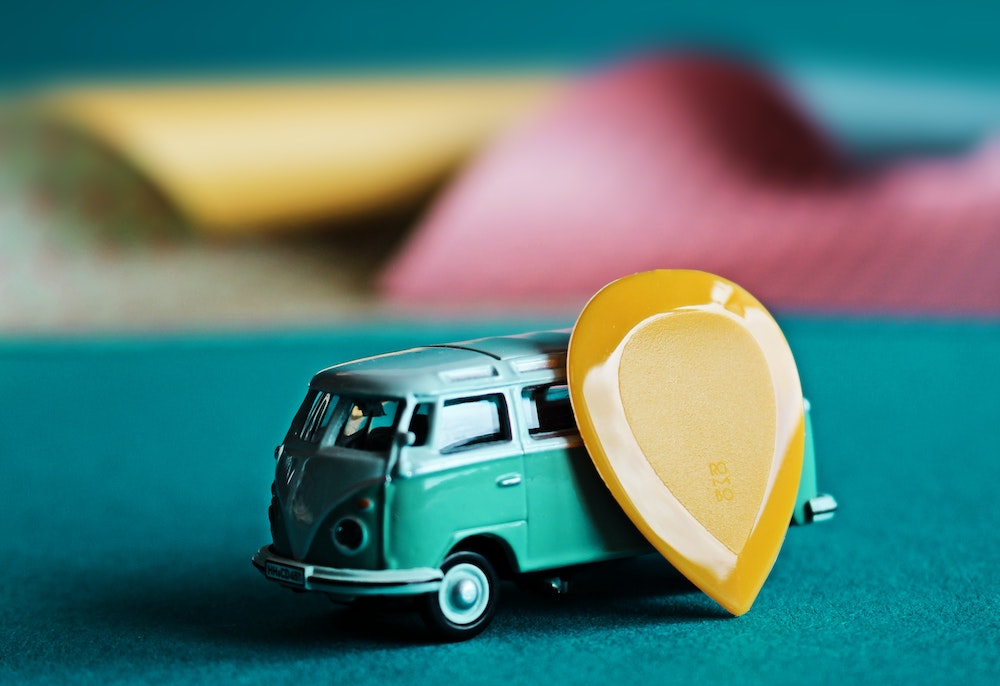 What better way to kick off a weekend than with new music? Fridays are always chock full of the latest songs and albums ready to be the soundtrack to everyone's antics, and here you'll find some of the week's standout releases. Whether you're ready to spin an anticipated song from a favorite artist or just taking a look at what's out there, there's a whole lot of tunes to dive right into. Who knows—maybe you'll find your next obsession.
The Wonder Years
"Summer Clothes"
You might have to double-check that you aren't listening to an Aaron West and The Roaring Twenties song when spinning the new one from The Wonder Years. The tranquil acoustic strums of "Summer Clothes" has a lot in common with frontman Dan Campbell's longtime solo project but that doesn't mean this tune isn't worthy of donning The Wonder Years name. No, it's not a blistering rock track but it's made with the same heart and passion as the rest of them.
—
Mayday Parade
"Losing My Mind"
Mayday Parade is gearing up for a tour overseas and they'll be doing so with a brand new song in tow. "Losing My Mind" is a slow-builder, like some of the best MP songs are, and once the dynamics change midway, there's no going back. If it becomes part of their setlist, fans might have a new live favorite.
—
Four Year Strong
"Brain Stew / Jaded"
Four Year Strong has quietly become one of the best rock bands at doing covers, if only for the sheer variety of the ones they perform. From the Home Alone theme song to "Bittersweet Symphony" to Sara Bareilles … their resume is vast. They're adding Green Day into the mix now, too. This one makes a little more sense. For an upcoming covers compilation, FYS take on the Green Day relics "Brain Stew" and "Jaded", both making good use of the band's expert guitar work to put their own spin on things.
—
The Maine
"Loved You a Little" (Acoustic)
(feat. Taking Back Sunday and Charlotte Sands)
The collaboration between The Maine, Taking Back Sunday, and Charlotte Sands is still one of the more special songs released this year. The acoustic version adds another element to it that's borderline jaw-dropping—it also makes you realize how good the original is when you go back to it. The stripped-down nature helps accentuate the vocal prowess of the three singers, and there's no doubt they're some of the most electric in the genre.
—
Coheed and Cambria
"Comatose"
Bad news: Coheed and Cambria's new album is pushed back another couple of weeks. 
Good news: They've debuted another song from the LP. 
"Comatose" follows up the energetic "The Liars Club" in a similar fashion, showing off poppy tendencies while still staying true to the classic Coheed musicianship they've had since their beginnings.
—
Alexisonfire
"Sans Soleil"
"Sans Soleil" is an excellent dreamy alt-rock track from Alexisonfire. More importantly, it means the band is now 3 for 3 when it comes to winners off their upcoming album Otherness. Just when the song starts to pick up in the chorus, vocalist Dallas Green sweeps the listener away to put them in a trance-like state.
—
Harry Styles
Harry's House
On album number three, Harry Styles finally finds himself as the solo artist he was always meant to be. Harry's House is, from start to finish, a fantastic LP that is his most upbeat and commercially viable record to date but also one that digs deep with intimate lyrics. It'll only take a single listen for Harry's House to live in your head rent-free.
—
Thrice
"Dead Wake"
Even the songs not good enough to make Thrice's final cut are still pretty awesome. The band released "Dead Wake", a treat written during the sessions of last year's Horizons / East. Naturally, it's a solid one, but fans will find something different to enjoy about it—the raw and hazy nature of the track takes the band's sound in a fascinating direction.
—
Other new releases:
The Notorious B.I.G – "G.O.A.T (feat Ty Dolla $ign Bella Alubo)"
Hot Milk – "Teenage Runaways"
Ben Platt – "Grow As We Go" (feat. Sara Bareilles)
Train, Sofia Reyes – "Cleopatra"
Our Last Night – "Uninstall"
Gavin DeGraw – "Greatest of All Time"
Magnolia Park, Derek Sanders – "Feel Something"
Zach Bryan – American Heartbreak
Rina Sawayama – "This Hell"
Quavo, Takeoff – "HOTEL LOBBY (Unc and Phew)"
Chance the Rapper, VIC MENSA, Smoke Ono – "Wraith"
Jessie Murph – "I Would've"
Cat Burns – emotionally unavailable
John Legend – "Dope (with JID)"
Lykke Li – EYEYE / "5D"
Oliver Tree – "I Hate You"
ericdoa – things with wings
Tai Verdes – "100sadsongs"
Em Beihold – "Too Precious"
mxmtoon – rising
Mabel, 24kGoldn – "Overthinking"
French Montan – "Alcatraz"
Ali Gatie – "IDK"
Serge Ibaka, Diplo, Gyakie – "Like This"
Palaye Royale – "Broken"
Matt Maeson – "Blood Runs Red"
Mahalia – "Letter to UR N(ex)t"
Logic – "Vinyl Days (feat. DJ Premier)"
Fousheé – "i'm fine"
Camilo – "Pegao"
Blu Tiger, Chromeo – "Blutooth / enough 4 u"
Hayley Kiyoko – "for the girls"
Forest Blakk – "Give You Love"
Foals – "2001"
UPSAHL – "Monica Lewinsky"
Omar Lay – "Woman"
Mark Ronson, Daman Albarn, Wale – "Bird Calling"
Faouzia – CITIZENS / "Anybody Else"
Santigold – "High Priestess"
Alex Chapman, Kim Petras – "Horsey"
Carrie Underwood – "She Don't Know"
070 Shake – "Body"